'Inhomogeneous' approach to dosing may spare normal tissue, still be effective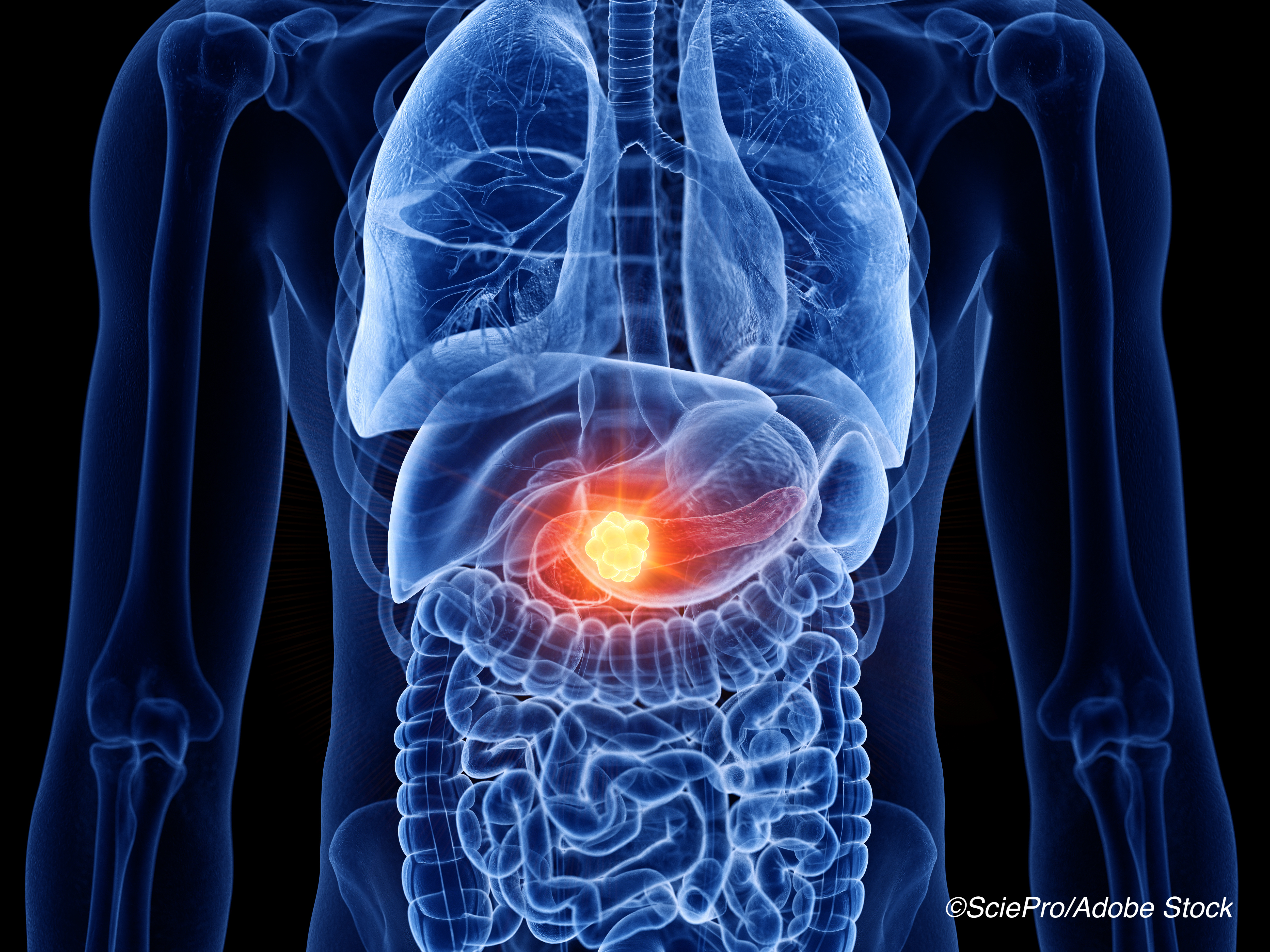 In patients with inoperable locally advanced pancreatic cancer (LAPC), treatment with hypofractionated ablative radiation therapy (A-RT) after multiantigen induction therapy brought about durable control of the primary tumor and led to favorable survival outcomes, according to a study published in JAMA Oncology.
"Surgical resection has been considered the only curative option for patients with pancreatic cancer. Nonoperative local treatment options that can provide a similar benefit are needed. Emerging radiation techniques that address organ motion have enabled curative radiation doses to be given in patients with inoperable disease," wrote researchers led by Marsha Reyngold, MD, PhD, of Memorial Sloan Kettering Cancer Center, New York City.
"Ablative RT combines stereotactic technology for precise RT delivery with innovative solutions for internal organ motion and radiation science-informed fractionation to achieve an ablative dose to the target while sparing the adjacent luminal gastrointestinal tract," they added.
In this study, Reyngold and colleagues sought to determine whether irradiation dose escalation to doses known to cure other cancers improved local tumor control and survival in patients with localized pancreatic cancer.
They included 119 patients (median age: 67 years; 59 men) who had localized, unresectable or medically inoperable pancreatic cancer, with tumors of any size and less than 5-cm luminal abutment with the primary tumor. In all, 99 patients had T3/T4 disease and 53 had node-positive disease. A full 97.5% of patients received induction chemotherapy for a median of four months, comprised of mFOLFIRINOX (fluorouracil, oxaliplatin, irinotecan, leucovorin), gemcitabine/nab-paclitaxel, or other.
All patients were treated with A-RT (98 Gy biologically effective dose), and researchers used respiratory gating, soft tissue image guidance, and selective adaptive planning to address organ motion. Dosage was limited to surrounding luminal organs, and fractionation schemes depended on tumor location; for tumors less than 1 cm from stomach or intestines, the dose was 75 Gy in 25 fractions (biologically effective dose [BED]): 97.5), and for those 1 cm or further from these organs, the dose was set to 67.5 Gy in 15 fractions (BED: 97.88 Gy).
Median overall survival (OS) was 26.8 months from diagnosis and 18.4 months from A-RT. Twelve-month OS from A-RT was 74% (95% CI: 66%-83%), and 24-month OS was 38% (95% CI: 27%-52%). At these time points, cumulative incidences of locoregional failure were 17.6% (95% CI: 10.4%-24.9%) and 32.8% (95% CI: 2.16%-44.1%), respectively.
Upon univariate analysis, Reyngold and colleagues found an association between postinduction reductions in carbohydrate antigen 19-9 (CA19-9) from baseline and improved progression-free survival (HR: 1.36; 95% CI 1.08-1.71; P=0.009) and locoregional progression (HR: 1.86; 95% CI 1.55-2.25; P ˂ 0.001).
Grade 3 adverse events attributed to A-RT occurred in 16 patients. Ten patients had grade 3 upper gastrointestinal bleeding, which was related to anticoagulation in eight patients and required intervention in two.
In an accompanying editorial, David P. Horowitz, MD, of Columbia University Irving Medical Center, New York City, and colleagues weighed in optimistically on these results.
"Contradicting the traditional dogma of radiation oncology, which sought to give homogeneous radiation doses and reduce hotspots within the treatment target, the stereotactic, ablative technique used by Reyngold and colleagues gave intentionally inhomogeneous doses with significant hotspots within the target volume to achieve sharp dose gradients that spare normal tissues," they noted.
They also urged caution, however, in the interpretation and practical application of these results, and called for further study.
"A high central tumor dose was also associated with improved progression-free survival. However, these sharp dose gradients still place normal tissues very close to potentially injurious doses of radiation, and the results reported must be interpreted cautiously before being widely adopted, in keeping with recommendations from the American Society of Radiation Oncology clinical practice guidelines for pancreatic cancer," Horowitz et al added.
"At least as important as the technical planning capabilities for highly conformal, ablative radiation treatment, which has rapidly been adopted for treating primary and metastatic tumors, is the ability to accurately localize the correct target and deliver treatment safely. Whether such techniques can be applied outside of a single center must be studied in a prospective manner," they concluded.
Limitations of the study include its retrospective, nonrandomized, single institution design, possible selection bias, heterogeneity of induction chemotherapy, and the possibility of a confounding effect from salvage chemotherapy on survival.
In this study, researchers found that, in patients with inoperable locally advanced pancreatic cancer (LAPC), ablative radiation therapy (A-RT) following multiagent induction therapy was associated with durable locoregional tumor control and favorable survival.

Editorialists urge caution, however, noting that these sharp dose gradients place normal tissues close to potentially injurious doses of radiation, and the results reported must be interpreted cautiously before being widely adopted.
Liz Meszaros, Deputy Managing Editor, BreakingMED™
Reyngold and Horowitz reported no conflicts of interest.
Cat ID: 120
Topic ID: 78,120,730,112,120,935,192,925,482