Study affirms activity in heavily pretreated patients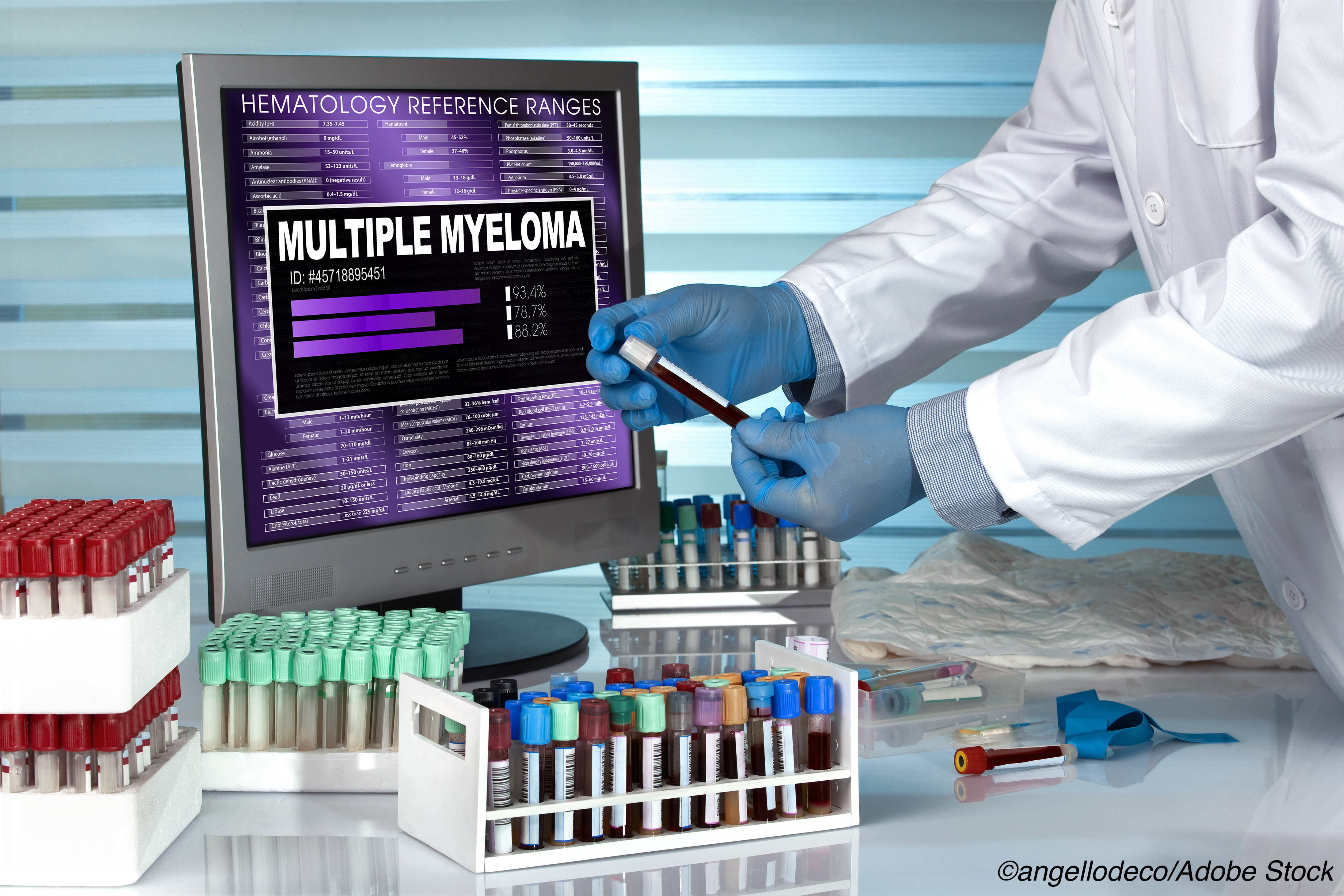 More than 80% of patients with relapsing or refractory multiple myeloma responded to treatment with the immunoconjugate agent belantamab mafodotin (Blenrep), researchers reported at the 2020 virtual meeting of the American Society of Hematology.
Although the number of patients assessed for efficacy in the Phase I trial was small, Suzanne Trudel, MD, associate professor of medicine at the University of Toronto/Princess Margaret Cancer Centre, suggested the results indicate that targeting B-cell maturation antigen with belantamab mafodotin, or belamaf, could represent another pillar of attack against multiple myeloma.
She reported that, of the 34 patients in the study who were assessable at a median of 7.8 months, the overall response rate was 88% – 14.7% of patients achieved a complete response, 52.9% achieved a very good partial response, and 20.6% of patients had a partial response.
When she analyzed the response among the 24 patients who were refractory to immunomodulatory drugs (IMiDs) such as lenalidomide, as well as proteasome inhibitors, the response rate for those on the combination of belamaf plus pomalidomide and dexamethasone reached 92%, and 75% of those patients had a very good partial response or better.
Among the 11 patients who were refractory of IMiDs, proteasome inhibitors, and daratumumab, the response rate was 100%, with eight of those patients achieving a very good partial response.
In all of the different breakdowns, the median progression free survival had not been reached, Trudel reported in her oral presentation.
"Belamaf plus pomalidomide and dexamethasone demonstrates exceptional efficacy in patients who are IMiD/proteasome/daratumumab refractory," she said. "It is the only anti-B-cell maturation antigen treatment available for all patients with a 30-minute outpatient infusion."
Last August, the FDA granted "accelerated approval to belantamab mafodotin-blmf for adult patients with relapsed or refractory multiple myeloma who have received at least 4 prior therapies, including an anti-CD38 monoclonal antibody, a proteasome inhibitor, and an immunomodulatory agent."
Trudel said the researchers studied two different dosing regimens of belamaf, particularly concerned about controlling keratopathy. In the 1.92 mg/kg every 4-week dose, Grade 3-Grade 4 keratopathy occurred in 25% of patients. About 64% of those patients achieved at least a very good partial response, and the progression free survival was 14.1 months.
If the patients received a 2.5 mg/kg in a split dosing schedule, 74% of the patients achieved at least a very good partial response, and the progression free survival in that group has not been reached; however, the incidence of keratopathy was 70%. Among patients whose vision was degraded to 20/50, visual acuity was similar for both doses — about 15%-17%.
"Alternative dosing schedules are under evaluation to further optimize the efficacy/safety profile," Trudel said.
In commenting on the study, Wasif Saif, MD, deputy physician-in-chief and medical director at Northwell Health Cancer Institute, Lake Success, New York, told BreakingMED, "This is exciting and interesting because most new drug approvals are looking for 25-30% overall response rate, and this study showed a response rate over 80%.
"Moreover," Saif added, "the schedule of administration, as well as favorable safety profile, support the use of an agent like this. The final goal should be finding a balance among efficacy, toxicity, and cost, and at the end of the road, achieving long-lasting control of the disease and eventually even [a] cure in a subset of patients."
He noted that the treatment represents the first-in-class immunoconjugate being explored in multiple myeloma. "This novel drug targets B cell maturation antigen, commonly present on the surface of myeloma cells. After binding to myeloma cells, this drug is internalized and then delivers its cytotoxic payload into cancer cells," he said.
"Though still early phase with a small number of patients, this study showed clinically meaningful activity and a manageable safety profile in patients with relapsed/refractory multiple myeloma. Additionally, this study provides the rationale to combine this new immunoconjugate in this disease," Saif noted.
In the study, researchers recruited patients who had been administered at least 2 lines of treatment, had been exposed to lenalidomide and a proteasome inhibitor, and were deemed to be refractory to their last line of therapy.
The median age of the patients included in the study was 64 years but ranged from 36 years to 81 years. About 65% of the patients had undergone autologous bone marrow transplant, but the disease had recurred. They had been treated with a median of 3 lines of therapy.
In the treatment algorithm for the trial, pomalidomide was administered at 4 mg days on days 1-21; dexamethasone was delivered weekly in a dose of 40 mg — although that dose was halved in patients greater than 75 years old — and was administered in conjunction with belamaf in various doses and schedules. Dose escalation was accomplished using a standard 3+3 dose escalation design.
The anti-B-cell Maturation Antigen belantamab mafodotin appears to show activity in heavily pretreated patients with multiple myeloma and could offer another option in therapy.

This study was presented as an abstract at a medical meeting, and the findings should be considered with caution until such time as the results are published in a peer-reviewed journal.
Edward Susman, Contributing Writer, BreakingMED™
The study was sponsored by GlaxoSmithKline.
Trudel disclosed relevant relationships with Takeda, Sanofi, Karyopharm, AstraZeneca, Pfizer, Janssen, GlaxoSmithKline, BMS, Genentech, and Amgen.
Said disclosed no relationships with industry.
Cat ID: 116
Topic ID: 78,116,728,791,730,116,118,332,468,192,925,240,331