Regeneron's mAb treatment reduced hospitalization, death by 70%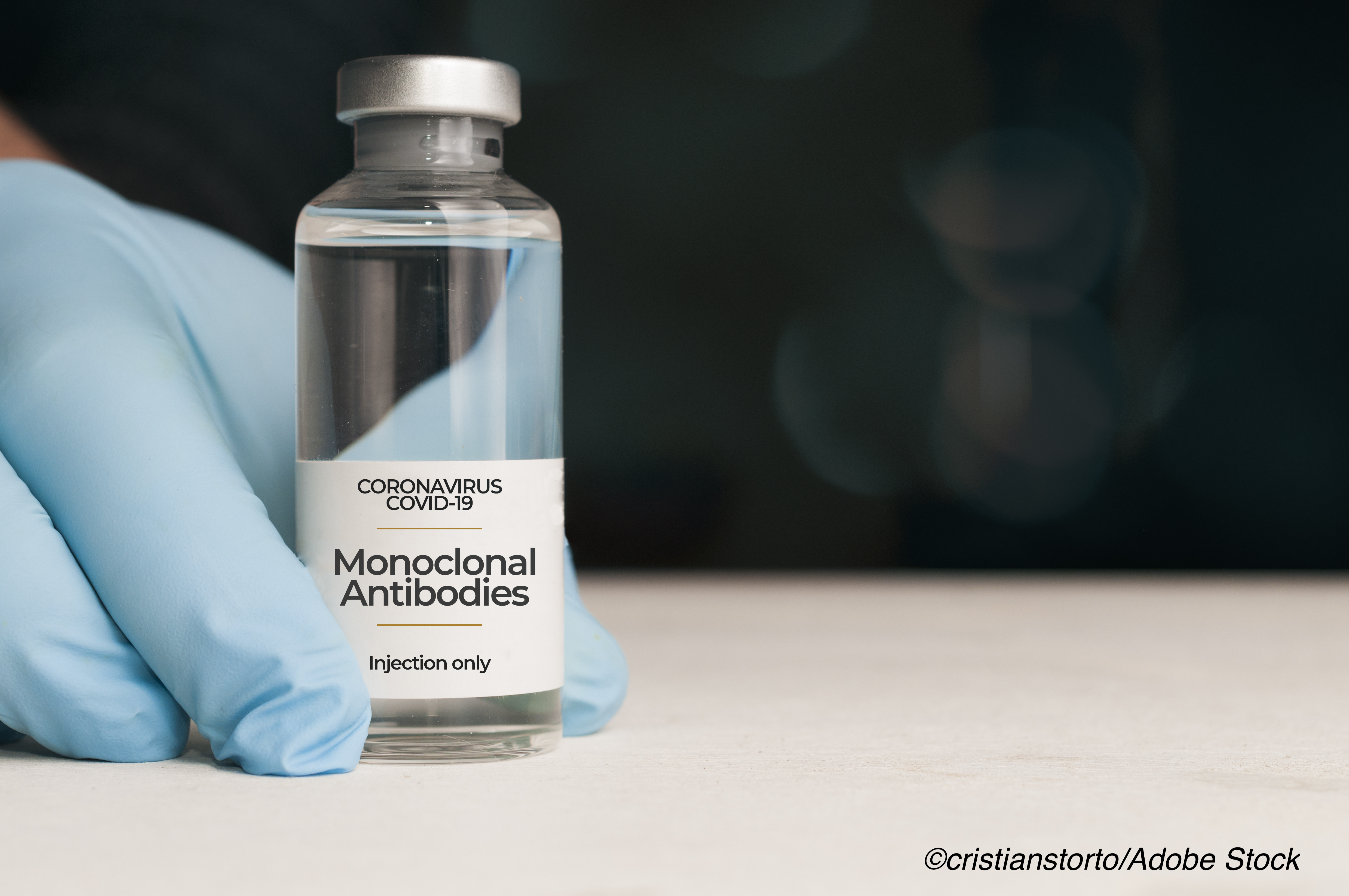 Treatment with Regeneron's two-drug antibody cocktail of casirivimab and imdevimab was associated with a roughly 70% reduction in the risk for hospitalization or death among outpatients with Covid-19 at increased risk for developing severe disease.
Phase III findings from the REGEN-COV 2067 study were reported Monday at the virtual international conference of the American Thoracic Society, ATS 2021.
The two-drug cocktail is designed to neutralize SARS-CoV-2 by binding to the receptor binding domain of the virus's spike protein.
In addition to reducing hospitalization and death risk, two doses of the REGEN-COV cocktail were associated with shortened symptom duration and reduced viral load in the non-hospitalized Covid-19 patients.
"Various studies have shown an association between SARS-CoV-2 viral load and severity, with higher viral load associated with increased disease severity and mortality," study investigator Julie Philley, MD,of the University of Texas Health Science Center, said during a video presentation of the findings. A press statement from Regeneron outlined the study's findings as well.
"Treatment options that decrease viral load may improve clinical outcomes, and monoclonal antibody treatments appear to be an effective option," she added.
Philley explained that monoclonal antibodies previously developed by Regeneron targeted the Ebola virus, respiratory syncytial virus (RSV), and MERS-CoV.
In clinical trials involving the drug suptavumab, emergence of treatment-resistant virus was observed following a single administration of the drug.
A combination of three monoclonal antibodies, each binding to different, non-overlapping epitopes of the ebolavirus glycoprotein, in the Ebola program was found to significantly reduce mortality due to Ebola virus.
"Experience from these studies has guided the program for SARS-CoV-2," Philley said, adding that these data "led to the hypothesis that an antibody combination approach may have utility in the treatment and prevention of other viral diseases, including Covid-19."
In the SARS-CoV-2 program, a total of 40 antibodies with unique sequences and potent neutralizing activity were investigated, and two—casirivimab and imdevimab—were selected for the pre-clinical and clinical trials.
She added that the combination has been shown to retain antiviral activity against a number of viral variants first identified as variants of concern in the United Kingdom, South Africa, Brazil, California, and New York.
She noted that the cocktail therapy is currently under investigation in both hospitalized and non-hospitalized patients with Covid-19, and for the prevention of infection.
She presented data on the trial of non-hospitalized adult patients with Covid-19 and symptom onset within seven days of randomization who were treated with a single intravenous dose of 1,200 mg or 2,400 mg of the antibody cocktail or placebo.
During the investigation the study protocol was changed to include only patients at high risk for developing severe Covid-19.
Patients were followed for 28 days, and the primary endpoint was proportion of patients with Covid-19-related hospitalization or all-cause death through day 29. Secondary endpoints included time to resolution of Covid-19 symptoms in the modified cohort.
Patients were well matched in both the treatment and placebo groups. The median patient age was 48 years, 58% were obese, and roughly half were male. The median time from symptom onset to randomization was three days.
Compared with placebo, the combination therapy reduced the risk for Covid-19-related hospitalization or all-cause death by 71%. Differences between the two groups were evident by day four and they continued through day 29.
The reduction in Covid-19-related hospitalization or all-cause death among the antibody-treatment groups were consistent across all subgroups, including those with high baseline viral loads and those with baseline seronegative or seropositive status.
"This indicates efficacy in a wide range of patients, including those with high viral load which has been associated with a worse prognosis," Philley said.
Both doses of casirivimab and imdevimab were associated with shorter time to symptom resolution when compared with placebo (median of 14 days in the placebo group versus 10 days in the antibody-treatment groups).
Both doses of the antibody cocktail were also associated with similar improvements in symptom resolution across all subgroups.
In the phase III study, as well as phases I and II of the trial, the combination treatment was well tolerated with no safety concerns identified, Philley said.
In response to a question about the potential use of monoclonal antibodies in the treatment of children with chronic lung conditions increasing their risk for poor Covid-19 outcomes, Philley said this remains to be seen.
Session co-chair and pediatric pulmonologist Jennifer Taylor-Cousar, MD, of National Jewish Health, Denver, said it is important to determine the safety and efficacy of monoclonal antibody treatments in this group of at-risk younger children.
"At National Jewish we take care of some really sick, complicated kids," she said. "(This treatment) is not indicated for my 8-year-old patient with interstitial lung disease, but it sure made me nervous not to give it to her."
Salynn Boyles, Contributing Writer, BreakingMED™
Cat ID: 195
Topic ID: 89,195,730,933,190,926,271,192,927,195,199,925,934,198