Benefit greater with men and older patients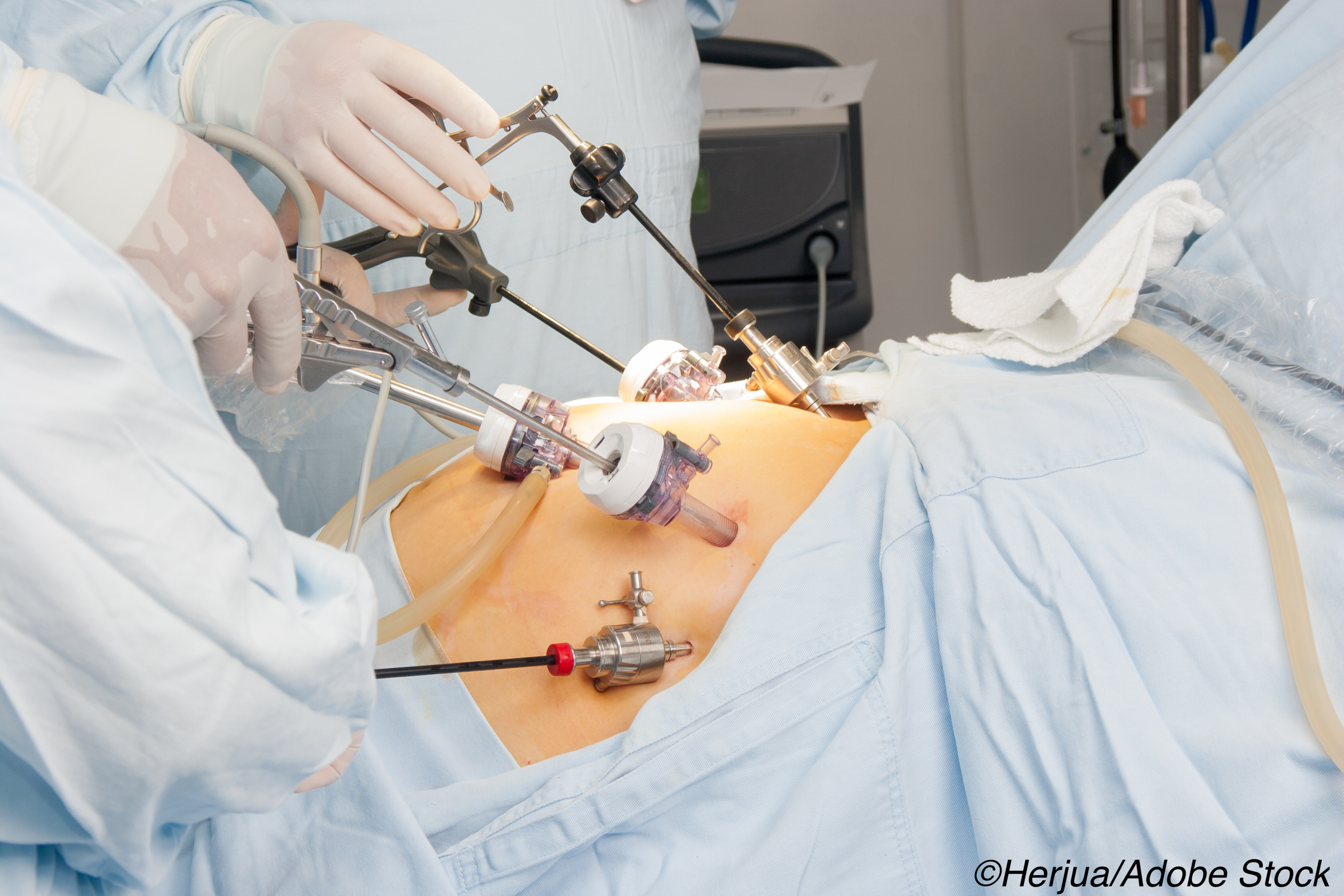 Bariatric surgery is associated with lower all-cause, cardiovascular, and cancer mortality, researchers found.
That potential benefit appears to be greater for men and those who undergo surgery at older ages.
The study, by Aristithes G. Doumouras, MD, MPH, McMaster University and Centre for Minimal Access Surgery, St. Joseph's Healthcare, McMaster University, Hamilton, and ICES, Toronto, Ontario, Canada, and colleagues, was published in the Annals of Internal Medicine.
While bariatric surgery is known to positively affect obesity-related comorbidities, such as type 2 diabetes mellitus and hypertension, the impact on mortality, according to the authors of this study, is less clear. And this question has become increasingly important considering that obesity rates in Western countries continue to grow.
In this population-based matched cohort study Doumouras and colleagues compared patients who underwent bariatric surgery to nonsurgical patients. The surgical cohort consisted of 13,679 patients who underwent primary bariatric surgery from January 2010 through December 2016 in Ontario, while the nonsurgical group consisted of the same number of patients identified from a primary care electronic medical record database.
The vast majority of surgical patients (87%) had the Roux-en-Y gastric bypass (RYGB) procedure, with the remaining patients undergoing sleeve gastrectomy surgery.
The major and secondary outcomes of the study were all-cause mortality and cause-specific mortality respectively.
The overall mortality rate was 1.4% for the surgical patients and 2.5% for the nonsurgical patients. After adjusting for confounders, bariatric surgery was associated with a 32% lower hazard of all-cause mortality (hazard ratio (HR), 0.68 [95% CI, 0.57-0.81]).
The association of surgery with lower mortality was similar among men, women, and those who received a gastric bypass, while there was no difference in mortality in patients who had a sleeve gastrectomy. The association of surgery with lower mortality was more evident among men (absolute risk reduction (ARR), 2.3% [95% CI, 1.2%-3.3%]) at 4.9 years of follow-up.
When evaluated by age, older patients (55 and older) had an absolute risk reduction of 3.3% (CI, 2.3%-4.3%), with a lower HR of mortality in the surgery group (HR, 0.53 [CI, 0.41-0.69]). However, there was little difference in overall mortality for younger patients (aged 44 years or younger) with a 0.7% mortality rate for surgical patients compared with 0.9% for nonsurgical patients, resulting in an absolute risk reduction of 0.2%.
And when evaluated by BMI the authors found that patients with a BMI of 40 to 50 kg/m2 experienced the largest observed lowered mortality, with a 38% reduction in overall mortality. Those with a BMI of 50 kg/m2 or greater also experienced lowered observed mortality from bariatric surgery, while those with a BMI of 40 kg/m2 or less experienced no significant decrease in hazard of mortality.
As for the association between bariatric surgery and cause-specific mortality, bariatric surgery was associated with a 47% reduction in cardiovascular mortality, a 56% reduction in cancer mortality, and a 36% reduction in other medical mortality at 4.9 years of follow-up. Thus, Doumouras and colleagues observed that the association between bariatric surgery and mortality "seems to be driven by a lower risk for cardiovascular and cancer mortality."
'Overall, these insights are important as they reinforce that bariatric surgery is associated with a substantial observed lower mortality regardless of sex, and it could be more aggressively sought for those 55 years or older and for men," wrote Doumouras and colleagues.
In an editorial accompanying the study, Christina C. Wee, MD, MPH, Beth Israel Deaconess Medical Center, Boston, Massachusetts, and deputy editor, Annals of Internal Medicine, noted that the American Diabetes Association has expanded eligibility criteria for bariatric surgery to include persons with less severe obesity and difficult-to-control diabetes. "Nevertheless, questions remain regarding whether and in whom to intervene early," she wrote.
She pointed out that Doumouras and colleagues did not address whether bariatric surgery would benefit patients with milder forms of obesity who don't meet the existing criteria for bariatric surgery, and referred to results from the GATEWAY study, also published in the Annals of Internal Medicine, which evaluated the effects of RYGB surgery and standard medical therapy among 100 patients with mild to moderate obesity (BMI, 30 to 39 kg/m2 ) who were receiving at least 2 medications for hypertension. That study found that while RYGB led to a reduction in the number of blood pressure medications, as well as a reduction in the need for any blood pressure medication, it did not demonstrate superior blood pressure control in the surgical compared to the medical therapy group.
Taken together, the study by Doumouras and colleagues, as well as the GATEWAY study, "lend greater support for RYGB as a treatment option for obesity, particularly for middle-aged and older adults," wrote Wee, "However, neither study makes a compelling case that early intervention with bariatric surgery is necessarily better than a stepwise approach to managing the cardiometabolic consequences of obesity, particularly in patients who do not have type 2 diabetes."
In a population-based study, bariatric surgery was associated with a lower risk of overall mortality and lower cardiovascular- and cancer-related mortality.

The association between bariatric surgery and reduced mortality was more pronounced among men and patients ≥55 years.
Michael Bassett, Contributing Writer, BreakingMED™
None of the experts quoted in this article disclosed any relevant relationships.
Cat ID: 795
Topic ID: 76,795,730,795,518,917,925,159