Retrospective study used mathematical models on VA hospital data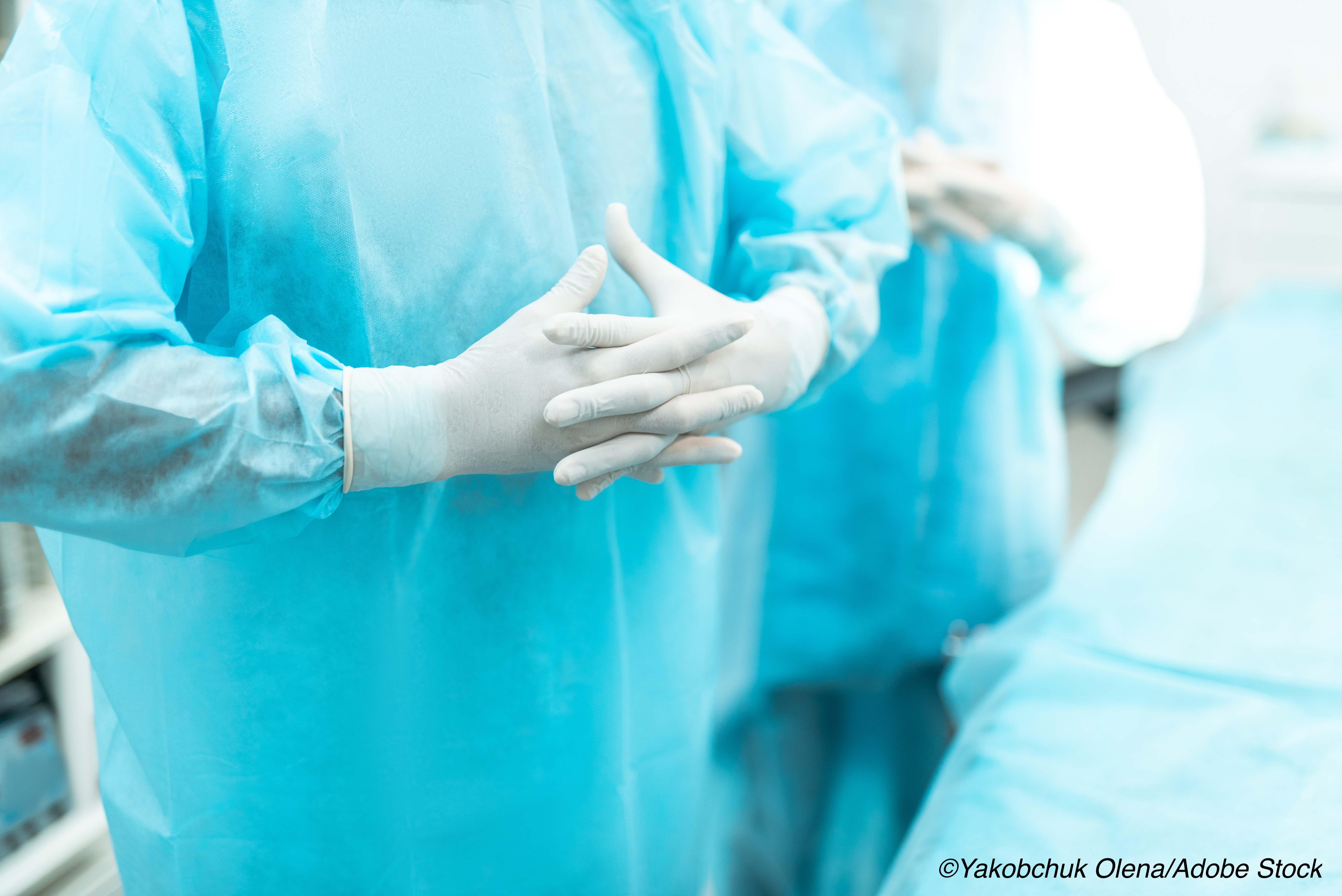 Transmission of the gram-positive bacteria linked with staph infections was nearly cut in half among patients in the VA system through the use of contact precautions ("gloves and gowns"), researchers from Utah reported.
In a modeling study done with data from >100 VA hospitals, the estimated reduction in transmissibility of methicillin-resistant Staphylococcus aureus (MRSA) associated with contact precautions was 47%, according to Karim Khader, PhD, of the IDEAS Center of Innovation, Veterans Affairs Salt Lake City Health Care System, and co-authors.
In addition, pooled estimates found that the associations between contact precautions and transmission were stable from 2008 to 2017, with estimated transmission reductions ranging from 43% (95% credible interval CrI 38% to 48%) to 51% (95% CrI 46% to 55%), they wrote in JAMA Network Open.
The authors stated that the declining MRSA acquisition rates in acute care VA hospitals were most likely due to the "MRSA Prevention Initiative," which was introduced in 2007. The program consists of an "MRSA bundle" of "universal nasal surveillance for MRSA, contact precautions for patients colonized or infected with MRSA, hand hygiene, and a change in the institutional culture whereby infection control would become the responsibility of everyone who had contact with patients," according to a 2011 New England Journal of Medicine study.
Khader and co-authors also found that reductions were linked with the size of a facility and what region of the U.S. they are located in, along with their adherence to admission screening standards to detect "patients who import MRSA."
At face value, the current findings "indicated that the routine use of contact precautions combined with an aggressive screening program was effective in reducing MRSA transmission in health care settings by an estimated 47%," noted Michihiko Goto, MD, MSCI, of the University of Iowa Carver College of Medicine in Iowa City, and co-authors in an invited commentary accompanying the study.
But Goto's group also called for a "nuanced interpretation" of the results. First, Khader and co-authors "accounted for the limited sensitivity of nares MRSA screening and natural disappearance of colonization over time and aimed to estimate transmission occurrences in unobserved but true data," so a larger effect size was expected versus "other studies which measured only observed acquisitions," Goto and co-authors stated.
Indeed, other studies have turned in mixed results, ranging from no statistically significant increase in nosocomial infection rates linked with discontinuation of contact precautions to a substantial decline in MRSA transmission rate in hospitals versus nursing homes per a 2019 modeling study by Khader's group.
Also, the VA initiative deployed a group of interventions, "and it is plausible that other elements, such as systemwide campaigns for cultural transformation and hand hygiene, augmented the effectiveness of contact precautions," Goto's group said.
Nonetheless, they emphasized that "we have to continue to accumulate real-world data… well-designed quasi-experimental studies [and] mathematical modeling studies that use large-scale clinical data warehouses can be powerful tools in advancing the science guiding infection prevention… [t]he findings reported by Khadar et al suggest it is not yet time to close the book on contact precautions."
For the retrospective study, mathematical models were applied to data from a population-based sample of adults hospitalized in 108 VA acute care hospitals for at least 24 hours from January 2008 to December 2017. Data analysis was done from May 2019 to December 2020.
"The main outcome was the association between contact precautions and MRSA transmission, defined as the relative transmissibility attributed to contact precautions. A contact precaution effect estimate (<1 indicates a reduction in transmission associated with contact precautions) was estimated for each hospital and then pooled over time and across hospitals using meta-regression," the authors explained.
They found >2 million unique individuals had >5.6 million admissions, of which 14.1% were presumed to have contact precautions with >8.4 million MRSA surveillance tests. Over the decade-long study period, contact precautions reduced transmission 47% (95% CrI 45% to 49%), Khader and co-authors reported, and "intrafacility autocorrelation coefficient estimate was 0.99, suggesting consistent estimates over time within facilities."
The authors also noted that larger facilities — defined as those with a mean daily census >77.7 patients/day — and those with higher admission screening compliance saw reductions in transmission tied to contact precautions (relative rate 0.84, 95% CI 0.74 to 0.96 and RR 0.74, 95% CI 0.58 to 0.96, respectively) versus smaller facilities and those with lower admission screening compliance. However, they cautioned that "there is no evidence that a facility's baseline transmission rate is associated with the estimated effectiveness of contact precautions."
Khader's group also found that facilities in the southern U.S. had a smaller transmission reduction pinned to contact precautions (RR 1.14, 95% CI 1.01 to 1.28) versus facilities in other U.S. regions. According to a 2007 Agency for Healthcare Research and Quality brief, the rate of MRSA infection was highest in the South, with 113.2 MRSA-related hospital stays/100,000 population, and that data was backed up by a 2019 study of the SENTRY Antimicrobial Surveillance Program that reported "the MRSA rate was highest in the Southern census divisions" versus other regions.
Current study limitations included potential delays in instituting precautions for patients who had positive surveillance tests or clinical cultures for MRSA. and the fact that patient-level factors, such as use of therapeutic agents, were not included in the analysis.
"Further work is needed to better understand and explain the variation, and to incorporate cost-effectiveness analysis to provide optimal guidance on contact precautions implementation," according to Khader and co-authors.
On a related note, aggressive infection prevention and control during the pandemic led to a dramatic drop in hospital-wide MRSA acquisition rates, according to a 2020 study out of Singapore. Another 2020 report from California noted a decline in multidrug-resistant organisms, including MRSA, during the pandemic.
Contact precautions were associated with a 47% reduction in methicillin-resistant Staphylococcus aureus (MRSA) transmission, most likely because of an "MRSA Prevention Initiative" at Veterans Affairs (VA) hospitals.

For the study, transmission models were fit to data on 8.4 million surveillance tests from 5.6 million admissions to 108 VA hospitals from 2008 to 2017.
Shalmali Pal, Contributing Writer, BreakingMED™
The study was supported by the Department of Veterans Affairs (VA), the CDC Epicenter Program, the University of Utah Study Design and Biostatistics Center, the National Center for Research Resources, and the National Center for Advancing Translational Sciences.
Khader reported support from the CDC. Co-authors reported support from the Society for Healthcare Epidemiology of America, the CDC, Pfizer, Becton Dickinson, the VA, the Agency for Healthcare Research and Quality, and the NIH.
Goto and co-authors reported no relationships relevant to the contents of this paper to disclose.
Cat ID: 125
Topic ID: 79,125,503,728,791,730,125,190,469,192,151,925