Study suggests ECG patch more effective than oscillometric screening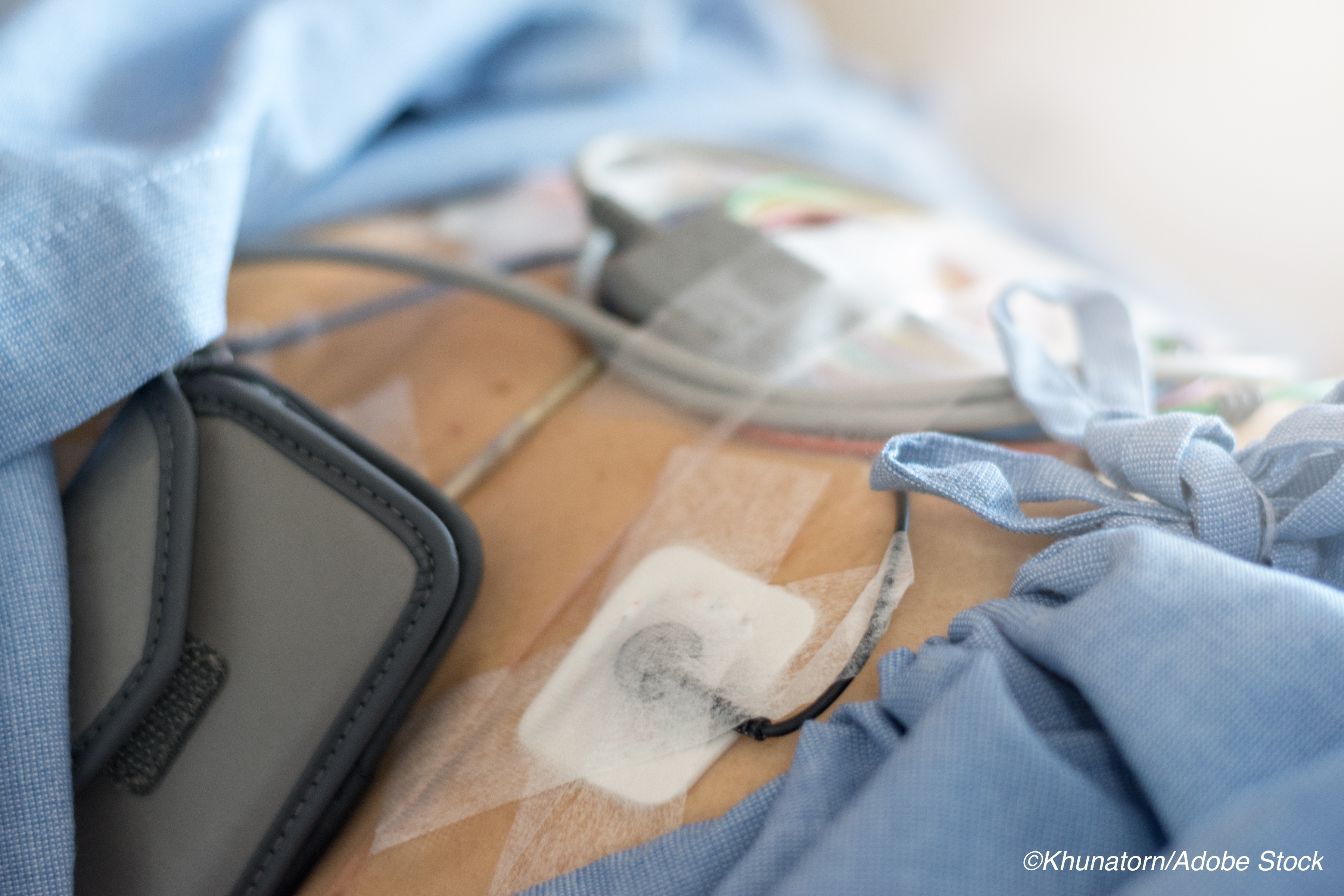 The use of a continuous electrocardiographic (cECG) patch monitor might be effective in screening older adults for atrial fibrillation, according to a randomized clinical trial that showed that such a device resulted in a 10-fold increase in the detection of atrial fibrillation (AFib), prompting the initiation of anticoagulation treatment in most cases.
David J. Gladstone, MD, PhD, Sunnybrook Research Institute, University of Toronto Department of Medicine, Toronto, Ontario, and colleagues also found that continuous ECG was more effective than intermittent oscillometric screening with a blood pressure monitor for detecting paroxysmal AFib. Their study was published in JAMA Cardiology.
AFib is a common and treatable risk factor for stroke, with a prevalence that is increasing in the U.S. In fact, according to a 2018 study in Circulation, at the age of 55 the lifetime risk of developing AFib is 1 in 3. If AFib is identified, prompt treatment with anticoagulation therapies can prevent a high percentage of strokes. However, AFib often goes undetected and untreated, with approximately 10% to 20% of ischemic stroke attributable to previously undiagnosed AFib.
According to the study authors, the concept of preventive screening for AFib is controversial, despite advances in wearable technologies for the detection of arrhythmia. European guidelines suggest that ECG screening should be considered for those older than 75 or at increased risk for stroke. However, the United States Preventive Services Task Force recommends against routine screening, citing insufficient evidence.
The lack of adequate treatment and detection is likely due to gaps in the current evidence for AFib screening, Roopinder K. Sandhu, MD, MPH, and Christine Albert, MD, MPH, both of Smidt Heart Institute, Cedars-Sinai Hospital, Los Angeles, explained in an editorial accompanying the study.
"[A]mong the most important [gaps] are (1) the optimal screening method, population, and setting; (2) clinical significance of screen-detected AF and whether [oral anticoagulant ]OAC therapy provides a net clinical benefit; and (3) risks of screening," the editorialists wrote. Sandhu and Albert outlined the following gaps:
The study shows that screening for AFib is effective "using a short-term, non-invasive device that reduces the number-needed-to-be-screened compared with estimates obtained in a less-enriched population with a single-time point assessment."
The study shows that unrecognized AFib can be detected through screening. "However the benefit of OAC treatment has been established only for AFib that is clinically detected, and much of the data demonstrating an association between unrecognized AFib and stroke arise from atrial high-rate episodes detected on cardiac electronic implantable devices rather than from screening studies," they wrote.
The risks of screening include the potential for false positive findings, which the editorialists noted could result "in inappropriate anticoagulation, unnecessary testing, and anxiety." Nonetheless, wearable devices "have the advantage of serving as both a screening and diagnostic tool." However, false positives could still result.
Nonetheless, Sandhu and Albert said that the study from Gladstone and colleagues succeeded in better defining a method, population, and setting for approaching the concept of screening for atrial fibrillation.
In their study, the researchers conducted a multicenter randomized clinical trial including 865 individuals from primary care practices who were 75 years or older with hypertension and without known AFib.
These participants were divided into a control group (n=422), who received usual care consisting of routine clinical follow-up plus a pulse check and heart auscultation at baseline and six months, and a screening group (n=434), who received a two-week continuous cECG patch monitor to wear at baseline and at three months, in addition to standard care. They also received automated home blood pressure (BP) machines to use twice a day while being monitored with the cECG.
Adherence to cECG was good, with 93.8% of the participants completing at least one week of monitoring, 85.9% at least two weeks, and 74.2% at least three weeks. Median wear times were 14.0 days for the first monitoring period and 13.9 days for the second.
AFib was detected in the screening group in 23 patients (5.3%) and in two patients (0.5%) in the control group (relative risk 11.2; 95% CI, 2.7-47.1, and an absolute difference of 4.8%). Treatment with oral anticoagulant therapy for any indication increased from 0 in both groups at baseline to 4.1% and 0.9% in the screening and control groups, respectively.
Among 399 patients with concurrent blood pressure monitor and cECG recordings, the blood pressure monitor had a sensitivity of 35.0%, a specificity of 81.0%, a positive predictive value of 8.9%, and a negative predictive value of 95.9%.
"The low sensitivity and specificity of BP monitoring in this study, as compared with previous reports, may reflect patient adherence to the BP monitor, a different standard compared with other studies, the patient population, and our detection of relatively brief episodes of paroxysmal AFib rather than persistent AFib," the authors observed.
The cECG was well tolerated, with just five individuals discontinuing cECG use because of adverse skin reactions.
"Our trial strengthens the evidence supporting the effectiveness of screening for early detection of AFib," the authors suggested, adding that it highlights the advantages of ambulatory cECG monitoring compared with other types of screening interventions (such as the fact that detection rates were higher with cECG compared to blood pressure readings, or other single time point screening techniques).
However, Gladstone and colleagues warned that "we are entering an uncharted new era of consumer-driven screening and direct-to-consumer marketing, and consumers must be informed of the potential benefits and risks." Therefore, they added, large clinical trials are needed to evaluate the clinical benefits and harms of AFib screening.
Calling the study "an important contribution to the literature in terms of better defining a method, population, and setting for an approach to AFib screening," Sandhu and Albert wrote that they agreed with Gladstone and colleagues that more studies in this area are needed, such as larger-scale outcomes trials that will determine the clinical significance of screen-detected AFib, as well as studies comparing devices. "The needle will only move forward once the results from studies evaluating clinical end points and cost-effectiveness are completed and more data are available regarding potential harms of screening," the editorialists added. "Ultimately, implementation will require a detailed assessment of health care systems' capacity to integrate AFib screening into routine care."
Limitations of the study include that it was "underpowered to detect differences in clinical outcomes," had short followup, and that lead-time bias cannot be ruled out.
A continuous electrocardiographic (cECG) monitor can be an effective screening tool for atrial fibrillation in older adults.

Use of the device resulted in a 10-fold increase in the number of cases of atrial fibrillation detected compared to usual care, and in most cases prompted oral anticoagulation therapy.
Michael Bassett, Contributing Writer, BreakingMED™
Gladstone reported receiving an operating grant from the Canadian Stroke Prevention Intervention Network (C-SPIN) for the SCREEN-AF trial (C-SPIN is a peer-reviewed national network grant funded by the Canadian Institutes of Health Research [CIHR]) during the conduct of the study; a Heart and Stroke Foundation of Canada Mid-Career Investigator Award, grants from Ontario Genomics peer-reviewed operating grant, and grants from CIHR-funded C-SPIN Network operating grant for the Ontario Holter/Echo Database Study outside the submitted work; in addition, he is chair of the Secondary Stroke Prevention Guidelines Committee for the Canadian Stroke Best Practice Recommendations (uncompensated); member of the Canadian Cardiovascular Society Atrial Fibrillation Guidelines Committee (uncompensated); he served as a site principal investigator for the NAVIGATE ESUS and NASPAF-ICH trials (all site fees paid to his institution); and he is a Canadian national coleader of the National Institute of Neurological Disorders and Stroke–sponsored ARCADIA trial. He previously served as an independent medical safety monitor for ARCADIA (uncompensated).
Sandhu reported receiving research grant support from BMS/Pfizer Quality Improvement Grant and University Foundation and Servier Alberta Innovation in Health Fund. Albert reported receiving grant support from the National Heart, Blood, and Lung Institute (R01HL116690) and St Jude Medical, Abbott, and Roche Diagnostics
Cat ID: 2
Topic ID: 74,2,399,494,730,2,192,925