Five cases of reinfection have now been reported worldwide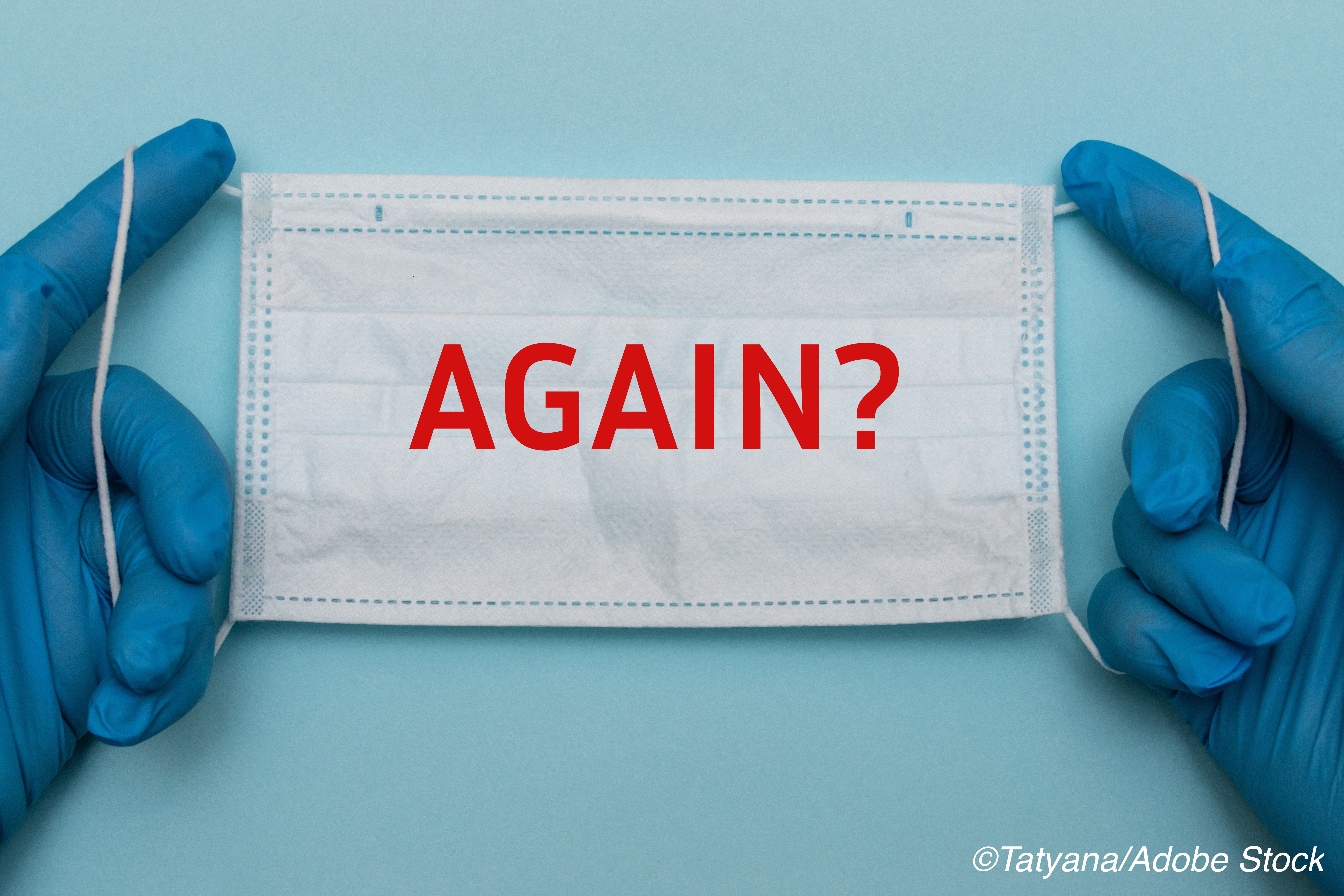 The first confirmed case of Covid-19 reinfection has been identified in the United States, marking the fifth documented case of reinfection worldwide since the beginning of the pandemic.
The 25-year-old male, who resided in Washoe County, Nevada, was infected with two distinct SARS-CoV-2 genetic variants between April 18 and June 5, with the second infection being more severe than the first one. Genetic analysis confirmed that the two viral agents were genetically distinct, suggesting that developing Covid-19 may not guarantee total immunity in the case of a second exposure to SARS-CoV-2.
The case study, published online Oct. 12 in The Lancet, also confirms that a second infection can occur within a short time frame and result in more severe symptoms, wrote researcher Mark Pandori, MD, of the University of Nevada, Reno School of Medicine, and colleagues.
"While more research is needed, the possibility of reinfections could have significant implications for our understanding of Covid-19 immunity, especially in the absence of an effective vaccine," Pandori noted in a written press statement. "It also strongly suggests that individuals who have tested positive for SARS-CoV-2 should continue to take serious precautions when it comes to the virus, including social distancing, wearing face masks, and hand washing."
In addition to the Nevada man, single cases of SARS-CoV-2 reinfection have been confirmed in Belgium, the Netherlands, Hong Kong, and Ecuador.
The Nevada and Ecuador patients were the only ones among the 5 cases to experience more serious symptoms during the second infection.
The Ecuador reinfection involved a man who presented with mild disease symptoms in May, followed by a separate bout of Covid-19 involving moderate symptoms in August. The man had a negative PCR test in July after the first infection, and genome sequencing in May and August showed two different strains of SARS-CoV-2.
In the case of the Nevada man, a positive test for SARS-CoV-2 in April was followed by two negative tests for the virus in subsequent weeks.
In June, however, the man began experiencing severe symptoms of Covid-19, including fever, headache, dizziness, cough, nausea and diarrhea. He was hospitalized with oxygen support, and testing revealed SARS-CoV-2 variant distinct from that of the first infection.
The young adult patient had no known immunological disorders and he was not taking immunosuppressive drugs. None of the 5 cases of reinfection involved patients with known immune deficiencies.
Genome sequencing of isolates from the first infection and reinfection in the Nevada man showed that both specimens belonged to clade 20C, which was commonly reported in northern Nevada at the time. The isolates from the two infections differed significantly.
The researchers noted that while it is possible that continuous infection occurred involving deactivation and reactivation of the initial exposure to both genotypes, this is not likely.
"Although evidence exists that SARS-CoV-2 quasispecies exist at low and fluctuating frequencies in infected samples, whereby low-frequency (e.g., 1%) single nucleotide variants (SNVs) could be seen in various samples from the same patient, this possible situation would not itself account for the genotype switch observed between the first infection and reinfection," they wrote.
They also noted that the lack of comprehensive genomic sequencing of positive Covid-19 cases and the issues with screening and testing availability, has limited the ability of researchers and public health officials to track the viral reinfection.
"The absence of comprehensive genomic sequencing of positive cases in the U.S.A. and worldwide limits the advances in public health surveillance needed to find these cases," the researchers wrote. "Certainly, limitations in screening and testing availability for SARS-CoV-2 exacerbate the poor surveillance efforts being undertaken not only to diagnose Covid-19, but also to obtain actionable genetic tracking of this agent."
The fact that all 5 cases of confirmed reinfection involved patients who displayed symptoms with the second infection suggests that many more cases of reinfection may have occurred but were not detected in asymptomatic patients, the researchers wrote.
In commentary published with the study, immunologist Akiko Iwasaki, PhD, of Yale University, wrote that "due to the paucity of broad testing and surveillance, we do not know how frequently reinfection occurs among individuals who recovered from their first infection."
Both Pandri et al. and Iwasaki noted that the emerging reinfection data may have implications for vaccine development.
"Does infection by different viral isolates mean we need a vaccine for each type?" Iwasaki asked, noting that while differences in the viral genome sequence of different isolates indicate reinfection, "it does not indicate that the second infection was due to immune evasion."
"There is currently no evidence that a SARS-CoV-2 variant has emerged as a result of immune evasion," Iwasaki wrote. "For now, one vaccine will be sufficient to confer protection against all circulating variants. Furthermore, reinfection by a distinct viral variant from the original virus does not imply immune escape."
She added that reinfections suggest that natural infection cannot be relied on to confer herd immunity, noting that "not only is this strategy lethal for many but also it is not effective."
"Herd immunity requires safe and effective vaccines and robust vaccination implementation," she wrote.
"As more cases of reinfection surface, the scientific community will have the opportunity to understand better the correlates of protection and how frequently natural infections with SARS-CoV-2 induce that level of immunity. This information is key to understanding which vaccines are capable of crossing that threshold to confer individual and herd immunity."
The first confirmed case of Covid-19 reinfection has been identified in the United States, marking the fifth documented case of reinfection worldwide.

The 25-year-old male living in Washoe County, Nevada was infected with two distinct SARS-CoV-2 genetic variants within 48 days, with the second infection being more severe than the first one.
Salynn Boyles, Contributing Writer, BreakingMED™
This research was funded by the Nevada IDEA Network of Biomedical Research and the National Institutes of Health's National Institute of General Medical Sciences.
Researcher Joel R. Sevinsky reported receiving personal fees from Quagen Digital Insights unrelated to this research. Editorial writer Akiko Iwasaki reported no relevant conflicts related to this study.
Cat ID: 190
Topic ID: 79,190,791,932,570,574,190,926,192,927,151,928,195,929,925,934