Small Italian study supports rooming-in and breastfeeding during pandemic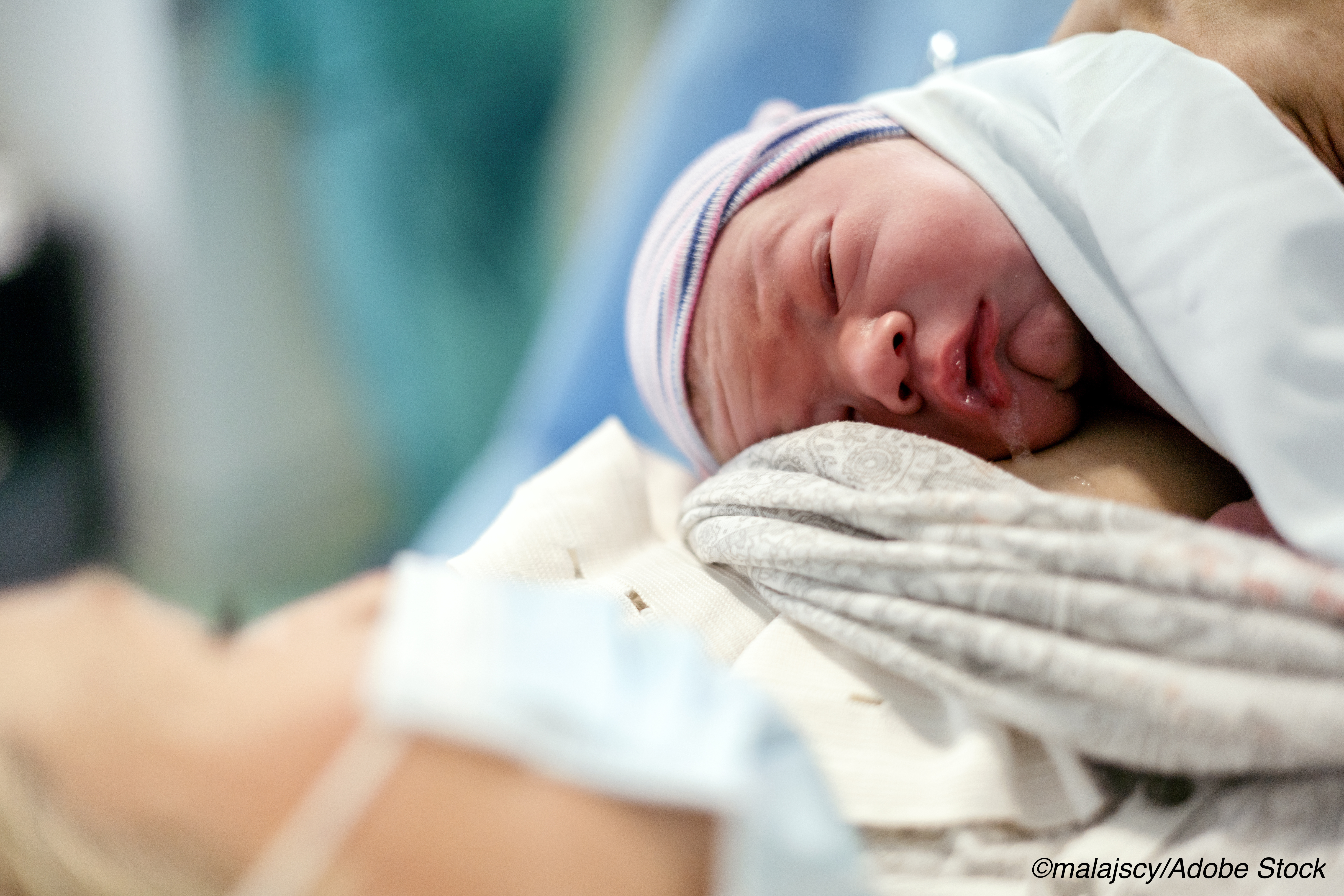 New moms with Covid-19 can safely room with, and breastfeed, their newborns, as mother-to-infant SARS-CoV-2 transmission was uncommon, according to researchers in Italy.
Among 62 infants, only 1.6% became infected with the virus that causes Covid-19 after staying in the same room with the mother after birth, reported Lorenza Pugni, MD, of Clinica Mangiagalli in Milan, and co-authors.
In that one case, "rooming-in was interrupted on day 5 of life because of severe worsening of the mother's clinical condition. The neonate became positive for the virus on day 7 of life and developed transient mild dyspnea," they wrote in JAMA Pediatrics.
Pugni's group also reported that 95% of the enrolled neonates received breastmilk, while 75% were exclusively breastfed, and they suggested that breastmilk may have a protective role through the direct transmission of specific immunoglobin A, or indirectly through the other immunological properties of breastmilk.
However, the authors cautioned that the mothers in the study were not severely affected by Covid-19. They also were counseled about droplet and contact precautions when providing infant care, including in-hospital, clinician-delivered education on hand washing, physical distancing, and wearing a mask while breastfeeding or providing infant care, as well as post-discharge written guidance.
"In particular, we believe that education of mothers about droplet and contact precautions and hand hygiene practices, as well as a constantly rigorous application of recommendations, were fundamental to minimize the risk of mother-to-infant transmission of the virus," Pugni and co-authors stated.
Although the study's take-home message is positive, "how reassuring" are the results, asked David A. Kaufman, MD, of the University of Virginia School of Medicine in Charlottesville, and Karen M. Puopolo, MD, PhD, of the Children's Hospital of Philadelphia.
The findings need to be placed in the context of what is known about "how the virus is shed and when women are potentially infectious to their infants," they stressed in an editorial accompanying the study.
Kaufman and Puopolo pointed out that almost three-quarters of the mothers in this study had onset of illness within 14 days before delivery, "and the study entry requirements were such that these women may have not been infectious at the time of delivery…the infant born to the one woman in this study who, as evidenced by the progression of her illness, was most likely to be contagious during the postpartum period, was the only infant who became infected with SARS-CoV-2."
Still, the study does help clarify historically mixed messages regarding mother-to-infant transmission. Kaufman and Puopolo explained that, early in the pandemic, the American Academy of Pediatrics (AAP) released guidelines advising temporary infant-mother separation. The guidelines were revised once more data became available – including an October 2020 study out of New York City and the COVID-19 case registry sponsored by the AAP Section on Neonatal Perinatal Medicine – recommending mothers room-in with their babies as long as they are well enough to care for them.
"The AAP revised guidance also supports the critical lesson of this study," Kaufman and Puopolo wrote. "For mothers who are potentially infectious with SARS-CoV-2 at the time of delivery, preventive measures should be taken, as newborns are at risk of acquiring the virus from mothers who are truly infectious."
The prospective cohort study was done at six Covid-19 maternity centers in Lombardy, Italy between March and May 2020. Infants were excluded if they received a positive SARS-CoV-2 polymerase chain reaction (PCR) test the day after birth.
Mothers with Covid-19 had to have received a positive test anytime between 14 days before delivery up until a few days after birth. Those who did not require respiratory support or supplemental oxygen, had a temperature less than 38°C (100.4°F), and felt well enough to care for the baby were all eligible for rooming-in, as were the infants with a gestational age ≥34 weeks, a birth weight ≥2,000 g, a physical exam within normal limits, vital signs within the reference ranges, and the ability to feed.
The infants underwent PCR testing via nasopharyngeal swab within 24 hours of birth, and again at 1 week after birth, at which time healthy babies were discharged. Infants were tested again 20 days after birth during a post-discharge check-up with a neonatologist.
The 62 babies enrolled (25 boys; 75% vaginal birth) were born to 61 mothers (median age 32 years) and tested negative for the virus within 24 hours of birth. As for the mothers, 72% tested positive at delivery, 23% were under investigation at delivery, and 5% were diagnosed 2 to 5 days postpartum with onset of symptoms. However, among those who tested positive, 55% were asymptomatic.
Study limitations included the small sample size, the lack of a control group, and the inability to quantify viral load in specimens or antibody response in all participants.
But Pugni and co-authors pointed out that the Baby-Friendly Hospital Initiative was developed to encourage rooming-in and breastfeeding for the benefit of the mother and the child. The current result "provides new, evidence-based data on the management of mother-infant pairs in SARS-CoV-2 maternal infection," they stated.
Mother-to-infant transmission of SARS-CoV-2 during rooming-in practice was rare, provided that adequate droplet and contact precautions are taken.
Mothers were counseled about droplet and contact precautions when providing infant care, including in-hospital, clinician-delivered education on hand washing, physical distancing, and wearing a mask while breastfeeding or providing infant care, as well as post-discharge written guidance.
Shalmali Pal, Contributing Writer, BreakingMED™
Pugni and co-authors, as well as Kaufman, reported no relationships relevant to the contents of this paper to disclose.
Puopolo reported being a member of the AAP writing group responsible for neonatal Covid-19 guidance.
Cat ID: 41
Topic ID: 83,41,728,932,933,125,926,41,138,192,927,928