Findings may explain multiple eye disorders linked to Covid-19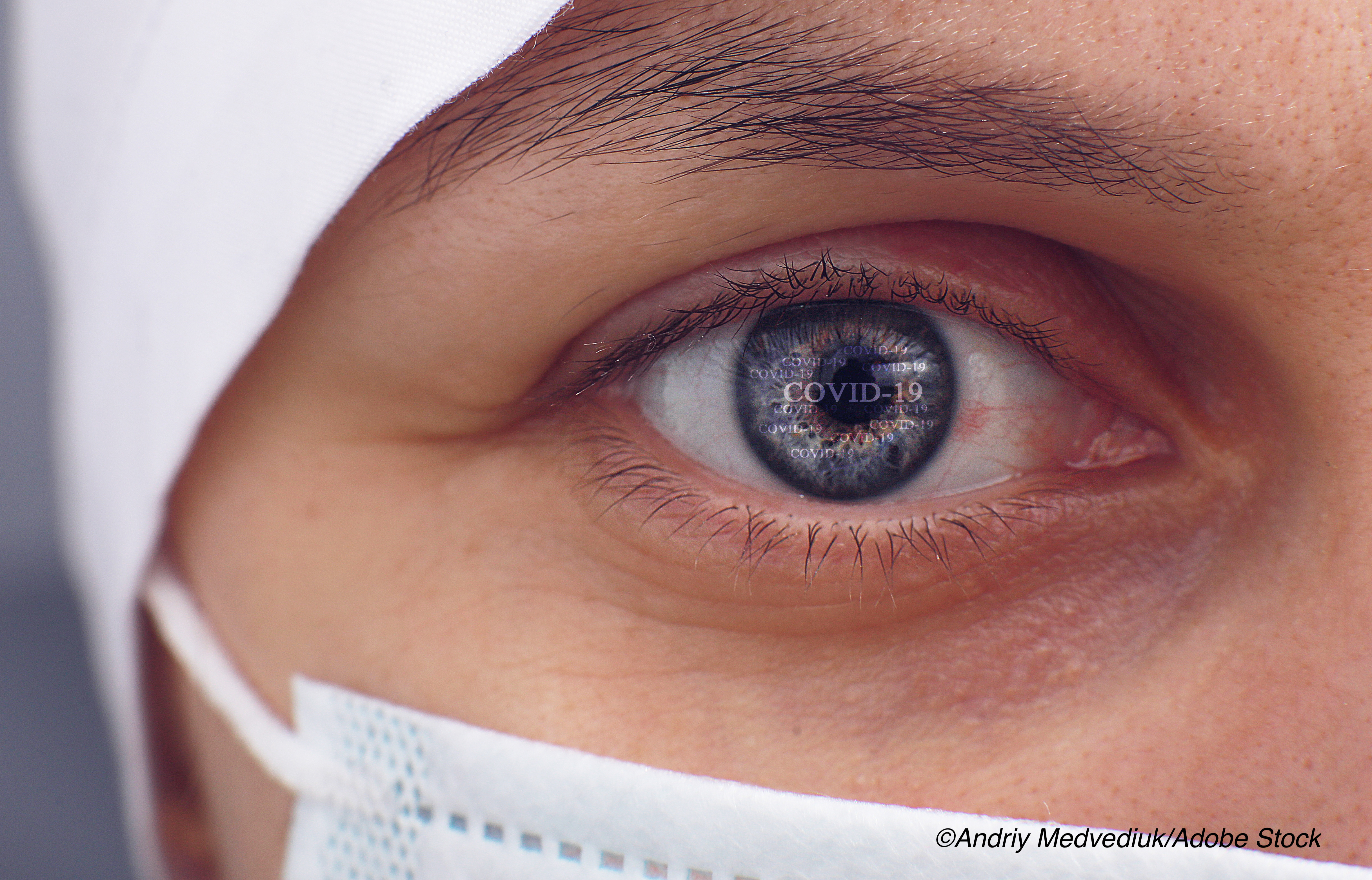 Evidence of SARS-CoV-2 virus in the retinas of three people who died of Covid-19 may help explain the host of ophthalmic disorders associated with the disease.
On immunofluorescence microscopy, eyes removed from the deceased patients showed the presence of presumed SARS-CoV-2 particles and the Covid-19 relevant spike (S) and nucleocapsid (N) proteins within endothelial cells close to the capillary flame, as well as in cells of the inner and outer nuclear layers.
Numerous eye disorders have been described in patients with Covid-19, including conjunctivitis; inflammation of the cornea and conjunctiva, eyelids, and uvea; retinal vascular occlusion; optic neuritis; and cranial nerve dysfunction.
In the study, published in JAMA Ophthalmology, researchers Alléxya Marcos, MD, of Brazil's Federal University of São Paulo, and colleagues examined both retinal and choroidal tissue using a combination of fluorescent-tagged antibodies targeting specific SARS-CoV-2 antigens.
The analysis included eyes from three patients who had died of Covid-19. Patient age at death ranged from 69 to 78 years. All were treated in the intensive care unit, all received mechanical ventilation, all were hypertensive, and all had severe pulmonary involvement with more than 50% of their lungs showing multifocal pulmonary ground-glass opacities on chest tomography imaging. One patient had a vitreous eye hemorrhage during his illness. Ophthalmological evaluations were not conducted on the other two patients, who died shortly after hospital admission.
Marcos and colleagues were able to identify viral antigens in multiple layers of the neurosensory retina, and in the retinal pigment epithelium and choroid.
"The presumed SARS-CoV-2 viral particles appeared as small vesicles, with a mean diameter of 70 nm, located near the cells' nucleus and [are] associated with a complex membrane network known as the viral factory involving the endoplasmic reticulum-Golgi complex system," they wrote.
Fluorescence microscopy showed the Covid-19 spike and nucleocapsid proteins in various regions of the retina, including the ganglion cell, inner plexiform, outer plexiform, and outer nuclear layers, as well as the pigment epithelium and choroid.
"Serial optical sections obtained using confocal laser scanning microscopy showed that labeling was localized in the perinuclear region, in close agreement with the electron microscopy observations," the researchers wrote.
They added that the visualization of both spike and neucleocapsid viral proteins on immunofluorescence microscopy closely aligned with previous reports showing the S1 protein in the neurosensory retina.
"Given that these findings support the presence of viruses that presumably are SARS-CoV-2 in the retina, research should assess whether retinal changes are related only to secondary microvascular and immunological changes, coincidence to a very prevalent infection or the virus' direct presence, or a combination of these," Marcos and colleagues wrote. "The findings may help to elucidate the virus' pathophysiological mechanisms, which may allow a better understanding of the sequelae of the disease and may direct some avenues of future research."
In a commentary published with the study, Nasreen Syed, MD, and Charles Grose, MD, of the University of Iowa, Iowa City, wrote that the images showing viral antigens in multiple layers of the neurosensory retina, retinal pigment epithelium, and choroid strongly suggest that these antigens are present in the retina and choroid.
"This (study) demonstrates convincing evidence of SARS-CoV-2 in multiple layers of the retina and the choroid using both immunofluorescent studies directed against specific Covid-19 antigens and transmission electron microscopy," they wrote. "This is an important finding that suggests that Covid-19 becomes disseminated throughout the body in patients with severe infections. How the virus enters retinal cells is not well understood. Covid-19 is known to bind to angiotensin-converting enzyme 2 receptors in other tissues, such as the lung."
Syed and Grose cited a 2016 study that suggested certain retinal cells express these receptors.
"There is also evidence that Covid-19 is neurotropic and has the capacity to infect astrocytes and microglia in the central nervous system," they wrote. "This may predispose the retina to invasion by the virus. Whether the presence of the virus results in localized disease in intraocular tissues in most cases remains unknown."
The commentary writers concluded that while the study by Marcos and colleagues represents a starting point, "further study is needed to answer this question as we begin to unravel the complex mechanisms of Covid-19 infection."
Study limitations include the small number of cases.
Eyes removed from deceased patients showed the presence of presumed SARS-CoV-2 particles and the Covid-19 relevant spike (S) and nucleocapsid (N) proteins on immunofluorescence microscopy.

Viral antigens linked to Covid-19 were identified in multiple layers of the neurosensory retina, and in the retinal pigment epithelium and choroid.
Salynn Boyles, Contributing Writer, BreakingMED™
Funding for this study was provided by the Conselho Nacional de Pesquisa, Instituto da Visao and CAPES.
Marcos declared no relevant conflicts related to this study.
Grose is funded by National Institutes of Health outside the submitted work. Syed reported receiving unrestricted funding to the Department of Ophthalmology and Visual Sciences, University of Iowa, from Research to Prevent Blindness.
Cat ID: 125
Topic ID: 79,125,730,933,125,190,926,192,927,925,934,240