But changes in the vaping marketplace could affect that association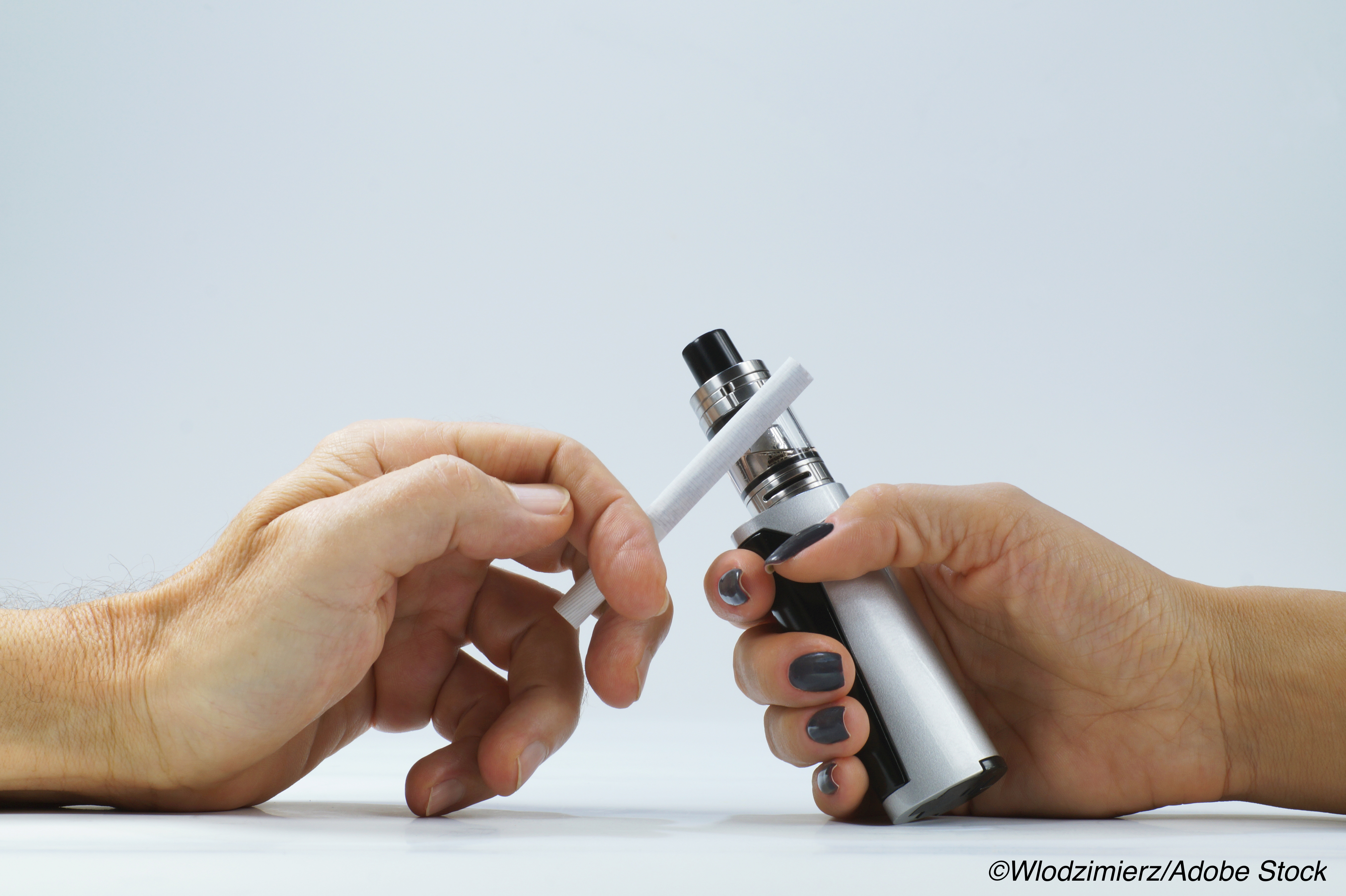 The use of electronic nicotine delivery systems (ENDS) did not resulted in any change in the frequency or intensity of cigarette smoking in young adults in the year from 2014 to 2015, researchers found.
However, the association between ENDS use and future tobacco and nicotine use, particularly among young adults aged 18 to 24 years, is an open question. That question has become more important with the increasing prevalence of ENDS use among this group, Jennifer L. Pearson, MPH, PhD, University of Nevada, Reno, and colleagues suggested in JAMA Network Open. They also noted that the evolution of the vaping products marketplace could impact the association between young adult cigarette and ENDS use.
For example, the U.S. nationally representative Population Assessment of Tobacco and Health (PATH) Study, in its first wave of data (2013-2014), found that 32.1% of young adults had ever used ENDS. By its third wave of data (2015-16), that percentage had increased to 51.9% — and, some systematic reviews and meta-analyses have suggested that the use of these products increases the risk of young adults initiating cigarette smoking.
"Given those data and that young adulthood is a critical period for the establishment of tobacco and nicotine use, it is important to consider the association between ENDS use and cigarette smoking specifically in this age group," wrote Pearson and colleagues.
This cohort study used three waves of data (2013-2014, 2014-2015, and 2015-2016) from the PATH study, an ongoing longitudinal cohort study of adults and youth. The authors used propensity score matching analyses of these years of data to evaluate the association between an increase or decrease in cigarette smoking.
The main outcomes were change in smoking frequency (the number of smoking days in the previous 30 days at wave 3 versus wave 2) and the change in smoking intensity (the number of smoking days in the previous 30 days multiplied by the mean number of cigarettes consumed on smoking days).
There were 1,096 young adults in the study cohort (55.6% women, 63.7% white, 25.2% Hispanic). Of these study participants, 19.5% were previous 30-day marijuana users and 14.75% had smoked tobacco daily for the previous 30 days.
The authors found no statistically significant association between ENDS use at wave 2 and changes in wave 2 to wave 3 cigarette smoking frequency and intensity.
While the authors concluded that ENDS use was not statistically significantly associated with either a decrease or increase in cigarette smoking among young adult ever smokers, they did find that wave 2 to wave 3 changes did have positive values.
For example, they estimated that young adults who used ENDS 6 or more days in the previous 30 days compared with never users increased their number of cigarettes smoked by 44.4 cigarettes in the past 30 days (an increase that was not statistically significant).
Pearson and colleagues warned that it is important to consider that the wave 3 ENDS use data were collected in 2015 and may not reflect the changes in vaping technology and sales. For example, newer data on sales showed a marked increase with the introduction of the MarkTen e-cigarette product (since discontinued) in 2016, and the introduction of POD-based JUUL device the following year.
"Specifically, JUUL dominated the 2018 brick-and-mortar ENDS marketplace, delivering nicotine on par with a cigarette, which suggests a potential for higher abuse liability as well as potential greater utility as a quit method for cigarette smokers," the authors observed. "Analyses of data after 2018 may find different associations between ENDS use and smoking than those reported here."
In a commentary accompanying the study, Cristian I. Meghea, PhD, Department of Obstetrics, Gynecology, and Reproductive Biology, College of Human Medicine, Michigan State University, East Lansing, noted that young adulthood is when smoking patterns are completely established. Thus, ENDS use could influence those patterns.
Furthermore, Meghea pointed out, recent randomized clinical trials have demonstrated that electronic cigarettes can be effective in helping adult smokers quit smoking, which suggests the possibility that ENDS use can help young adults cease smoking as well.
"However, there is no conclusive evidence that ENDS use leads to increased or reduced cigarette smoking among young adult smokers," Meghea wrote. "Large, adequately powered, RCTs of ENDS use among young adult smokers are needed to answer the question of whether ENDS are effective smoking cessation aids or whether ENDS may increase cigarette smoking and nicotine consumption."
As of 2015, electronic nicotine delivery systems had not resulted in any changes in frequency or intensity of smoking in young adults.

The way the vaping marketplace has evolved since that time could impact that association between vaping and smoking.
Michael Bassett, Contributing Writer, BreakingMED™
Pearson reported receiving personal fees from Westat during the conduct of the study, and receiving payment for expert testimony in lawsuits filed against the tobacco industry.
Cat ID: 489
Topic ID: 89,489,138,139,143,151,489,925