Transcatheter mitral valve-in-valves a viable alternative for high-risk patients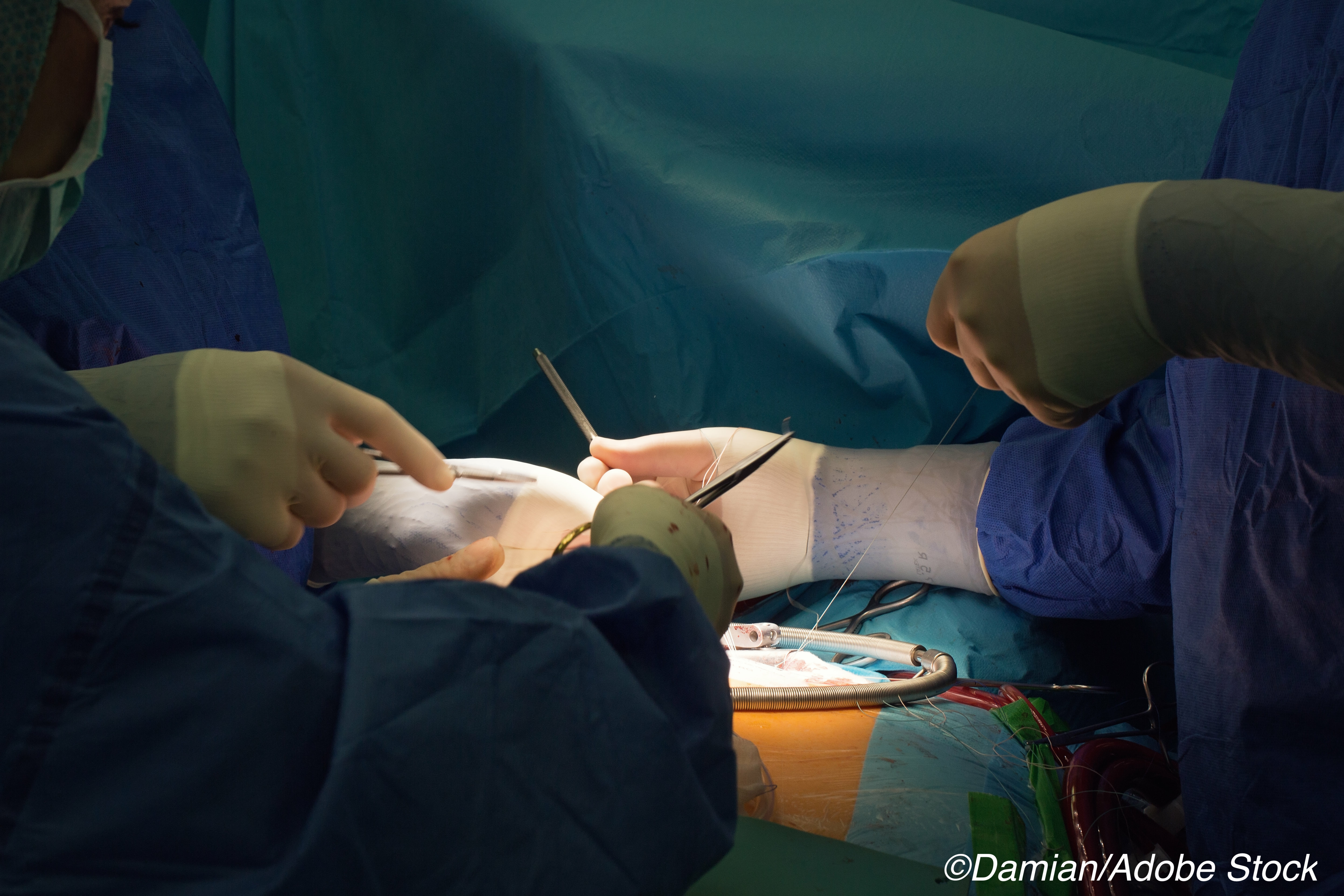 In patients with heart failure in whom surgical bioprosthetic valves have failed, transseptal mitral valve-in-valve (MViV) using balloon-expandable transcatheter valves is a viable option and should be considered, according to results from a study published in JAMA Cardiology. Further, transcatheter MViV brought about high technical success, improved heart failure symptoms significantly, sustained valve performance, and was associated with low 30-day and 1-year mortality, researchers concluded.
"Transcatheter mitral valve-in-valve (MViV) replacement was explored early in the development of [transcatheter heart valves] THVs with transseptal (TS) and transapical (TA) approaches. Transseptal MViV involves transesophageal echo-guided TS puncture and over-the-wire delivery of the THV through an expandable 14F or 16F sheath in the femoral vein. Transapical access includes surgical exposure, access, and closure of the left ventricular apex," explained researchers led by Brian Whisenant, MD, of the Intermountain Medical Center, Salt Lake City, UT.
"Surgical mitral bioprosthetic valves are radiopaque, stented, and circular and therefore ideal receptacles for balloon expandable THVs," they added.
In this prospective study, Whisenant and colleagues assessed the outcomes of transcatheter MViV replacement for degenerated bioprosthetic mitral valves in 1,529 patients (mean age: 73.3 years; 59.1% female) from the Society of Thoracic Surgeons/American College of Cardiology Transcatheter Valve Therapy Registry, linking these data with death and stroke data from the US Centers for Medicare and Medicaid.
The SAPIEN 3 valve, which was used for the trial, was FDA approved in June 2015 and is a low-profile, balloon-expandable, bovine pericardial valve that is mounted on a chromium cobalt frame.
In all, 86.7% of patients underwent TS valve replacement and 13.3%, TA. Procedural technical success was achieved in 96.8% of patients.
Procedural complications were rare and similar for both TS and TA access, and included stroke in 0.7%, device embolization in 0.3%, left ventricular outflow tract obstruction in 0.9%, and cardiac perforation in 1.1%. In-hospital all-cause mortality occurred in 4% of patients (P=0.06), while in-hospital cardiovascular mortality occurred in 2.2% and was lower in those undergoing TS access vs TA access (1.8% vs 4.4%; P ˂ 0.001). Both length of stay and discharge to home were more favorable in those undergoing the TS approach compared with the TA approach (2 vs 6 days, respectively; P ˂ 0.001 and 82.5% vs 59.1%; P ˂ 0.001; respectively).
At 30 days, all-cause mortality was 5.4%, and at 1 year, 16.7%. Mean predicted risk of mortality according to parameters from the Society of Thoracic Surgeons was 11.1%.
Whisenant and colleagues observed that transseptal access was associated with a lower 1-year, all-cause mortality compared with transapical access (15.8% vs 21.7%; P=0.03). Further, they found that transcatheter MViV led to early, sustained, and clinically meaningful improvements in heart failure class. At baseline, the incidence of class III/IV New York Heart Association heart failure was 87.1%. One year after MViV replacement, it decreased to 9.7%. At this time point, mean mitral valve gradient was 7 mmHg.
Improvements in quality of life were marked in both groups, with continued improvements demonstrated at 1 year, increasing from 35.5 points at baseline-30 days to 39.4 points at 1 year.
Upon multivariate analysis, Whisenant and colleagues found that predictors of 1-year mortality included a TS vs TA approach (HR: 0.58; 95% CI: 0.37-0.90; P=0.01), cardiogenic shock within 24 hours (HR: 2.28; 95% CI: 1.14-4.57; P=0.02), and moderate or severe tricuspid regurgitation (HR: 1.81; 95% CI: 1.16-2.84; P=0.01).
Limitations of the study included its observational nature, the lack of an independent echocardiographic laboratory and a standardized definition of LVOT obstruction, underestimation of prosthetic dysfunction, and preponderance of TS vs TA procedures (1326 vs 203, respectively).
"Structural valve deterioration is a long-term complication of valve replacement and one that occurs more frequently with biologic valves. Reoperation for structural valve deterioration of a mitral prosthesis is associated with increased mortality, postoperative complications, and resource use. Transcatheter valve-in-valve replacement has shown promise in previously published series of fewer than 100 patients. It is therefore very interesting to review the data on outcomes of transcatheter MViV in high-risk patients from the Society of Thoracic Surgeons/ American College of Cardiology TVT Registry published in this issue of JAMA Cardiology by Whisenant et al," wrote Anita W. Asgar, MD, MSc, of the Montreal Heart Institute, Université de Montreal, Montreal, Canada, in an accompanying editorial.
She noted that procedural complications were rare, and included device embolization in 0.3% and conversion to open surgery in only 0.9%. In-hospital, all-cause mortality was also low in these high-risk patients (4%), and only 0.8% developed left ventricular outflow tract obstruction.
Yet, while 1-year, all-cause mortality was 16.7%, Asgar noted that a full 54% of patient did not complete 1-year follow-up. She stressed that while the results of this study are "compelling," many questions remain.
"Transcatheter MViV for degenerated bioprostheses is a promising technique for high-risk patients with acceptable early mortality and should be considered as a therapeutic option in this population. At present, data are lacking on the consequences of elevated valve gradients, valve durability, the optimal management of concomitant TR, and optimal anticoagulation strategies. Until such data are available, clinicians must carefully weigh the knowns and unknowns to arrive at the best option," concluded Asgar.
For high-surgical risk patients in whom bioprosthetic heart valves have degenerated, transseptal mitral valve-in-valve replacement improves 1-year outcomes, reduces mortality, and has a high rate of success.

Improvements in NYHA heart failure class and quality of life were also seen in these patients after transseptal valve replacement.
E.C. Meszaros, Contributing Writer, BreakingMED™
Whisenant reported receiving personal fees from Edwards Lifesciences outside the submitted work.
Asgar reported receiving consulting fees from Abbott, Medtronic, and Edwards Lifesciences.
Cat ID: 3
Topic ID: 74,3,730,3,192,151