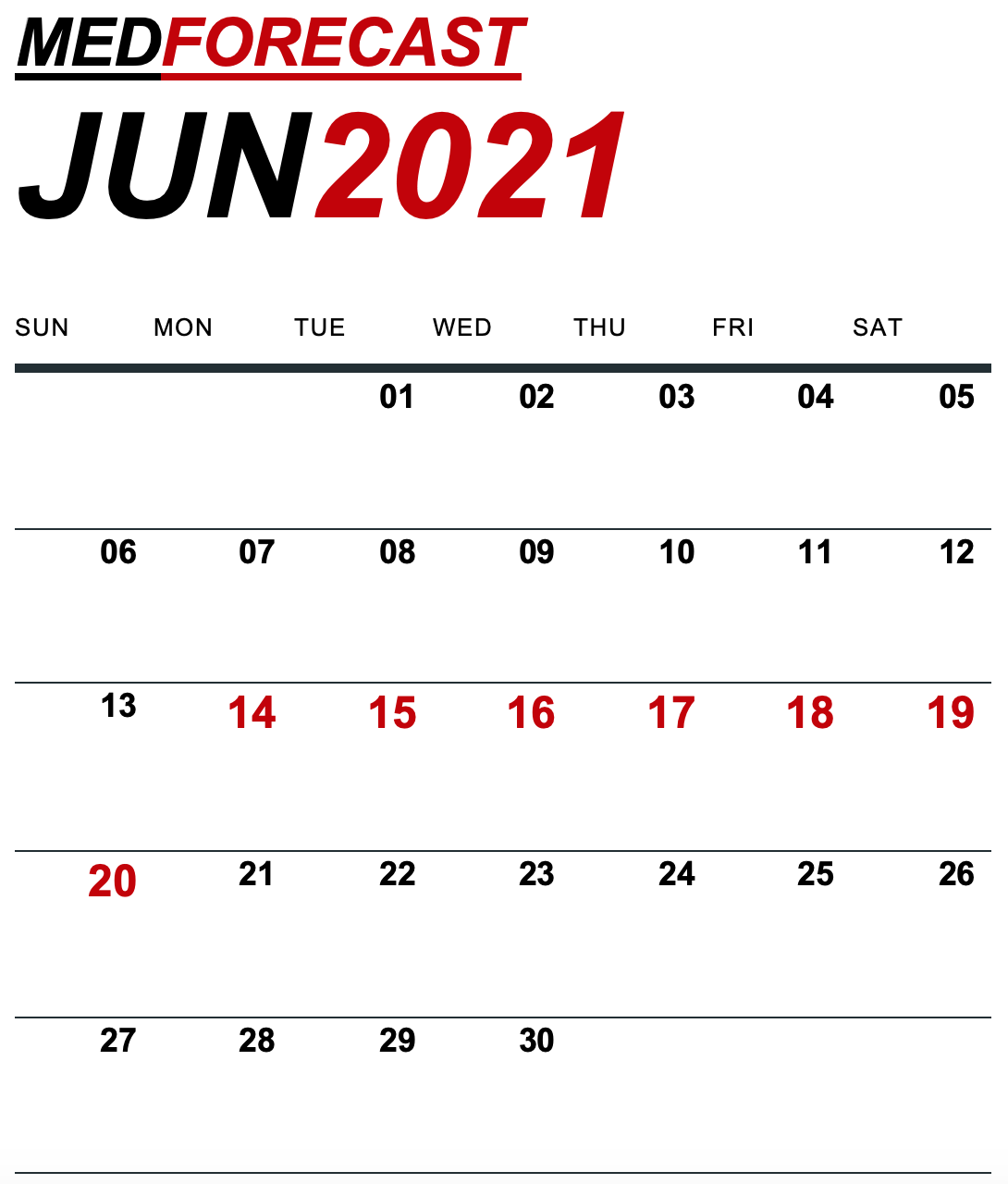 Lynne Peterson is the Senior Writer for Trends-in-Medicine.
Here is the medical news to watch for June 14-20, 2021.
Emergency medicine: The American Academy of Emergency Medicine (AAEM), which starts on June 20 and continues through June 24, is a hybrid meeting, with some attending in person in St. Louis, Missouri, and others participating virtually.
Hematology: The virtual European Hematology Association (EHA) meeting will be in its Thematic Days portion June 14-17. On June 14, the focus is chronic lymphoid neoplasms—thrombosis & hemostasis, June 15 is red and white cell disorders, June 16 is chronic myeloid malignancies, and June 17 is acute leukemia.
Infectious diseases: World Microbe Forum, a virtual collaboration between the American Society for Microbiology (ASM) and the Federation of European Microbiological Societies (FEMS), starts June 20 and continues through June 24. Topics will range from new infectious pathogens like SARS-CoV-2 to antimicrobial resistance, synthetic and applied microbiology, and the role of microbes in climate change, agriculture, and food microbiology.
Neurology: The virtual European Academy of Neurology (EAN) meeting will take place June 19-22. Among the topics: new therapeutic approaches in neurological diseases, MS-related fatigue, spasticity, management of rare early-onset epilepsies, the future of sleep medicine, innovative diagnostics for Parkinson's disease, and, basically, everything else neurologic.
Oncology: The International Conference on Malignant Lymphoma (16-ICML) will take place virtually June 18-22. At this meeting, you'll find the latest advances in basic science relating to lymphoma, the recent results of translational research, and the most recent clinical trial data. Among the data to watch are:
The preliminary results of the Phase II TELLOMAK trial of Innate Pharma's lacutamab, an anti-KIR3DL2, in mycosis fungoides.
The preliminary results for two antibody drug conjugates (ADCs) from ADC Therapeutics: An ongoing pivotal Phase II trial of camidanlumab tesirine in relapsed/refractory classical Hodgkin's lymphoma, and additional follow-up of the Phase II LOTIS-2 trial of loncastuximab tesirine in relapsed/refractory diffuse large B-cell lymphoma (DLBCL) and the Phase I LOTIS-3 trial of loncastuximab tesirine plus ibrutinib in non-Hodgkin's lymphoma.
TG Therapeutics' TG-1701, a BTK inhibitor, as monotherapy and in combination with its ublituximab (an anti-CD20) and umbralisib (Ukoniq), a dual PI3Kδ/CK1ε inhibitor, in B-cell malignancies.
Pulmonology: The FDA is expected to make a decision by about June 15 on a treatment for eosinophilic esophagitis, Takeda's TAK-721 (budesonide), an oral viscous formulation of a steroid.
Radiology: The Society of Nuclear Medicine and Molecular Imaging (SNMMI) virtual meeting is continuing through June 15.
Rare diseases
The FDA is expected to make a decision by June 16 on a treatment for systemic mastocytosis, Blueprint Medicines' Ayvakit (avapritinib), a kinase inhibitor.
The FDA is expected to make a decision by June 17 on a treatment for Niemann-Pick disease Type C (NPC), Orphazyme's arimoclomol, a heat shock protein amplifier.
Regulatory: The FDA's Oncology Center of Excellence is hosting a webinar on June 17 in honor of National Black Family Cancer Awareness Week.
Rheumatology: The FDA and the Arthritis Foundation are jointly hosting an Osteoarthritis Drug Development virtual workshop on June 22 on ways to expedite the development of safe and effective treatments with long-term benefits in osteoarthritis. The objectives include identifying promising innovations, trial designs, trial endpoints, and biomarkers that will facilitate trials.
Lynne Peterson, Contributing Writer, Senior Writer for Trends-in-Medicine
Cat ID: 151
Topic ID: 88,151,254,730,118,190,130,192,151,725,195,158,925,96