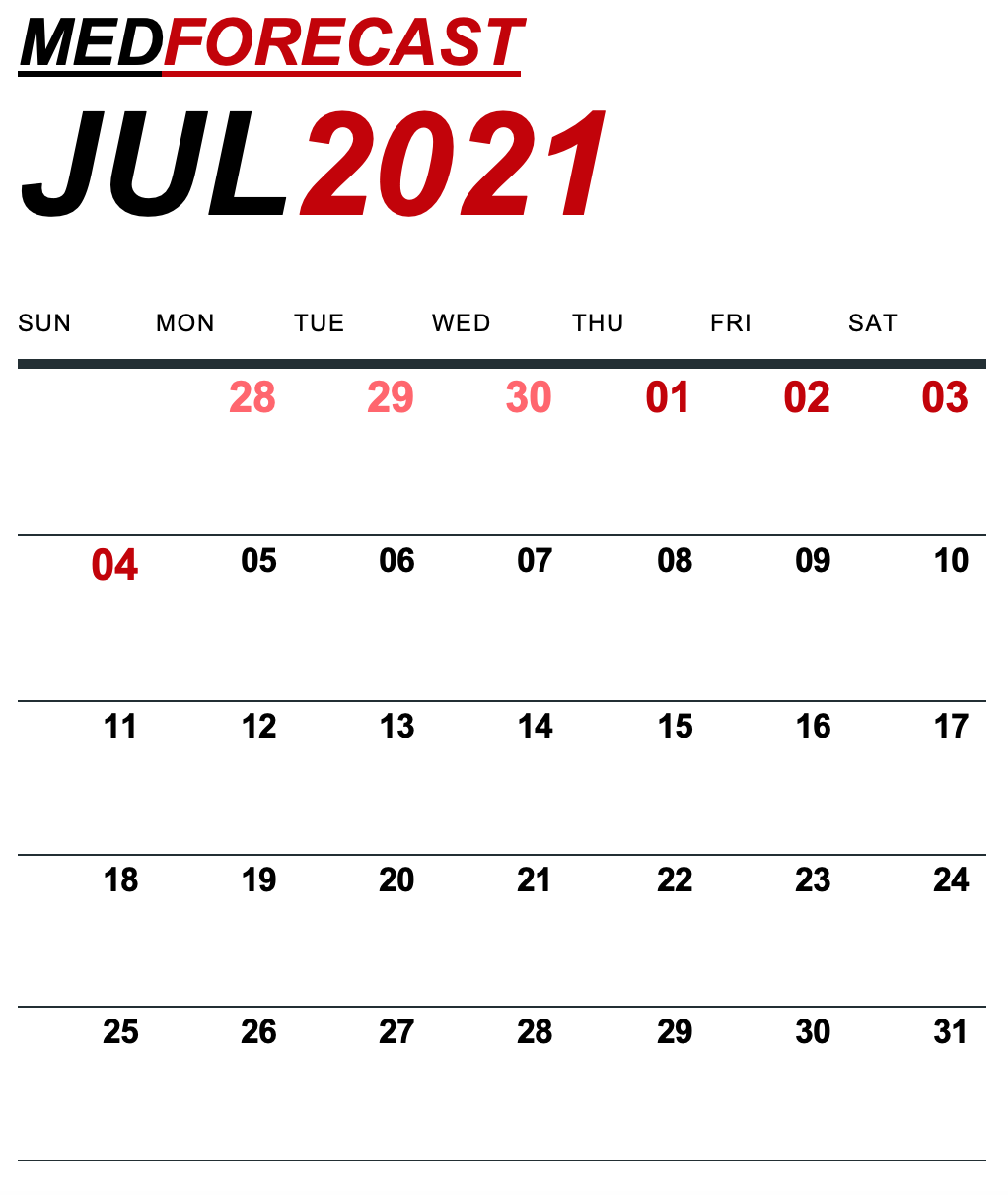 Lynne Peterson is the Senior Writer for Trends-in-Medicine.
Here is the medical news to watch for June 28-July 4, 2021. Have a great July 4th holiday!
Burns: The FDA is expected to make a decision by June 29 on MediWound and Vericel's NexoBrid (concentrate of proteolytic enzymes enriched in bromelain) for eschar removal (debridement) in adults with deep partial-thickness and/or full-thickness thermal burns.
Cardiology
The World Congress on Acute Heart Failure (HF) will take place virtually June 29-July 1. There will be the latest news on everything related to heart failures, from guidelines to digital solutions, devices, biomarkers, and drugs – including SGLT2 inhibitors, Cytokinetics' omecamtiv mecarbil, Bayer's finerenone, and much more.
The first day of the two-part Heart Rhythm Society (HRS) meeting will take place virtually June 30, with sessions on atrial fibrillation ablation, nerves stimulation, neuroablation, and more. The second part on July 28-31 can be attended either in person in Boston or virtually.
Dermatology: The FDA is expected to make a decision in July on expanded use of a JAK inhibitor, AbbVie's Rinvoq (upadacitinib), to treat moderate-to-severe atopic dermatitis.
Endocrinology
The American Diabetes Association (ADA) Scientific Sessions is continuing virtually through June 29.
The FDA is expected to make a decision in July about a potential first-in-class, non-steroidal, selective mineralocorticoid receptor antagonist (MRA), Bayer's finerenone (BAY-94-8862), for Type 2 diabetes patients with chronic kidney disease (CKD).
The FDA is expected to make a decision by July 2 on an infused anti-CD3 for preventing/delaying clinical Type 1 diabetes, Provention Bio's teplizumab (PRV-031). Remember, the FDA's Endocrinologic and Metabolic Drugs Advisory Committee voted 10-7 to recommend approval, but that is a split vote, not necessarily a win for teplizumab.
Life sciences: The Drug Information Association (DIA) virtual meeting is continuing through July 1.
Oncology: The European Society for Medical Oncology (ESMO) World Congress on Gastrointestinal (GI) Cancer will take place virtually June 30-July 3. Among the topics are: gender and race in clinical trials, colorectal cancer screening, chemoprevention, novel immuno-oncology approaches in GI cancers, new developments in radiation oncology, drug interactions, and how to improve outcomes in patients with metastatic pancreatic cancer.
Ophthalmology: The 9th World Glaucoma E-Congress, hosted virtually by the Japan Glaucoma Society (JGS), will take place virtually June 30-July 3. Topics will range from basic science and genetics to medical and surgical management.
Regulatory: On June 28 the FDA is hosting its annual meeting on financial transparency and efficiency of the prescription drug user fee act (PDUFA), the biosimilar user fee act (BsUFA), and the generic drug user fee act (GDUFA).
STDs: The FDA is expected to make a decision by June 30 on expanded approval of secnidazole (Lupin Pharmaceuticals' Solosec) to include treatment of trichomoniasis.
Lynne Peterson, Contributing Writer, Senior Writer for Trends-in-Medicine
Cat ID: 270
Topic ID: 74,270,730,270,3,449,12,13,182,23,192,151,725,925,93