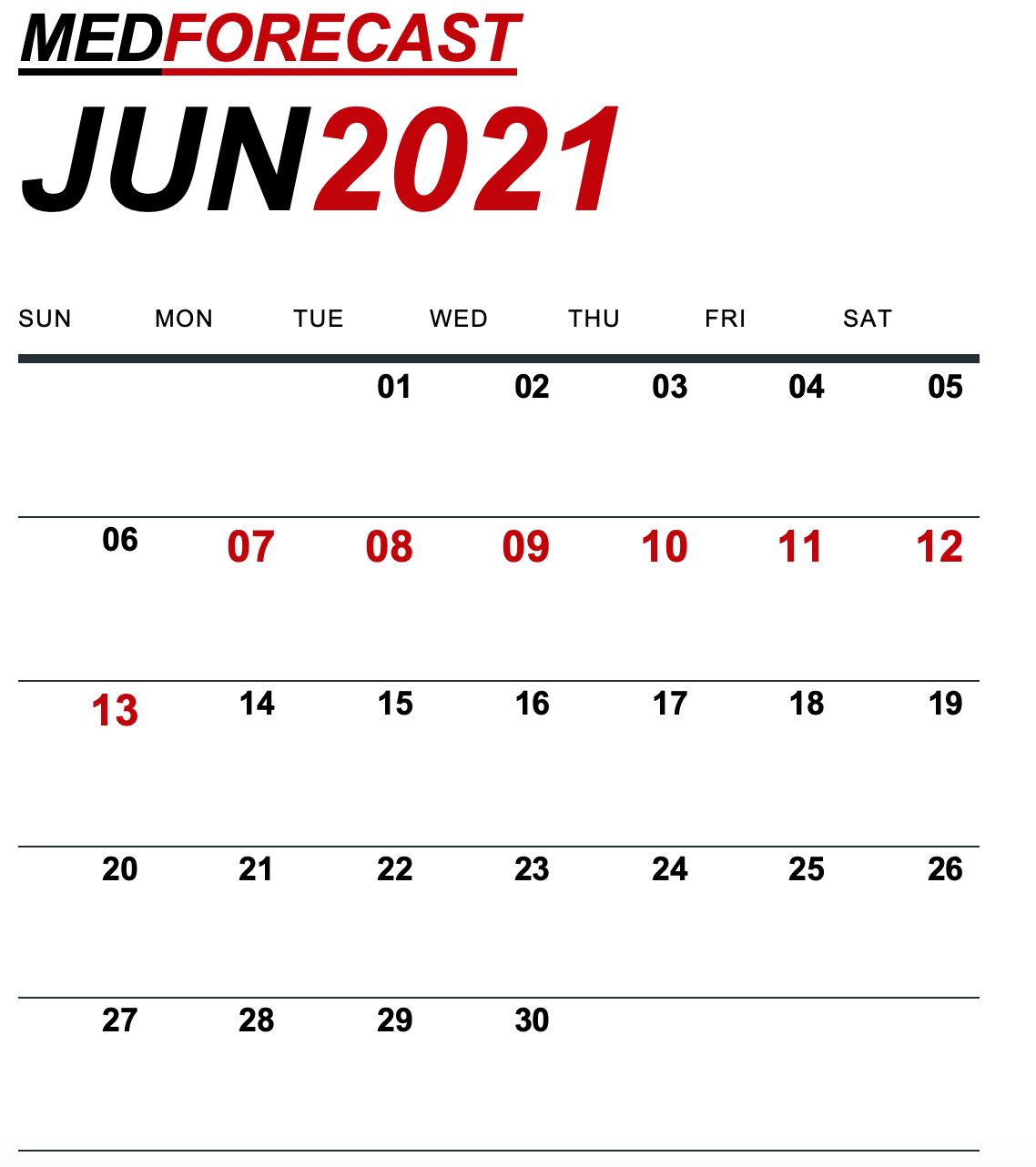 Lynne Peterson is the Senior Writer for Trends-in-Medicine.
Here is the medical news to watch for June 7-13, 2021.
Covid-19
The FDA's Vaccines and Related Biological Products Advisory Committee will hold a virtual meeting on June 10 to discuss pediatric emergency use authorizations or full approvals of Covid-19 vaccines. The discussion is expected to focus mainly on vaccine dosing and safety in children age <12.
Hematology
The European Hematology Association (EHA) virtual meeting is spread out over 9 days, June 9-17. There will be cutting-edge science, new developments in diagnostics and new clinical trial data, including:
Immunology
The Federation of Clinical Immunology Societies (FOCiS) meeting is taking place virtually June 8-11. Discover the latest breakthroughs in immune-mediated diseases and more on molecular pathways. And look for Phase Ib/IIa data on Precigen's AG-019 ActoBiotics in Type 1 diabetes.
Nephrology
The European Renal Association/European Dialysis and Transplant Association (ERA-EDTA) virtual meeting is continuing through June 8. Look for new data on Chinook Therapeutics' BION-1301, an anti-APRIL, in IgA nephropathy.
Neurology
The FDA is expected to make a decision by June 7 on Biogen and Eisai's aducanumab (BIIB-037), an anti-amyloid-beta antibody, to treat Alzheimer's disease. It's very controversial. An FDA advisory committee voted overwhelmingly that the data do not support efficacy, and Public Citizen urged the Office of Inspector General (OIG) in the Department of Health and Human Services (HHS) to investigate the "precedented and inappropriate close collaboration" between the FDA and Biogen. But the Alzheimer's Association supports approval.
Oncology
Pulmonology
Radiology
The Society of Nuclear Medicine and Molecuar Imaging (SNMMI) annual meeting will take place virtually June 11-15, and there is supposed to be four times as much content as last year – education, research, networking that will provide physicians, technologists, pharmacists, laboratory professionals, and scientists with an in-depth view of the latest research and developments in the field as well as insights into practical applications for the clinic.
Regenerative medicine
The Food and Drug Law Institute's Regenerative Medicine: Regulatory, Legal, and Compliance Challenges for Cell and Gene Therapies virtual conference will take place June 8-9. There will be sessions on recent breakthroughs, global regulatory collaborations, standardization, regulatory issues, and more.
Regulatory
Sleep medicine
Sleep 2021, the annual meeting of the Associated Professional Sleep Societies (APSS) will take place virtually June 10-13. Among the topics that will be covered: circadian science, sleep lab emergencies, behavioral treatment of insomnia, and more.
Transplant
The American Transplant Congress (ATC) is continuing virtually through June 9. Look for data on Eledon Pharmaceuticals' AT-1501, an anti-CD40L.
Lynne Peterson, Contributing Writer, Senior Writer for Trends-in-Medicine
Cat ID: 118
Topic ID: 78,118,118,935,926,127,130,192,195,925,96