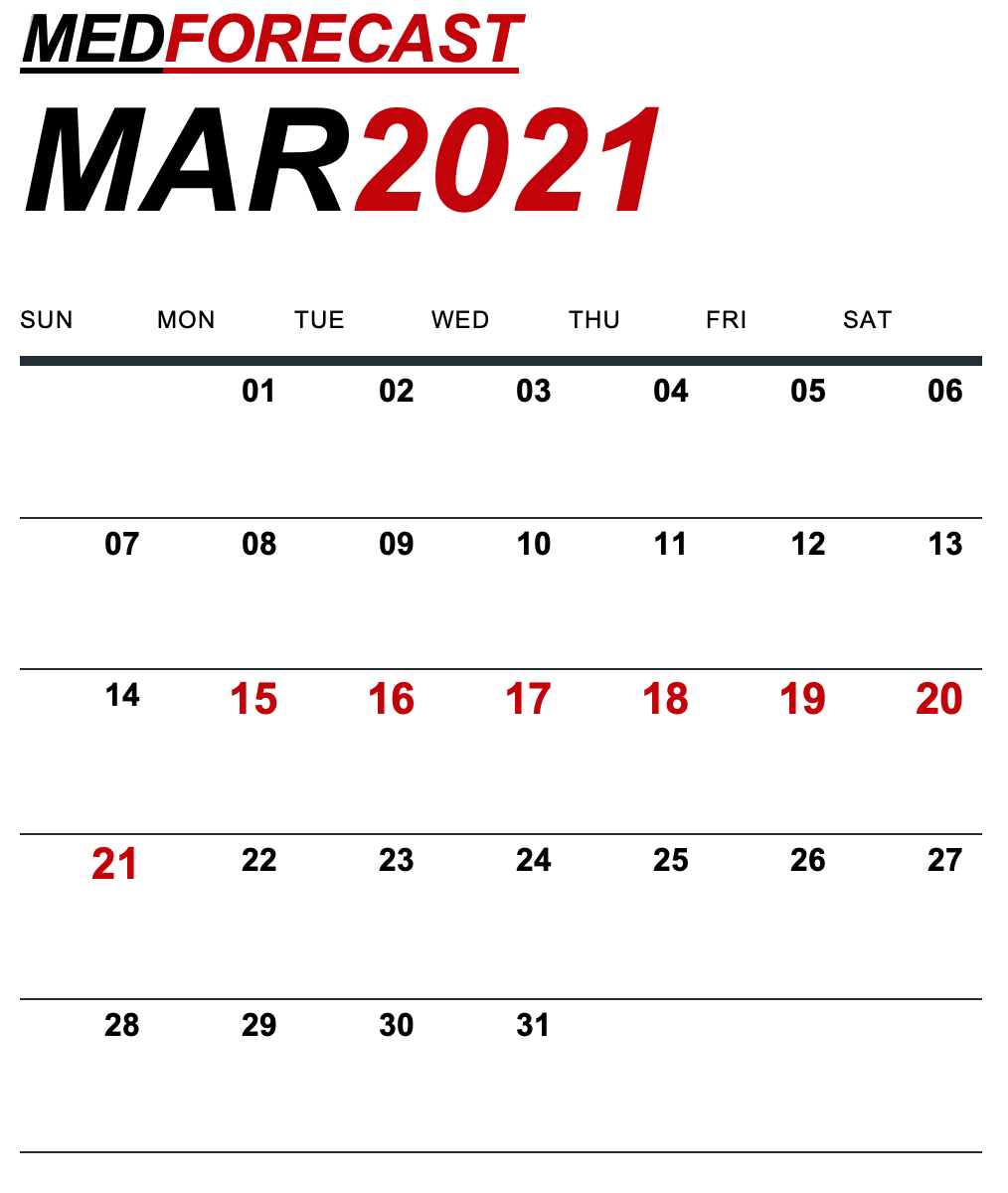 Lynne Peterson is the Senior Writer for Trends-in-Medicine.
Here is the medical news to watch for March 15-21, 2021.
Cardiology
Endocrinology: The Endocrine Society's annual meeting, ENDO 2021, will take place virtually March 20-23. Among the data to watch:
Nephrology
The FDA was expected to make a decision by March 20 on an oral HIF-PH inhibitor that promotes erythropoiesis in chronic kidney disease patients with anemia, FibroGen and AstraZeneca's roxadustat. However, the FDA now wants an advisory committee review, which hasn't yet been scheduled, so it is likely that the decision will be postponed.
The annual Renal Physicians Association (RPA) meeting will be virtual this year on March 18-20. Among the interesting topics: disruptive innovation, new payment models, Covid-19 and the kidney, telehealth, peritoneal dialysis, and an update on HIF-PH inhibitors.
Neurology: The virtual Muscular Dystrophy Association's Clinical and Scientific Conference will take place March 15-18. Among the data to watch:
New long-term functional data from a phase I/II trial of Sarepta Therapeutics' SRP-9003 in limb-girdle muscular dystrophy Type 2E (LGMD2E).
Sarepta's SRP-9001 in a Phase II trial in Duchenne muscular dystrophy.
A gene therapy (Solid Biosciences' SGT-001) in Duchenne muscular dystrophy.
Oncology: The Society of Surgical Oncology (SSO) International Conference on Surgical Cancer Care will take place virtually March 18-19. The first day will focus on breast, colorectal, endocrine, head & neck, and hepato-pancreato-biliary cancer. The next day will consider melanoma, peritoneal surface malignancies, sarcoma, and upper gastrointestinal cancer.
Pharmacology: The second part of the American Society for Clinical Pharmacology and Therapeutics (ASCPT) virtual meeting is March 15-17. Among the topics in this part of the meeting: use of real-world data, the role of translational informatics in the Covid-19 pandemic, a patient forum, and more posters.
Lynne Peterson, Contributing Writer, Senior Writer for Trends-in-Medicine
Cat ID: 914
Topic ID: 74,914,730,914,533,795,935,718,903,192,725