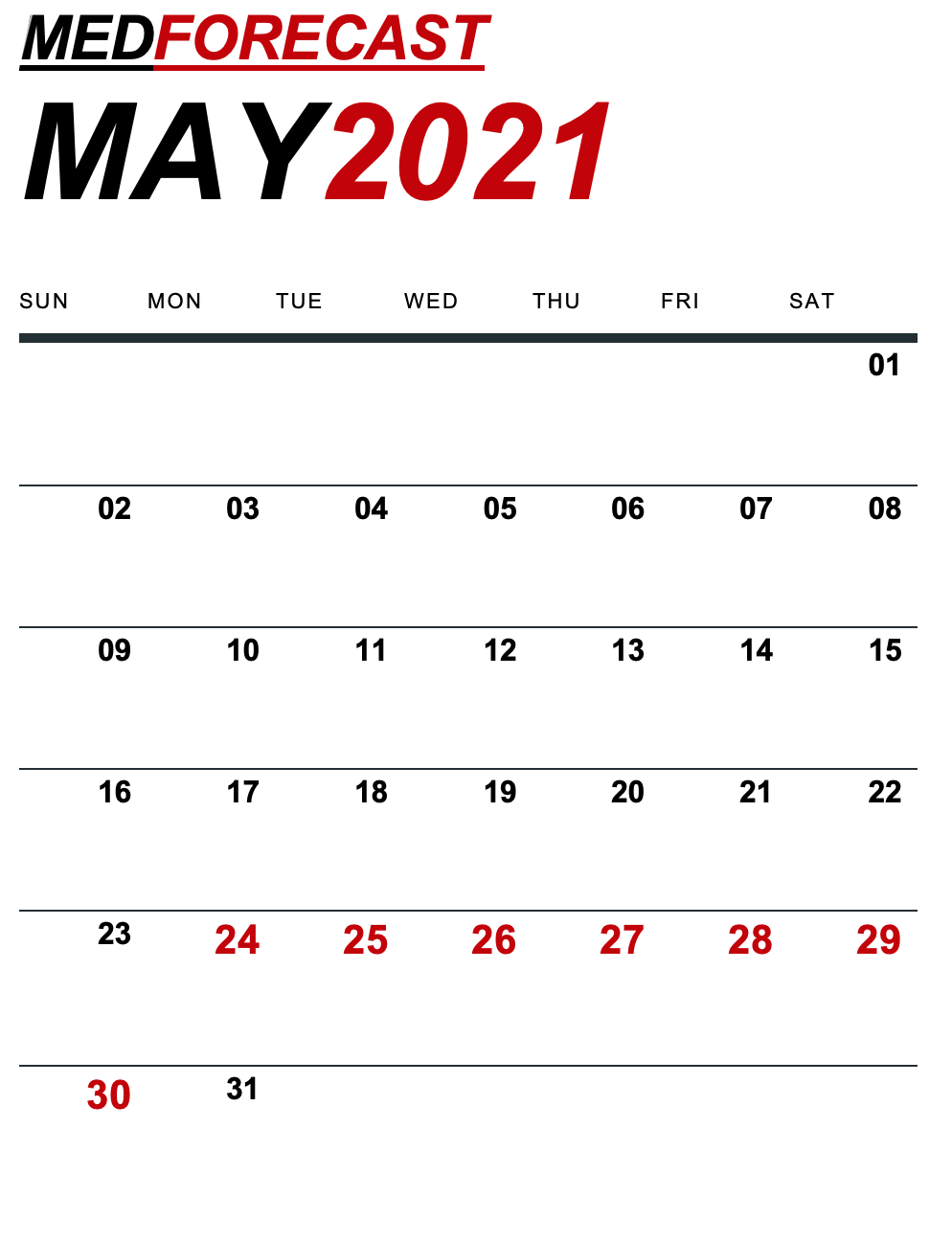 Lynne Peterson is the Senior Writer at Trends-in-Medicine.
Here is the medical news to watch for May 24-30, 2021. It's a relatively light week ahead of Memorial Day on May 31.
Endocrinology: The FDA's Endocrinologic and Metabolic Drugs Advisory Committee will meet virtually May 27 to review an anti-CD3 to delay or prevent type 1 diabetes in at-risk individuals, Provention Bio's teplizumab (PRV-031). If it is approved, it would be the first disease-modifying therapy for type 1 diabetes.
Endovascular: The Pacific Northwest Endovascular Conference (PNEC) is taking place May 27 in person (not as a hybrid meeting) in Seattle, Washington, but attendance is limited. Even if you aren't attending, it is notable as one of the first, if not the first, non-virtual medical conference in more than a year. It's an intensive, case-based review of endovascular procedures.
Gastroenterology: The FDA is expected to make a decision by May 30 to expand use of Bristol-Myers Squibb's Zeposia (ozanimod), an S1P agonist, to include treatment of ulcerative colitis.
Infectious diseases: The European Meeting on HIV & Hepatitis will take place virtually May 26-28. The meeting emphasizes optimal treatment strategies, clinical virology, molecular epidemiology, and public health aspects of HIV, HBV, HCV, and emerging viruses throughout Europe.
Neurology
The Gene Therapy for Muscular Disorders conference will take place virtually May 25-27. It's an industry-dedicated meeting focused on overcoming the translational and clinical challenges of developing genetic therapies targeting muscular disorders, including Duchenne muscular dystrophy (DMD), limb-girdle muscular dystrophy (LGMD), Pompe disease, and X-linked myotubular myopathy.
The FDA is expected to make a decision by May 29 on Eton Pharmaceuticals' ET-104 (zonisamide oral suspension) to treat partial seizures in patients with epilepsy.
Otolaryngology: The Inner Ear Disorders Therapeutics Summit will take place virtually May 25-27. Among the topics will be new therapies for hearing loss, novel approaches to inducing hair cell regeneration, next-generation gene therapies, and regulatory issues.
Poisoning: The FDA is expected to make a decision by May 27 on Eton Pharmaceuticals' DS-100 (dehydrated alcohol injection), an orphan drug for treating methanol poisoning – a real problem because of methanol contamination of some hand sanitizers during the coronavirus epidemic.
Radiology: The FDA is expected to make a decision by May 28 on Lantheus Holdings' PyL (18F-DCFPyL), a prostate-specific membrane antigen (PSMA)-targeted positron emission tomography (PET) imaging agent, for use in detecting prostate cancer.
Regulatory news: The FDA's 2021 Science Forum will take place virtually May 26-27, covering 8 topics: improving clinical and postmarket evaluation, tools for using big data, empowering patients and consumers, product development/manufacturing, advancing novel technologies, pathogen reduction technologies, food and cosmetic safety, and substance misuse/addiction. The keynote speaker is Anthony Fauci, MD, director of the National Institute of Allergy and Infectious Diseases (NIAID) and chief medical advisor to the Biden Administration.
Lynne Peterson, Contributing Writer, Senior Writer for Trends-in-Medicine
Cat ID: 12
Topic ID: 76,12,730,914,12,188,177,27,130,192,725,925,96