Lower mortality seen among those who report chest pain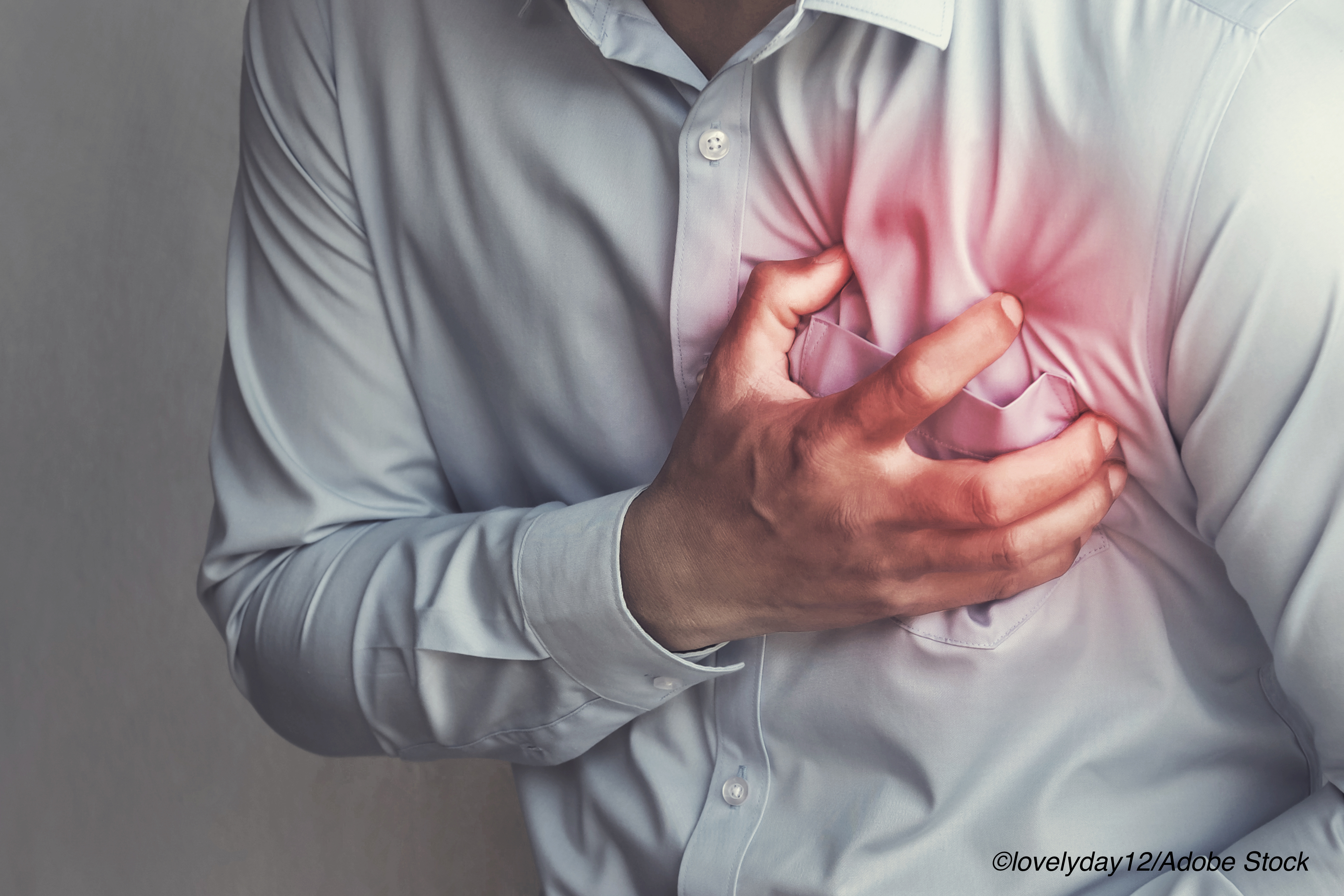 A study by researchers in Denmark suggests that surviving myocardial infarction (MI) may be more dependent upon the initial symptom patients report when calling for help—specifically chest pain—than previously believed.
The study—actually an analysis of outcomes of calls made to a 911-like service and those made to a medical helpline (non-emergency)—looked at 4,880 emergency and 3,456 non-emergency calls from patients with confirmed MI.
"The most common symptom was chest pain (n=5,219) followed by breathing problems (n=556). Among patients with chest pain, 95% (3,337/3,508) of emergency calls and 76% (1,306/1,711) of non-emergency calls received emergency dispatch. Mortality was 5% (163/3508) and 3% (49/1711) for emergency/non-emergency calls, respectively," wrote Amalie Lykkemark Møller, a PhD candidate at Nordsjællands Hospital, Hillerød, Denmark, and colleagues who reported their findings in the European Heart Journal — Acute Cardiovascular Care.
Atypical symptoms included "breathing problems, unclear problem, central nervous system symptoms, abdominal/back/urinary, other cardiac symptoms, and other atypical symptoms."
Emergency dispatch appears to be a key factor in outcome, since only 62% of 900 emergency calls reporting atypical symptoms and 17% of 813 non-emergency calls reporting atypical symptoms triggered emergency dispatch. For those MI patients, the results were starkly different: 23% 30-day mortality for emergency calls with atypical symptoms and 15% 30-day mortality for non-emergency calls with atypical symptoms.
When the results were corrected for age, sex, education, diabetes, previous MI, heart failure, and COPD, the 30-day mortality was 4.3% for those who presented with chest pain and 15.6% for MI patients with atypical symptoms.
They included all contacts to the medical helpline or to the emergency line over a five-year period (Jan. 1, 2014- Dec. 31, 2018) from persons age 30 or older. Calls were defined as MI if, within 72 hours of the call, the caller received a confirmed diagnosis of MI at a hospital or had MI as a primary cause of death during that same period.
"Taken together, our results show that heart attack patients with chest pain were three times more likely to receive an emergency ambulance than those with other symptoms. People with atypical symptoms more often called the helpline, which could indicate that their symptoms were milder, or they were not aware of the severity. Vague symptoms may contribute to health staff misinterpreting them as benign," said Møller in a prepared statement.
"Death within 30 days was more than three-fold higher in those with atypical symptoms compared to chest pain," she added. "This could be due to treatment delays caused by not receiving the appropriate emergency dispatch. However, it is unknown whether an increase in emergency dispatches alone would improve survival among heart attack patients with atypical symptoms—we aim to investigate this in future research projects."
Among MI patients complaining of chest pain, 33% had a history of ischemic heart disease and 23% had a previous MI.
The authors noted that previous studies "identified symptoms of MI patients retrospectively after hospital admission and estimated prevalence of atypical symptoms ranging from 12–13% in MI populations to 23% in NSTEMI patients. As patients might develop chest pain close to or upon hospital arrival, these estimates might differ from what is observed during first medical contact. Our study indicates that atypical symptoms might be somewhat more common pre-hospital than indicated by literature investigating symptoms retrospectively."
Once admitted to the hospital, symptoms again dictated a difference in treatment. For example, patients presenting with atypical symptoms were less likely to receive coronary angiography than patients who presented with chest pain. However, if patients presenting with atypical symptoms did undergo coronary angiography, the survival differences persisted, "although differences were smaller and predominantly among the elderly."
Just as reporting chest pain was likely to trigger emergency dispatch, so were calls reporting persons with central nervous system (CNS) symptoms, but mortality for those with CNS symptoms was still high: 27%.
The authors noted that their findings are based on observation, and thus should be interpreted cautiously. Additionally, the analysis relies on a the "unique system for handling emergency and non-emergency calls in the Capital Region of Denmark," which makes it difficult to extrapolate their findings to other healthcare systems.
Be aware that patients who present with atypical MI symptoms are nonetheless high risk and should receive rapid assessment—including angiography—and treatment.

Note that in this observational report, the use of emergency medical dispatch and transport was associated with improved survival.
Peggy Peck, Editor-in-Chief, BreakingMED™
The study was funded by the Danish Heart Foundation.
Møller reported no conflicts. Co-authors reported grants and othere funding outside the submitted work from Bayer, Novo Nordiskk, AstraZeneca, Novartis, and Boehringer.
Cat ID: 358
Topic ID: 74,358,254,730,358,5,914,192,925