Researchers advise that patients with NF1 have annual follow-up and counseling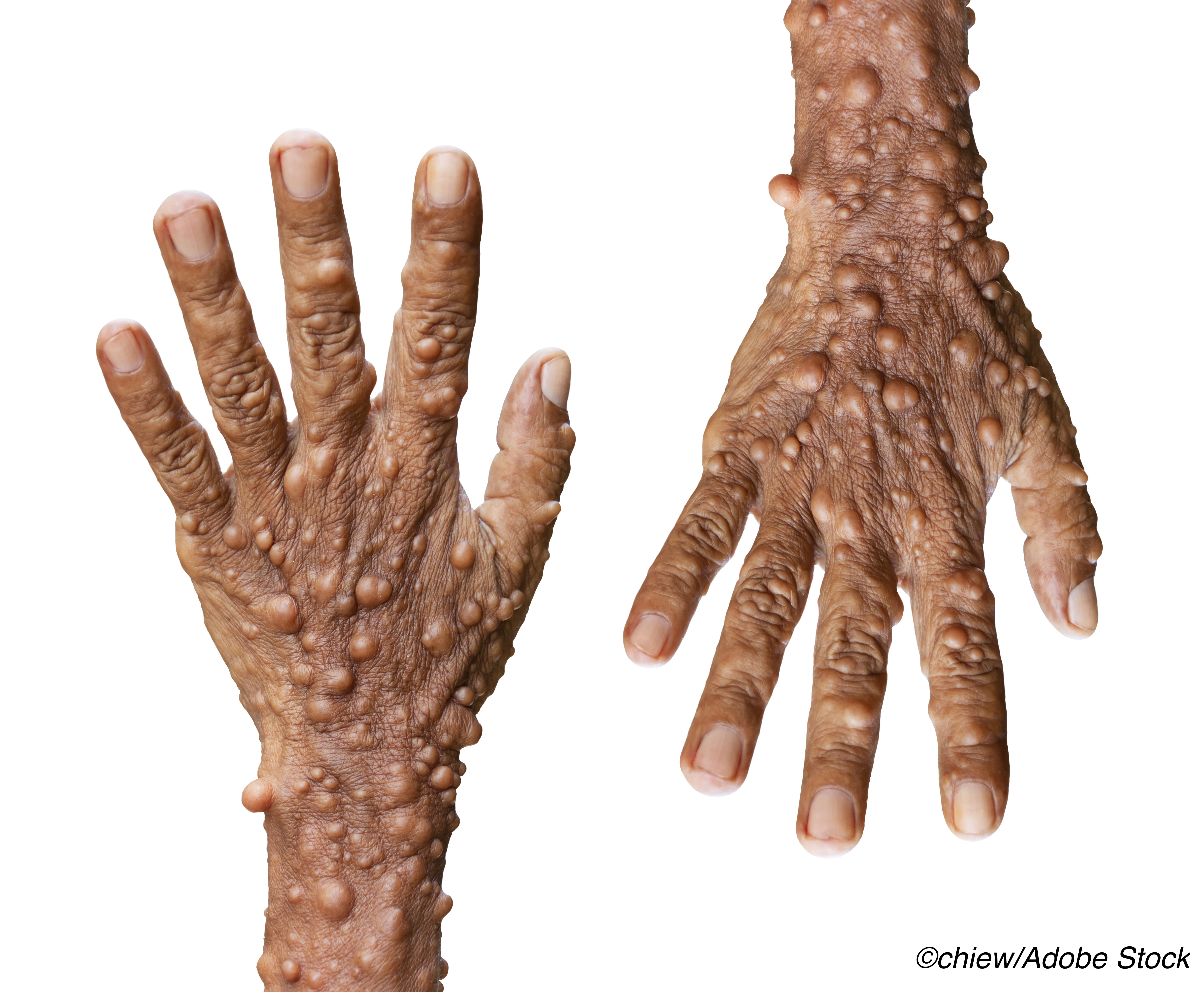 Compared with the general population, patients with neurofibromatosis type 1 (NF1) have a tendency to develop certain neoplasms more frequently and at a younger age, according to a study published in JAMA Network Open.
Further, those who went on to develop undifferentiated pleomorphic sarcoma, high-grade glioma (HGG), malignant peripheral nerve sheath tumors (MPNST), ovarian carcinoma, or melanoma had significantly lower disease-specific survival (DSS) compared with those who developed other neoplasms, with HGG and MPNST causing significant mortality.
In light of these results, researchers advise annual follow-up and counseling in these patients.
"Neurofibromatosis type 1 (NF1) is an inherited autosomal-dominant disorder that occurs in 1 in 3,000 individuals. Manifestations of NF1 can be associated with outcomes in every organ system. Patients with NF1 have wide phenotypic variability, and the condition is associated with higher rates of benign and malignant tumors. Life expectancy is 10 years to 15 years shorter than that among the general population, a decrease associated with malignant neoplasms. Although an association with certain neoplasms in NF1 is well-recognized, the risk of specific neoplasms has been challenging to quantify accurately," explained lead author Jace P. Landry, MD, of the University of Texas MD Anderson Cancer Center, Houston, and fellow researchers.
They conducted this study to determine whether patients with NF1 develop neoplasms differently or have worse outcomes than the general population — their analysis included 1,607 patients with NF1 (median age at first visit: 19 years; 52.3% female; 10.0% ˂10 years old at last follow-up) and compared them with participants from the SEER Cancer Statistics Review 1975 to 2015.
All patients had cutaneous, deep focal, or plexiform neurofibromas and received treatment at a large multidisciplinary cancer center. In all, 55.6% had documented deep focal or plexiform neurofibromas and 16.8% had genetic testing performed at last follow-up.
Landry and colleagues found that patients with NF1 developed neoplasms more frequently than those in the general population (OR: 9.5; 95% CI: 8.5-10.5; P<0.0001). After a median follow-up of 2.9 years, 41.4% patients had developed other neoplasms, with gliomas (18.4%) and malignant peripheral nerve sheath tumors (15.1%) being the most common.
Compared with the general population, patients with NF1 developed several neoplasms at younger ages:
Low-grade glioma: 12.98 versus 37.76 years, respectively (P<0.0001).
High-grade gliomas: 27.31 versus 58.42 years (P<0.0001).
MPNST: 33.88 versus 47.06 years (P<0.0001).
Breast cancer: 46.61 versus 61.71 years (P<0.0001).
Median survival after the diagnosis of a non-neurofibroma neoplasm in these patients was 15.5 years, and in those without these diagnoses, outcomes were excellent (25-year overall survival: 84.80%), Landry and colleagues found.
In addition, five-year overall survival was significantly worse in patients with NF1 and additional non-neurofibroma neoplasms compared with those without additional neoplasms (63.10% vs 99.60%, respectively; P<0.0001). Significantly more patients with additional non-neurofibroma neoplasms died compared with those without (39.2% vs 2.4%, respectively) at a younger mean age of death (40 vs 44 years).
Compared with the 92.4% of NF1 patients who had neoplasms that were classified as "other," patients with the following cancers had lower five-year DSS rates (all P<0.001):
Undifferentiated pleomorphic sarcoma (20.0%).
HGG (23.1%).
MPNST (31.6%).
Ovarian carcinoma (57.1%).
Melanoma (66.7%).
According to Thierry Alcindor, MD, MSc, of McGill University Health Centre, Montreal, Quebec, Canada, these results are significant for clinicians caring for patients with NF1.
In an accompanying editorial, Alcindor wrote: "In summary, reading the article by Landry et al on NF1 and cancers brings us information we want from a good study. It confirms what we knew, tells us something new, and potentially informs our practice."
These results confirm previous knowledge about these patients, wrote Alcindor, and highlighted several key findings.
"The study by Landry et al confirms previous notions about cancer in patients with NF1. It also shows that the variety of associated malignant neoplasms is broader than previously suspected and that the outcomes of these cancers are worse than those in the general population. Of particular note is the discovery that multiple sarcomas, in addition to malignant peripheral nerve sheath tumors and gastrointestinal stromal tumors, are associated with NF1, especially undifferentiated pleomorphic sarcoma, genitourinary embryonal rhabdomyosarcoma, and osteosarcoma, and that ovarian cancer, melanoma, and neuroendocrine tumors should also be on the list of NF1-associated malignant neoplasms," he wrote.
Alcindor put results into the context of future patient management as well.
"Where do we go from here? From a clinical standpoint, questions remain about the appropriate age and methods for screening patients with NF1 for a range of malignant neoplasms. Just as importantly, a high index of suspicion of cancer is appropriate in any patient with NF1 presenting with symptoms or signs different or worsening from baseline. The clinical approach to NF1-associated cancers is also challenging. Their reported poorer outcome suggests that an aggressive management is justified, although this finding would ideally need to be confirmed by multi-institutional studies comparing patients with NF1-associated cancer with well-matched controls. It would also require extensive data mining from large reference centers," he concluded.
Limitations of this study include treatment received elsewhere by some patients with NF1, patients lost to follow-up, young age at last follow-up in 10.0% of patients, and similar mean age for patients with NF1 who did not develop additional neoplasms and those who did not.
Patients with NF1 develop neoplasms other than neurofibromas at a younger age and more frequently compared with the general population.

NF1 patients develop several neoplasms, including gliomas and sarcomas, at a younger age, more frequently, and with worse outcomes compared with individuals without NF1, therefore, counseling and annual follow-up is advised.
Liz Meszaros, Deputy Managing Editor, BreakingMED™
This study was funded, in part, by the National Institutes of Health and the MD Anderson Cancer Center. Author salaries were supported in part by the Texas Neurofibromatosis Foundation, Sally M. Kingsbury Sarcoma Research Foundation, Jay Vernon Jackson Fund, Friends of Sarcoma Fund, Ferrin R. Zeitlin Foundation for Sarcoma Research, and Mojo's Miracle.
Landry and Alcindor reported no conflicts of interest.
Cat ID: 115
Topic ID: 78,115,730,115,120,935,192,925