Prior event rate ratio analysis the first large study to support this reduction in CV risks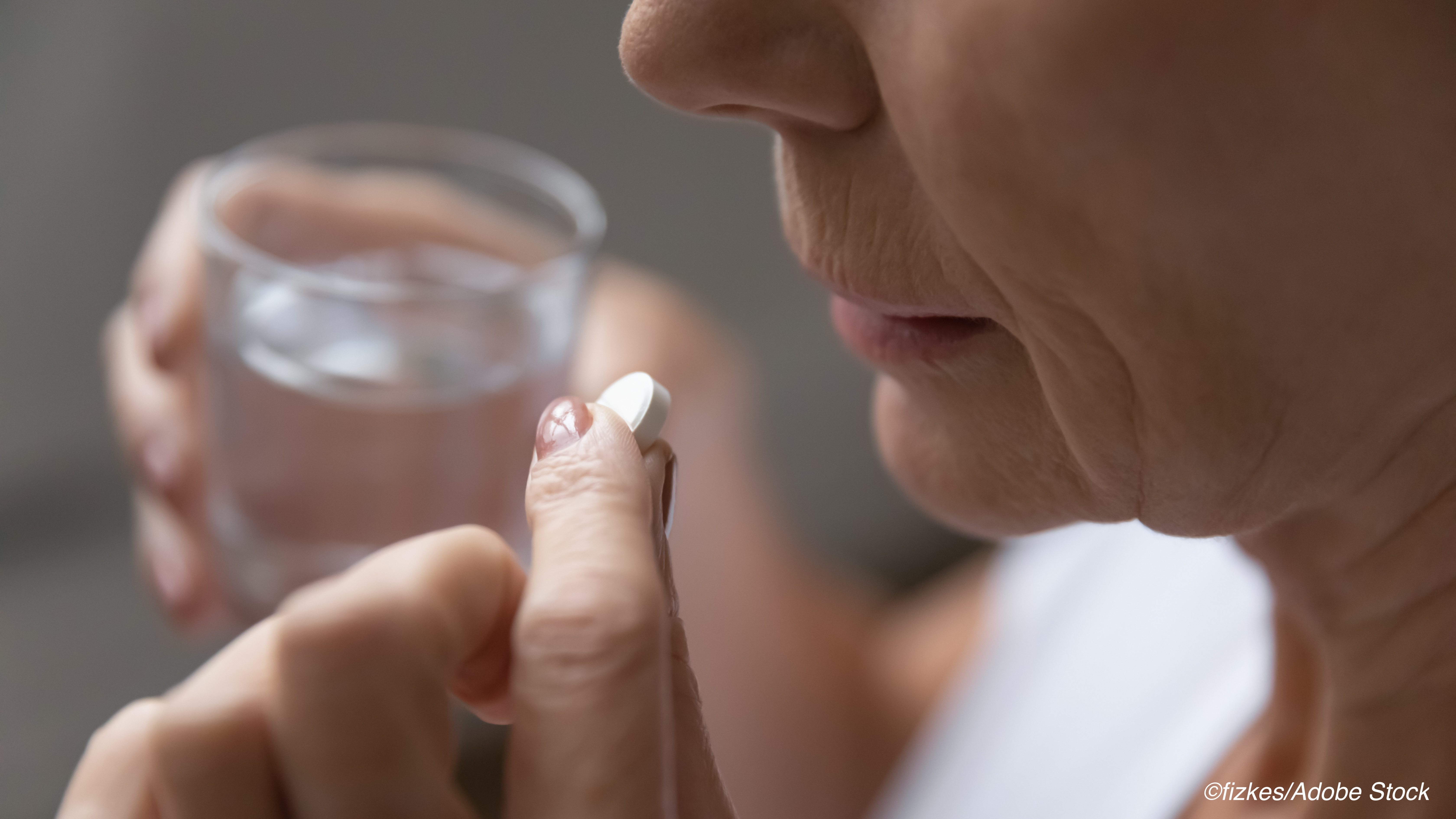 Regular aspirin use can reduce the risk of ischemic events, including ischemic stroke and myocardial infarction (MI), in patients with pneumonia—who are at increased risk for cardiovascular events, according to results from a recent study published in the European Respiratory Journal.
In fact, U.K. researchers found that the risk of the stroke and MI combined was 36% lower in aspirin users compared to non-users, as was the risk of ischemic stroke alone (30%) and MI alone (54%). They noted that their study is the first large-scale study to support an association between aspirin use and the risk of cardiovascular complications after pneumonia, and they are hopeful that aspirin will be used as a preventative treatment in these patients.
"It is well established that infections predispose to cardiovascular events, with data supporting this from both primary and secondary care. The risk appears to vary, but some reports suggest that the risk is as high as ten percent within patients who have hospitalized pneumococcal pneumonia. These cardiovascular events are also associated with an increased short-term mortality. The mechanism of this risk is not completely clear, although it appears to be mediated through a pro-inflammatory cascade. Given that pneumonia is very common, with around 100,000 cases in the UK alone each year, any potential reduction of that risk is likely to lead to significant public health benefit," wrote researchers led by Fergus Hamilton, MRCP, MBChB, of the University of Bristol, U.K.
"Aspirin has been suggested as a potential therapeutic option to try and attenuate this risk. Aspirin has an excellent track record in secondary prevention of cardiovascular disease, although recent studies have confirmed the lack of benefit in primary prevention. Because aspirin has both an antiplatelet and anti-inflammatory effect, it has been suggested this may reduce the risk of cardiovascular events. Some limited secondary care evidence supports this, with small observational trials showing a reduction in cardiovascular events in patients taking aspirin when they are diagnosed with pneumonia, and a single, small RCT suggesting promise," they added.
Using the Clinical Practice Research Datalink (CPRD)—a large primary care database in the U.K.—Hamilton and colleagues identified patients with pneumonia who were over 50 years old. In all, 8,099 were aspirin users, who were matched to 8,099 non-aspirin users.
"We then performed a prior event rate ratio analysis (PERR) with propensity score matching, an approach that allows for control of measured and unmeasured confounding, with aspirin usage as the exposure, and ischemic events as the outcome," they explained.
Hamilton and colleagues defined aspirin use as two or more prescriptions of aspirin, taken at a daily dose of ˂100 mg during the 6 months prior to trial entry and for 12 months prior to pneumonia diagnosis. Aspirin users were more likely to be older, male, and have more comorbid conditions compared with non-aspirin users.
The primary outcome of the study was the combined outcome of ischemic stroke and myocardial infarction (MI), and secondary outcomes included each of these individually.
Upon analysis adjusted for smoking, comorbidities, age, and gender, Hamilton et al found a reduced risk of the combination of ischemic stroke and MI in patients who were aspirin users (adjusted HR: 0.64; 95% CI: 0.52-0.79), as well as reduced risks in each of the secondary outcomes taken individually (ischemic stroke: HR: 0.46; 95% CI: 0.70; 95% CI: 0.55-0.91; MI: HR: 0.46; 95% CI: 0.30-0.72).
Researchers found no significant associations between the primary and secondary outcomes with use of paracetamol, levothyroxine, or proton-pump inhibitors. They did find an association, however, between NSAID use and an increased risk of the primary outcome of ischemic stroke combined with MI (HR: 1.88; 95% CI: 1.11-3.31).
"Our study provides supporting evidence of an association between aspirin usage in community acquired pneumonia and preventing cardiovascular complications, and sets the foundation for a prospective, randomized trial. However, it is important to note this study enrolled patients on aspirin already, and any randomized trial would initiate therapy at diagnosis," concluded Hamilton and colleagues.
Limitations of the study include confounding due to indication and censoring, that the risk of MI is thought to be the highest in the few days immediately following pneumonia, the lack of hospital linkage and coding accuracy, and potential survival bias.
Aspirin can reduce the risk of serious cardiovascular events such as ischemic stroke and myocardial infarction (MI) in patients with pneumonia.

The risk of the stroke and MI combined was 36% lower in aspirin users compared to non-users, as was the risk of ischemic stroke alone (30%) and MI alone (54%).
Liz Meszaros, Deputy Managing Editor, BreakingMED™
The study was supported by the National Institute for Health Research (NIHR) Health Protection Research Unit in Evaluation of Interventions.
Hamilton was funded by the NIHR, through the Academic Clinical Fellowship scheme.
Cat ID: 358
Topic ID: 74,358,730,358,8,914,124,38,192,925