IL-23 and IL-33 blockers fail to meet key study endpoints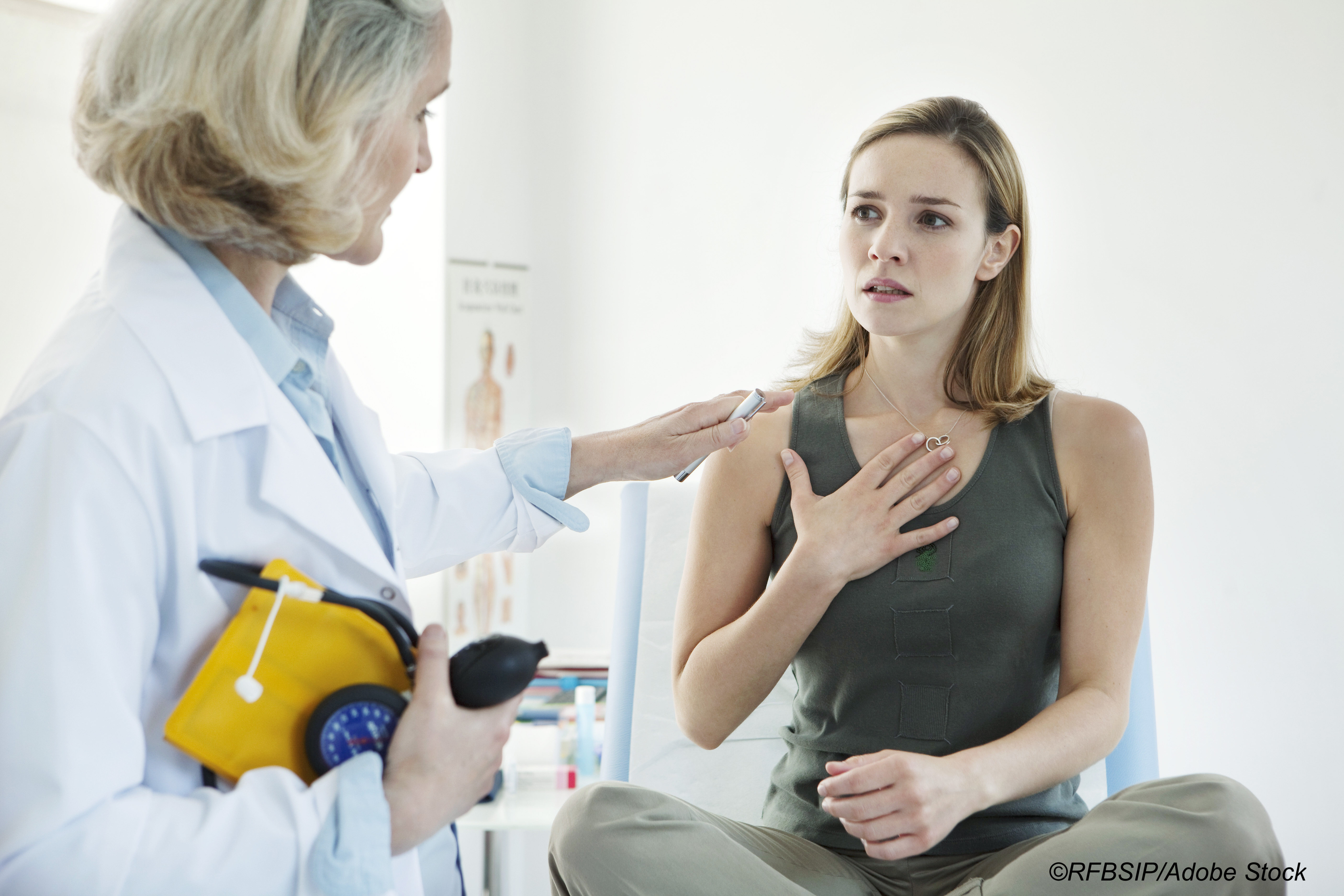 In separate phase II trials involving adults with severe asthma, a pair of novel biologics—one targeting the cytokine interleukin-23 (IL-23) and the other targeting IL-33—failed to meet key study endpoints.
In one trial, treatment with the IL-23-blocking psoriasis drug risankizumab was associated with a shorter time to asthma worsening than placebo and a higher annualized rate of asthma worsening overall.
In the other, monotherapy with both the investigational IL-33 blocker itepekimab and the approved IL-4 receptor alpha antagonist dupilumab was associated with improved lung function and fewer loss of asthma control events compared to placebo; however, combination treatment with both itepekimab and dupilumab was not found to result in better outcomes than treatment with either drug alone.
"The hypothesis that blocking interleukin-33 and downstream interleukin-4 and -13 cytokines (with dupilumab) would be more beneficial than monotherapy in patients with asthma was not substantiated by this trial design because no beneficial effects were observed as compared with placebo when itepekimab and dupilumab were used in combination," wrote study author Michael Wechsler, MD, of National Jewish Health, Denver, and colleagues.
Both studies were published online Oct. 27 in The New England Journal of Medicine.
The itepekimab trial included four groups receiving inhaled glucocorticoids plus a long-acting beta-agonist (LABA) who were assigned 1:1:1:1 to treatment with subcutaneous itepekimab (300 mg), combination treatment with itepekimab and dupilumab (both at 300 mg), dupilumab (300 mg), or placebo, every 2 weeks for 12 weeks.
Use of long-acting β2-agonist (LABA) was discontinued at study week 4, and inhaled glucocorticoids were tapered between weeks 6 and 9.
A total of 296 patients were randomized, and at 12 weeks, 22% of itepekimab-treated patients, 27% in the combination treatment group, and 19% of dupilumab-treated patients experienced a loss of asthma control event, compared to 41% of patients in the placebo group (odds ratios compared to placebo; 0.42 in the itepekimab alone group [95% CI, 0.20-0.88; P=0.02], 0.52 in the combination group [95% CI, 0.26-1.06; P=0.07]; and 0.33 in the dupilumab group [95% CI, 0.15-0.70]). The adverse event rate was similar for all four groups.
Compared to placebo, forced expiratory volume in 1 second before bronchodilator use increased with the itepekimab and dupilumab monotherapies, but not with the combination therapy, the study authors added.
"Although the effects of dupilumab therapy were generally greater than those observed with itepekimab therapy, particularly in patients with type 2 asthma, this trial was not powered to detect such differences," Wechsler and colleagues wrote.
They hypothesized that stopping inhaled glucocorticoid and LABA use, as required by the trial design, favored the type 2-specific inhibitor.
"Dupilumab therapy may have been more effective in this context because it inhibits more of the type 2 inflammation that is elicited by withdrawal from inhaled glucocorticoids and LABA therapy, whereas interleukin-33 blockade with itepekimab may alter additional inflammatory pathways but not as completely as a specific type 1 or 2 inhibitor," they explained.
In the phase IIa, multicenter trial that evaluated the interleukin-23 blocking psoriasis drug risankizumab as a treatment for severe asthma, Christopher Brightling, FMedSci, of the University of Leicester, U.K., and colleagues randomized patients to treatment with either 90 mg of the biologic or placebo every 4 weeks for the duration of the 24-week trial.
As with the itepekimab study, the primary endpoint was time to first asthma worsening, with asthma worsening defined as deterioration from baseline on two or more consecutive days.
In all, 105 patients were randomized to treatment with risankizumab and 109 were included in the placebo arm of the study. Patient characteristics were similar in both groups.
The time to first asthma worsening was shorter in the risankizumab-treated patients than in the placebo-treated patients (median, 40 days vs 86 days; hazard ratio, 1.46; 95% CI, 1.05-2.04; P=0.03).
The rate ratio for annualized asthma worsening with risankizumab versus placebo was 1.49 (95% CI, 1.12-1.99), and the rate ratio for severe exacerbations was 1.13 (95% CI, 0.75-1.70).
Sputum transcriptomic pathway analysis showed that "genes involved in the activation of natural killer cells and cytotoxic T cells and the activation of the type 1 helper T and type 17 helper T transcription factors were down-regulated by risankizumab," Brightling and colleagues noted.
"The lack of benefit with risankizumab therapy in asthma contrasts with the marked clinical efficacy in psoriasis and the good responses in Crohn's disease," they added. "The inability of this trial to show clinical improvement in asthma in response to interleukin-23 inhibition also contrasts with the consistent benefit from the type 2–mediated biologic agents targeting IgE, interleukin-5, and interleukin-4 receptor α. Our findings therefore challenge the current understanding of the role that Th17- and interleukin-23–mediated pathways play in the pathogenesis of asthma."
In a commentary examining both studies, Philip Bardin, PhD, of Monash University and Hospital, Melbourne, Australia, and Paul S. Foster, DSc, of Hunter Medical Research Institute, Newcastle, New South Wales, wrote that risankizumab may have failed to improve asthma outcomes in the trial by Brightling and colleagues "because signaling through alternative disease pathways nullified the inhibition of interleukin-23."
They suggested that the interleukin-23 and Th17 axis may not have been operational during risankizumab treatment or that "stratification of patients according to interleukin- 23 serum levels or the presence of nonpathogenic (a low frequency of interleukin-23R) or pathogenic (a high frequency of interleukin- 23R) Th17 cells would have been more successful… Inhibition of interleukin-23 with risankizumab yielded poorer outcomes than placebo, which is a signal of harm that is at odds with similar studies of biologic therapies targeting individual cytokines in asthma. The reasons for the poorer outcomes are unclear, but because interleukin-23 is vital for effective mucosal immunity, risankizumab may have conferred a predisposition in patients to more severe or more frequent virus-induced exacerbations. Overall, these findings support a cautious approach in future research investigating biologic therapies in asthma."
Likewise, the commentary writers noted that in the itepekimab trial, the combination therapy may have failed "because these pathways bypass interleukin-33."
They also wrote that the trial design "may have precluded detection of benefits for the combination, since interleukin-33 is an alarmin that could have been more effective as a therapeutic target in a longer-term, exacerbation-type trial, in which epithelial infection and other relevant stimuli instigate exacerbated disease.
"Combination therapy may be capable of lowering exacerbations rather than preventing loss of control in chronic disease," they concluded.
Treatment with the IL-23-blocking psoriasis drug risankizumab was associated with a shorter time to asthma worsening than placebo and a higher annualized rate of asthma worsening.

Combination treatment with itepekimab and dupilumab did not produce better outcomes than treatment with either drug alone.
Salynn Boyles, Contributing Writer, BreakingMED™
The itepekimab study was funded by Sanofi and Regeneron Pharmaceuticals.
The risankizumab study was funded by AddVie and Boehringer Ingelheim.
Wechsler reported serving as a consultant for AstraZeneca, Equillium, Genentech, Genzyme, GlaxoSmithKline, Novartis, Regeneron, Sanofi, Teva Pharmaceutical Industries, and others.
Brightling reported consulting work and/or grants from AstraZeneca, Boehringer Ingelheim, Chiesi Farmaceutici, Genentech, Merck, Regeneron, Sanofi and Genzyme.
Bardin reported personal fees from GSK, AstraZeneca, and Sanofi outside the submitted work.
Foster had nothing to disclose.
Cat ID: 100
Topic ID: 80,100,730,100,637,192,195,63,925