Vaccination timing, additional doses merit consideration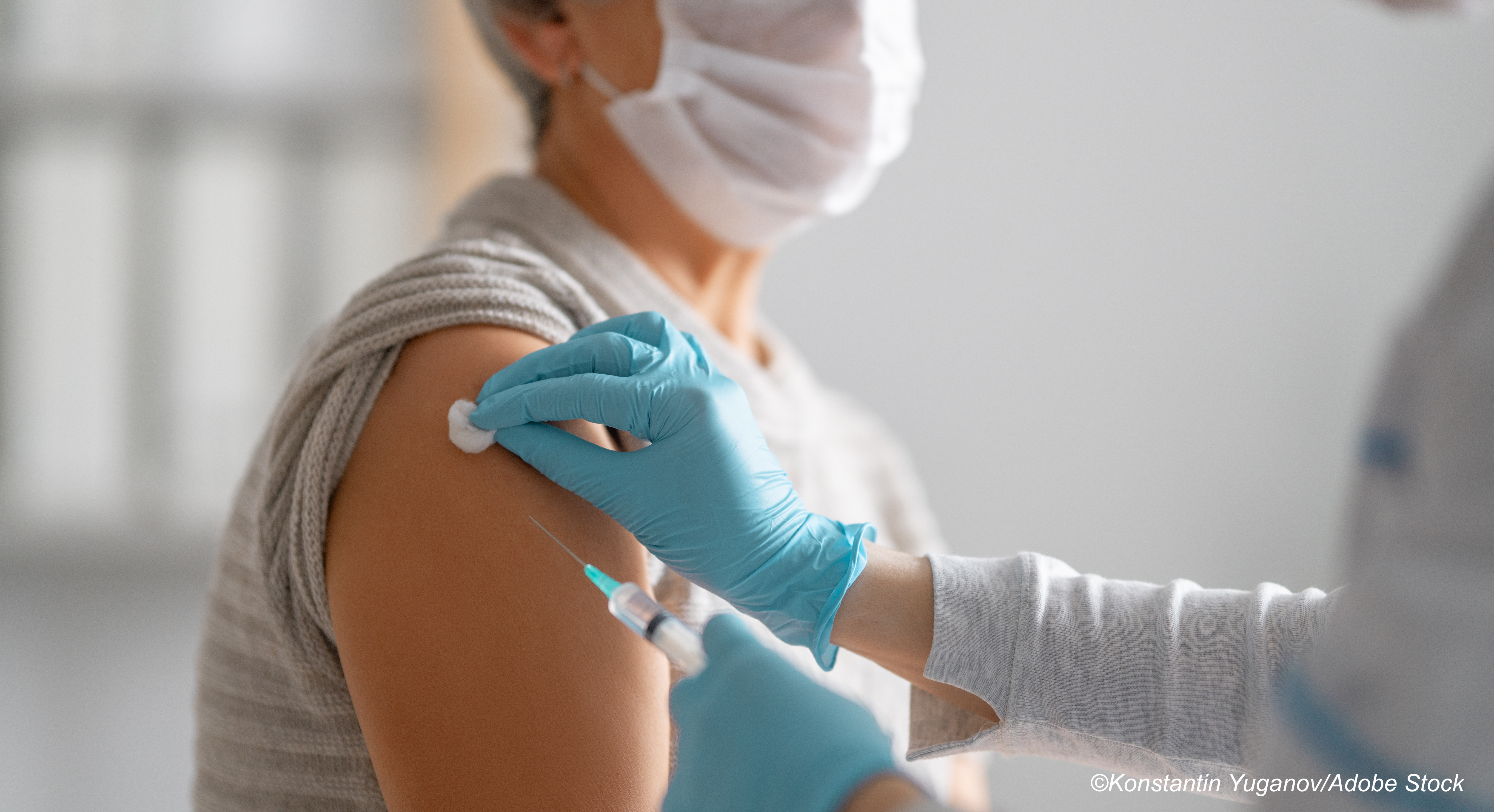 MS patients should receive Covid-19 vaccinations, as expert panels agree that the vaccinations are not especially risky for MS patients. The American Academy of Neurology weighed in on the vaccination question with an October position statement, the details of which are described in a BreakingMED article originally published Oct. 15, 2021. That article is being republished as part of BreakingMED's year-end review of clinical news. Click here to view the original article and obtain CME/CE credit.
Some disease-modifying treatments (DMTs) used in multiple sclerosis (MS) may attenuate patients' immune response to SARS-CoV-2 vaccination.
The American Academy of Neurology (AAN) and other groups have called for vaccination for patients with neuromuscular disease and MS, regardless of immunosuppressive status. Consensus guidelines from groups like the National Multiple Sclerosis Society discuss optimal timing of vaccination for people on certain immunotherapies, but "vaccination should not necessarily be delayed if immediately available, as in some cases the risk of delaying even partial immunity may outweigh the benefit of waiting to achieve optimal vaccine response," the AAN said in a position statement.
Of the three vaccines initially approved for emergency use by the FDA, none use inactivated or live-attenuated SARS-CoV-2 virus or recombinant protein technologies. Two—the BNT162b2 and mRNA-1273 vaccines—encode a viral spike protein in mRNA for uptake by antigen-presenting host cells. These cells produce the viral spike protein and express it as an antigen, inducing cell (T cell) and humoral (B cell dependent antibody) immune responses. The third vaccine, Ad26.COV2.S, uses a replication-deficient adenoviral vector to deliver DNA encoding the viral spike protein to host cells, again inducing the two broad arms of immune response.
Amit Bar-Or, MD, an MS clinician and researcher at the University of Pennsylvania in Philadelphia, who is on the National MS Society vaccine guidance task force, said Covid vaccines do not appear to be more risky for MS patients than they are for others. But for people with MS, the risks associated with Covid infection can be high.
"We know the risk factors for people with MS developing serious Covid and potentially fatal complications are essentially the same as they are in the general population—age and comorbidities, as well as disabilities," Bar-Or said in an interview with BreakingMED. "People who are more disabled with MS are at higher risk of more serious complications and have, if anything, more reason to be vaccinated."
Some MS patients question whether the Covid-19 vaccine will increase their chance of relapse, but a recent study found no difference in short-term clinical relapse incidence 2 months prior and 2 months post-vaccination in MS patients who received the BNT162b2 shot.
"The real question is: will being on MS therapy limit the maximal benefit you can get from the vaccine?" Bar-Or said.
For some MS DMTs, the answer may be yes; some therapies may limit immune responses. But even treatments that impair immune response to vaccination may allow enough of a response to confer benefit, such as a degree of protection against Covid-19 infection or against severe disease.
The National MS Society guidance on vaccination timing notes that for patients on drugs like interferon, glatiramer acetate, teriflunomide, dimethyl fumarate, or natalizumab, there is no recommendation to adjust therapy to vaccine schedules.
For patients with stable MS on sphingosine-1-phosphate (S1P) receptor modulators, or patients treated with alemtuzumab or cladribine, however, the National MS Society offers specific timing recommendations. Likewise, patients on anti-CD20 infusions may want to speak with their clinician about coordinating their vaccine injections and treatment schedules to generate the best possible response.
What Studies Have Shown
Recent research has provided more detail about impaired vaccination response in several treatment categories. These include anti-CD20 treatments, which deplete B cells that reconstitute over time (ocrelizumab, rituximab, and ofatumumab), S1P-receptor modulators (fingolimod, siponimod, ponesimod, and ozanimod), and alemtuzumab.
One of the earliest studies about vaccine response and DMTs, published in April 2021, found appropriate humoral responses after the BNT162b2 vaccine in MS patients treated with cladribine, but impaired responses in those with ocrelizumab and fingolimod.
In September, a prospective multicenter cohort study of 780 MS patients in EBioMedicine also found impaired humoral response after mRNA vaccination in those using anti-CD20 drugs and S1P receptor modulators. The researchers reported reductions in antibody levels for various DMTs compared with untreated MS patients: a 201-fold decrease with ocrelizumab, a 26-fold decrease with fingolimod, and a 20-fold decrease with rituximab. Antibody levels for those on anti-CD20 therapy correlated with time since the last infusion to vaccination.
Also in September, two papers were published in JAMA Neurology. One showed that humoral response against SARS-CoV-2 was appropriate for patients treated with cladribine and teriflunomide 1 month after vaccination, but diminished or absent for people treated with anti-CD20 therapies and S1P modulators. The other showed lower antibody response but preserved vaccine-specific T-cell responses in ocrelizumab-treated MS patients who received the BNT162b2 Covid vaccine.
This pattern was echoed in a Nature Medicine paper of immune response in 20 patients on anti-CD20 therapy by Bar-Or and colleagues. After mRNA Covid vaccination, these patients had significantly reduced antibodies, but preserved antigen-specific T cell responses.
"Despite poor antibody responses in most patients with MS treated with anti-CD20, all of these patients generated robust CD4 and CD8 T cell responses to SARS-CoV-2 mRNA vaccination, suggesting that vaccinating B cell-deficient patients is still likely to provide some measure of immunity to SARS-CoV-2, especially considering that T cells may retain recognition of emerging variants of concern that have escaped antibody neutralization," Bar-Or and co-authors observed.
In this study, the patients who did mount an adequate antibody response "ended up getting their vaccines longer after their last infusion, consistent with a timing issue and the return of the B cells," Bar-Or emphasized.
More recently, a preprint paper which has not been peer-reviewed found that MS patients receiving S1P receptor modulators and anti-CD20 drugs had decreased B cell response with preserved T cell reactivity, with the exception of reduced CD4 T cell responses in S1P-treated patients.
"The preservation of cell-mediated immunity provides reassurance that all immunosuppressed MS patients will obtain at least partial protection from more severe Covid-19 outcomes," wrote Joseph Sabatino, MD, PhD, of the University of California San Francisco, and co-authors, who presented their findings this week at ECTRIMS.
"The general advice is to get vaccinated when you're offered a vaccine, and for some medicines, if there's an opportunity to try to coordinate the timing of your vaccine shot relative to your treatment, that's worth discussing with your provider," Bar-Or said.
Additional Doses
Like the CDC, the National MS Society distinguishes vaccine booster shots — given after 6 months to people whose vaccine-induced immunity has waned with time — from additional doses, which improve the response of an immunocompromised person to earlier shots and may be given as soon as 28 days after vaccination is complete.
Amid emerging data from the FDA and CDC, MS Society guidelines suggest patients with MS treated with anti-CD20 therapy, S1P receptor modulators, and alemtuzumab should explore the possibility of an additional vaccine dose with their clinicians. Again, timing may be important.
"We suggest to our anti-CD20-treated patients, alemtuzumab-treated patients, and siponimod-treated patients that if they are on treatment, were reasonably infused, and they got their full vaccination, getting an additional dose 28 days later or more is advisable," Bar-Or noted.
Paul Smyth, MD, Contributing Writer, BreakingMED™
Bar-Or has participated as a speaker in meetings sponsored by and received consulting fees or grant support from Accure Therapeutics, Atara Biotherapeutics, Biogen, Bristol Myers Squibb/Celgene/Receptos, GlaxoSmithKline, Gossamer Bio, Janssen/Actelion, MedImmune, Merck/EMD Serono, Novartis, Roche/Genentech, and Sanofi-Genzyme.
Cat ID: 36
Topic ID: 82,36,730,36,192,925,934