No better than sham therapy comparator for 'vaginal rejuvenation'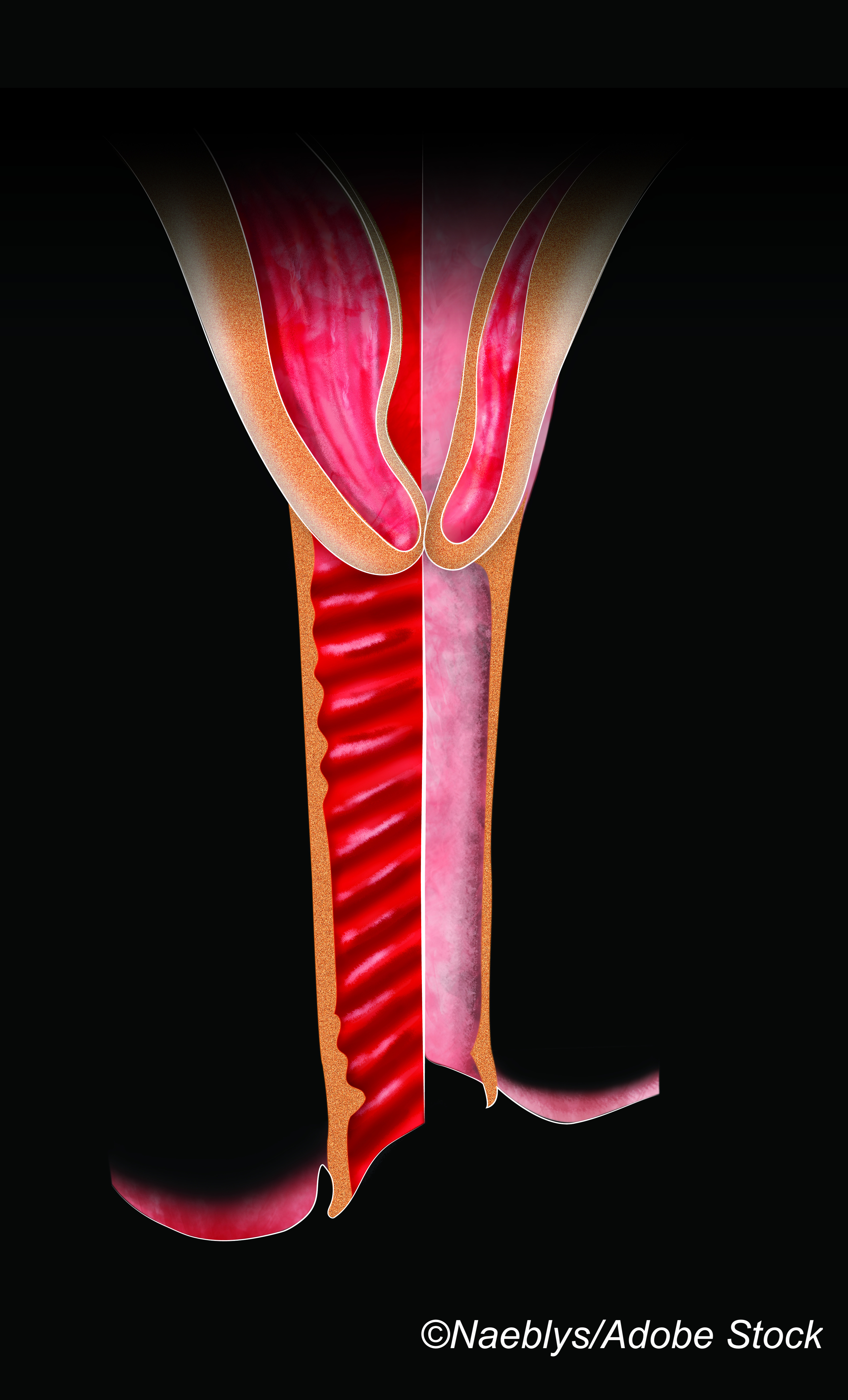 Fractional carbon dioxide (CO2) laser treatment offered no improvement in symptom severity or quality of life for women with genitourinary syndrome of menopause, researchers reported.
In the double-blinded, randomized, single-center trial, from baseline to 12 months, there was no significant difference between the CO2 laser group and the sham group in change in symptom severity, based on a visual analog scale (VAS) score for:
Overall vaginal symptoms: -17.2 versus -26.6 for a 9.4 difference (95% CI -28.6-47.5)
Most severe symptom: –24.5 versus -20.4 for a -4.1 difference (95% CI -32.5-24.3)
There also was no difference on a Vulvovaginal Symptom Questionnaire (VSQ) with scores of -3.1 versus -1.6, respectively, for a -1.5 difference (95% CI -5.9-3.0), according to Jason A. Abbott, PhD, of the Royal Hospital for Women in Sydney, and co-authors.
And there were no significant differences between the laser and sham group for quality of life (QoL), Vaginal Health Index (VHI) score, or histological comparisons, they stated in JAMA.
Abbott's group also pointed out that the "annual cost of laser treatment to the individual for management of vaginal menopausal symptoms was reported to be $2,733, and because there is no demonstratable difference versus sham treatment, it cannot be considered to be cost-effective."
Whether these negative findings will make a serious dent in the vaginal laser therapy market—most commonly promoted as a tool for "vaginal rejuvenation"—remains to be seen. The global vaginal rejuvenation market is forecast to grow at a rate of about 12.43% from 2019 to 2026, ultimately reaching a market value of around $10.4 million by 2026, according to a 2020 report from Acumen Research and Consulting.
Money-making potential aside, vaginal laser therapy could be seen as having two strikes against it: a mixed bag of research and scandal.
A separate 2021 pooled analysis by Abbott and colleagues demonstrated no difference in vaginal symptom outcomes, sexual function, or vaginal health index between the vaginal laser and topical hormonal treatment groups, while the American College of Obstetricians and Gynecologists (ACOG) emphasized in a 2018 position statement that many positive observational trials of the therapy did not evaluate concomitant treatments, and had short follow-up time periods. Recent studies out of Turkey and Israel have offered more positive outcomes with vaginal laser therapy in terms of patient satisfaction with the results, and changes in vaginal biomechanical parameters.
As for scandal, in 2018, the FDA issued a Safety Communication, warning that "the safety and effectiveness of energy-based devices for treatment of these conditions has not been established…the treatment of these symptoms or conditions by applying energy-based therapies to the vagina may lead to serious adverse events, including vaginal burns, scarring, pain during sexual intercourse, and recurring/chronic pain." The agency also fired off letters to companies that were marketing their devices that were not approved as vaginal therapy, highlighting that they were potentially in violation of the Federal Food Drug and Cosmetic Act.
That same year, makers of the MonaLisa Touch device were named in a class action lawsuit filed by medical providers, alleging that the device was "deceptively marketed and is unreasonably dangerous," for vaginal therapy, according to AboutLawsuits.com.
In the same 2018 position statement, ACOG advised "obstetrician-gynecologists and patients that this technology is, in fact, neither approved nor cleared by the FDA for the specific indication of treating vulvovaginal atrophy," while the National Center for Health Research (NCHR) warned that "Surgeons attract patients with discounts and claims that the procedures" will result in "designer" vaginas.
The NCHR also cautioned that there was "insufficient scientific evidence that these procedures provide any sexual or psychological benefit." That didn't seem to mean a lot to some providers. For instance, in a 2019 YouTube video, Sandeep Bhasin, MBBS, of the Care Well Medical Centre in New Delhi, talked up CO2 fractional laser for vaginal tightening at his clinic (Bhasin is a hair transplant specialist), while cosmetic dermatologist Jason Emery, MD, of Beverly Hills, California, promotes the procedure on his YouTube channel, and with a website dedicated to "down under/vaginal rejuvenation."
Energy-based laser devices were initially cleared by the FDA for incision, excision, ablation, vaporization, and coagulation of body soft tissues, and were then repurposed for vaginal laser therapy, pointed out Ingrid E. Nygaard, MD, MS, and Marisa Adelman, MD, both of the University of Utah School of Medicine in Salt Lake City, in an editorial accompanying the study.
As of 2020,the FemTouch laser is FDA cleared for vaginal rejuvenation, according to some law firms and medical practice websites. The device was the subject of a Manufacturer and User Facility Device Experience (MAUDE) FDA adverse event report in 2021.
"The theory behind vaginal laser is that thermal necrosis in a fraction of the surface area of the vagina induces reparative changes, setting off a cascade of events that results in the remodeling of vaginal epithelium, which increases collagen production and neovascularization and results in improved pliability and circulation," Nygaard and Adelman explained.
They said putting the vaginal laser therapy marketing-cart before the sound-science horse may lead the procedure down the same diasterous road as vaginal mesh products for managing pelvic organ prolapse.
Abbott's group enrolled 85 postmenopausal women (mean age 57; 98% white), who reported vaginal symptoms substantive enough to seek medical treatment, and randomly assigned to receive active or sham (42 patients) fractional microablative CO2 laser therapy delivered via a vaginal probe.
The laser treatment was performed at standard settings and the sham treatment was performed at minimal energy settings with no tissue effect. The cohorts were treated between September 2016 and June 2019 in three treatments, 4 to 8 weeks apart.
A minimal clinically important difference was specified as a 50% decrease in both VAS and VSQ severity scores, according to the authors. Overall, 88.4% in the laser group and 95.2% in the sham group completed 12 months of follow-up.
Abbott's group reported no significant differences between the laser and sham group in the following secondary outcomes:
Mean QoL score: 6.3 versus 1.4 for a 4.8 difference (95% CI -3.9-13.5)
Mean VHI score: 0.9 versus 1.3 for -0.4 difference (95% CI -4.3-3.6)
There were 16 adverse events (AEs) in the laser group and 17 in the sham group, most often vaginal pain/discomfort (44% vs 68%), spotting, discharge, and lower urinary tract symptoms. There were no severe AEs in either group.
Study limitations included the fact that it was not powered to determine the risk of uncommon but clinically relevant complications, nor was it powered to detect differences in symptoms for women after breast cancer treatment or natural menopause.
"These results suggest that use of vaginal laser technology for the management of genitourinary symptoms should be limited to a research setting until high quality evidence supports both effectiveness and safety," Adelman and Nygaard stated.
Treatment with fractional carbon dioxide laser versus sham treatment did not improve vaginal symptoms after 12 months in women with postmenopausal vaginal symptoms.

There were no significant differences between the laser and sham group for quality of life, Vaginal Health Index (VHI) score, or histological comparisons.
Shalmali Pal, Contributing Writer, BreakingMED™
The trial was supported by the Australasian Gynaecological Endoscopy and Surgery (AGES) Society and the Royal Hospital for Women.
Abbott reported relationships with, and/or support from, AGES, Hologic, Vifor, Bayer, and Merck Sharp and Dohme. Co-authors reported support from AGES, the Canadian Institutes of Health Research, and Fonds de recherche en Sante-Quebec.
Nygaard reported support from the Eunice Kennedy Shriver National Institute of Child Health and Human Development. Adelman reported a relationship with AbbVie.
Cat ID: 334
Topic ID: 83,334,730,334,192,925