Five-month advantage observed with tebentafusp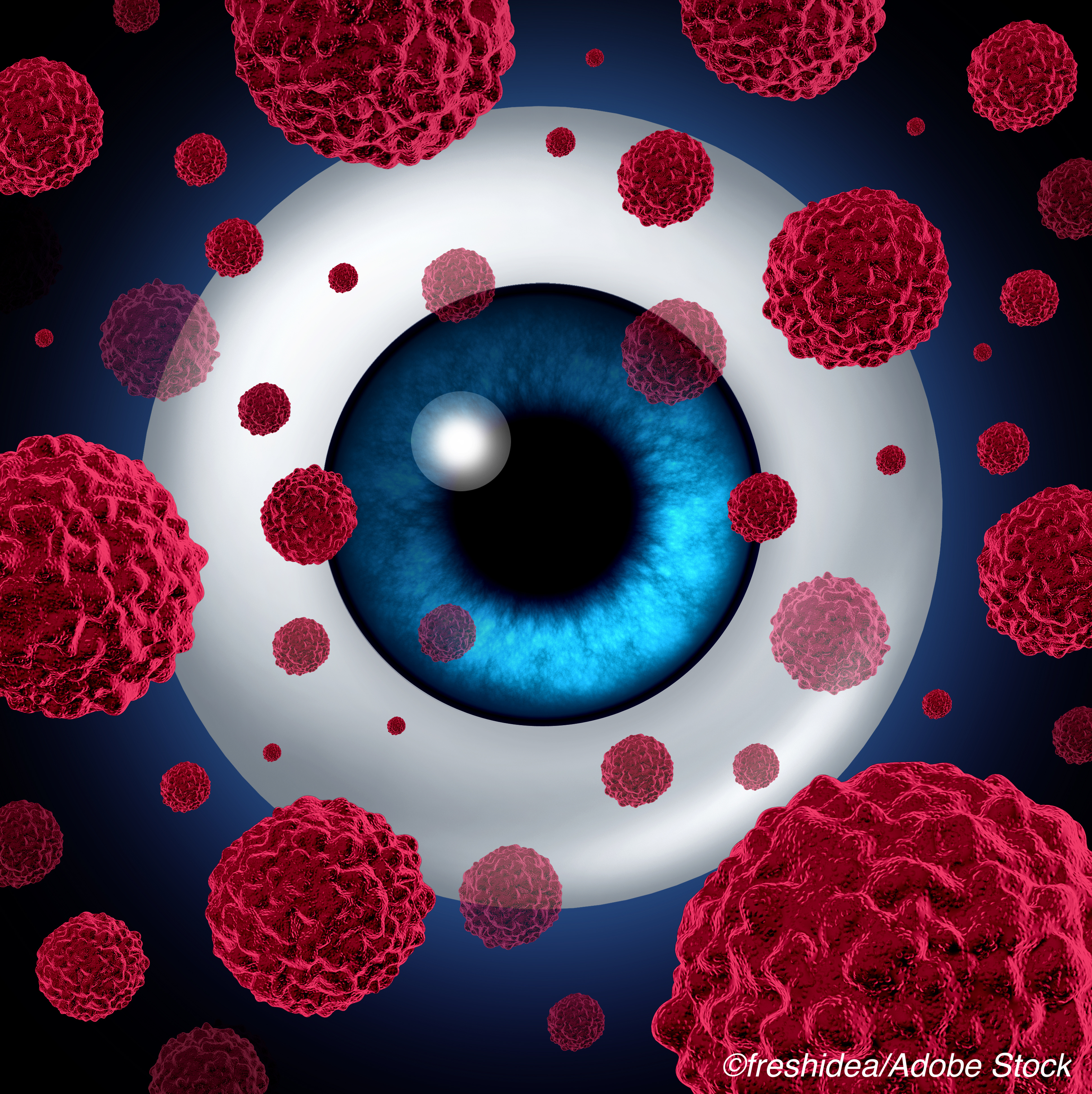 The novel bispecific fusion protein tebentafusp appears to offer extended survival among patients diagnosed with metastatic uveal melanoma when compared with similar treatment-naïve patients treated with their clinicians' best therapy choice, researchers reported at the virtual 2021 meeting of the American Association for Cancer Research.
Patients who received tebentafusp achieved a median overall survival of 21.7 months, significantly superior to the 16-month overall survival achieved by patients in the comparator group who were treated with pembrolizumab, ipilimumab, or dacarbazine at the choice of their clinician (HR 0.51; 95% CI 0.37-0.71; P<0.0001), said Jessica Hassel, MD, associate professor of medicine at the University Hospital in Heidelberg, Germany.
After a median follow-up of 13.7 months, Hassel and fellow researchers observed that at one-year, 73.2% of patients treated with tebentafusp were alive, compared with 57.5% of patients treated with clinician's choice of therapy.
At a virtual press conference, Hassel said, "Even though uveal melanoma is rare overall, it is the most common eye cancer in adults and represents approximately 3%-5% of all melanomas. Prognosis for uveal melanoma is very poor, with a median survival after metastasis of less than one year.
"As there are currently no standard treatments for patients with metastatic uveal melanoma, tebentafusp has the potential to become a practice-changing therapy for patients with this disease," Hassel said. "Tebentafusp showed a highly significant and clinically meaningful improvement in overall survival as a first-line treatment of metastatic uveal melanoma."
Adverse events associated with tebentafusp treatment were predictable and manageable, she reported. The rate of treatment discontinuation was 2% among those patients treated with tebentafusp, compared with 4.5% among patients in the investigator's choice arm. "There were no treatment-related deaths," she added.
In commenting on the study, Antoni Ribas, MD, PhD, professor of medicine, of surgery, and of molecular and medical pharmacology at University of California Los Angeles, said, "This is the first ever study that has shown an improvement in overall survival in patients with uveal melanoma, which is also commonly called ocular melanoma. Patients with uveal melanoma that has spread through the body had no effective treatment."
Ribas said that in more than 50 years of research, there had been no therapy that improved overall survival in metastatic uveal melanoma.
"I think this is a practice-changing study, and I hope to be able to use this in the clinic," said Ribas, one of the co-moderators of the press briefing.
In the phase III study, Hassel and colleagues enrolled 378 patients diagnosed with metastatic uveal melanoma who had not undergone any treatment for their metastatic disease. The researchers assigned 252 patients to the investigative agent and 126 to their clinician's choice—mainly pembrolizumab. Hassel explained that tebentafusp recognizes two targets, with one target present on melanoma cells and the second target present on T cells.
"Tebentafusp builds a bridge between the tumor and the immune cells, enabling the immune cells to attack the tumor," she said. One end of the protein recognizes a part of the gp100 protein expressed in melanoma cells. This recognition occurs through a high-affinity T-cell receptor binding domain that targets the gp100 antigen, which is presented by the tumor cells using a specific HLA type known as HLA-A*02:01. The other end of tebentafusp protein binds, activates, and redirects T cells to attack the gp100-expressing melanoma cells, Hassel said.
She added that only patients who express the specific HLA type would be eligible for treatment with tebentafusp, but she also pointed out that about half of people who develop metastatic uveal melanoma have this HLA type.
Response rates according to RECIST criteria were 9% with tebentafusp, which included one patient who achieved a complete response, compared with 5% with investigator's choice. The disease control rates, including patients with stable disease at 12 weeks, were 45.2% and 27.8%, respectively.
The major limitation of tebentafusp is that it can only be used in patients who have a specific HLA type, Hassel said. "There still remains an unmet need for patients who do not have this particular surface protein," she noted.
The investigative agent tebentafusp showed promise as the first effective treatment for metastatic uveal melanoma.

Only patients with a specific HLA type benefit from this particular treatment.
Edward Susman, Contributing Writer, BreakingMED™
This study was sponsored by Immunocore.
Hassel disclosed relationships with Pierre Fabre, Sanofi, Sun Pharma, MSD, Immunocore, BMS, Novartis, Roche, BioNTech, Regeneron, Merck, Geentech, 4SC, Philogen, and Almirall.
Ribas disclosed relationships with Amgen, AstraZeneca, Chugai, Genentech-Roche, Merck, Novartis, Nurix, Sanofi, Vedanta, 4C Biomed, Apricity, Arcus, Compugen, Highlight, ImaginAb, Kalthera, Lutris, MapKure, Merus, Rgenix, PACT Pharma, Tango, Agilent, and Bristol-Myers Squibb.
Cat ID: 165
Topic ID: 98,165,728,791,730,120,121,240,165