New guidance outlines mask use, returning to sports after Covid infection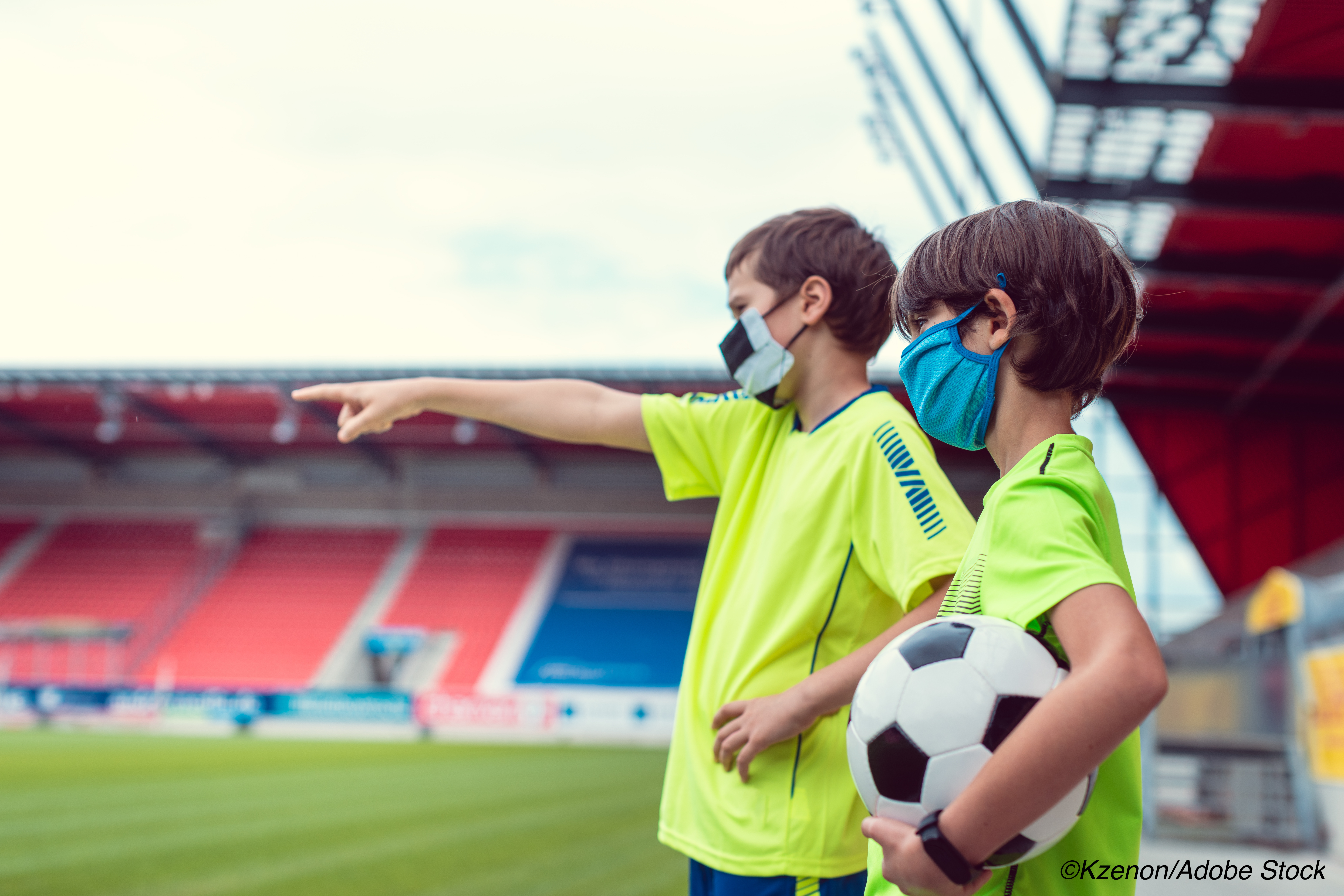 The American Academy of Pediatrics (AAP) published interim guidance outlining how U.S. kids can participate in sports and other physical activities in the wake of the Covid-19 pandemic.
"This update provides an overview of ongoing repercussions from lack of athletic/physical fitness opportunities for youth, stresses the importance of high-yield risk mitigation strategies, clarifies recommendations for face mask use in sports, modifies post-illness medical clearance, and encourages people to receive a Covid-19 vaccine as soon as eligible," the AAP explained in it's updated guidance, titled "Covid-19 Interim Guidance: Return to Sports and Physical Activity."
The Covid-19 pandemic increased sedentary time among kids of all ages, the AAP explained, with obesity prevalence increasing as a result, particularly among children ages 5-9 years, those with lower household income, and those who identified as Hispanic and non-Hispanic Black. Participating in sports, conversely, can improve children's cardiovascular health, strength, body composition, and overall fitness, as well as provide psychological and immune benefits.
The AAP noted that its guidelines for wearing face masks to sporting events is consistent with CDC guidance:
"Everyone should consider wearing a mask in crowded indoor spaces such as locker rooms and shared transportation, regardless of their vaccination status.
"Athletes who are not fully vaccinated should wear face masks when on the sidelines at outdoor sports and during all group training and competition when there is sustained contact of 3 feet or less. They also should wear a mask when arriving at or departing from the playing facility and off the playing field.
"Proper use of a face mask for all indoors sports training, competition and on the sidelines is strongly recommended for those who are not fully vaccinated, except when the mask is a safety risk.
"Unless fully vaccinated, coaches, officials, spectators and volunteers should wear a mask."
As for what to do in the case of an athlete who wishes to return after testing positive for SARS-CoV-2, the AAP recommended that patients with mild or asymptomatic infection should speak with their doctor via phone or telemedicine, at minimum. Also, while the incidence of myocarditis among patients infected with SARS-CoV-2 is lower than reported earlier in the pandemic, "myocarditis has been reported in patients with asymptomatic or mildly symptomatic illness. Therefore, pediatricians should ask about chest pain, shortness of breath out of proportion for upper respiratory tract infection, new-onset palpitations or syncope," the AAP wrote. "Any reports of these symptoms warrant an in-office visit, physical examination and consideration of EKG before clearing the patient to return to physical activity."
For patients with moderate symptoms and no sign of multisystem inflammatory syndrome in children (MIS-C), AAP recommended an in-person evaluation by a pediatrician. Until their doctor clears them, patients should not exercise, and evaluation to return to sports should not be completed until symptoms resolve and quarantine is over.
"For children with severe Covid-19 symptoms or MIS-C: AAP guidance remains unchanged," the organization wrote. "These children should forgo exercise for at least three to six months and receive cardiology clearance before resuming training or competition."
The AAP added that, for kids who have recovered from Covid-19 and have not participated in consistent physical activity for more than a month, patients should start at around 25% of usual volume and intensity of activity and consider exercising every other day. After that, patients can increase volume and intensity by 10% each week until they reach their physical activity goal.
Lastly, the AAP recommended that all eligible individuals receive a Covid-19 vaccine. "An athlete who is fully vaccinated can follow CDC transmission mitigation recommendations for vaccinated people," the AAP wrote.
John McKenna, Associate Editor, BreakingMED™
Cat ID: 190
Topic ID: 79,190,730,933,190,926,192,927,925,934