Drug achieves NASH resolution but no fibrosis improvement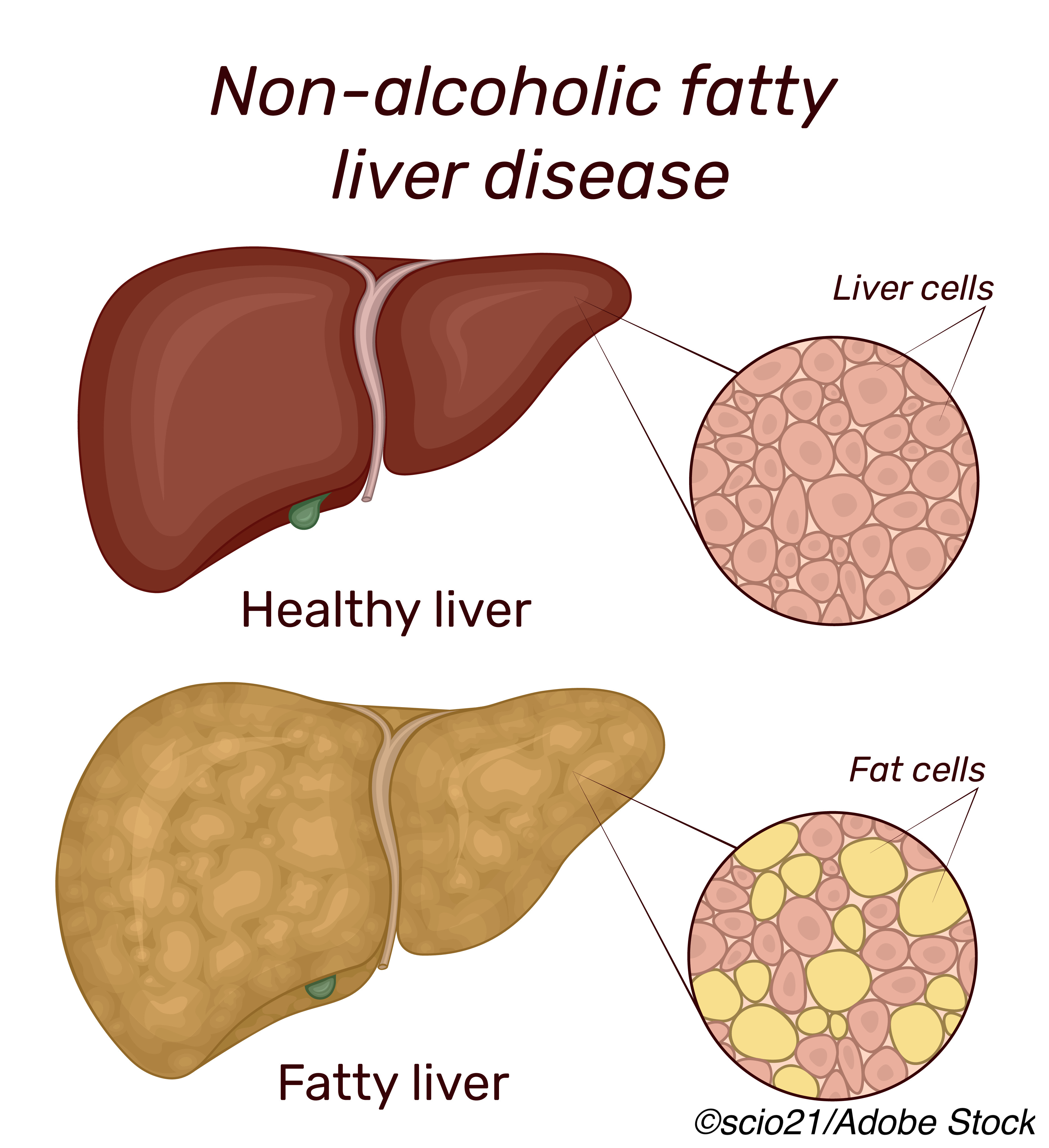 Treatment with semaglutide — a glucagon-like peptide-1 (GLP-1) receptor agonist — may be an effective treatment for non-alcoholic steatohepatitis (NASH), according to findings from a phase II study.
However, although semaglutide achieved better resolution of NASH symptoms, it did not reduce fibrosis, said Philip N. Newsome, MB, ChB, PhD, of the National Institute for Health Research Biomedical Research Centre at University Hospitals Birmingham NHS Foundation Trust and the University of Birmingham, England, and colleagues. Newsome and colleagues reported their findings online in The New England Journal of Medicine and at the virtual meeting of the American Association for the Study of Liver Diseases (AASLD).
Insulin resistance is considered a "driver" of both type 2 diabetes and obesity, and it is also a risk factor for NASH; thus, turning to a class of drugs that have demonstrated efficacy in treating diabetes — GPL-1 inhibitors — is an attractive option, especially since there is currently no FDA-approved treatment for NASH. "Pioglitazone and vitamin E may be considered as possible treatment options with management focused on lifestyle interventions to encourage weight loss and treatment of coexisting conditions," Newsome and colleagues pointed out.
The study authors recruited patients with biopsy confirmed NASH and liver fibrosis (stage F1, F2, or F3) to "receive once-daily subcutaneous semaglutide at a dose of 0.1, 0.2, or 0.4 mg or corresponding placebo" for 72 weeks. Resolution of NASH with no worsening of fibrosis was the primary end point. A secondary endpoint was improvement of fibrosis by at least one stage with no concomitant worsening of NASH.
Newsome said the end points analyses "were performed only in patients with stage F2 or F3 fibrosis." They enrolled 320 patients, including 230 who had stage F2 or F3 fibrosis. The majority of the patients were white (78%), obese (BMI 35.8), and in their mid-50s. Sixty-two percent were women. Overall, more than half —62%—had type 2 diabetes.
The treatment assignments were as follows:
0.1 mg, n= 80 patients.
0.2 mg, n=78 patients.
0.4 mg, n= 82 patients.
Placebo, n= 80 patients.
"The percentage of patients in whom NASH resolution was achieved with no worsening of fibrosis was 40% in the 0.1-mg group, 36% in the 0.2-mg group, 59% in the 0.4-mg group, and 17% in the placebo group (P<0.001 for semaglutide 0.4 mg versus placebo). An improvement in fibrosis stage occurred in 43% of the patients in the 0.4-mg group and in 33% of the patients in the placebo group (P=0.48). The mean percent weight loss was 13% in the 0.4-mg group and 1% in the placebo group," they wrote.
"The fact that the percentage of patients who had an improvement in fibrosis stage was not significantly higher with semaglutide than with placebo — despite a greater benefit with respect to NASH resolution and dose-dependent weight loss — was unexpected, given that previous studies have suggested that resolution of NASH and improvements in activity scores for the components of nonalcoholic fatty liver disease are associated with regression of fibrosis," the study authors noted. "However, the temporal association among NASH resolution, weight loss, and improvement in fibrosis stage is not fully understood. It is possible that the current trial was not of sufficient duration for improvements in fibrosis stage to become apparent, especially since most of the patients had advanced fibrosis. Moreover, outcomes such as the score on the enhanced liver fibrosis test and the degree of liver stiffness are continuous variables, and therefore, they may show changes that are not evident from categorical liver-biopsy evaluation. A lack of adequate statistical power for this secondary end point may also have contributed to the unanticipated results."
Newsome and colleagues noted that the patients had biopsy confirmed NASH at baseline, but it is possible that there was intraobserver variability on this point, which is a limitation of the study. Also, a 72-week trial was not long enough to determine long-term clinical outcomes.
Nonetheless, Newsome and colleagues concluded that "treatment with semaglutide resulted in a significantly higher percentage of patients with NASH resolution than placebo."
Be aware that this article discusses an off-label use of a drug that is currently approved for treatment of type 2 diabetes.

In a phase II randomized trial, treatment with 0.4 mg of semaglutide demonstrated a significant improvement in resolution of NASH compared to placebo.
Peggy Peck, Editor-in-Chief, BreakingMED™
The study was funded by Novo Nordisk.
Newsome reported other from Novo Nordisk during the conduct of the study; grants from Pharmaxis, grants and other from Boehringer Ingelheim, non-financial support from Echosens, grants and other from Novo Nordisk, other from BMS, other from Gilead, other from Pfizer, other from Poxel, outside the submitted work.
Cat ID: 111
Topic ID: 77,111,111,188,230,192,925,229