AFFIRM-AHF trial findings suggest it may be time for routine iron deficiency checks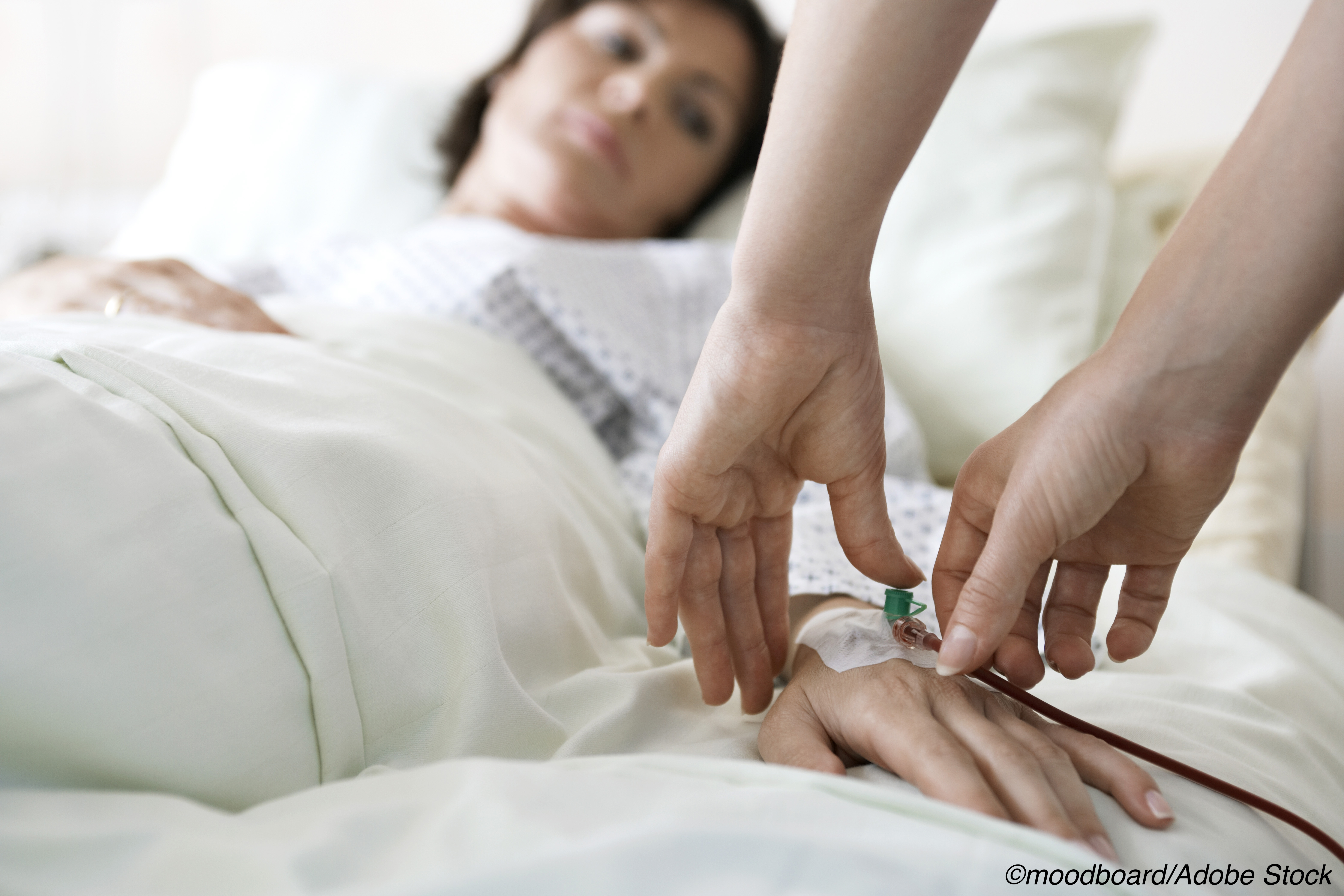 As many as 80% of patients with acute heart failure are known to have iron deficiency, yet checking for iron deficiency is not a routine part of clinical management. However, that may soon change as results of a double-blind, randomized trial suggest that an infusion of ferric carboxymaltose (FCM), administered when a hospitalized patient is stabilized after an acute heart failure episode, may reduce the risk of subsequent hospitalizations.
Piotr Ponikowski, MD, PhD, of the Center for Heart Diseases, University Hospital Medical University in Wroclaw, Poland, who said that patients likely to benefit have left-ventricular ejection fractions (LVEF) of 50% or less, presented results of AFFIRM-AHF in a late-breaking clinical trials session at the American Heart Association's virtual Scientific Sessions 2020. The findings were also published online by The Lancet.
The researchers enrolled patients with LVEF < 50%, so-called mid-range reduced ejection fraction (HFrEF), and iron deficiency (defined as ferritin <100 µg/L, or 100–299 µg/L with transferrin saturation <20%).
They randomized 1,108 patients — 558 to the carboxymaltose group and 550 to placebo — to receive either FCM or placebo for up to 24 weeks. Dosing was dependent upon the extent of iron deficiency. Because FCM is a dark, rather thick substance, the infusions were done with black syringes and drug preparation was done by unmasked personnel who were not involved in any study assessments.
Most of the patients were in their 70s; 44% in the FCM arm and 45% in the placebo group were women. About half of the patients were NYHA class III-IV. The average LVEF was 33%, and 47% of all participants had HFrEF of ischemic etiology. Just over half had atrial fibrillation or flutter, 41% had diabetes, and a similar percent had chronic kidney disease.
The primary efficacy endpoint was a composite of heart failure hospitalizations and/or cardiovascular death at 52 weeks post randomization. "Secondary outcomes were the composite of total cardiovascular hospitalizations and cardiovascular death; cardiovascular death; total heart failure hospitalizations; time to first heart failure hospitalization or cardiovascular death; and days lost due to heart failure hospitalizations or cardiovascular death, all evaluated up to 52 weeks after randomization."
Among the findings:
293 primary events (57.2 per 100 patient-years) occurred in the FCM group and 372 (72.5 per 100 patient-years) occurred in the placebo group (rate ratio [RR] 0.79, 95% CI 0.62–1.01, P=0.059).
370 total cardiovascular hospitalizations and cardiovascular deaths occurred in the ferric carboxymaltose group and 451 occurred in the placebo group (RR 0.80, 95% CI 0.64–1.00, P=0.050).
There was no difference in cardiovascular death between the two groups (77 [14%] of 558 in the FCM group versus 78 [14%] in the placebo group; hazard ratio [HR] 0.96, 95% CI 0.70–1.32, P=0.81).
217 total heart failure hospitalizations occurred in the FCM group and 294 occurred in the placebo group (RR 0.74; 95% CI 0.58–0.94, P=0.013).
The composite of first heart failure hospitalization or cardiovascular death occurred in 181 (32%) patients in the FCM group and 209 (38%) in the placebo group (HR 0.80, 95% CI 0.66–0.98, P=0.030).
"Fewer days were lost due to heart failure hospitalizations and cardiovascular death for patients assigned to ferric carboxymaltose compared with placebo (369 days per 100 patient-years versus 548 days per 100 patient-years; RR 0.67, 95% CI 0.47–0.97, P=0.035)," Ponikowski said.
Of note, the AFFIRM-AFH trial was designed to track hospitalizations as an efficacy measure; however, in the midst of the trial the world was gripped by the Covid-19 pandemic, with the result that heart failure hospitalizations declined because hospitals were given over to Covid-19 care. As a result, the Ponikowski and colleagues needed to account for the impact of Covid-19 on their findings.
"The management and follow-up of patients was affected by the Covid-19 pandemic. The impact of Covid-19 cases, related changes in health-care services provided, and the potential consequences of Covid-19 on heart failure epidemiology have been acknowledged as a serious and unpredictable threat to the conduct of clinical trials. Based on recommendations by the Heart Failure Association of the European Society of Cardiology and the European Medicines Agency and the U.S. Food and Drug Administration, the statistical analysis plan included a pre-Covid-19 sensitivity analysis — censoring patients in each country at the date when its first Covid-19 patient was reported. The analyses were prespecified in the statistical analysis plan before locking the database," they explained.
That pre-specified Covid-19 sensitivity analysis revealed "statistically significant differences in favor of FCM for primary and secondary outcomes."
For example: looking at HF hospitalizations and CV death in the modified intention to treat analysis, the RR for HF hospitalizations was 0.79 (0.62-1.01) P = 0.059 versus an RR of 0.7 (0.59-0.96) P = 0.024.
The discussant for the trial, John McMurray, MD, of the British Heart Foundation Cardiovascular Research Center at the University of Glasgow, cited the "more convincingly statistically significant evidence" provided by the pre-specified Covid-19 analysis.
The trial had some limitations, McMurray said, including the sample, which was mostly white and European, high discontinuation rates — 33% in the FCM group and 18% in the placebo arm — and no long-term safety data.
Nonetheless, McMurray signaled his support for IV FCM. He noted that current HFrEF guidelines offer only lukewarm support for FCM. The European Society of Cardiology Guideline (2016) states "IV FCM should be considered to alleviate HF symptoms exercise capacity and QOL," and the AHA/ACC/HFSA 2017 focused update states "IV iron replacement might be reasonable to improve functional QOL."
McMurray concluded that it was time to flat out make IV FCM part of the treatment algorithm.
But Dipti Itchhaporia, MD, vice president of the American College of Cardiology, as well as the Medical Director of Disease Management at the Jeffrey M. Carlton Heart and Vascular Institute in Newport Beach, California, was less sure. In an interview with BreakingMED, she said that infusion therapies can be difficult if multiple infusions are needed. "If we could tell the patient, it will be one infusion and that's it, I think it would be more easily accepted," she noted.
That said, Itchhaporia did support the concept of testing patients for iron deficiency, noting, as Ponikowski said, "it's only a simple blood test."
Finally, Ponikowski concluded that, "in patients with iron deficiency, a left ventricular ejection fraction of less than 50%, and who had stabilized after an episode of acute heart failure, treatment with ferric carboxymaltose was safe and reduced the risk of heart failure hospitalizations but had no apparent effect on the risk of cardiovascular death."
As many as 80% of patients with acute heart failure may have iron deficiency, which is distinct from anemia.

Findings from the AFFIRM-AHF trial support use of intravenous ferric carboxymaltrose in hospitalized acute heart failure patients with ejection fractions of 50% or less to reduce subsequent hosptializations. Moreover, the findings suggest that testing for iron deficiency should be considered for patients with AHF.
Peggy Peck, Editor-in-Chief, BreakingMED™
Ponifowski disclosed financial relationships with Abbott Vascular, Amgen, AstraZeneca, Bayer, Berlin Chemie, BMS, Boehrinder Ingelheim, Cibiem, Impulse Dynamics, Merck, Novartis, Pfizer, Renal Guard Solution, Servier, and Vifor Pharma.
Cat ID: 232
Topic ID: 74,232,232,3,192,925,231