ATLAS trial will assess tofersen in pre-symptomatic SOD1 mutation carriers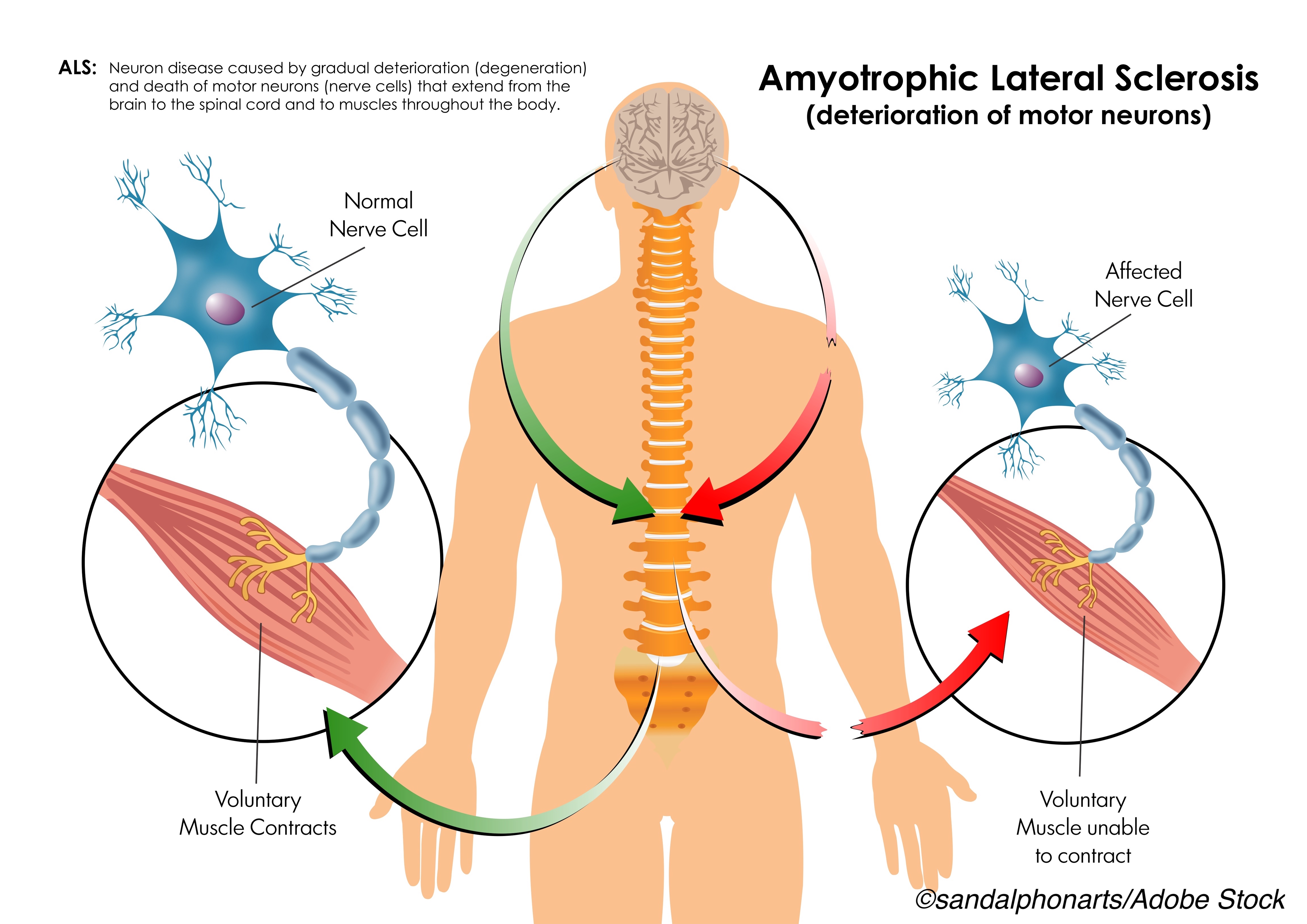 The key to optimal treatment of amyotrophic lateral sclerosis (ALS) may be to initiate treatment before symptoms emerge—a difficult, but intriguing, hypothesis that will soon be tested in a clinical trial.
That trial, known as ATLAS, will evaluate the best timing to begin treatment with the investigational antisense oligonucleotide tofersen in presymptomatic SOD1 mutation carriers at high risk for ALS.
The ATLAS trial will assess levels of the axonal injury marker neurofilament light (NfL) to identify imminent phenoconversion in superoxide dismutase 1 (SOD1) mutation carriers, then randomize participants to treatment or placebo arms, reported Michael Benatar, MD, PhD, of the University of Miami in Florida, and co-authors in a presentation at the 2021 American Academy of Neurology annual meeting.
It's noteworthy that while the Covid-19 pandemic has slowed, and in some cases derailed, clinical research, the developer of tofersen noted in a statement that research into carriers of SOD1 gene mutations continued as scheduled. That optimistic view contrasts with data reported in a survey of members of the Northeast ALS (NEALS) consortium.
Asked about research challenges posed by the pandemic, "[V]ery few responding centers were able to enroll new participants into studies, either in‐person or by phone or video. Most were unable to see participants for return in‐person visits. About half the responders were able to see return participants virtually, even those residing in states beyond where the clinic was located. Twenty percent of responders were unable to see any research participants by any means during the pandemic."
Thus, the forecast for potential progress from Benatar engenders cautious optimism.
"ATLAS is designed to further our understanding of the optimal timing for tofersen initiation and biomarkers of presymptomatic and early clinical disease," the researchers said in their presentation. "Presymptomatic therapeutic intervention requires knowledge of who to treat and when."
Tofersen is administered intrathecally. It binds to SOD1 messenger RNA, enhancing its degradation and reducing levels of toxic mutant SOD1 protein. A phase I/II trial of tofersen reported that the agent reduced cerebrospinal fluid (CSF) levels of SOD1 by 33% in the 100-mg (highest-dose) group, which received five doses over 12 weeks, compared with placebo.
Since serum and CSF NfL and the phosphorylated neurofilament heavy chain are elevated as early as 12 months before phenoconversion in carriers of rapidly progressive SOD1 mutation, Benatar and colleagues balanced the need for an NfL threshold high enough to maintain a low false positive rate, but low enough to ensure two-three months for screening and randomization in the trial. They used data from the Pre-Symptomatic Familial ALS (Pre-fALS) study, begun by Benatar in 2007, to determine NfL trajectory and establish a threshold of <44 pg/ml during screening for the ATLAS study.
When a participant's NfL increases to 44 pg/ml or more and there is a change from baseline of 10 pg/ml or more, those who are still presymptomatic will enter the placebo-controlled portion of the trial (placebo versus tofersen intrathecally at the 100 mg dose) followed by an open-label portion. Participants who develop symptoms before elevations in neurofilaments will enter a placebo-controlled phase (again, placebo versus tofersen 100 mg).
The primary efficacy endpoint will be the proportion of participants with emergence of symptomatic ALS within 12 months of randomization. Follow-up is planned for up to two years.
Effective disease-modifying therapy for neurodegenerative diseases like ALS may require a window-of-treatment opportunity before neurodegeneration is irreversibly advanced. Presymptomatic identification of patients at high risk for neurodegeneration is thus an increasingly important strategy for developing such therapy.
Genetic forms of ALS are a minority of overall cases—around 10%, with SOD1 mutations accounting for about 2% overall—but provide insights on mechanisms and treatment pathways that inform more general therapeutic approaches. In addition to SOD1 mutations, genetic links to ALS include C9ORF72 (estimated to account for 37% of familial ALS) and TARDBP (estimated to account for 3-5% of familial cases). Of the approximately 200 SOD1 mutations found in ALS patients, ATLAS will consider 17 that appear clearly pathogenic.
Despite a lack of effective disease-modifying treatment for ALS, recent research has demonstrated progress and suggests that work along established conceptual lines may achieve important treatment goals. A recent study of combined sodium phenylbutyrate and taurursodiol (AMX0035) slowed functional decline over placebo in a 24-week trial, for example, though secondary outcomes did not differ significantly between the two groups.
In the phase I-II ascending dose trial of tofersen in symptomatic SOD1-ALS patients,"CSF SOD1 concentrations decreased at the highest concentration of tofersen administered intrathecally over a period of 12 weeks," reported Timothy Miller, MD, PhD, of Washington University in St. Louis, and co-authors, in The New England Journal of Medicine. "CSF pleocytosis occurred in some participants receiving tofersen. Lumbar puncture-related adverse events were observed in most participants."
Advances like tofersen "signal a new beginning for ALS therapeutics in which some forms of the disease may become treatable," noted Orla Hardiman, MD, of Trinity College and Beaumont Hospital in Dublin, and Leonard van den Berg, MD, PhD, of University Medical Center in Utrecht, the Netherlands, in an editorial accompanying publication of the phase I/II tofersen results.
"By starting with subgroups with specific genomic features, investigators are providing new hope for patients at genetic risk for this devastating fatal disease," Hardiman and van den Berg wrote.
VALOR, a phase III study of tofersen in SOD1 carriers with symptomatic ALS, currently is underway, and on April 27, 2021 the developer of tofersen agreed to participate in a compassionate use program for the drug through the FDA's 'Right-to-Try'.
Be aware that this activity discusses an investigational drug that is not yet approved for clinical use.

Effective disease-modifying therapy for neurodegenerative diseases like ALS may require a window-of-treatment opportunity before neurodegeneration is irreversibly advanced. Presymptomatic identification of patients at high risk for neurodegeneration is an increasingly important strategy for developing such therapy.
Paul Smyth, MD, Contributing Writer, BreakingMED™
The study was supported by Biogen.
Benatar reported being a consultant to Biogen, Denali, and Roche; a clinical trial site investigator for Biogen and Orphazyme; and intellectual property licensed to Biogen and Orphazyme.
Miller reported advisory board fees from Biogen, consulting fees from Cytokinetics and Disarm Therapeutics, a licensing agreement with C2N Diagnostics and Ionis Pharmaceuticals, and a patent on antisense oligonucleotides that lower tau licensed to Ionis Pharmaceuticals.
Hardiman reported personal fees from Taylor and Francis, grants from Cytokinetics, Biogen, and Ionis, and personal fees from Medicanova. van den Berg reported personal fees from Cytokinetics, Octapharma, and Takeda, and other relationships with Orion, Orphazyme, Treeway, Calico, and Biogen.
Cat ID: 130
Topic ID: 82,130,730,130,131,192,925,167