Confirmed response seen in patients who relapse after osimertinib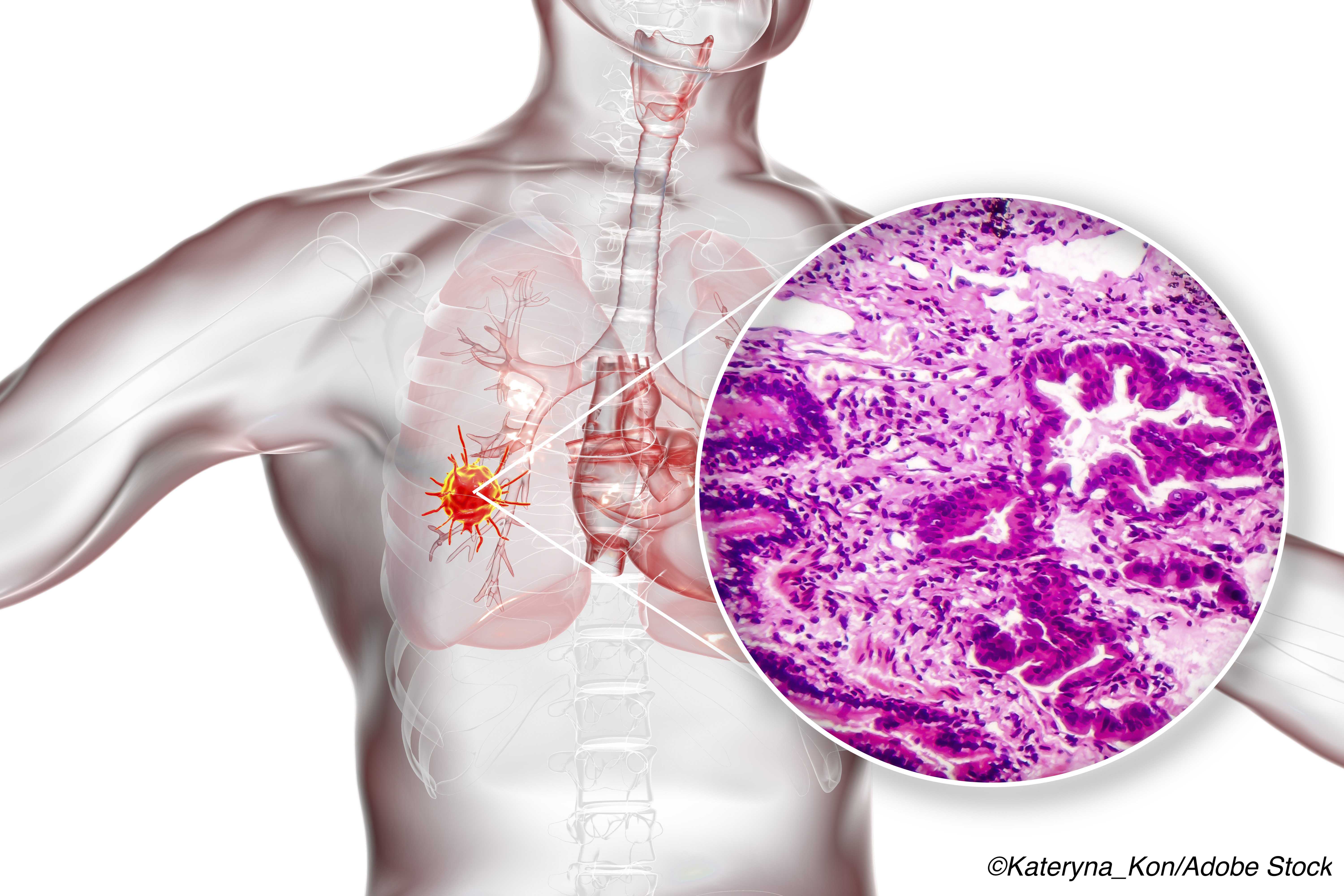 Patients with non-small cell lung cancer (NSCLC) who had relapsed after an initial response to osimertinib therapy may benefit from treatment with the combination of the EGFR-MET specific antibody amivantamab and the tyrosine kinase inhibitor (TKI) lazertinib.
Byoung Chul Cho, MD, PhD, of Yonsei Cancer Center, Yonsei University College of Medicine in Seoul, South Korea, said 36% of the 45 osimertinib-relapsed patients treated with the combination had a confirmed response. Cho reported the findings during an oral abstract session at the American Society of Clinical Oncology 2021 virtual meeting.
Cho and colleagues assessed the efficacy of the amivantamab/lazertinib combination in a cohort that included both treatment-naïve and osimertinib-relapsed patients with confirmed EGFRm NSCLC. The researchers had previously reported preliminary efficacy of the amivantamab/lazertinib combination at the European Society of Medical Oncology 2020 meeting.
At that time, they reported an overall response rate of 43.5% among 71 patients at maximally assessed doses of 1,050 mg amivantamab and 240 mg lazertinib. At ESMO, Cho and colleagues said they had observed "encouraging preliminary activity" in osimertinib-relapsed disease.
Unlike the earlier findings, which included patients who had undergone prior chemotherapy, the updated analysis focused on a subset of patients who had progressed on osimertinib without intervening chemotherapy. They also analyzed potential biomarkers of response.
All patients had pre-treatment tumor biopsies and ctDNA collected prospectively.
"Response was assessed by investigator per RECIST v1.1. Osi-resistance mutations or amplifications in EGFR/MET identified by next-generation sequencing (NGS) in either ctDNA or tumor biopsy (biomarker-positive [pos]), were evaluated for enriching response. Immunohistochemistry (IHC) staining for EGFR and MET expression was also explored as a potential biomarker for response."
Among the findings:
36% (95% CI, 22–51) had a confirmed response (1 complete response and 15 partial responses).
At a median follow-up of 8.2 months (1.0–11.8), 20/45 pts. (44%) remain on treatment.
Cho said the median duration of response has not yet been reached, but 11 of the 16 patients are continuing in response (range 2.6-9.6+ months).
All but one of the patients (44/45 patients) were "evaluable by ctDNA and 29/45 by tumor next generation sequencing (NGS)," they said. The genetic testing identified "17 biomarker positive patients and 8 of those patients responded to the combination therapy." Additionally, 8 of the remaining 28 patients who were not biomarker positive also responded.
Interestingly, additional analysis of data from those 28 patients identified 18 who had unknown mechanisms of osimertinib resistance and 10 who had non-EGFR-MET mechanisms of resistance. None of these patients responded to amivantamab/lazertinib.
"The median progression-free survival (95% CI) for biomarker-positive patients was 6.7 months (3.4-NR) and 4.1 months (1.4–9.5) for the non-biomarker positive patients," they noted.
Cho and colleagues also assessed the prognostic potential of IHC testing. There was adequate tissue from 20 patients to for IHC testing for EGFR and MET which yielded interesting results: 10 patients had high IHC (combined EGFR + MET H score > 400) and 9 of these high IHC patients responded to the combination. Ten patients had low IHC scores and one of those patients responded to treatment.
The analysis, Cho said, does support further studies to investigate the utility of IHC as a marker of response.
During a panel discussion of the findings, Cho was asked the rationale for combining amivantamab with a TKI, rather than simply using amivantamab monotherapy and if doing so limited the ability to distinguish the effect of one versus the other.
"The number one reason is that in the CHRYSALIS phase I study, we analyzed monotherapy and combination therapy and we observed a numerically higher response rate and longer progression-free survival with the combination, without enhanced toxicity," he said. "Second, given the specific antibody nature of amivantamab we can imagine amivantamab cannot penetrate the CNS, so the CNS protective effect may be provided by lazertinib. The third rationale is, as was mentioned, amivantamab has demonstrated immune cell tracking activity in multiple preclinical studies in combination compared to amivantamab monotherapy. It [the combination] may induce separate recruiting of immune cells in the tumor microenvironment."
On May 21, 2021, FDA granted accelerated approval to amivantamab for metastatic NSCLC, at the same time the FDA approved the liquid biopsy system Guardant360® CDx as a companion diagnostic.
Be aware that a retrospective analysis of findings from the CHRYSALIS trial confirmed a benefit for the combination of amivantamab/lazertinib in NSCLC patients who relapse following treatment with osimertinib.
Note immunohistochemistry results may be helpful in predicting response to amivantamab/lazertinib therapy.
Peggy Peck, Editor-in-Chief, BreakingMED™
Research funed by Janssen.
Cho disclosed owning Bridgebio, Cyrus Therapeutics, Gencurix, Interpark Bio, Kanaph Therapeutics and Theravance stock. He disclosed consultant or advisory agreements with AstraZeneca; Blueprint medicines; Boehringer Ingelheim; Bridgebio; Bristol-Myers Squibb; Cyrus Therapeutics; Guardant Health; Janssen; Kanaph Therapeutics; Lilly; Medpacto; MSD; Novartis; Ono Pharmaceutical; Oscotec; Pfizer; Roche; Takeda; and Yuhan. He received research funding from Abbvie; AstraZeneca; Bayer; Blueprint medicines; Champions Oncology; Dizal Pharma; Dong-A ST; GI Innovation; Interpark Bio; Janssen; Lilly; Medpacto; Mogam Biotechnology Research Institue; MSD; Novartis; Ono Pharmaceutical and Yuhan.
Cat ID: 122
Topic ID: 78,122,730,122,24,935,192,195,65,925,172