Mortality from transplantation upon remission with chemotherapy-free regimen was remarkably low compared to mortality normally seen with intensive chemotherapy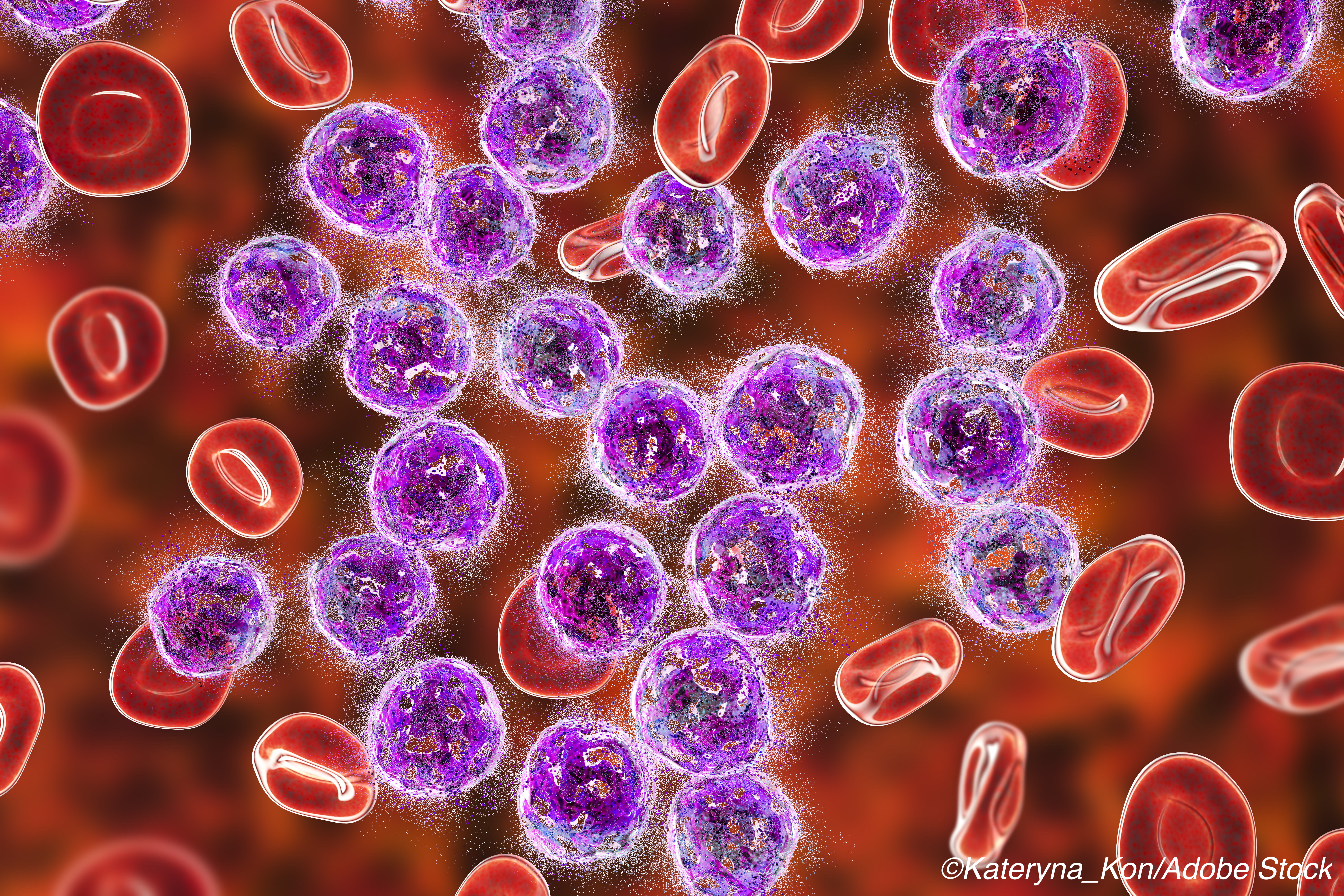 A chemotherapy-free induction and consolidation regimen led to extremely high molecular response rates and few serious toxic effects for adults with Philadelphia chromosome (Ph)-positive acute lymphoblastic leukemia (ALL), a phase 2, single-group trial of first-line therapy found.
In the GIMEMA (Gruppo Italiano Malattie Ematologiche dell'Adulto) cooperative trial-led study, 52% of all patients who entered the trial achieved a molecular response following induction with dasatinib, a second-generation inhibitor of the ABL tyrosine kinase, followed by consolidation with the bispecific anti-CD3 and anti-CD19 monoclonal antibody, blinatumomab, Robin Foà, MD, University of Rome, Italy, and fellow GIMEMA investigators reported in the New England Journal of Medicine.
The percentage of patients who achieved a molecular response increased with increasing number of cycles of blinatumomab received, to 60% at the end of the second cycle; 70% after the third cycle; 81% after the fourth cycle; and 72% after the fifth cycle, investigators added.
At a median follow-up of 18 months, overall survival (OS) was 95% (95% CI, 90-100%) and disease-free survival was 88% (95% CI, 80-97%), as Foà and colleagues observed.
No significant difference in OS was seen between patients with a p190 form of BCR/ABL and those with the p210 form. Adverse events (AEs) of grade 3 or higher occurred in very few patients, and there was only on death in the induction-consolidation period.
"In ALL, the achievement of a profound and sustained decrease in minimal residual disease is associated with an increased chance of cure," the study authors noted.
"The first analysis of the trial showed that this chemotherapy-free induction and consolidation strategy was feasible and safe," they concluded.
First-Line Treatment
The GIMEMA LAL2116 D-ALBA trial involved a total of 63 patients with newly diagnosed Ph-positive ALL undergoing first-line treatment. There was no upper age limit for the trial and the primary end point was a molecular response.
"Before the patients received dasatinib, they received prephase treatment with a glucocorticoid for 7 days," investigators explained. This treatment was continued for 24 more days, after which it was discontinued.
Dasatinib was administered at a dose of 140 mg, once a day, for 85 days and all patients who completed the induction phase of the study received consolidation treatment with blinatumomab, at a dose of 28 ug per day.
As researchers explain, this bifunctional antibody activates T cells with its anti-CD3 group and binds to tumor cells with its anti-CD19 group to promote cellular cytotoxicty.
Prior to each cycle of blinatumomab, patients were given dexamethasone at a dose of 20 mg, and levetiracetam (Keppra, Sandoz), at a dose of 500 mg, bid, to prevent CNS adverse events. Dasatinib was continued during treatment with blinatumomab and after its administration as well, except in a few patients in whom a T3151 mutation was detected during the induction phase, as the authors pointed out.
"A total of 61 patients completed induction with dasatinib," Foà and colleagues reported, at the end of which 98% of the group had achieved a complete hematologic response and 29% had achieved a molecular response.
The probability of disease-free survival among patients who had a molecular response at the end of induction therapy was 100% compared with 85% of those who did not achieve a molecular response, they noted.
Disease-free survival was worse among patients with IKZF plus deletions than it was for patients with either no IKZF1 deletions or those with IKZF1 deletions alone at 64% (95% CI, 41-100%) compared to 100% (95% CI, 100-100%) and 92% (95% CI, 79-100%), respectively, as the team reported. Similarly, OS was inferior among patients with IKZFIplus deletions at 82% compared with 100% for those with no IKZF1 deletions and 93% for those with IKZF1 deletions alone.
"ABL1 mutations were detected in 6 patients who had increased minimal residual disease during induction therapy, and all these mutations were cleared by blinatumomab," Foà and colleagues emphasized.
Overall, six relapses occurred, bringing the cumulative incidence of relapse in the whole cohort to 8% (95% CI, 8-8%).
"Unexpectedly, one of the most common adverse events was CMV (cytomegalovirus) reactivation," the authors reported. However, this occurred in only 6 patients, while rates of neutropenia, persistent fever, and other AEs were exceptionally low.
Some 24 patients underwent transplantation, all but one of them during the first complete hematologic response. In this group, almost three-quarters had evidence of minimal residual disease at the end of induction therapy. Two patients died among those who underwent transplantation but only one died of transplantation-related causes, resulting in a mortality rate that was markedly lower than what has been reported in previous studies.
In an editorial accompanying the study, Dieter Hoelzer, MD, PhD, University of Frankfurt in Frankfurt, Germany, singled out the "remarkable finding" of the very low mortality rate among patients who had undergone transplantation during remission in the Italian study.
Given that only 1 patient died, "damage from the toxicity of induction combination chemotherapy appears to place the patient at risk for toxic effects and death from subsequent stem-cell transplantation—a consequence that is avoided with targeted therapy," he observed.
As Hoelzer also noted, the majority of relapses in Ph-positive ALL are caused by the development of resistant mutations, particularly the ABL1 mutation T3151.
"The most important finding was that blinatumomab eliminated the otherwise resistant ABL1 mutations in the minimal residual disease-positive cells," he observed.
["And] this elimination was the major reasons for the very low incidence of relapse," Hoelzer said.
However, the study does raise a number of questions, as he also suggested, including whether or not the excellent outcomes observed on first analysis will be preserved with longer follow-up.
"The answer is probably yes, given that the majority of relapses in ALL occur within the first 1.5 to 2.0 years after the initiation of treatment," he felt.
But there is also the question as to whether there might be a difference in long-term survival between similar patients who undergo transplantation compared to those who do not and whether ABL1 mutations, including T3151, will emerge with lower follow-up.
Hoelzer also asked if this particular approach might be suitable for patients with other subtypes of ALL including those with Ph-negative, B-lineage ALL or even T-cell ALL. "If these promising trial results hold, chemotherapy-free induction without the immediate and long-term toxic effects of intensive chemotherapy regimens could also be used in adolescents and, finally, in children," Hoelzer suggested.
"These questions will need to be addressed with longer follow-up and large, prospective trials," he noted.
A chemotherapy-free regimen consisting of dasatinib induction and blinatumomab consolidation led to exceptionally high molecular responses and outstanding overall and disease-free survival in Ph-positive ALL.

Toxicity from the chemotherapy-free regimen was extremely low, even among patients who underwent transplantation upon remission following dasatinib induction.
Pam Harrison, Contributing Writer, BreakingMED™
The study was funded by the Associazione Italiana per la Ricerca sul Cancro and others.
Foà disclosed speaker fees, consultant fees, or grant support from AbbVie, Amgen, Associazione Italiana per la Ricerca sul Cancro, Bristol-Myers Squibb, Incyta Corporation, Johnson & Johnson Health Care Systems Inc., and Novartis Pharma.
Cat ID: 118
Topic ID: 78,118,730,118,119,935,192,925