Meaningful drops in antibody levels, severe flare with post-rituximab belimumab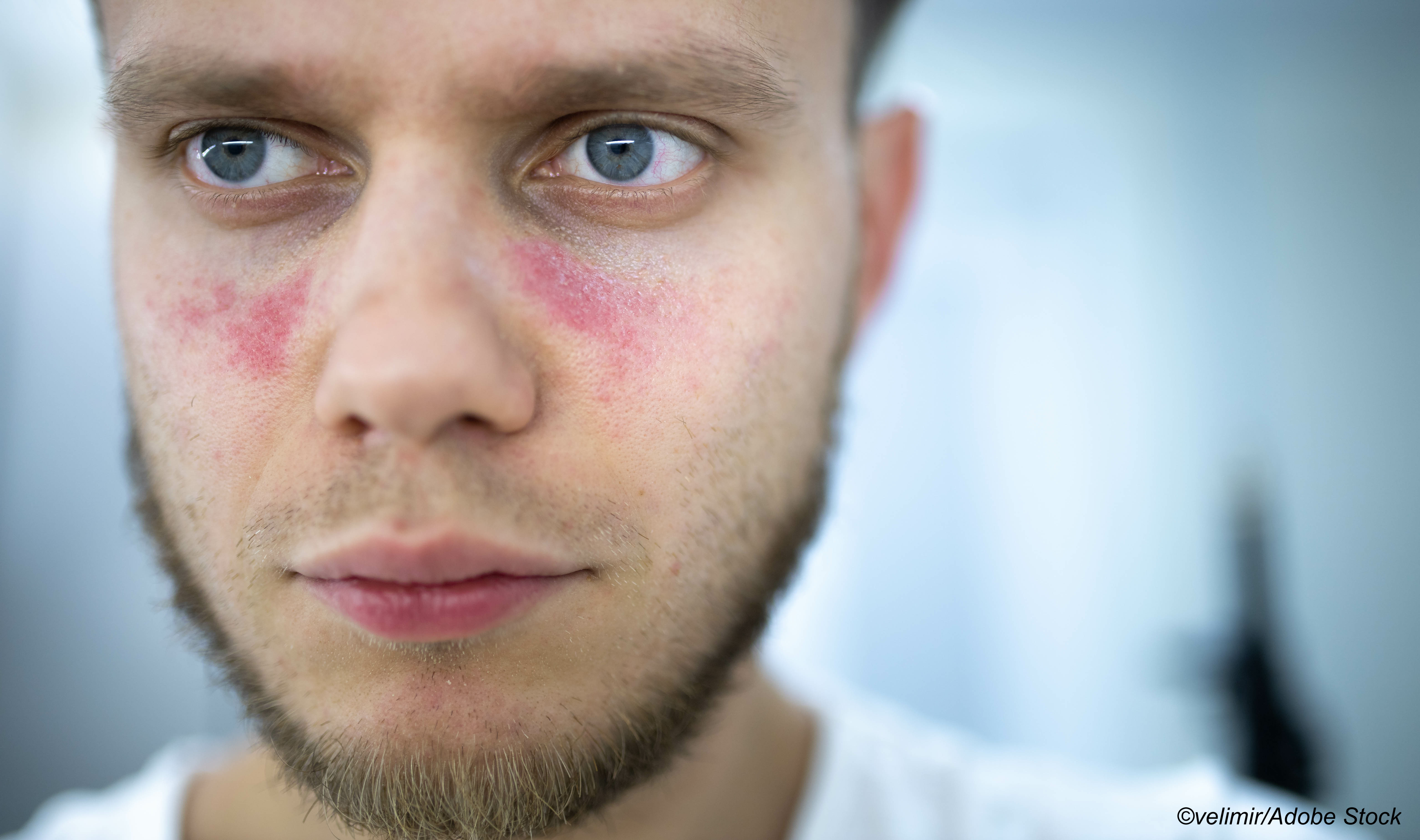 Belimumab (Benlysta) after rituximab (Rituxan) significantly reduced serum IgG anti-double-stranded DNA (anti-dsDNA) antibody levels and reduced risk for severe flare in patients with treatment-refractory systemic lupus erythematosus (SLE), according to findings from the BEAT-LUPUS trial.
In the phase II, 52-person study of those with SLE refractory to conventional treatment, serum IgG anti-dsDNA antibody levels were lower in patients on belimumab for a geometric mean 47 (95% CI 25-88) IU/mL versus 103 (95% CI 49-213) IU/mL for placebo, a 70% greater reduction from baseline (95% CI 46%-84%, P<0.001) at 52 weeks, reported Michael Ehrenstein, MBBS, PhD, of University College London, and co-authors.
Belimumab also reduced risk for severe flare and significantly suppressed B-cell repopulation, both compared with placebo, they wrote in the Annals of Internal Medicine. The current data were also presented at the 2021 European League Against Rheumatism (EULAR) meeting.
Also, the "frequency of adverse effects (AEs) was as expected for patients with active SLE, and there was no difference between those receiving belimumab compared with placebo after rituximab," the authors wrote. "Our data provide preliminary evidence of clinical benefit of belimumab after rituximab in a double-blind, placebo-controlled trial and are consistent with the hypothesis that a surge in BAFF levels after rituximab can trigger SLE exacerbations," as was shown in a 2013 study from Ehrenstein and colleagues.
"Rituximab… has been controversial in the treatment of [SLE] in that it's something that has been used frequently, and seems to have good effect… but the real-world data in the LUNAR trial had trouble showing statistical significance," noted Eric Dein, MD, of Johns Hopkins Rheumatology in Baltimore and the Institute of Rheumatic and Autoimmune Disease at Overlook Hospital in Summit, New Jersey, in a RheumNow EULAR meeting recap.
The 2012 LUNAR study reported that "rituximab therapy led to more responders and greater reductions in anti-dsDNA and C3/C4 levels, [but] it did not improve clinical outcomes after 1 year of treatment." The EXPLORER trial also turned in lukewarm results for rituximab in this patient population.
As for BEAT-LUPUS, Dein called the "increase in time to the first severe [SLE] flare… a very impressive finding given the low number of patients in the study… I think this is a very interesting study… I think [the combination has] a lot of biologic plausibility," but "we need some more data looking at rituximab, as well as rituximab/belimumab pairing."
In a 2020 Frontiers in Medicine review, Leanna M. Wise, MD, and William Stohl, MD, PhD, both of the University of Southern California Keck School of Medicine, explained that "B cell-targeting therapy in SLE has attracted major interest over the past several years… Rituximab, an anti-CD20 mAb [monoclonal antibody], has been explored in SLE, given its B cell specificity and its efficacy in many other rheumatologic diseases."
Belimumab, an mAb with specificity for B cell activating factor (BAFF), has also been tested in SLE, they noted. "While there have been many promising uncontrolled and retrospective reports of RTX in SLE, it has failed to demonstrate efficacy in two independent SLE randomized clinical trials (RCTs). [Belimumab], on the other hand, demonstrated efficacy in each of four independent SLE phase III trials," Wise and Stohl noted, referring to BLISS-52, BLISS-76, BLISS-SC, and BEL-113750.
Ehrenstein and co-authors recruited U.K. patients with active, refractory SLE from February 2017 through March 2019. They were treated with rituximab and then, 4 to 8 weeks later, randomly assigned to receive IV belimumab or placebo for 52 weeks. The mean age in both groups was about 40, over 80% were female, and at least 50% were White.
The majority of these patients were also on one immunosuppressant and concomitant steroid therapy as well as hydroxychloroquine, the authors noted, explaining that "Participants were permitted to receive up to 20 mg of prednisolone per day from randomization. Investigators were encouraged to taper the prednisolone dosage to half the initial dose by 6 months after randomization. Only the immunosuppressants methotrexate, mycophenolate, and azathioprine were allowed after randomization; the maximum advised doses were 1 g/d for mycophenolate, 1 mg/kg/day for azathioprine, and 15 mg/wk for methotrexate." Background antimalarial drugs were allowed at the initial screening, but dose changes thereafter were not permitted.
They also noted that EULAR and the British Society for Rheumatology guidelines call for prescribing the lowest possible corticosteroid dosage to minimize short- and long-term adverse effects. The American College of Rheumatology also recommends "use of [glucocorticosteroids] as adjunct treatment to conventional synthetic disease-modifying antirheumatic drugs, at the lowest dose possible and for the shortest time possible," according to a 2020 RMD Open review.
The study's prespecified primary endpoint was anti-dsDNA antibody levels at 52 weeks, with secondary outcomes of incidence of disease flares and AEs.
In terms of the risk for severe flare, 77% patients in the belimumab group and 88% in the placebo group at randomization had British Isles Lupus Assessment Group-2004 (BILAG-2004) scores of ≥A , 2 B scores, or 1 B score. Belimumab (n=3) reduced the risk for BILAG-2004 grade A score versus placebo (n=10) with a hazard ratio 0.27 (95% CI 0.07 to 0.98, log-rank P=0.033).
Additionally, the agent did not increase incidence of serious AEs (23% in both study groups). The authors reported that 12% of the belimumab group experienced infection-related serious AEs versus 15% in the placebo group, and these included lower respiratory tract infections, gastroenteritis, and soft-tissue infection. Non-infection related serious AEs (15% in both groups) included lupus flare, heart failure, and myocarditis.
And belimumab significantly suppressed B-cell repopulation compared with placebo (geometric mean, 0.012 [95% CI 0.006 to 0.014] × 109/L vs 0.037 [95% CI 0.021 to 0.081] × 109/L) at 52 weeks in a subset of 25 patients.
In an editorial accompanying the study, Medha Barbhaiya, MD, MPH, of the Hospital for Special Surgery in New York City, and Katherine P. Liao, MD, MPH, of Brigham and Women's Hospital in Boston, urged some caution about the findings.
They noted that the anti-dsDNA biomarker "is clinically used to assess SLE disease activity, however, it is not used in isolation; levels are informative only in the context of other clinical signs and symptoms. The lower anti-dsDNA levels among subjects randomized to [belimumab] are difficult to interpret—there are no clinically defined anti-dsDNA levels to determine SLE disease activity."
Barbhaiya and Liao also pointed out that the study's sample size was small; there was "varied" SLE disease presentation; a lack of racial diversity as only 12% of the study participants were Black; and there was a requirement for dose-restricted concomitant immunosuppressive medications, "the latter potentially ensuring that patients with more severe, refractory SLE were excluded."
Still, they acknowledged that the study "sheds light on the potential synergy between [ritxumab] and [belimumab] in this population of SLE patients… the combination… may be highly effective with a reasonable safety profile," and future research, such as the BLISS-BELIEVE study will offer more clarification.
Meanwhile, Wise and Stohl advised that "it is imperative that the side effect profile of this combination regimen must also be explored in depth, and if there are increased rates of any adverse events, this must be weighed against any potential benefits."
Belimumab after rituximab significantly reduced serum IgG anti-dsDNA antibody levels in patients with systemic lupus erythematosus (SLE).

The combination treatment also reduced the risk for severe flare in patients with SLE who were refractory to conventional therapy.
Shalmali Pal, Contributing Writer, BreakingMED™
BEAT-LUPUS was funded by Versus Arthritis, the University College London Hospitals Biomedical Research Centre/National Institute of Health Research, GlaxoSmithKline (GSK), and Lupus UK. GSK provided belimumab at no cost for the study.
Ehrenstein reported support from GSK. Co-authors reported relationships with, and/or support from, multiple entities including Versus Arthritis.
Barbhaiya and Liao reported no relevant relationships.
Cat ID: 67
Topic ID: 90,67,730,192,67,925