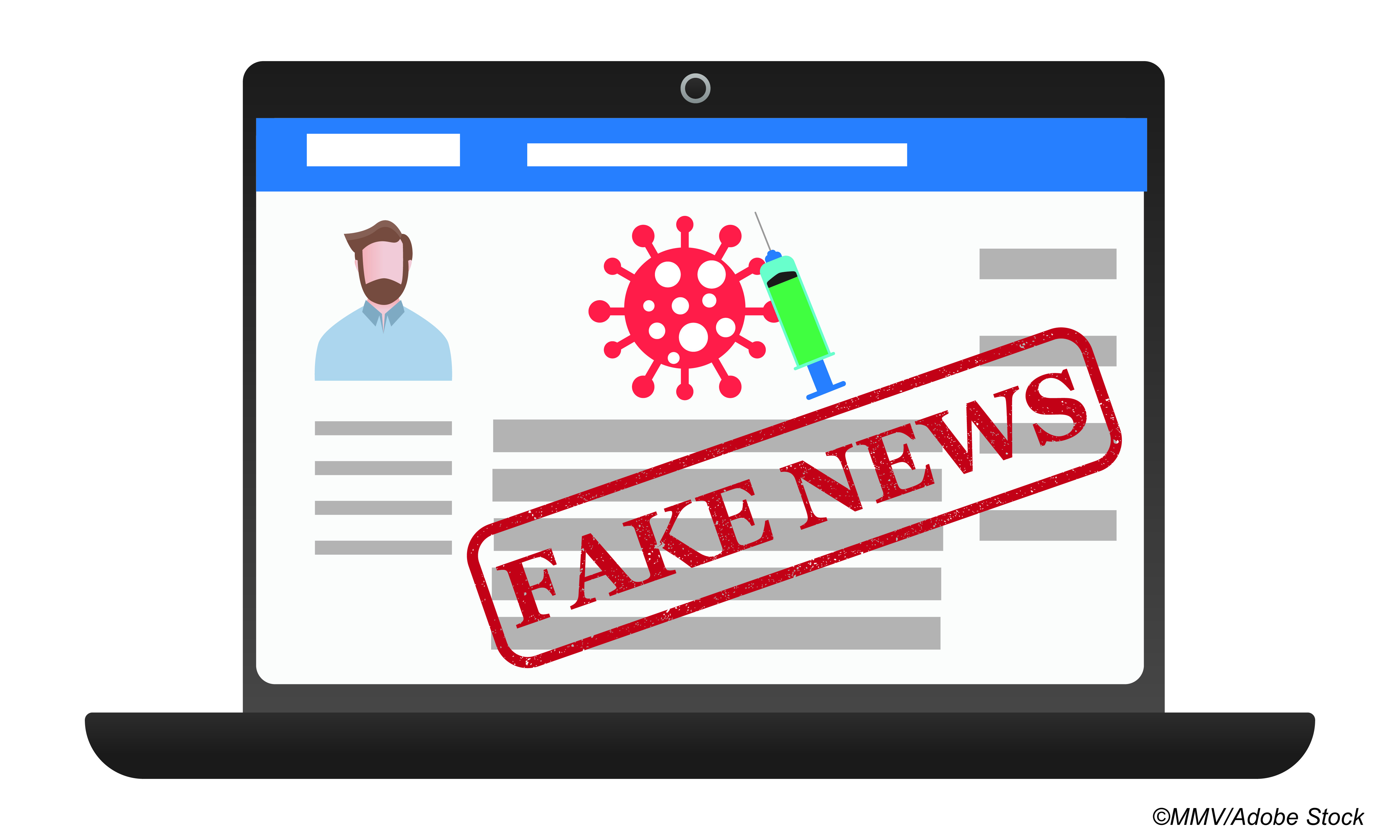 People who reported symptoms consistent with moderate to major depression were more likely to believe and agree with misinformation about Covid-19 vaccination, and they were less likely to be vaccinated, according to findings from a survey study conducted last summer.
Among the more than 15,000 U.S. adults surveyed between May and July of 2021, those reporting moderate or greater depression symptoms on an initial survey were more likely to agree with at least 1 of 4 false statements about Covid-19 vaccines on a later survey.
And not surprisingly, those believing vaccine misinformation were half as likely to be vaccinated as people who did not endorse Covid-19 vaccine misstatements, such as "The Covid-19 vaccines will alter people's DNA," and "The Covid-19 vaccines contain microchips that could track people."
The study findings, published online Jan. 21 in JAMA Network Open, suggest that public health efforts to address depression and depressive symptoms could positively impact efforts to counter Covid-19 hesitancy, wrote researcher Roy H. Perlis, MD, Mass General, Boston, and colleagues.
In the Covid-19 vaccine survey, the respondents were also asked to answer "true" or "false" to the questions: "The Covid-19 vaccines contain the lung tissue of aborted fetuses" and "The Covid-19 vaccines can cause infertility, making it more difficult to get pregnant."
Perlis and colleagues wrote that the tendency to view new information negatively is a recognized feature of depression; that being said, the study authors also emphasized that their study shows correlation, but not causation.
"Individuals with major depressive symptoms often exhibit a more pronounced negativity bias, a form of attentional bias in which thoughts with negative valence receive greater focus. Insofar as forms of misinformation that elicit negative affect may be more likely to spread, it follows that depression could facilitate uptake of misinformation at an individual level," they wrote.
Perlis and colleagues also hypothesized that depression could negatively impact people's willingness to trust information disseminated by organizations such as the CDC.
The survey study included 15,464 respondents (63.6% female; 76.7% White and 9.7% Black; median age, 48 years). All participants completed the Patient Health Questionnaires 9-item (PHQ-9), which assessed major depression symptoms over the previous two-week period.
"In primary care settings, a value of 10 or greater represents at least moderate depression and is often applied as the threshold for treatment, therefore, we elected a priori to examine presence or absence of major depressive symptoms at this threshold…rather than assuming a linear or dose-response association between depression and misinformation," the researchers wrote.
Additional surveys asked about social media and news outlet use and viewership (including MSNBC, Fox News, CNN, Newsmax, Facebook, and the Biden administration) as sources of Covid-19-related information over the prior 24-hour period.
Race and ethnicity were self reported, and region and urban or rural status were assigned based on zip code.
Ideology was assessed using a 7-point scale (range, 1 to 7, with 1 indicating extremely liberal; 4, moderate; and 7, extremely conservative). Political party was self reported.
Study participants were asked if they had received at least one Covid-19 vaccination. If they had not, they were further asked, "If you were able to choose when to get a Covid-19 vaccine, would you get it…" with response options including "as soon as possible," "after at least some people I know," "after most people I know," or "I would not get the Covid-19 vaccine."
A total of 4,164 respondents (26.9%) had moderate or greater depressive symptoms on the PHQ-9, and 2,964 (19.2%) answered at least 1 of the 4 vaccine-related misinformation question in the affirmative.
The researchers wrote:
"Presence of depression was associated with increased likelihood of endorsing misinformation (crude odds ratio [OR], 2.33; 95% CI, 2.09-2.61; adjusted OR, 2.15; 95% CI, 1.91-2.43).
"Respondents endorsing at least 1 misinformation question were significantly less likely to be vaccinated (crude OR, 0.40; 95% CI, 0.36-0.45; adjusted OR, 0.45; 95% CI, 0.40-0.51) and more likely to report vaccine resistance (crude OR, 2.54; 95% CI, 2.21-2.91; adjusted OR, 2.68; 95% CI, 2.89-3.13).
"Among 2,809 respondents who answered a subsequent survey in July, presence of depression in the first survey was associated with greater likelihood of endorsing more misinformation compared with the prior survey (crude OR, 1.98; 95% CI, 1.42-2.75; adjusted OR, 1.63; 95% CI, 1.14-2.33)."
A significant study limitation was the inability to adjust for all potential confounders, the researchers noted. And, again, the analysis cannot establish a causal link between depression and willingness to believe misinformation.
"One potential confounder could be the use of social media; it is possible that more individuals with depression are more prone to use certain forms of social media, and those platforms may be more likely to promote misinformation," they wrote. "Alternatively, social media use could promote both depression and misinformation independently. Similarly, depression might be associated with different choices in news media. However, adding terms for individual social media platforms or news sources to regression models did not substantially change the associations between depression and misinformation, suggesting this is less likely to be the case."
The study authors concluded that, "[w]hile associative by necessity, our results more broadly suggest the importance of directly testing causation in future experiments, for example, by manipulating negativity bias and measuring the receptivity to misinformation. If causation could be established, it might suggest strategies aimed at reducing the consequences of depression in terms of misinformation. To date, efforts to combat the impact of misinformation on public health predominantly emphasize reduction in supply. In parallel, it may be possible to develop interventions targeting negativity bias that reduce demand, or at least modulate the capacity of misinformation to impact health decision-making."
Disclosure:
This research was funded by the National Science Foundation, the National Institute of Mental Health, Northeastern University, Harvard Kennedy School of Government and Rutgers University.
Perlis reported receiving personal fees from Burrage Capital, Genomind, RID Ventures, Belle Artificial Intelligence and Takeda and owning equity in Psy Therapeutics and Belle Artificial Intelligence. All disclosures were unrelated to this research.
by
Salynn Boyles, Contributing Writer, BreakingMED™
Kaiser Health News
Kaiser Health News is a nonprofit news service covering health issues. It is an editorially independent program of the Kaiser Family Foundation, which is not affiliated with Kaiser Permanente.