Study outlines themes, recommendations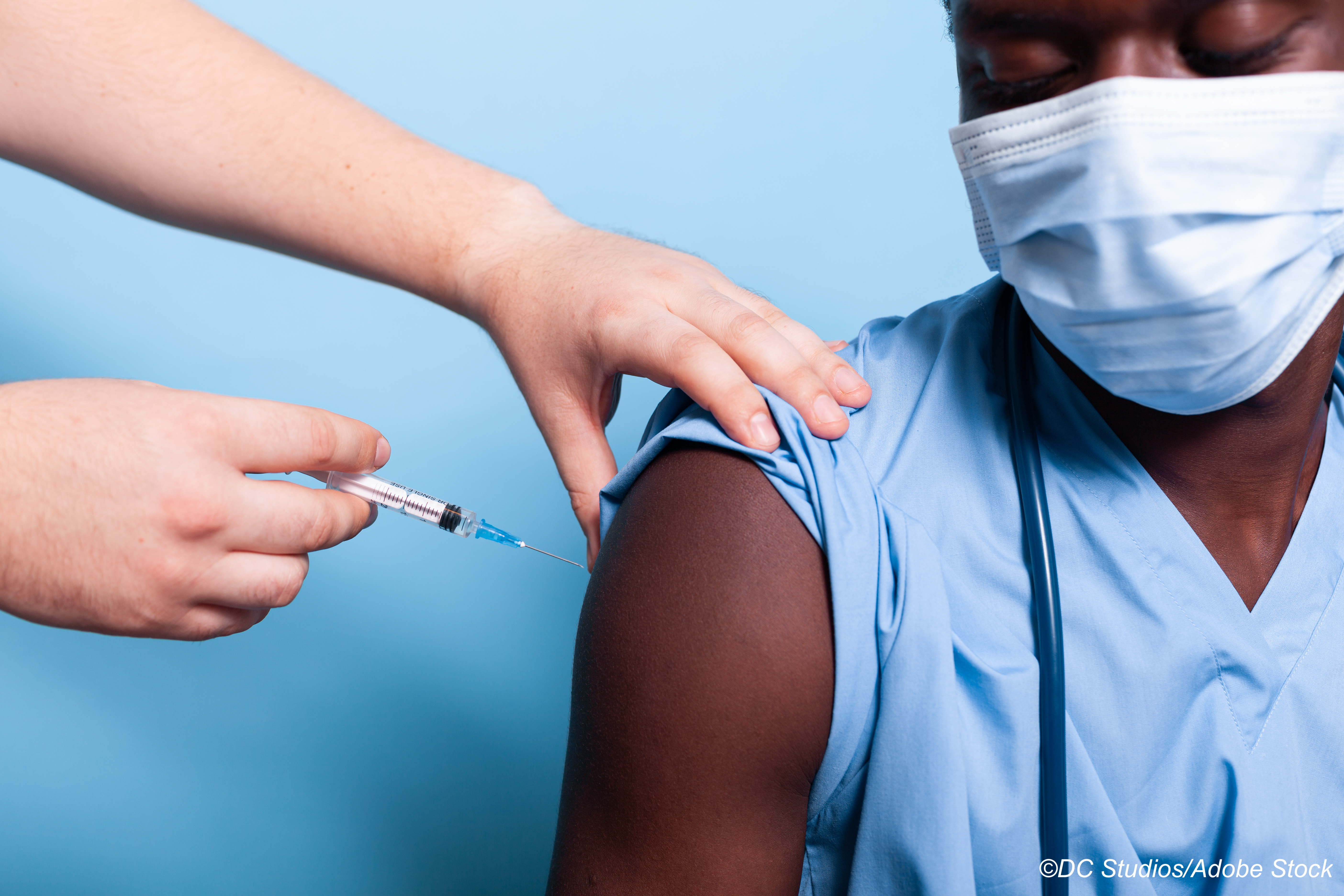 The Covid-19 pandemic unveiled a vast disparity of care in the United States with Blacks, Latinx, and American Indian/Alaskan Native experiencing more than double the rates of death from the disease. This disparity is further reflected in disparities in vaccine uptake and acceptance of the vaccine, with the latter mired in historic distrust.
A qualitative study from the New Haven, Connecticut Health Department looked at access and acceptance of the Covid-19 vaccine among Black and Latinx communities and identified three themes—"pervasive mistreatment of Black and Latinx communities and associated distrust; informing trust via trusted messengers and messages, choice, social support, and diversity; and addressing structural barriers to vaccination access," Lilanthi Balasuriya, MD, from the Yale National Clinician Scholars Program, Yale University School of Medicine in New Haven, and colleagues wrote in JAMA Network Open.
"Our findings call for creating more trustworthy health care systems that are able to approach vaccine acceptance and access through the lens of equity, informed by the communities they serve. Listening and responding to the community's needs to improve Covid-19 vaccine acceptance and access and to inform policy recommendations must remain at the forefront," Balasuriya and colleagues wrote.
Ascertaining the reason why vaccine uptake is so low is important when one considers that Black and Hispanic individuals who received one dose of the Covid-19 vaccine amounted to 9.3% and 16.1%, respectively, compared with 58.9% of White individuals as of July 2021.
Balasuriya and colleagues conducted 8 focus groups (4 English; 4 Spanish) that included 72 participants (505 Black, 39% Latinx, 11% Black Latinx, 78% women, 22% men) from a wide range of community roles such as teachers, custodial service workers, and health care employees, from March 17-July 30, 2021. Most of the participants were either fully vaccinated (22%), had started the vaccination process (11%), or were planning to get vaccinated (44%), with less than a quarter of the participants not planning to get vaccinated or not sure, and just 1% who did not explain their status. Most of the participants (47%) were 50-64 years old; 33% were 30-49 years old, and 18% were 18-29 years old.
The groups were asked questions on the following:
Their thoughts and feelings about the Covid-19 vaccine?
Would they get the vaccine if someone called to offer it?
What has helped them learn more about the vaccine?
Where do they get trusted information from in their community?
Are there any challenges that they or their family and friends face in getting the vaccine?
Did they have anything else to add to the discussion that wasn't asked?
The focus groups were conducted over Zoom, recorded, translated, and transcribed as the researchers identified the aforementioned themes and additional subthemes.
Pervasive Mistreatment of Black and Latinx Communities and Associated Distrust
Subthemes:
The lasting legacy from historical mistreatment. The participants cited the Tuskegee experiment and expressed concern that there could be vaccine experiments on Black individuals.
Disparate death. This underscored the "participants' shared experiences of unequal death from the medical system that contributed to fears of interacting with the health care system and getting vaccinated," the study authors noted.
Experiences of your voice being thrown away. The participants expressed concern that their opinion did not matter and that the health care system does not hear their voices.
Recommendations include identifying, addressing, and dismantling systems that are rooted in structural racism; building community partnerships and two-way communication; and investing in a diverse, inclusive, and equitable workforce.
Informing Trust Via Trusted Messengers and Messages, Choice, Social Support and Diversity
Subthemes:
Information from trusted messengers. The participants having people who they considered reliable sources in the community was a major factor that would influence their decision to get the vaccine.
Consistent messaging. Inconsistent messaging around the vaccine was seen as a factor that led to confusion and lack of trust.
Fact-based information. Misinformation on social media was cited and that more reliable messaging was needed to combat false information.
Transparent and continued communication with the community. The participants noted that communication between health care practitioners and the community would go a long way in helping to establish trust.
Increasing confidence through trust. Being able to see a list of the available vaccines and choosing the one wanted was important to the participants and engendered more confidence in the process.
"Go with you:" The power of social support. Having friends/neighbors' support during the vaccination process, as well as help with signing up, was important.
Reassurance in seeing diversity. Seeing health professionals as well as those getting the vaccine as part of a diverse group helped reassure participants about the vaccine.
Recommendations centered around partnering with trusted messengers to "provide fact-based, consistent, and transparent information, and ensure all messaging is informed by the communities it serves."
Addressing Structural Barriers to Vaccination Access
Subthemes:
"Cutting the line" and vaccine supply access. Participants cited hearing about White people going into Black and Brown communities to get the vaccines, basically cutting the line and cutting them out, particularly as they noted that there was a feeling that vaccine supplies were limited in these communities.
"Going in circles": Sign-up fatigue. Participants cited a laborious sign-up process only to find that the time they wanted was not available.
No insurance? No worry! This was important for participants to know, since many people were afraid that the vaccine would be charged to their insurance.
"It's right here": Schools, workplaces, and community partnerships as facilitators. Easily being able to access the vaccines in the community with "trust community partners" helped facilitate the process.
Support in Spanish. Participants noted that having language support, from educational material to Spanish speakers ,at the vaccination sites helped people feel more secure with getting the vaccine.
Recommendation: "Prioritize vaccine access to communities hardest hit by the pandemic."
"This study by Balasuriya et al is timely and critical for many reasons," Stella A. Safo, MD, MPH, from Mount Sinai Icahn School of Medicine, New York, wrote in an editorial accompanying the study. "The use of a qualitative methods allowed participants' reasoning to be deeply explored, thereby providing a richness of insights that quantitative survey strategies may miss. For a charged and nuanced issue, such as Covid-19 vaccine uptake, the ability to probe and explore participants' attitudes and beliefs is vital, particularly as public health practitioners continue to strategize how best to push further Covid-19 vaccine acceptance. Notably, the study not only included individuals who were hesitant—a population that has been highly studied—but also engaged with participants who had received at least 1 vaccine dose and participants who were planning to get the vaccine. Exploring the reasoning behind the population of willing Black and Latinx adults is just as helpful as discussions with those who are resistant to vaccine uptake because the factors that facilitate uptake could potentially be replicated and scaled."
Balasuriya and colleagues noted the importance of overcoming vaccine barriers, as this will "not only determine whether disparities in outcomes for Black and Latinx communities are worsened but also determine whether vaccination efforts are able to sufficiently mitigate the progression of the pandemic through variants in the coming year."
Limitations of the study include the possibility the results are not representative of other more rural communities or other racial and ethnic populations. "Findings may be susceptible to social desirability bias," the study authors added. "We did not include segmentation by age, vaccines status, or occupation, and required the use of video conferencing software owing to pandemic social distancing precautions, which may change levels of participation compared with in-person groups."
A qualitative study from the New Haven, Connecticut Health Department looked at access and acceptance of the Covid-19 vaccine among Black and Latinx communities and identified three themes that represent barriers to vaccine uptake in their community.

The study underscored the need for the creation of more trustworthy health care systems that are able to approach vaccine acceptance and access through the lens of equity, informed by the communities they serve.
Candace Hoffmann, Managing Editor, BreakingMED™
The study was supported by the Community Alliance for Research and Engagement (CARE), a grant from the Racial and Ethnic Approaches to Community Health (REACH) at the Centers for Disease Control and Prevention (CDC), and the Yale National Clinician Scholars Program.
Balasuriya and Safo disclosed no relevant relationships.
Cat ID: 125
Topic ID: 79,125,585,730,125,190,31,926,561,927,151,928,925