Seroprevalence below 10% in most states in late September per CDC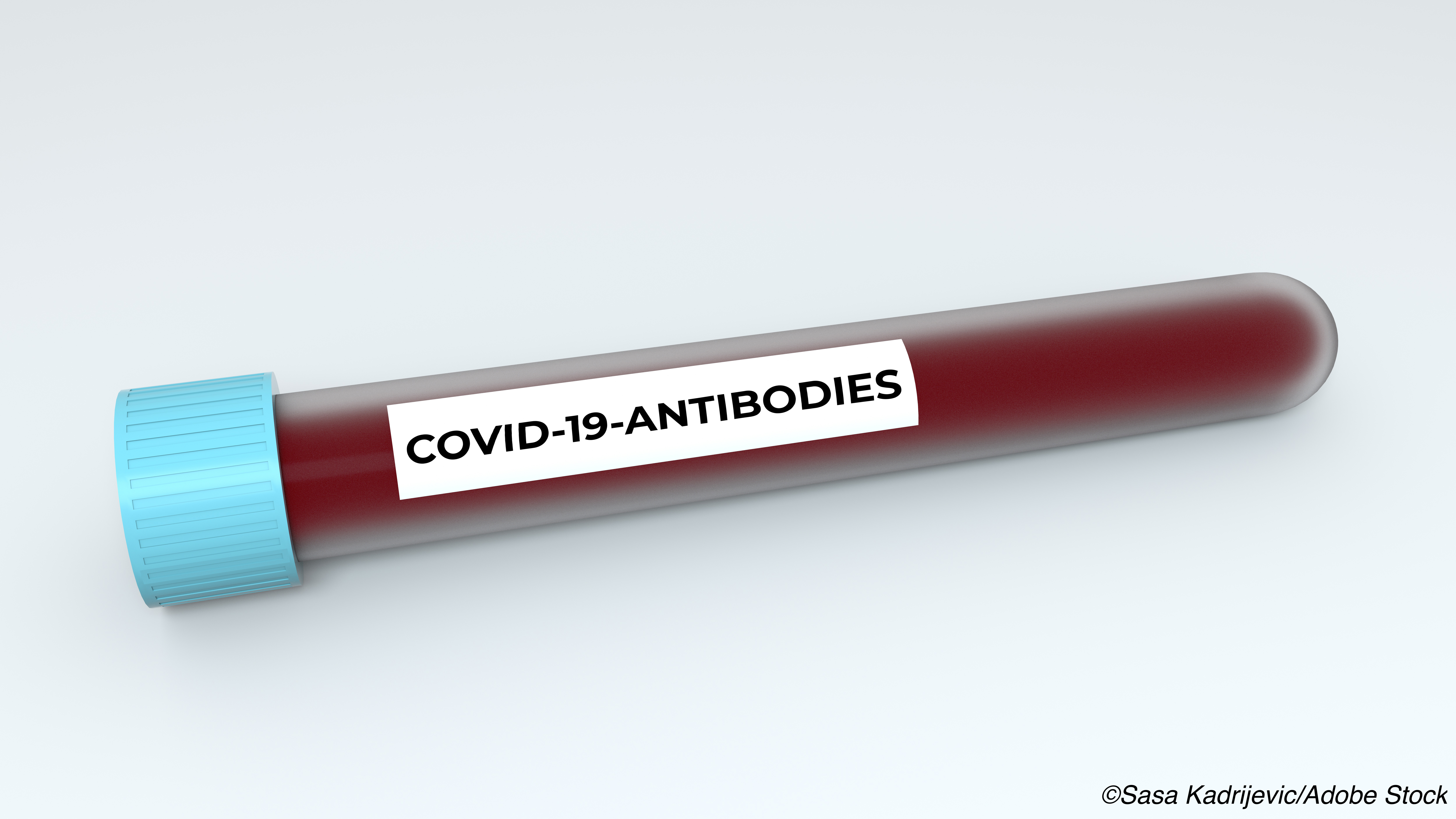 As of September, SARS-CoV-2 seroprevalence across much of the United States remained below 10%, with the highest seroprevalence of just under 20% reported in New York State, researchers from the CDC reported.
The first nationwide examination of SARS-CoV-2 seroprevalence found New York State to consistently have the highest SARS-CoV-2 seroprevalence, surging from 6.9% in mid-March to a peak of 25% around mid-August.
Researchers examined close to 178,000 serum samples derived from commercial clinical laboratories across all 50 states, Washington DC, and Puerto Rico, expanding on an earlier CDC seroprevalence investigation involving just 10 U.S. sites. Seroprevalence estimates were calculated over 4 collection periods, beginning in late July and ending in late September.
During this period, seroprevalence rates remained below 10% in most states, and 7 states had SARS-CoV-2 seroprevalence consistently under 1%.
In most states, seroprevalence waned over the study period, although this was not the case in Georgia and Minnesota, where rates increased during the period.
"In this nationwide seroprevalence cross-sectional study, we found that as of September 2020, most persons in the U.S. did not have detectable SARS-CoV-2 antibodies, and seroprevalence estimates varied widely by jurisdiction," wrote CDC researcher Kristina Bajema, MD, in JAMA Internal Medicine.
CDC researchers will continue to monitor biweekly testing of sera collected by commercial laboratories to assess the changing epidemiology of SARS-CoV-2 in the coming months.
In an editorial published with the study, infectious disease specialist Brad Spellberg, MD, of the University of Southern California Medical Center, Los Angeles, and colleagues, wrote that the investigation makes it clear that "herd immunity to SARS-CoV-2 is nowhere in sight (in the U.S.) even as the Covid-19 pandemic has raged on for a year."
"The good news is that the limited number of reinfections of SARS-CoV-2 to date, and the experience with natural infections with other viruses, suggests that protective immunity to Covid-19 should result, a harbinger for the success of vaccines," they wrote.
The bad news, they added, is that achieving herd immunity through natural infections would take many years.
"Let us hope that safe and effective vaccines help avoid the consequences of naturally developing heard immunity to Covid-19, as they have reliably done for so many other respiratory viruses," they wrote.
The nationwide analysis included samples collected during the time periods: July 27 to Aug. 13, Aug. 10-27, Aug. 24 to Sept. 10, and Sept.7-24. Researchers used iterative post-stratification to adjust seroprevalence estimates to the demographic profile and population density of each state or other jurisdiction. Seroprevalence was estimated by jurisdiction, sex, age group and metropolitan/non-metropolitan status.
Fifty-eight percent of samples were from females, 15% were from children age 17 years or younger, close to 27% were from older people (≥65 years), and 15% were from non-urban dwelling people.
The analysis revealed:
Jurisdiction-level seroprevalence over 4 collection periods ranged from less than 1% to 23%.
In 42 of 49 jurisdictions with sufficient samples to estimate seroprevalence across all periods, fewer than 10% of people had detectable SARS-CoV-2 antibodies.
Seroprevalence estimates varied between sexes, across age groups, and between metropolitan/non-metropolitan areas.
Changes from period 1 to 4 were less than 7 percentage points in all jurisdictions and varied across sites.
"Seroprevalence varied across regions and between metropolitan/non-metropolitan areas, with estimates as high as 23% in the Northeast and 13% in the South, while estimates in the Midwest and West were less than 10%," the researchers wrote. "Seroprevalence was often lowest in older age groups. Changes in seroprevalence over 2 months were generally modest and differed across jurisdictions."
Study limitations cited by the researchers included possible selection bias, given that all samples were from people who presented for screening, and the failure to reach target sample numbers in Hawaii, South Dakota and Wyoming.
And in their editorial, Spellberg and colleagues noted that it is not yet known if detection of anti-SARS-CoV-2 antibodies by commercial clinical laboratory assays is associated with protective immunity.
"It is possible that protection requires achieving a specific quantity of a specific sub-type of antibody. Thus, we simply do not know if the seroprevalence of antibodies to SARS-CoV-2 that are detected by commercial assays will ultimately translate into protective herd immunity as the virus continues to spread," they wrote.
"Conversely, it is possible that people exposed to SARS-CoV-2 are protected against future infection regardless of whether they have measurable antibody titers or not. The role of T cells in protective immunity against Covid-19, and the association between immunity based on antibodies and memory T-cells, remains undefined."
But they noted that the absence of widely reported reinfection is reason for optimism that prior exposure to the virus confers protective immunity.
"Nearly a year into the Covid-19 pandemic, there have been more than 30 million confirmed infections, but extremely few documented cases of reinfection with SARS-CoV-2 throughout the world," they wrote. "If natural infection did not lead to a high degree of protection, many more reinfections would be expected."
As of September, SARS-CoV-2 seroprevalence across much of the United States remained below 10%, with the highest seroprevalence of just under 20% reported in New York State.
Between late July and late September, seroprevalence rates remained below 10% in most states, and 7 states had SARS-CoV-2 seroprevalence consistently under 1%.
Salynn Boyles, Contributing Writer, BreakingMED™
This research was funded by the CDC.
IFC Inc., Quest Diagnostics and BioReference Laboratories were awarded federal contracts from CDC for the execution of this project.
Editorial writer Brad Spellberg reported receiving personal fees from IQVIA and serving on multiple data safety monitoring boards for Covid-19 therapeutics.
Cat ID: 190
Topic ID: 79,190,190,926,192,927,151,928,925,934