President given aggressive therapeutic regimen; First Lady and 11 others also test positive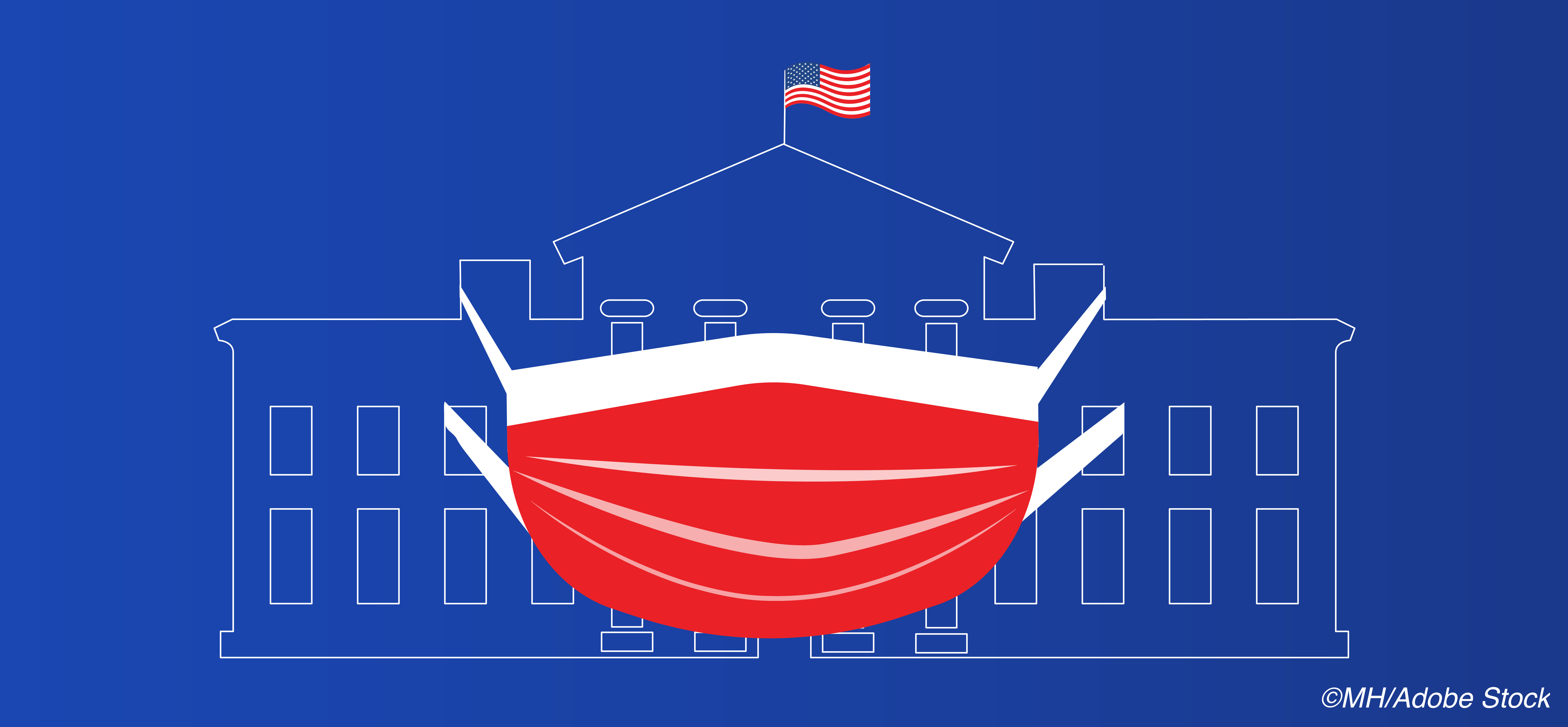 On Thursday, Oct. 1, President Donald J. Trump tweeted that both he and the first lady, Melania Trump, tested positive for Covid-19. This tweet followed an earlier tweet where he announced that his close aide, Hope Hicks, had tested positive for the coronavirus, and that he and the first lady were awaiting their tests. The president's condition quickly escalated, and by Friday afternoon, he was air lifted to Walter Reed National Military Medical Center, where, as of Sunday, Oct. 4, he was said to be improving; however, the reports since his diagnosis have been conflicting and, in many cases, confusing.
All the President's Meds
On Oct. 2, the president's physician, Sean P. Conley, DO, FACEP, sent a memorandum stating that the president received the following medications: an 8 gram dose of Regeneron's experimental polyclonal antibody cocktail (REGN-CoV2), given via infusion; zinc; vitamin D; famotidine; melatonin; and a daily aspirin.
By Friday afternoon, Conley issued another memorandum stating that, in consult with Walter Reed Medical Center and Johns Hopkins University, the President would be transferred to Walter Reed. "He is not requiring any supplemental oxygen, but in consultation with specialists we have elected to initiate remdesivir therapy," Conley wrote in his memo. "He has completed his first dose and is resting comfortably." Remdesivir has been granted emergency use authorization by the FDA and is authorized for use for hospitalized patients and administered by IV infusion.
By Sunday, in a press briefing outside of Walter Reed, Conley informed the public that dexamethasone was added to the President's pharmacopoeia, after his oxygen levels dropped.
The Oxygen Controversey
The President's medical team has been criticized for painting an "overly rosy description of the president's illness on Saturday," the New York Times reported, quoting Conley as saying on Sunday that this was because he "didn't want to give any information that might steer the course of the illness in another direction, and in doing so, you know, it came off that we were trying to hide something, which wasn't necessarily true."
Initially the medical team was not clear if or when Trump was first administered oxygen, but they clarified on Sunday that he had received oxygen while still at the White House on Friday. It is not clear if he was given any further oxygen, but they did clarify that there were two incidents where the President had low blood oxygen — one Friday and one Saturday.
"Mr. Trump's oxygen levels dropped to 93 percent at one point, his doctors said; that is below the 95 percent level that is considered the lower limit of the normal range," the New York Times reported. "Many medical experts consider patients to have severe Covid-19 if their oxygen levels drop below 94 percent."
The Super-Spreader Event
It appears that the tipping point for the contagion was the Rose Garden event where the President announced his nomination for the Supreme Court, Judge Amy Coney Barrett. It is also possible that the gathering was a possible "super spreader" event as so far, along with the Hicks and the first couple, 8 more attendees have tested positive for SARS-CoV-2, the virus that causes Covid-19. They are: former White House Counselor Kellyanne Conway, Sen. Mike Lee (R-Utah), Sen. Thom Tillis (R- North Carolina), the Rev. John Jenkins, the president of Notre Dame University, former New Jersey Gov. Chris Christie, and a White House reporter.
The list of those who had contact with the president or his staff continues to grow. "Others to test positive this week were Ronna McDaniel, the Republican National Committee chairwoman who attended the presidential debate on Tuesday in Cleveland, and Trump campaign chairman Bill Stepien," USA Today reports. He reportedly was at the White House on Monday and traveled to Tuesday's presidential debate on Air Force One. Two more White House reporters have also tested positive for Covid-19.
Joe Biden, former Vice President under Barack Obama and the 2020 Democratic Presidential candidate, has so far tested negative for Covid-19.
Unanswered Questions
Conley noted on Sunday that the President was doing well and might be discharged home on Monday. But after Sunday's press briefing, reporters were left with unanswered questions. CNN's medical commentator, Sanjay Gupta, MD, noted a few questions that he would like answered by the President's medical team, as well as some other observations:
Gupta stated that it seemed odd that the the president would be going home the next day given that remdesivir is a 5-day course of treatment and needs to be administered in a hospital setting.
What is the status of the President's lungs? "Does he have pneumonia?" Gupta asked, pointing out that the President likely had a CT scan — what did it show?
"They [the medical team] said his cardiac liver and kidney function are normal or improving… improving from what, because he [Conley] said they were normal yesterday; so, were they not normal at some point?"
What is the President's level of inflammation?
When was his last negative Covid-19 test? "Either he had a very, very significant exposure to this virus which caused him to get sick so quickly, or this timeline just doesn't make sense," Gupta said.
President Tweets That He Is Well.
On Saturday, President Trump, in a video tweet, assured the nation that he and the first lady were doing very well, and he thanked his medical team. "So many things have happened, if you look at the therapeutics, and others are coming soon… but they are miracles… coming down from God," he said of his treatment regimen and other therapies in the pipeline.
Candace Hoffmann, Managing Editor, BreakingMED™
Cat ID: 190
Topic ID: 79,190,190,926,192,927,151,928,925,934