Phase III study fails after promising early data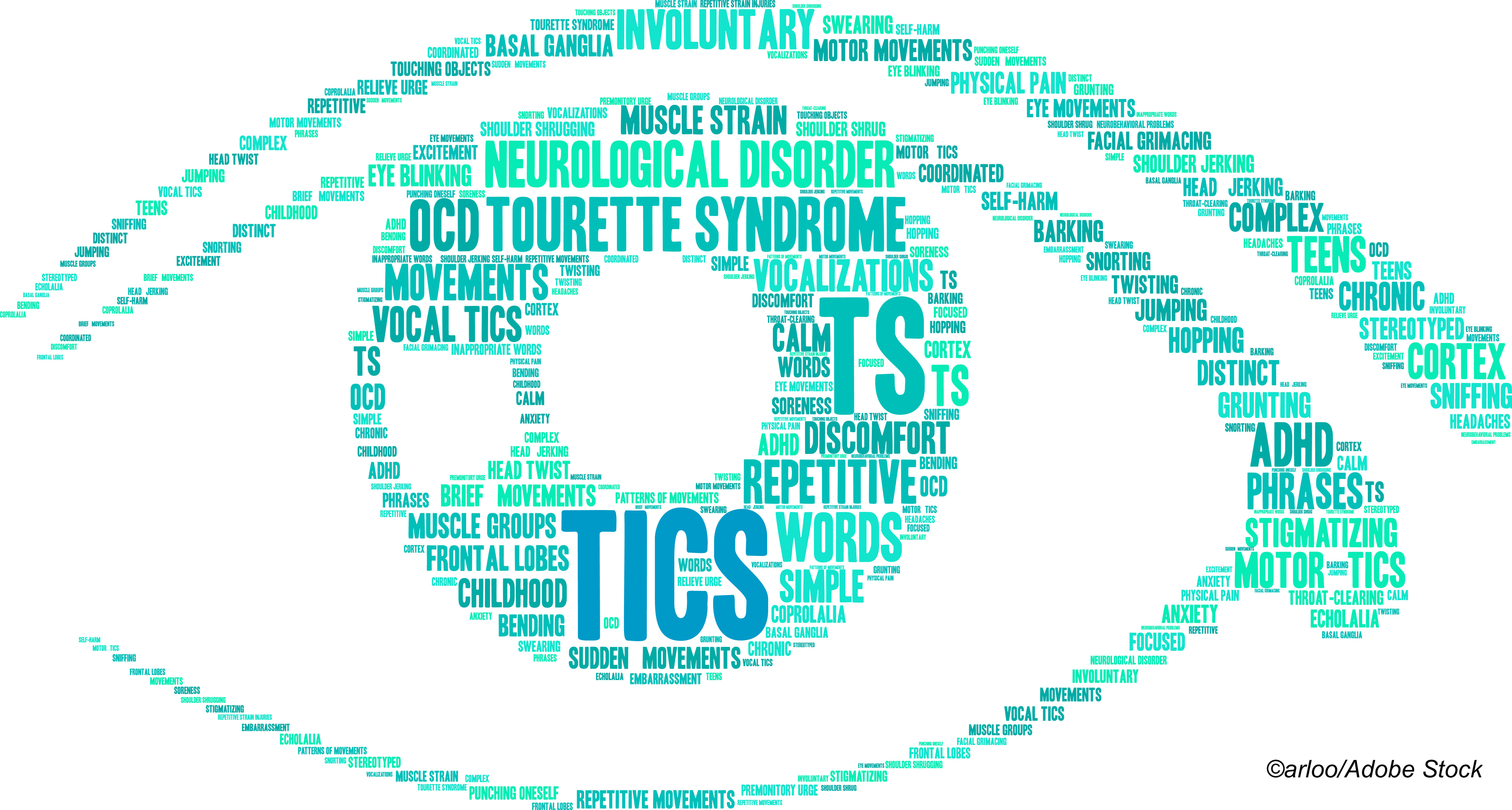 Deutetrabenazine was not effective in treating tics associated with Tourette syndrome, the phase III ARTISTS 2 trial found.
At week 8, the difference in Yale Global Tic Severity Scale–Total Tic Score (YGTSS-TTS) was not significant between the high-dose deutetrabenazine and placebo groups (least-squares mean difference −0.8 points, 95% CI −3.9 to 2.3 points, P=0.60; Cohen d –0.11), reported Barbara Coffey, MD, of University of Miami in Florida, and co-authors in JAMA Network Open.
"In this 8-week randomized clinical trial of the efficacy and safety of fixed doses of deutetrabenazine in children and adolescents with Tourette syndrome, the primary efficacy endpoint was not met, despite a numeric improvement at the end of the titration period," Coffey and co-authors wrote. "Secondary efficacy end-point results were generally similar to the primary end point."
"Deutetrabenazine was generally well tolerated in this 8-week study, with no evidence of any new safety signals compared with the known safety profile of deutetrabenazine," they added.
Deutetrabenazine is a deuterated form of tetrabenazine and a vesicular monoamine transporter type 2 (VMAT-2) inhibitor that results in presynaptic monoamine depletion. It is approved by the FDA for the treatment of chorea associated with Huntington's disease and tardive dyskinesia in adults.
Between June 2018 and December 2019, Coffey and colleagues studied 158 children and adolescents (mean age 11.7, 75% male) recruited from 52 sites in 10 countries who were diagnosed with Tourette syndrome and had active tics that, in clinical judgment, caused distress or impairment. A baseline YGTSS-TTS score of 20 or more was required for trial enrollment, and the mean baseline score was 33.8. Mean time since diagnosis was 3.3 years.
Participants were randomized to high-dose deutetrabenazine group (up to 48 mg orally daily; n=52), low-dose deutetrabenazine group (up to 36 mg orally daily; n=54), or placebo (n=52). Doses were titrated over 4 weeks to an individually determined target dose based on weight, cytochrome P450 2D6 impairment, and population pharmacokinetic modeling of active metabolites.
The most frequent comorbid disorders were psychiatric: attention-deficit hyperactivity disorder (26%), obsessive-compulsive disorder (12%), anxiety (13%), and depression (4%).
The primary outcome was 8-week change from baseline in the YGTSS-TTS for high-dose deutetrabenazine after 8 weeks of treatment and a 1-week washout period. Scores on the YGTSS-TTS range from 0-50, with higher scores indicating worse motor and vocal tics. Secondary outcomes included measures of both clinician and patient global clinical impressions and a quality-of-life measure.
Treatment-emergent adverse events were reported for 65% in the high-dose group, 44% in the low-dose group, and 49% with placebo. Common reported side effects in the high-dose group were somnolence (15%) and fatigue (10%) compared with 2% and 0%, respectively, for placebo. Weight increase was also seen in the high-dose group with respect to placebo.
Depression was reported in 8% of patients in the high-dose group, 2% in the low dose group, and 0% in the placebo group, with suicidal ideation reported by one patient in each of the high- and low-dose groups.
In an accompanying editorial, Mark Baron, MD, of Virginia Commonwealth University in Richmond, noted that "available results from several large controlled clinical trials unfortunately do not suggest effectiveness of VMAT-2 inhibitors for the treatment of tics in patients with Tourette syndrome. Furthermore, it is not evident from these studies that the side effect profile of the VMAT-2 inhibitors is clearly favorable over that of neuroleptic drugs, especially in that neuroleptic drugs can be prescribed in the presence of co-existent depression or suicidal ideation, which are not uncommon in patients with Tourette syndrome."
"Considering the demonstrated efficacy of neuroleptic medications for Tourette syndrome and the paucity of reports of tardive dyskinesia in patients with Tourette syndrome, neuroleptic drugs arguably should be considered a mainstay for treating moderate-to-severe Tourette syndrome," Baron wrote.
"For milder cases, in particular with coexistent ADHD, alpha-agonists can be prescribed," he added. "Additional evidence from noncontrolled studies suggest efficacy from topiramate and from tetrahydrocannabinol, either as dronabinol or, where legal, as medicinal marijuana."
A 2020 review of behavioral, pharmacologic, and surgical treatments of tics and Tourette syndrome encouraged education and behavioral therapy for all patients and considered alpha agonists, topiramate, and VMAT-2 inhibitors first line therapy for tics not controlled by behavioral therapy, while antipsychotics—e.g., fluphenazine, aripiprazole, risperidone, and ziprasidone—were described as second-line therapy.
VMAT-2 inhibitors deplete pre-synaptic dopamine, serotonin, norepinephrine, and histamine. Of three such agents, tetrabenazine was approved for adult chorea associated with Huntington's disease, with deutetrabenazine approved more recently for the same indication as well as tardive dyskinesia. The third agent, valbenazine, was approved to treat adult tardive dyskinesia.
"These agents are contraindicated in individuals with inadequately treated depression or suicidal ideation and carry black box warnings of these risks," Baron observed.
A phase Ib study of deutetrabenazine titrated to a maximum dose of 36 mg daily found it reduced the YGTSS-TTS score by 11.5 points at 8 weeks, a decrease of about 38% compared with baseline (P<0.0001). A phase II/III trial published in 2021, though, did not meet its primary 12-week YGTSS-TTS endpoint versus placebo.
Both the present study and the phase II/III trial "may have been too short to accurately assess long-term effects of deutetrabenazine for treatment of tics over time," Coffey and co-authors noted.
Deutetrabenazine was not effective in treating tics associated with Tourette syndrome, the phase III ARTISTS 2 trial found.

No new safety signals were identified with deutetrabenazine at either study dose.
Paul Smyth, MD, Contributing Writer, BreakingMED™
This study was funded by Teva Pharmaceutical in partnership with Nuvelution TS Pharma.
Coffey reported receiving research support/honoraria from the American Academy of Child and Adolescent Psychiatry, the National Institute of Mental Health, Neurocrine Biosciences, the Psychiatry Academy, Teva/Nuvelution, and the Tourette Association of America–Centers for Disease Control and Prevention partnership; serving as co-coordinating investigator during the conduct of the study; receiving grants from Emalex Biosciences, the National Institute of Mental Health, and Florida Children's Medical Services; receiving honoraria for invited talks from HMS/Psychiatry Academy, Partners Health Care, and the Tourette Association of America–Centers for Disease Control and Prevention partnership; and serving on the advisory board for Skyland Trail outside the submitted work.
Baron reported no conflicts of interest.
Cat ID: 130
Topic ID: 82,130,730,130,138,192,925