New regimen improves outlook in diffuse large B-cell lymphoma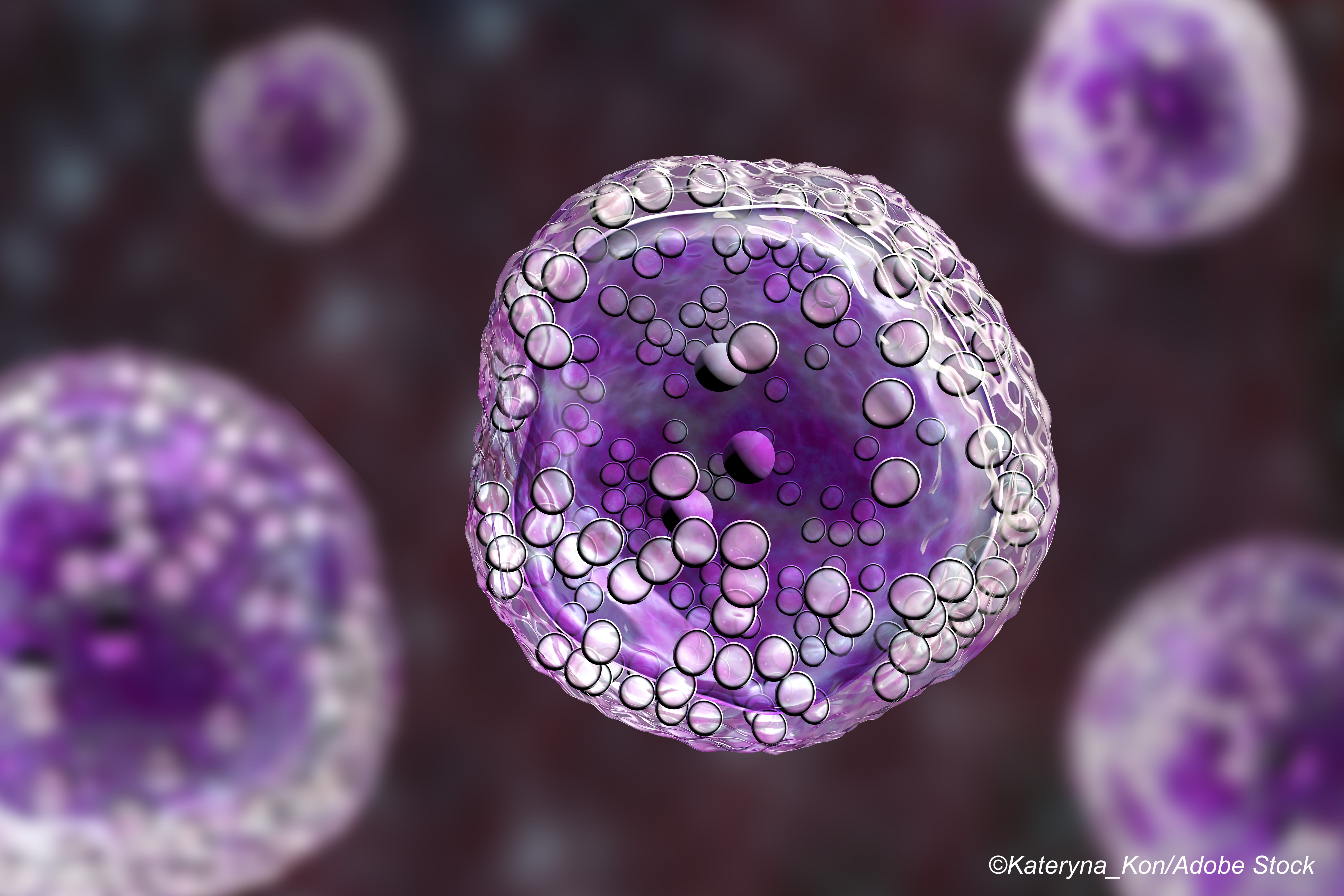 ATLANTA—A new regimen that includes the antibody drug conjugate polatuzumab vedotin may change the landscape of how patients diagnosed with diffuse large B-cell lymphoma are treated, researchers said here.
In a late-breaker presentation of the so-called POLARIX trial, Gilles Salles, MD, PhD, chief of the lymphoma service at Memorial Sloan Kettering Cancer Center, New York City, said that by replacing the cytotoxic drug vincristine with polatuzumab vedotin in the standard rituximab-based treatment cocktail, 76.7% of patients achieved progression-free survival after 28.2 months of follow-up compared with 70.2% of patients who remained on the standard treatment—a 27% reduction in the risk of progression, relapse, or death (P=0.02).
"Diffuse large B-cell lymphoma is typically treated with rituximab, cyclophosphamide, doxorubicin, vincristine, and prednisone (R-CHOP)," Salles said at a press conference at the 2021 meeting of the American Society of Hematology. "However, only 60% of patients are cured with R-CHOP. Polatuzumab vedotin is an antibody–drug conjugate targeting CD79b, which is ubiquitously expressed on the surface of malignant B cells.
"In the last two decades there have been numerous trials trying to improve upon R-CHOP either by modifying the dose or schedule of the drug delivered with R-CHOP or by introducing new agents. But overall these attempts were unsuccessful. Therefore, there remained an unmet need for patient with previously untreated diffuse large B cell lymphoma," Salles said.
"We conducted a double-blind, placebo-controlled, international phase III trial to evaluate a modified regimen of R-CHOP (pola-R-CHP), in which vincristine was replaced with polatuzumab vedotin, as compared with standard R-CHOP, in patients with previously untreated intermediate-risk or high-risk diffuse large B-cell lymphoma," Salles said in his presentation. The results of the POLARIX trial were published online in the New England Journal of Medicine at the time of its presentation at the meeting.
Salles said that overall survival was not different between the two groups, although there was a higher burden of additional treatment among the patients who were first assigned to R-CHOP. The researchers reported that 88.7% of the patients on pola-R-CHP were alive at two years, compared with 88.6% of the patients on the standard R-CHOP protocol.
"These results support the use of pola-R-CHP in the initial management of patients with diffuse large B-cell lymphoma," Salles said.
He and his colleagues, including the 29 co-authors of the NEJM paper, recruited 879 patients 18 to 80 years of age, and randomly assigned them to either pola-R-CHP or R-CHOP, plus two cycles of rituximab alone. In the randomization, 440 individuals were assigned to pola-R-CHP while 439 were assigned to R-CHOP.
Press conference moderator Jane Winter, MD, the president-elect of the American Society of Hematology, from the Feinberg School of Medicine at Northwestern University in Chicago, said the "findings show that this combination can be effective without affecting patients' quality of life."
She told BreakingMED that before the new regimen is widely accepted, "certain follow-up will be important as will confirmation of these results. But there does seem to be a deeper remission biologically with this regimen, and hopefully, that will translate in time to substantial improvement in overall survival."
Winter noted that once a person has relapsed, the treatment options narrow, so pola-R-CHP is important to give patients "durable and hopefully curable options upfront."
Another co-investigator on the POLARIX trial, John Burke, MD, of Rocky Mountain Cancer Centers, Aurora, Colorado, explained that replacement of vincristine with polatuzumab vedotin would make the combination more effective and more tolerable. "Both polatuzumab and vincristine cause peripheral neuropathy, so by replacing one with another you are not adding to the peripheral neuropathy and making the combination too toxic. That is kind of the rationale for the design of the regimen," he said.
"I am very excited about this regimen," he told BreakingMED. "It has been more than 20 years since we have had anything superior to R-CHOP for initial therapy for diffuse large B-cell lymphoma, and in that 20 years, many things have failed to improve upon R-CHOP. So this is the first time we are seeing some signal of improvement."
Burke noted that the new regimen is not on any treatment guidelines, and its third-party reimbursement at this point is doubtful. "It needs to be reviewed," he said, "and vetted by the medical community and approved by regulatory authorities, so it will be a while before pola-R-CHP will be widely used."
A new regimen that includes the antibody drug conjugate polatuzumab vedotin improved progression-free survival among patients with diffuse large B-cell lymphoma.

Confirmatory trials will be needed to get past regulatory and insurance hurdles before the polatuzumab vedotin combination can be made available for widespread use.
Edward Susman, Contributing Writer, BreakingMED™
Supported by F. Hoffmann–La Roche/Genentech.
Burke disclosed relationships with AbbVie, Adaptive Biotechnologies, AstraZeneca, Bayer HealthCare Pharmaceuticals, Inc., BelGene, Bristol-Myers Squibb Company, Epizyme, Genentech USA Inc., Gilead Sciences, Inc., Kira, Kymera, Morphosys, Seattle Genetics Inc., Verastern, and X4 Pharmaceuticals.
Salles disclosed relationships with AbbVie, Bayer, BelGene Switzerland GmbH, Bristol-Myers Squibb, Debiopharm, Epizyme, Inc., Genentech, Genmab, Incyte Corporation, Ipsen Bioscience Inc., Kite Pharma, Inc., Loxo Oncology, Miltenyi Biotech, Morphosys AG, Novartis, Owkin, Rapt therapeutics, Regeneron Pharmaceuticals, and Takeda Oncology.
Cat ID: 332
Topic ID: 78,332,791,730,332,467,192,925,331