KEYNOTE-716 findings support post-surgery pembrolizumab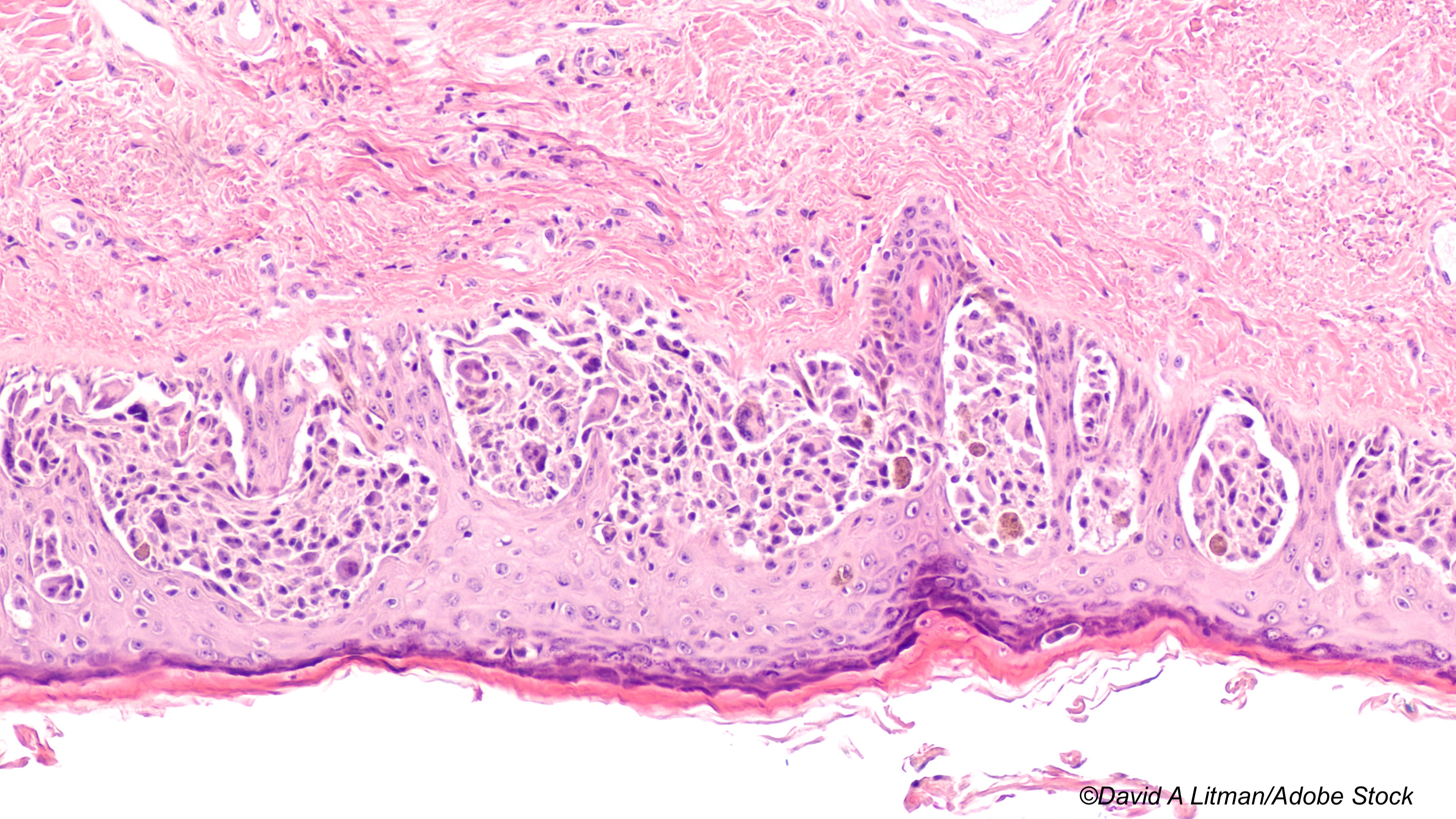 Patients diagnosed with high-risk melanoma who are treated with adjuvant pembrolizumab after surgery appear to have a significantly reduced risk of recurrence of the disease when compared to patients who go untreated following resection, researchers reported.
At 12 months, 90.5% of the patients who received pembrolizumab following surgery achieved recurrence-free survival compared to 83.1% of patients on placebo (P=0.00658), said Jason Luke, MD, of the UPMC Hillman Cancer Center, Pittsburgh, in his late-breaker oral presentation at the 2021 virtual congress of the European Society for Medical Oncology.
That translated to a reduction in the risk of recurrence or death by 35%, he said in describing the preliminary results of the Phase III KEYNOTE-716 trial. Luke noted that the median recurrence-free survival has not been reached for either arm of the trial at a median follow-up of 14.4 months.
"Adjuvant pembrolizumab is an effective treatment option with a favorable benefit risk profile for patients with high-risk Stage II melanoma," he said. "These results are set to substantially change the population of melanoma patients who get treated in the adjuvant setting.
"Historically we have defined high-risk patients after surgery as those with lymph node positive disease," he said. "This trial suggests that the depth of the primary tumor and the ulceration status provide substantial information about the risk of recurrence and metastases and whether or not we might pursue adjuvant therapy. In the future we will need to reconsider how we incorporate sentinel lymph node biopsy into our risk stratification."
In the trial, the researchers recruited 976 patients ages 12 and older who had undergone resection for Stage II high-risk melanoma. They assigned 487 patients to receive intravenous pembrolizumab 200 mg every 3 weeks, and 489 patients were given intravenous placebo every 3 weeks. The treatments continued until disease progression.
Treatment-related adverse events occurred among 79.8% of the patients on pembrolizumab and among 60.9% of patients on placebo. Treatment-related adverse events that led to discontinuation occurred in 15.3% of those on pembrolizumab and 2.5% of those on placebo. Grade 3-4 adverse events were observed in 16.1% of patients on pembrolizumab and in 4.3% of those on placebo, Luke reported.
He noted that before pembrolizumab and other more targeted agents, adjuvant therapy was often considered too toxic for these patients. "When the only available therapies were high-dose interferon and ipilimumab, both of which were associated with more than 50% rates of severe adverse events, that just wasn't tolerable for patients with early stage disease," Luke said. "But now with anti-PD-1 treatment it's a much more attractive risk/benefit scenario and given the results of this trial, I think we should be offering this to our patients.
"There has been a belief that early-stage melanoma doesn't recur very fast and that these patients don't develop metastatic disease," Luke continued. "These data clearly disprove that and show that patients with high-risk stage II melanoma recur quickly and distantly, just the same as patients with stage IIIA and IIIB. Treatment with pembrolizumab reduced that in a meaningful and statistically significant way, indicating that these stage II patients should be offered adjuvant therapy."
Commenting on the findings, designated discussant Omid Hamid, MD, of The Angeles Clinic and Research Institute, a Cedars-Sinai Affiliate, Los Angeles, said, "The US Food and Drug Administration is now examining this drug for the adjuvant treatment of stage IIB and IIC melanoma which, if approved, means we would be introducing immunotherapy earlier in the patient journey.
"This has the potential to spare patients recurrence and metastases. It is important to note that the trial included not just adults but also children and adolescents aged 12 years and older," he said.
Hamid noted that the dose frequency and duration of adjuvant therapy in stage II B/C melanoma should also be evaluated: "Studies of adjuvant therapy in other stage II solid tumors have suggested that a shorter time course of therapy can provide the best risk/benefit ratio – although these were not immunotherapies. Patients in KEYNOTE-716 were treated for one year and while the incidence of grade 3 or 4 toxicity was minimal, side-effects could potentially have a significant impact on the lifestyle of these patients."
Hamid cautioned that longer follow-up is needed to determine if there is an overall survival benefit with anti-PD-1 therapy in these patients. "We also need to determine what giving adjuvant anti-PD-1 therapy in stage II B/C means for stage III patients who recur and would currently receive this treatment," he said.
"I foresee that some of the regimens we now use in the metastatic setting may move up earlier in stage III disease. Ongoing clinical trials are examining novel combinations in the stage III setting – for example, VEGF targeted therapies or pegylated IL-2 or anti-LAG-3 antibody plus anti-PD-1 therapy – versus standard single agent anti-PD-1 therapy," he suggested.
Adjuvant pembrolizumab following surgery for Stage II melanoma appears to reduce the risk of recurrence.

It is still unknown if this treatment has a beneficial effect on overall survival.
Edward Susman, Contributing Writer, BreakingMED™
The KEYNOTE-716 trial was funded by Merck Sharp & Dohme Corp.
Luke disclosed relationships with 7 Hills; Fstar; RefleXion; Alphamab Oncology; Arch Oncology; Kanaph; Onc.AI; Pyxis; Tempest; AbbVie; Alnylam; Array; Bayer; Bristol Myers Squibb; Checkmate; Cstone; Eisai; EMD Serono; Flame; Gilead; Kadmon; KSQ; Janssen; Immunocore; Inzen; Crown; Macrogenics; Merck; Mersana; Nektar; Novartis; Pfizer; Regeneron; Ribon; Rubius; Silicon; Synlogic; TRex; Werewolf; Xilio; Xencor; Actym; Mavu; Pyxis; Agios; Astellas; Corvus; Genmab; Ikena; Immatics; Incyte; KAHR; Moderna; Numab; Replimmune; Takeda; Trishula; and Tizona.
Hamid disclosed relationships with Arcus; Aduro; Amgen; Bioatla; Bristol Myers Squibb; CytomX; Excelbds; Roche Genentech; GSK; Immunocore; Idera; Incyte; Iovance; Merck; Moderna; Merck-Serono; NextCure; Novartis; Pfizer; Sanofi Regeneron; Seagen; Taiga; Torque; Zelluna; Alkermedes; Akeso; Beigene; Gigagen; Janssen; Partner Therapeutics; and Tempus.
Cat ID: 26
Topic ID: 78,26,728,791,730,11,26,935,192,925,696