Nivolumab and Cabozantinib Appear to Double Key Outcomes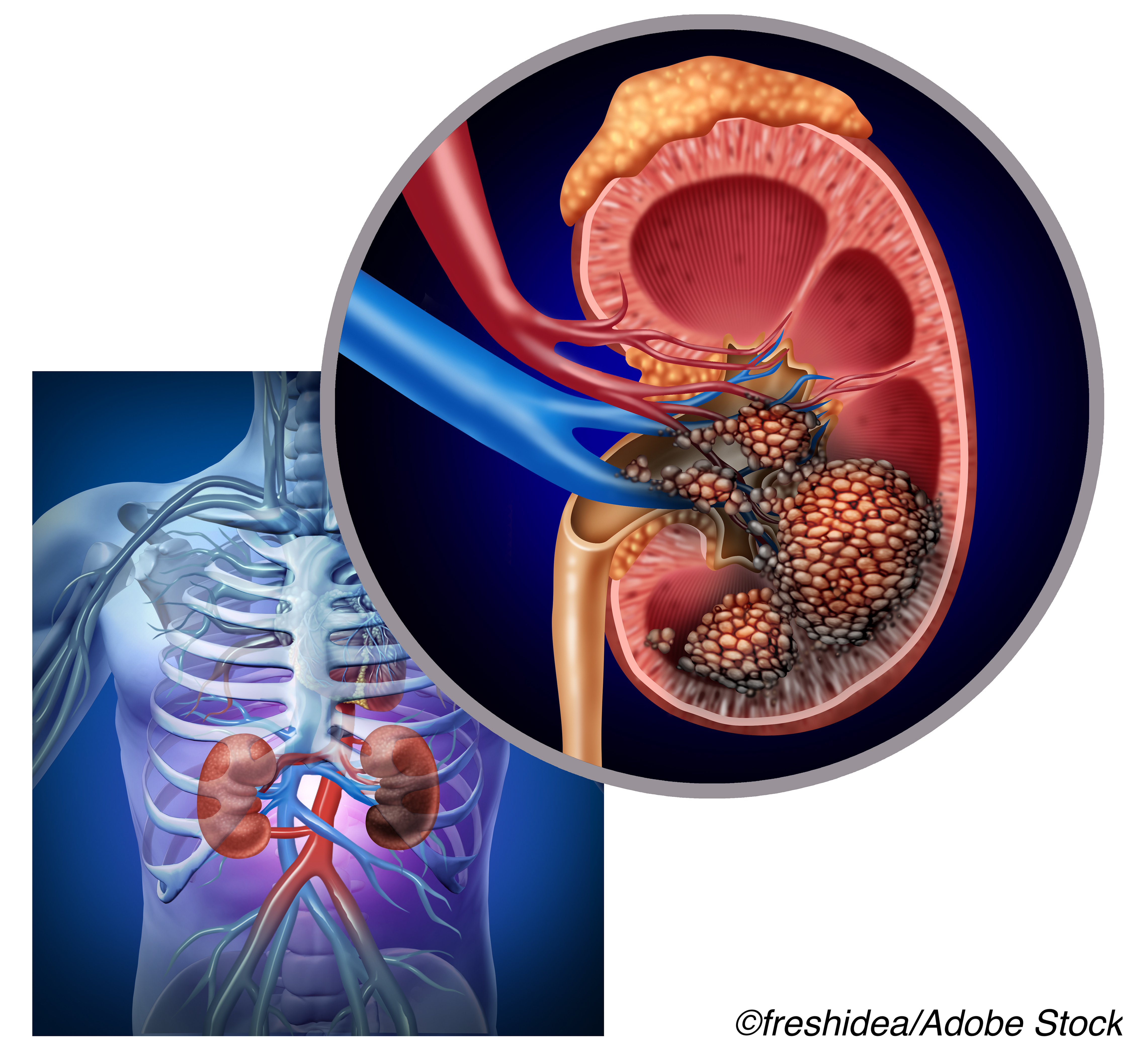 The combination of nivolumab (Opdivo) — a checkpoint inhibitor, and cabozantinib (Cabometyx) — a small-molecule tyrosine kinase inhibitor, appear superior to single agent sunitinib (Sutent) in extendiung progression-free survival and overall survival in patients diagnosed with advanced clear cell renal cancer, researchers reported.
In CheckMate 9ER, the combination was associated with a doubling of the time to progression free survival which was 8.3 months with sunitinib and was 16.6 months with nivolumab-cabozantinib, said Toni Choueiri, MD, professor of oncology at the Lark Center for Genitourinary Oncology at Dana-Farber Cancer Institute/Brigham & Women's Hospital, Boston.
"The risk of disease progression or death was reduced by 49% in patients with nivolumab-cabozantinib versus sunitinib (P<0.0001)," Choueiri said at a press conference at the virtual meeting of the European Society for Medical Oncology. "This means that patients are significantly more likely to live free of disease progression when treated with the combination compared with sunitinib."
The median overall survival for both arms of the trial have not been reached, Choueiri said, but the risk of death already appears to be 40% less among the patients in the combination arm — about 75% of the patients on the combination are alive compared to about 60% of those on sunitinib (P=0.0010). The mean follow-up for the ongoing study is 18 months, he said.
The researchers also reported that the objective response rate with the combination therapy was also superior to treatment with sunitinib:
Overall, confirmed responses were observed in 55.7% of patients on nivolumab-cabozantinib compared with 27.1% of those on sunitinib (P<0.0001).
8% of patients on nivolumab-cabozantinib achieved a complete response compared with 4.6% of those on sunitinib.
47.7% of patients on nivolumab-cabozantinib achieved an objective partial response compared with 22.6% of those on sunitinib.
32.2% of patients on nivolumab-cabozantinib achieved stable disease compared with 42.1% of those on sunitinib.
5.6% of patients on nivolumab-cabozantinib progressed compared with 13.7% of those on sunitinib.
5.6% of patients on nivolumab-cabozantinib were not evaluated – due to a variety of reasons, including not receiving study medication, or discontinuation or death before assessment, and 17.1% of those on sunitinib were similarly not evaluated.
Choueiri said the success in extending progression-free and overall survival in the phase III study was accomplished without major increases in high-grade adverse events when compared with sunitinib. Diarrhea occurred more often with the combination (57%) than with sunitinib (43%) and there was 6% high-grade diarrhea incidence in the combination treatment compared with 4% in the sunitinib arm of the study.
More than 50% of patients in the combination arm needed a dose reduction of nivolumab-cabozantinib due to adverse events. But only 3% had to stop both drugs because of toxicity compared to 9% of patients in the sunitinib arm. Liver toxicity was more common in the combination arm. As for immune-related side-effects, 19% of patients in the experimental arm needed corticosteroids; just 4% needed corticosteroids for 30 days or longer.
Choueiri explained that previous studies had hinted that nivolumab used in combination had activity in patients with high-risk, advanced renal cell carcinoma. "Nivolumab promotes anti-tumor responses by preventing cancer from evading immune detection," he said. "Cabozantinib has both antiangiogenic and immunomodulatory properties that may counteract tumor-induced immunosuppression."
The researchers enrolled 323 patients who were assigned to receive nivolumab-cabozantinib in a regimen in which nivolumab 240 mg was infused intravenously every 2 weeks, and oral cabozantinib 40 mg was taken daily. The second cohort of 328 patients received sunitinib 50 mg daily for 4 weeks and then had a 2-week drug holiday before repeating the cycle. Patients were treated until progression was confirmed or they experienced unacceptable toxicity.
All patients had confirmed untreated advanced or metastatic renal cell carcinoma with a clear cell component. Any patient in the Intermediate Renal Cell Carcinoma Database Consortium defined risk group was eligible.
In commenting on the study, Dominik Berthold, MD, head of specialized consultation for urological cancers at Lausanne University Hospital, Switzerland, said, "CheckMate 9ER met its efficacy endpoints and the combination can be considered a new first-line treatment option. However, the medical community is divided about whether two immunotherapies or immunotherapy plus an anti-angiogenic drug is the better choice, since the different combinations appear to have similar effectiveness."
He said longer-term data are needed for CheckMate 9ER: "The 18 months of follow-up is still quite short. The question is whether the responses to treatment are durable or patients progress at some point.
"It would also be useful to learn whether the combination of cabozantinib and nivolumab is effective in non-clear cell carcinoma," added Berthold. "This is a minority of patients with advanced kidney cancer, which are not well studied and were excluded from this trial."
Immunotherapy using nivolumab and cabozantinib does a better job of controlling advance renal cell carcinoma than sunitinib.

This study appeared as an abstract at a medical conference and its findings should be considered with caution until the full manuscript is published in a peer-reviewed journal.
Edward Susman, Contributing Writer, BreakingMED™
The study was sponsored by Bristol-Myers Squibb.
Choueiri disclosed relationships with AstraZeneca, Bristol-Myers Squibb, Eisai, Eli Lilly and Company, EMD Serono, Exelisis, GlaxoSmithKline, Merck & Co., Novartis International and Pfizer, Inc.
Berthold disclosed no relationships with industry.,
Cat ID: 697
Topic ID: 78,697,697,835,127,192,925,696