Interstitial lung disease may be red flag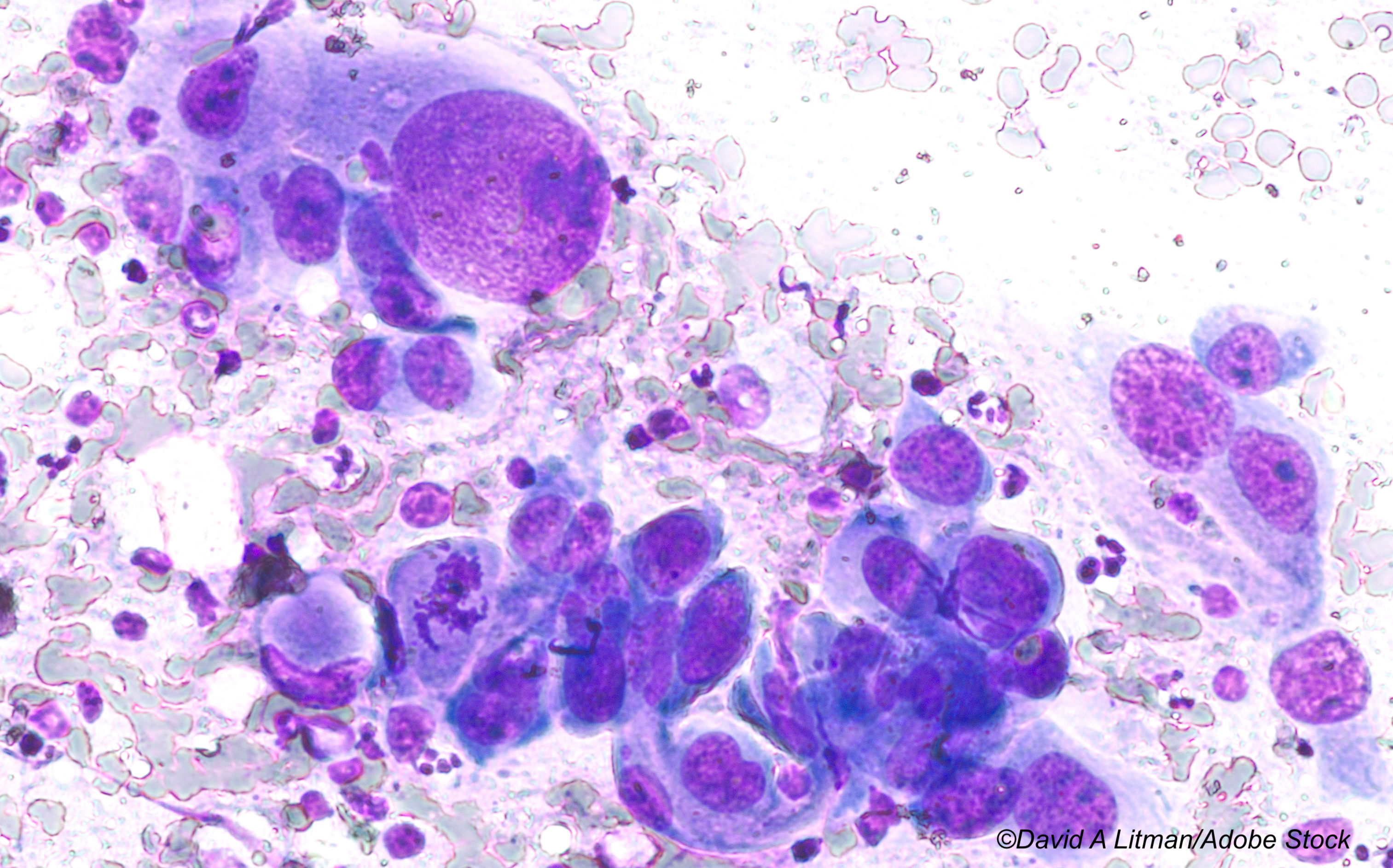 The antibody-drug conjugate (ADC) trastuzumab deruxtecan (TDM-1) demonstrated durable anticancer activity in patients with previously treated HER2-mutant non-small cell lung cancer (NSCLC), researchers for the DESTINY-Lung01 trial reported at the European Society of Medical Oncology virtual meeting.
The ADC trastuzumab deruxtecan, marketed as Enhertu, was FDA-approved for treatment of HER2-positive breast cancer in December 2019 and for HER2+ gastric adenocarcinomas in January 2021, but it is not approved for NSCLC.
Bob T. Li, MD, PhD, of Thoracic Oncology and Early Drug Development Service, Memorial Sloan Kettering Cancer Center, reported the findings in a late-breaking clinical trials session featured as a Presidential Symposium, pointing out that this trial of trastuzumab deruxtecan differed from the trials of the ADC in HER2-positive breast and gastric cancers for its "targeting of tumors bearing HER2 mutations."
The DESTINY-Lung-01 results were also simultaneously published online by The New England Journal of Medicine.
The researchers enrolled 91 patients in the multicenter, phase II trial and followed them for a median of 13.1 months.
"Centrally confirmed objective response occurred in 55% of the patients (95% confidence interval [CI], 44-65). The median duration of response was 9.3 months (95% CI, 5.7-14.7)," they wrote. "Median progression-free survival was 8.2 months (95% CI, 6.0-11.9), and median overall survival was 17.8 months (95% CI, 13.8-22.1)."
"The median overall survival was 17.8 months in this heavily pretreated population," Li said.
Moreover, a confirmed complete response occurred in one patient. "Most patients (92%; 95% CI, 85-97) had disease control and had a reduction in tumor size," Li said.
Daniel SW Tan, BSc, MBBS, PhD, of the National Cancer Center in Singapore who served as moderator and discussant at the Presidential Symposium, noted that estimated progression free survival from the 42 patients in cohort I of the DESTINY Lung-01 reported at the ASCO 2020 was 14 months based on a median follow-up of 8 months. "With longer follow-up of 13.1 months, median PFS was 8.2 months, and while somewhat more modest, it remains clinically meaningful," Tan said.
The patients in DESTINY-Lung 01 TDM-1 were dosed at 6.4 mg/kg of body weight, but Li noted that future trials will assess a lower dose, 5.4 mg/kg, which he said is the approved dose for breast cancer.
Grade 3 or higher drug-related adverse events were reported in 46% of patients, with neutropenia being the most commonly reported AE. But "[A]djudicated drug-related interstitial lung disease occurred in 26% of patients and resulted in death in 2 patients."
Looking at the timing of interstitial lung disease, "the median time to the onset of first reported interstitial lung disease was 141 days (range, 14 to 462), and the median duration of the disease was 43 days (95% CI, 24 to 94)." Twenty patients in the DESTINY Lung) trial had previously undergone lung resection, and 8 of those patients developed interstitial lung disease. "We wanted to note that both of the patients who died as the result of ILD/pneumonitis had a history of lobectomy or partial resection and both patients had received checkpoint inhibitor therapy just before enrollment," Li said.
During the discussion following Li's presentation, Edward B. Garon, MD, of Santa Monica Cancer Care, in Santa Monica California, who was present in the "live" audience, asked Li if he could specifically identify risk factors for ILD/pneumonitis given that the trial enrolled less than 100 patients. "It's going to be hard to answer this just on these data, but this drug is available and widely used [outside the label indications]," Garon added, noting that he and other clinicians needed risk assessments.
Li agreed that it was difficult to make an assessment based on such as small sample. "We have not seen a clear association with immune checkpoint inhibitors for pneumonitis… we are looking at a meta-analysis of all clinical trials in multiple diseases… So far, we have not found such an association with [immuno-oncology]." He added that other risk factors include racial ethnicity and geographic factors—"there seems to be an increased risk of pneumonitis in patients treated in Japan, and that was brought to us by Japanese investigator colleagues."
The median age of patients was 60 and tw0-thirds were women. Most of the patients were White (44%) or Asian (34%).
"A total of 95% of the patients had received previous platinum-based therapy, and 66% had received anti–programmed death 1 or anti–programmed death ligand 1 treatment," they wrote.
Li and colleagues said that efficacy was consistent across different subgroups, including those with different mutation subtypes.
"Unfortunately, CNS surveillance was not performed systematically in all patients, which makes it impossible to assess anti-CNS tumor activity comprehensively," they wrote. "However, among the 33 patients who were known to have CNS disease, the percentages of patients with a response were similar to those among patients without CNS lesions. Responses were seen in patients with different mutation subtypes located across the extracellular and kinase domains of the HER2 protein. Responses were observed in the majority of the small number of patients with no detectable HER2 expression as assessed by immunohisto-chemical analysis or gene amplification."
Despite the clinical efficacy of trastuzumab deruxtecan demonstrated in the DESTINY trials, the investigators pointed out that the exact mechanism of this observed benefit has not been conclusively confirmed. Preclinical studies demonstrated that "Activating HER2 mutations enhance receptor internalization and intracellular uptake of the HER2 receptor antibody–drug conjugate complex. This may provide the mechanistic basis for the high degree of efficacy in patients with HER2-mutant NSCLC, in contrast to the lower response rates seen in preliminary observations among patients with HER2-overexpressing NSCLC classified as having an immunohistochemical score of 2+ or 3+ Furthermore, this property of activating HER2 mutations may explain why efficacy is observed even in HER2-mutant cancers with no detectable HER2 expression (i.e., with an immunohistochemical score of 0). Further research is needed to understand the mechanisms of intrinsic and acquired resistance to trastuzumab deruxtecan."
There was no comparator group in the trial, which is a limitation, and Li cautioned the concern about interstitial lung disease, noting that more research is needed to better identify patients who are at risk for this complication.
When asked how he envisioned HER2 targeted drugs playing out in for NSCLC treatment, Li said that "the more targeted agents for these patients, the better because they would have more chances for response and prolonged survival. So we do need to develop both antibody drug conjugates as well as tyrosine kinase inhibitors, both are important and they are not mutually exclusive.
But, Li cautioned, that current data for trastuzumab deruxtecan "supports it as a second line treatment. It's definitely a second-line option— if it is approved by regulators—after platinum-based chemotherapy or chemo plus immunotherapy."
Note this report describes an off-label use of a drug.
Be aware that the median duration of response in DESTINY-Lung01 was 9.3 months.
Peggy Peck, Editor-in-Chief, BreakingMED™
DESTINY-Lung 01 was funded by Daiichi Sankyo and AstraZeneca.
Li disclosed consulting agreeements with Roche, Biosceptre International, Thermo Fisher Scientific, Mersana, Guardant Health, and Hengrui Therapeutics, as well as institutional research funding from Roche/Genentech, Illumina, BioMed Valley Discoveries, AstraZeneca, GRAIL, Daiichi Sankyo, Hengrui Therapeutics, and Guardant Health.
Tan disclosed advisory or consultant agreements with Novartis, Bayer, Boehringer Ingelheim, Astra Zeneca, Eli-Lily, GSK, C4 therapeutics, and Amgen. Travel and other honoria from Merck, Pfizer, Novartis, Boehringer Ingelheim, Roche, and Takeda. Research funding from Novartis, Astra Zeneca, GlaxoSmithKline, Bayer, Ffizer, and Amgen.
Cat ID: 24
Topic ID: 78,24,730,24,697,935,195,65,925,696