Addition to chemotherapy may set a new Standard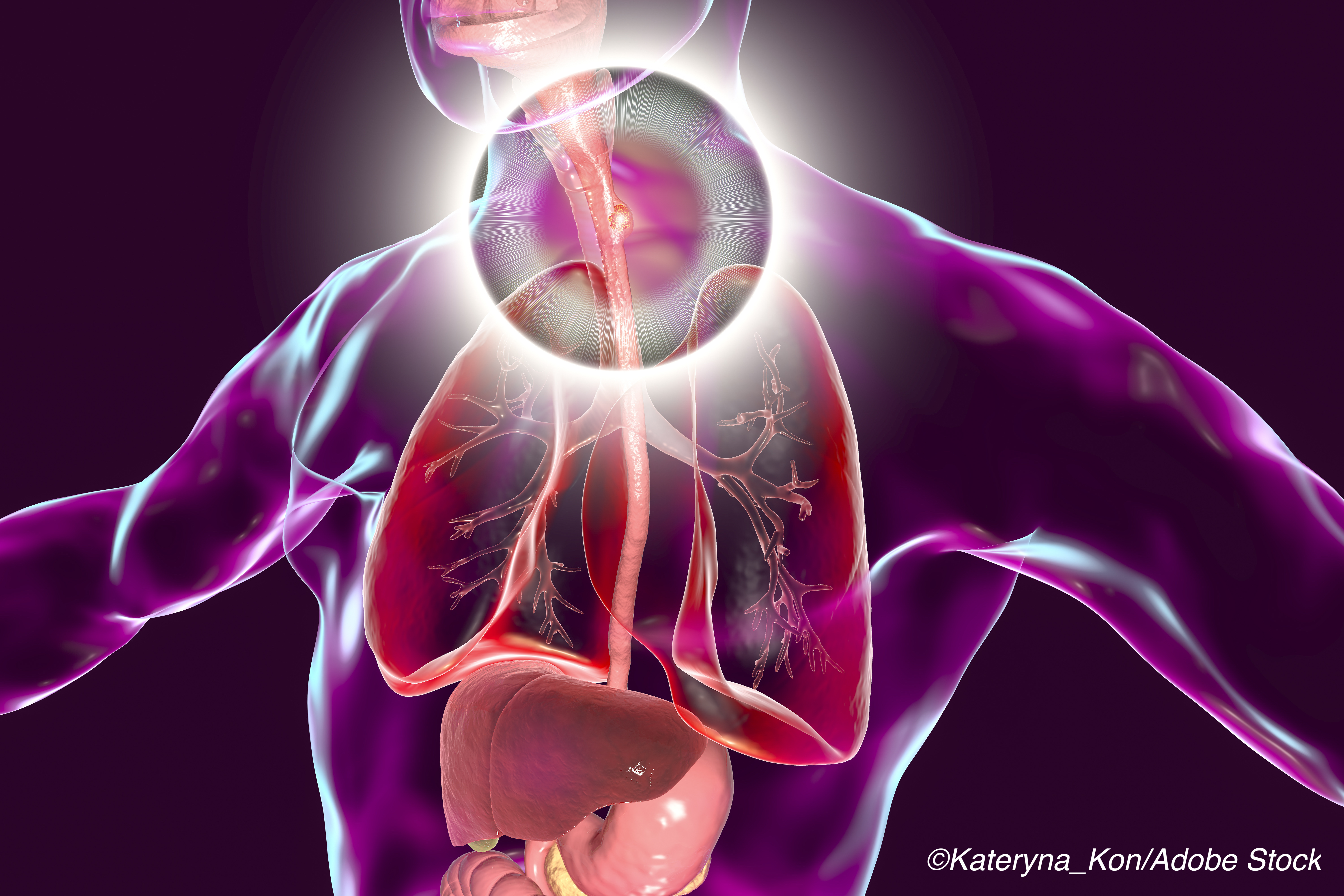 Immunotherapy for patients with high-risk gastric and esophageal cancers appears to control the diseases better than standard of care chemotherapy, researchers suggested at the 2020 virtual meeting of the European Society for Medical Oncology.
At a press conference, researchers found that adding nivolumab (Opdivo) to chemotherapy in first line treatment for gastric cancer, gastro-esophageal junction cancer, or esophageal cancer significantly improved outcomes – with a median overall survival of 14.3 months for nivolumab-treated patients expressing a combined positive PD-L1 score of 5 or greater compared with 11.1 months among patients treated only with chemotherapy (P<0.0001).
And in a study in which pembrolizumab (Keytruda) was employed as a first line treatment for esophageal cancer, patients treated with the checkpoint inhibitor plus chemotherapy achieved a median overall survival of 12.4 months compared to 9.8 month median survival among patients just treated with chemotherapy (P<0.0001).
In the CheckMate 649 trial, Marcus Moehler, MD, professor of medicine at Johannes-Gutenberg University Clinic, Mainz, Germany, also said that treatment with nivolumab was effective in treating patients with lower expression of PD-L1 – the target of nivolumab. Those expressing a combined positive score that was 1 or greater and were also treated with nivolumab plus chemotherapy achieved a median overall survival of 14 months compared with similar patients who were only treated with chemotherapy who had a median overall survival of 11.3 months (P
The median progression-free survival was 7.7 months among the patients on nivolumab and 6.1 months among the patients who just were given chemotherapy – a oxaliplatin-based therapy that included either capecitabine or fluorouracil (P<0.0001), Moehler and colleagues reported. Minimum follow-up was 12 months.
The researchers assigned 789 patients to receive nivolumab and chemotherapy and 792 patients to the chemotherapy arm of the trial. Moehler noted that a third arm of the trial which combined nivolumab with ipilimumab (Yervoy) without chemotherapy is still being analyzed and was not part of the current presentation.
Patients in the trial were diagnosed with previously untreated, unresectable, advanced or metastatic disease. Moehler said that the treatment with nivolumab and chemotherapy was relatively well tolerated, although 38% of patients receiving nivolumab were observed with serious adverse events compared with 25% of those on just chemotherapy. "No new safety signals were identified with nivolumab plus chemotherapy," he said.
Commenting on the new data, Salah-Eddin Al-Batran, MD, professor and director of the Institute of Clinical Cancer Research at Krankenhaus Nordwest-University Cancer Centre, Frankfurt, Germany, said: "These results are clinically very relevant. Based on this trial, for patients with HER2-negative gastric adenocarcinoma, esophageal adenocarcinoma, or gastro-esophageal junctional adenocarcinoma with PD-L1 combined positive score greater than 5 tumors, the addition of nivolumab to chemotherapy will become the standard of care for first-line treatment."
In the KEYNOTE 590 trial, Peter Enzinger, MD, director of the Center for Esophageal and Gastric Cancer at the Dana Farber Cancer Institute, Boston, said that at one year 51% of the 373 patients diagnosed with locally advanced unresectable or metastatic advanced esophageal cancer who were treated with pembrolizumab plus chemotherapy were alive compared with 39% of the 376 patients who had been assigned placebo plus chemotherapy. At 24 months, 28% of the patients on pembrolizumab were alive compared to 16% of the patients who were just being treated with cisplatin-based chemotherapy.
In this trial, progression-free survival also favored treatment with pembrolizumab rather than chemotherapy alone, Enzinger said. The median progression-free survival with pembrolizumab on board was 6.3 months, compared with 5.8 months with chemotherapy alone (P< 0.0001).
"First-line pembrolizumab plus chemotherapy versus chemotherapy plus placebo provided statistically significant and clinically meaningful improvement in overall survival, progression-free survival and overall response rate in patients with advance esophageal cancer," he said. "The safety profile between the two groups was comparable and no new safety signals were detected."
He suggested that the combination of pembrolizumab and chemotherapy should be considered a new standard of care in this patient population.
Commenting on the findings, Al-Batran said, "I expect that KEYNOTE-590 will change practice for patients with metastatic squamous cell carcinoma or adenocarcinoma of the esophagus who have PD-L1 combined positive score greater than 10 tumors, for whom pembrolizumab added to chemotherapy will become the standard of care in the first-line."
He said that both trials offer new treatment options. "In the first-line setting, there is a clear change of our standard of care, in which patients with high PD-L1 expression will be candidates for immune checkpoint inhibitors plus chemotherapy."
Edward Susman, Contributing Writer, BreakingMED™
The ChreckMate 649 study was funded by Bristol-Myers Squibb.
The KEYNOTE 590 study was funded by Merck & Co.
Enzinger disclosed relationships with Astellas, AstraZeneca, Celgene, Daiichi-Sankyo, Five-Prive, Lilly, Loxo, Merch, Taiho, Takeda and Zymeworks.
Moehler disclosed relationships with AIO, Amgen, Bristol-Myers Squibb, BMBF, Merck Serono, MSD, Pfizer, and Roche.
Al-Batran disclosed no relationships with industry.
Cat ID: 696
Topic ID: 98,696,728,791,730,188,116,120,697,935,192,696