Health agencies investigating six U.S. cases of CVST and thrombocytopenia post-vaccination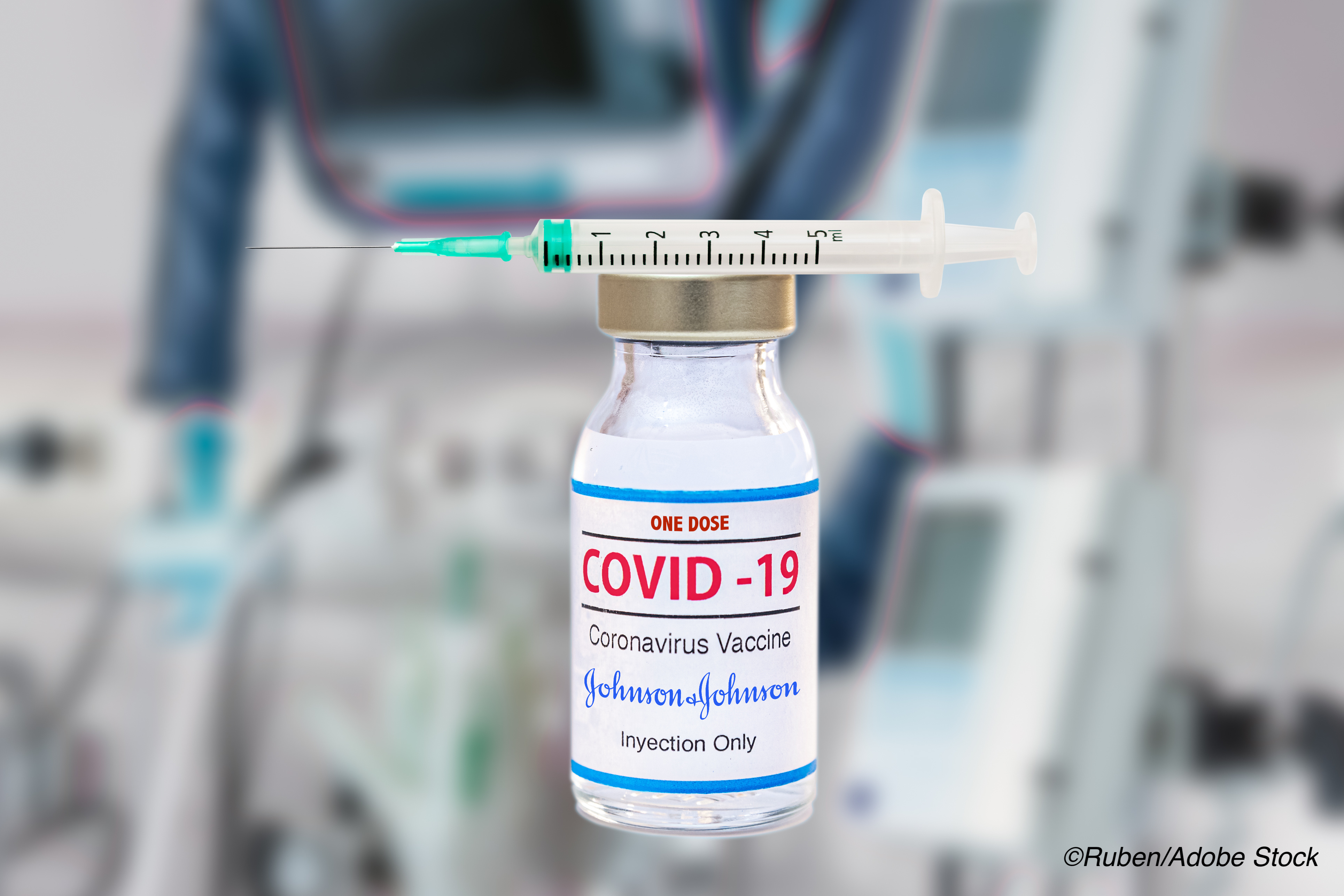 The FDA and CDC recommended a pause in vaccinations with Johnson & Johnson's adenovirus-vectored Covid-19 vaccine, Ad26.COV2.S, due to rare reports of cerebral venous sinus thrombosis (CVST) and thrombocytopenia.
As of April 12, there have been six reported U.S. cases of CVST plus thrombocytopenia among the 6.8 million individuals who have received the shot, Anne Schuchat, MD, Principal Deputy Director of the CDC, and Peter Marks, MD, director of the FDA's Center for Biologics Evaluation and Research, explained in a statement. All six cases occurred in women ages 18-48, and symptoms occurred six to 13 days post-vaccination — and, to date, one patient is in critical condition and one died, Marks noted during a media briefing discussing the recommendation.
"Right now, these adverse events appear to be extremely rare," they wrote. "Covid-19 vaccine safety is a top priority for the federal government, and we take all reports of health problems following Covid-19 vaccination very seriously. People who have received the J&J vaccine who develop severe headache, abdominal pain, leg pain, or shortness of breath within three weeks after vaccination should contact their health care provider."
The FDA and CDC also noted that this is a recommendation, not a mandate — while federal health channels will immediately stop administering AD26.COV2.S, it is up to states to decide whether or not they will follow suit. And, in cases where states continue to allow use of the vaccine, Marks noted that it will be down to individual patients and health care providers to discuss whether the vaccine's benefits outweigh the risk.
The CDC's Advisory Committee on Immunization Practices will convene an emergency meeting on Wednesday, April 13, to discuss next steps "given the current context of the Covid-19 pandemic in the United States and our current broader immunization efforts," Schuchat announced.
Johnson & Johnson announced that it will be delaying the rollout of Ad26.COV2.S in Europe while these cases are under investigation. In a press release, the manufacturer noted that it has been working closely with both U.S. and European health authorities, and it "strongly support[s] the open communication of this information to healthcare professionals and the public."
Marks pointed out that, while cases of CVST or thrombocytopenia alone are not unheard of, the combination bears a striking resemblance to cases seen in Europe following immunization with AstraZeneca's own adenovirus-vectored Covid-19 vaccine, AZD1222 — the European Medicines Agency issued a statement linking the vaccine to rare cases of CVST, splanchnic vein thrombosis, and thrombocytopenia less than one week ago. Marks noted the similarity during the media briefing, and while he hesitated to call these adverse events a "class effect" of the adenovirus-vectored Covid-19 vaccine, he acknowledged that it is a possibility.
A pair of analyses published in The New England Journal of Medicine found that the rare blood clotting cases associated with the AZD1222 vaccine are clinically similar to autoimmune heparin-induced thrombocytopenia, an immune-mediated adverse event in which antibodies activate platelets in the presence of the anticoagulant heparin. The FDA and CDC warned that, in cases of CVST and thrombocytopenia post-vaccination, administration of heparin could prove dangerous and alternative treatments will be necessary.
"We are committed to safety and transparency, and to expeditiously learning as much as we can so that further steps can be taken," Schuchat said during the media briefing. "When we saw this pattern and were aware that treatment needed to be individualized for this condition, it was of the utmost importance for us to get the word out. That said, the pandemic is quite severe, cases are increasing in a lot of places, and vaccination is critical. So, we want to make sure that we make some recommendations as quickly as possible."
As for patients who have already received their shot of Ad26.COV2.S, Schuchat noted that people who received their dose more than a month ago likely do not have anything to worry about. Patients who received the vaccine in the past few weeks, on the other hand, should be on the lookout for severe headaches, abdominal pain, leg pain, or shortness of breath, as these reactions are distinct from typical post-vaccine symptoms that patients encounter in the days immediately following vaccination. Patients who experience any of these adverse events post-vaccination should immediately contact their health provider and seek medical treatment.
John McKenna, Associate Editor, BreakingMED™
Cat ID: 31
Topic ID: 79,31,730,933,31,926,561,927,151,725,928,925,934