VRBPAC talks one dose vs two dose vaccinations down the line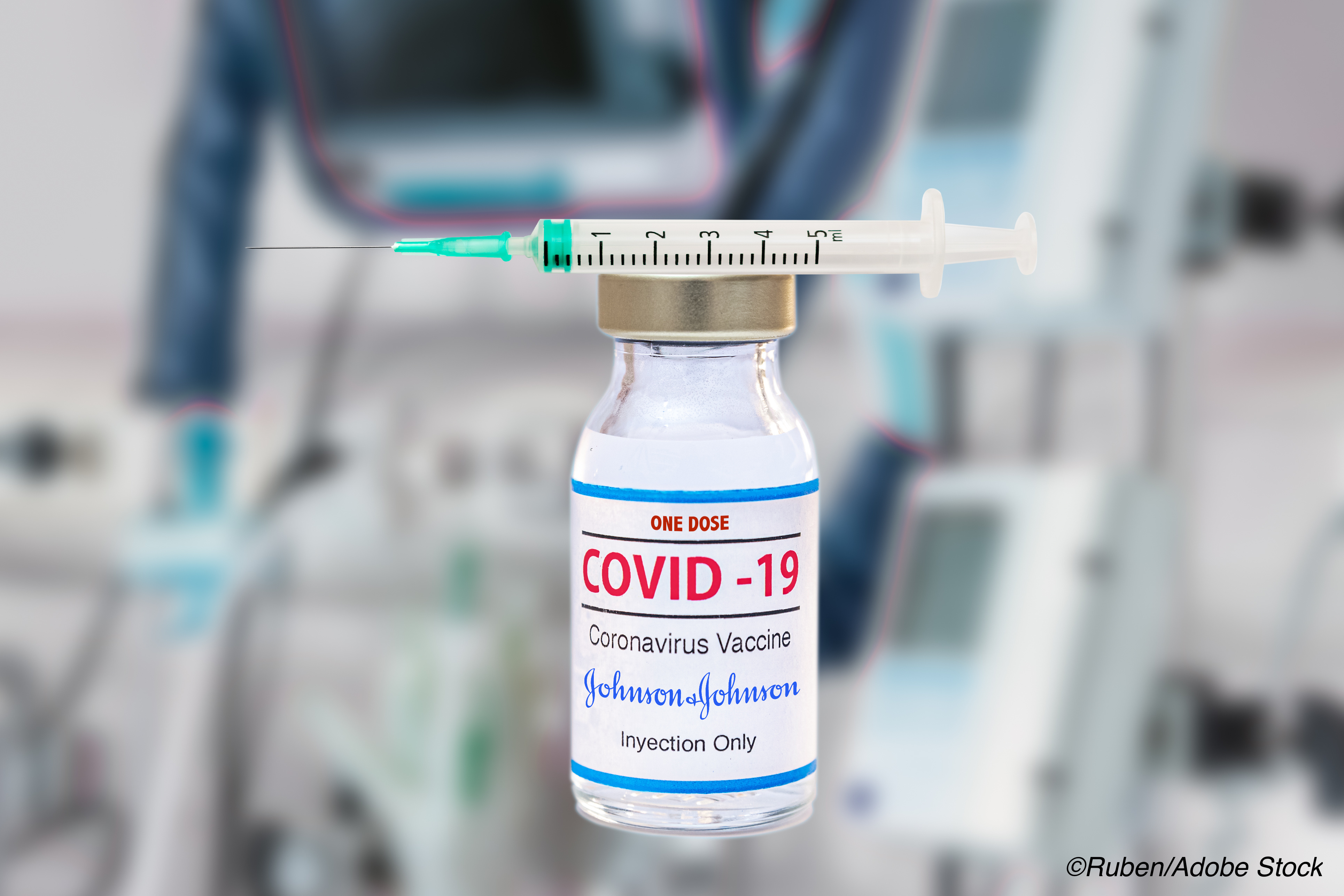 The FDA's Vaccines and Related Biological Products Advisory Committee (VRBPAC) voted unanimously to recommend that the FDA issue an Emergency Use Authorization (EUA) for Johnson & Johnson's adenovirus-vectored Covid-19 vaccine, Ad26.COV2.s.
All 22 voting VRBPAC members voted "yes" to the following question: "Based on the totality of scientific evidence available, the do the benefits of the Janssen Covid-19 vaccine outweigh its risks for use in individuals 18 years of age and older?" This marks the first time an adenovirus-vectored Covid-19 vaccine has gone up to bat for VRBPAC recommendation, with Pfizer and Moderna's mRNA-based vaccines earning authorization at the end of 2020.
Phase III data on the single-shot Ad26.COV2.s vaccine suggested the vaccine is 85% effective against severe Covid-19 globally, with consistent vaccine efficacy against severe disease in all regions tested — the vaccine demonstrated 72% efficacy against moderate to severe/critical Covid-19 in the U.S. and 66% efficacy across all countries, as well as 100% efficacy in preventing hospitalization and death, according to an FDA report released Wednesday.
Whether or not the FDA will issue the EUA for Ad26.COV2.s remains to be seen — the agency is not required to follow VRBPAC's recommendation, but it typically does. As for who will get first dibs on the Johnson & Johnson shot, and when, those questions will be addressed by the CDC's Advisory Committee on Immunization Practices (ACIP) during its Feb. 28-March 1 meeting.
Johnson & Johnson is prepared to begin distribution of 4 million vaccine doses "immediately" upon authorization, with 2 million of these doses going to states and the rest going to pharmacies and community health centers, according to White House Covid coordinator Jeff Zients — the manufacturer expects to have 20 million vaccine doses available by the end of March.
Asked Feb. 22 about their plan for distributing the Johnson & Johnson vaccine, White House officials said they would wait to see what the FDA and CDC recommend, according to CNN.
"I think we're going to wait on that until after the FDA does its work and then after the ACIP does its work, all consistent with our philosophy of letting the science go first," Andy Slavitt, senior adviser of the White House coronavirus response, said during a press briefing. "Once we understand what the scientific community has to say, we will then be in a position to answer, I think, the very relevant questions that we need scientists' advice on. And again, this is the President's directive to let science lead, and then we will rapidly follow that up with a strategy, both distribution and targeting and otherwise, that reflects that."
Will One Dose Cut It?
Public commenters noted that, given that the efficacy of one Johnson & Johnson dose is similar to the efficacy of single doses of the Moderna and Pfizer vaccines, one-dose vaccinations might be the way to go to most quickly get the Covid-19 pandemic under control.
However, Johan Van Hoof, MD, and fellow representatives from Janssen, also noted that the manufacturer is planning to evaluate the efficacy of a two-dose regimen for the Ad26.COV2.s vaccine, which could potentially lead to even better immunity.
Van Hoff explained that Johnson & Johnson issued the EUA for a single dose vaccine course due to the benefits of a one-shot vaccine option given the ongoing Covid-19 pandemic, noting that WHO has stated that a one-dose regimen would be the ideal strategy to get people immunized as quickly as possible. But Eric Rubin, MD, PhD, Editor-in-Chief of The New England Journal of Medicine, said that the question of whether two doses are better than one may cause confusion among individuals who are still awaiting vaccination. "There is an ongoing study with two doses," he said. "If that proves to be surperior, what do we do? Because we have a vaccine now that has good efficacy [but] everyone is going to compare to the existing vaccines and say it does not look quite as good."
Acting VRBPAC Chair Arnold Monto, MD, of the University of Michigan School of Public Health, noted that this is really a question for ACIP, but he also agreed that this is an important issue to consider.
Some experts have argued previously that direct comparisons against the Johnson & Johnson vaccine and its mRNA counterparts are not fair, given that the vaccines were not tested against one another. However, if two doses could close this gap, VRBPAC voters argued that an increased number of shots may be warranted.
Marion Gruber, PhD, director of the Office of Vaccines Research and Review at the FDA's Center for Biologics Evaluation and Research, argued that while this is an important topic, it isn't something that needs to be decided here and now.
"What we need to keep in mind… is that, if authorized, this is an emergency use authorization to really mitigate, hopefully, the devastating effects of the current pandemic," she said — and, if two doses are in fact proven to fair better than one, "there is always the provision to amend the emergency use authorization to allow two doses."
Archana Chatterjee, MD, PhD, of Rosalind Franklin University in Chicago, agreed with Gruber. "We are in such a fluid situation that what happens two, four, six months down the road is going to be very difficult for anybody to really say for sure," she said.
Unknowns Remain
Beyond the known reactogenicity of the Ad26.COV2.s vaccine — including reports of injection site pain (48.6%), headache (38.9%), fatigue (38.2%), and myalgia (33.2%) — the FDA noted hypersensitivity reactions in the study cohort that appeared to be related to vaccination. Also, the FDA acknowledged that there were other adverse events in the vaccine group, such as thromboembolic events and tinnitus, for which the vaccine could not be definitively ruled out as a contributing factor.
What's more, as the data now stands, factors such as the duration of immune protection, efficacy against asymptomatic infection or transmission, efficacy against new variant strains, safety in sub-populations such as pregnant or lactating patients, children, or those who are immunocompromised, and potential adverse events that are uncommon or require longer follow-up to be detected are currently unknown. And, while current evidence suggests that Ad26COV2.s carries a low risk to lead to vaccine-enhanced disease, longer follow-up will be necessary to fully evaluate this risk.
To help fill in these data gaps, Johnson & Johnson is planning to conduct studies assessing its vaccine in pregnant women, and active safety and efficacy surveillance studies will be ongoing should the vaccine receive official authorization.
Regarding patients 60 years and older with comorbidities, who saw substantially lower vaccine efficacy according to briefing documents published ahead of the meeting, Stanley Perlman, MD, PhD, professor of pediatrics at the University of Iowa, said,"I worry that people who receive this will feel like they're getting a vaccine that doesn't work as well." Van Hoof argued that the vaccine's ability to keep individuals out of the hospital and prevent deaths goes a long way towards offsetting this disparity.
Van Hoff made a similar point regarding questions of efficacy for different viral strains from around the world — while overall vaccine efficacy was lower in South Africa among patients with the B.1.351 strain, efficacy against severe disease, hospitalization, and death remained strong.
A. Oveta Fuller, PhD, associate professor of microbiology and immunology at the University of Michigan Medical School in Ann Arbor, Michigan, added that the question of whether or not the vaccine can prevent onward transmission will be key for determining its use to curb the Covid-19 pandemic. "In the long run, we really do have to stop infection in order that we don't give the coronavirus the many opportunities to mutate and to actually adapt to get to a best fit for itself," she said. "…Nobody is going to be safe until we're all able to shut down the virus replication."
John McKenna, Associate Editor, BreakingMED™
Cat ID: 151
Topic ID: 88,151,730,933,31,926,192,927,151,725,928,925,934