Focus on Strict Standardized BP Measurements and SBP target of ˂120 mmHg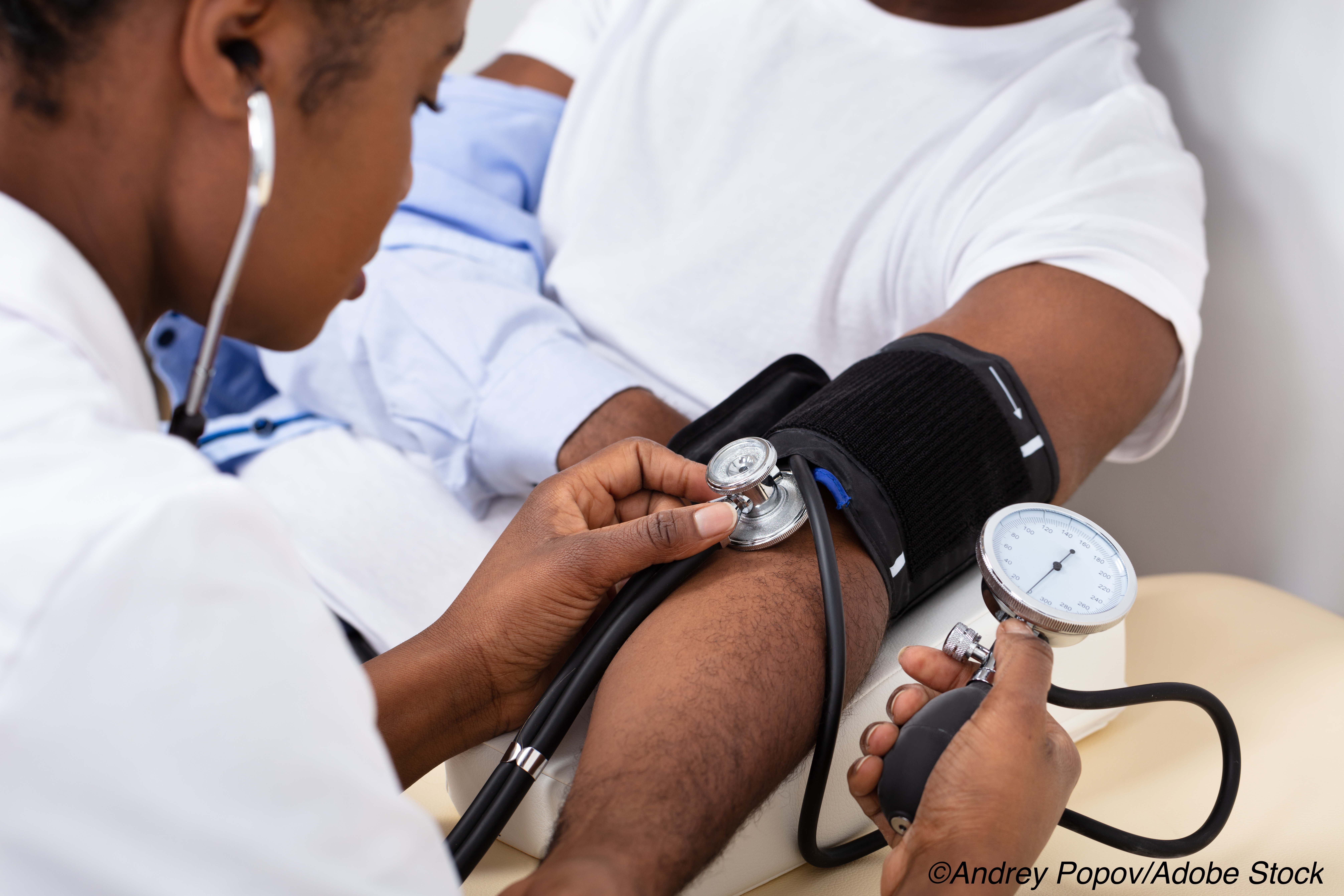 The 2021 update of the Kidney Disease: Improving Global Outcomes (KDIGO) clinical practice guidelines included recommendations that reflect recent findings on the risks and benefits of BP-lowering treatment in patients with chronic kidney disease (CKD) who are not receiving dialysis or who have not had a kidney transplant.
"The 2021 revision of the KDIGO guideline on BP management in patients with CKD not receiving dialysis takes into account both the risk for progression to kidney failure and the risk for cardiovascular events," wrote Charles R.V. Tomson, MA, BM, BCh, DM, of Newcastle upon Tyne Hospitals NHS Foundation Trust, U.K., and colleagues in Annals of Internal Medicine.
They summarized the need for revisiting these guidelines, which were last updated in 2012: "Large-scale, prospective, observational studies have demonstrated a log-linear relationship between usual blood pressure (BP) (down to 115/75 mm Hg) and subsequent risk for stroke, myocardial infarction, heart failure, and other cardiovascular events. Interventions that lower BP result in proportional reductions in these risks. However, the extent to which BP can safely be reduced before compromising organ perfusion has not been defined, and excessive BP reduction might be harmful, particularly in patients with stiff conduit arteries or established occlusive vascular disease."
Key to the update, they noted, is that it "is intended to support shared decision making by health care professionals working with patients with CKD worldwide."
The recommendations focus on areas of practice that are most relevant to general internists, but may prove controversial, noted Tomson et al, because they call for a target SBP of ˂120 mmHg in adults with CKD, and thus differ from other published guidelines, and also call for standardized BP measurements.
The recommendation for standardized BP measurement is strong, and includes the following:
Properly prepare the patient. Of note is the stipulation that "measurements made while the patient is sitting or lying on an examining table do not fulfill these criteria." Rather, patients should be relaxed, sitting in a chair with their feet on the floor and back supported for more than 5 minutes.
Use proper technique for BP measurements, including using a validated and properly calibrated BP measurement device, supporting the patient's arm, with the cuff position in the middle of the patient's upper arm "at the level of the right atrium."
Take the proper measurements needed for diagnosis and treatment of elevated BP. BP should be recorded in both arms, with the higher reading used for subsequent readings. Repeated measurements are to be separated by 1-2 minutes.
Properly document accurate BP readings, including making a note of the time the most recent BP medication was taken before measurements.
Average the readings. The guidelines stress that an average of 2 or more readings be taken on two or more occasions to estimate BP.
Provide BP readings to patients, both verbally and in writing.
Standardized BP measurements differ from routine office BP, noted Tomson and colleagues.
"The Work Group recognized that standardized BP measurements increase the burden to patients, health care providers, and health care facilities. However, this recommendation was rated as strong because obtaining standardized BPs is essential for the implementation of the BP targets developed in trials. The recommendation also places a high value on avoidance of misclassification so as to prevent over—or undertreatment of high BP—an issue that becomes increasingly important when targeting lower BPs," they noted.
Ambulatory and home BP monitoring should be used to complement these measurements, Tomson and colleagues added, as they "facilitate management and detect the masked hypertension that is commonly seen in patients with CKD and is associated with higher risk."
The recommendations for a target systolic BP of ˂120 mmHg are based largely on data from the SPRINT trial, which did not include "all relevant subgroups of the CKD population (patients with diabetes, advanced CKD, or heavy proteinuria) where benefits are less clear," noted George Thomas, MD, and Crystal A. Gadegbeku, MD, both of the Cleveland Clinic's Glickman Urological and Kidney Institute, Cleveland, in an accompanying editorial.
"Unique to the CKD population, close monitoring for acute kidney injury and potassium abnormalities is required because of the hemodynamic effects of intensive BP therapy on glomerular filtration. Further, long-term renoprotection has not been demonstrated. With the existing gaps in evidence, clinicians must weigh risks and benefits based on individual patient characteristics and must use shared decision making when developing treatment strategies. Therefore, the goal of a BP less than 120 mmHg may not be optimal for every patient with CKD," they added.
Tomson et al agreed, noting that the recommendation is conditional, and BP targets should be individualized based on patient preferences, risks, and benefits.
Other recommendations include the following:
Renin-angiotensin system inhibitors (RASIs) for patients with high BP, CKD, and moderately or severely increased albuminuria without diabetes.
Avoiding combinations of angiotensin-converting enzyme inhibitors (ACEI), angiotensin II-receptor blockers (ARBs), and direct renin inhibitor therapy in CKD patients regardless of diabetes status.
A sodium intake of less than 2 g/d in CKD patients with high BP.
Moderate-intensity physical activity for at least 150 minutes per week.
"Patients with CKD constitute one of several high-risk populations that receive proven cardiovascular benefit from more intensive BP therapy. Thus, the potential benefits of all clinicians implementing the KDIGO practice standards are substantial," concluded editorialists Thomas and Gadegbeku. "Overall, although some debate about optimal BP targets will likely continue, the 2021 KDIGO recommendations generally align with many recent recommendations that advocate wide implementation of standardized office BP measurement and treatment that aims to normalize BP. Further research is needed to guide clinical approaches to successfully achieve and maintain the lower BP targets, enhance patient engagement, and develop a health system that facilitates BP management care coordination among internists and nephrologists in patients with CKD."
The latest update of the Kidney Disease: Improving Global Outcomes clinical practice guidelines focuses on recommendations for standardized BP measurement and a target systolic BP of ˂120 mm Hg.

The new recommendations focus on areas of practice most relevant to general internists, and may be controversial because they differ from other published guidelines.
Liz Meszaros, Deputy Managing Editor, BreakingMED™
commercial entities in connection with this work.
Tomson reported no relevant conflicts of interest.
Thomas is a member of KDOQI WORK GROUP for commentary on KDIGO BP Guidelines.
Gadegbeku reports receiving grants or contracts from Akebia, Vertex Inc, Fresenius Kidney Care, and is medical director for Episcopal Hospital, as well as meeting and travel support from the American Society of Nephrology Council. She has also participated on a data safety monitoring or advisory board for NIDDK, Bristol-Myers-Squibb, Duke Clinical Research advisory board for the RENAL-AF study; and held a leadership or fiduciary role for the American Society of Nephrology Councilor.
Cat ID: 127
Topic ID: 81,127,730,6,127,410,192,916,925