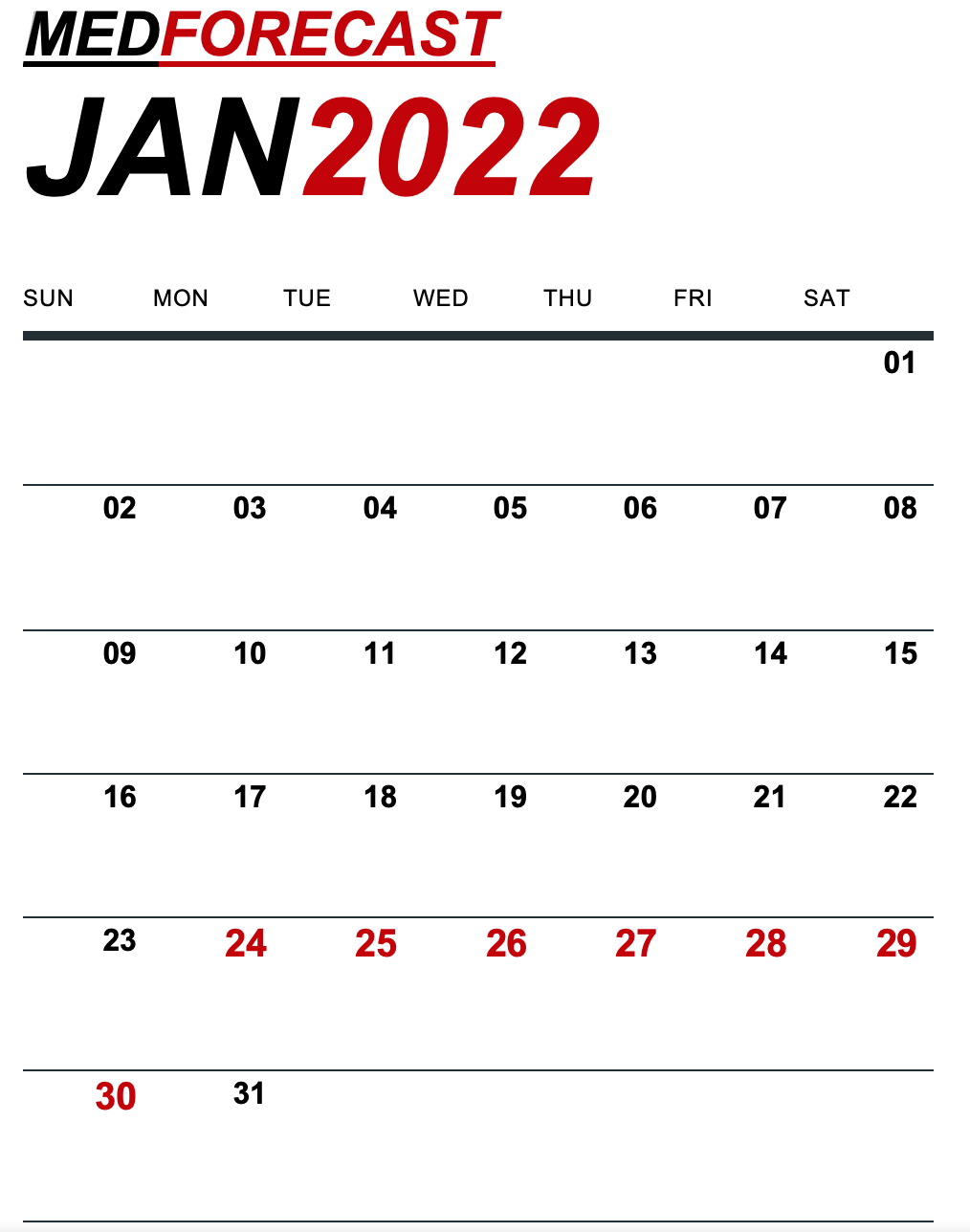 Lynne Peterson is the Senior Writer for Trends-in-Medicine.
Here is the medical news to watch for Jan. 24-30, 2022.
Dermatology: The hybrid Maui Derm for Dermatologists meeting will take place Jan. 24-28 in Maui, Hawaii, and virtually. Among the data to watch: Additional data from the phase IIb trial of Connect Biopharma's CBP-201, an anti-IL-4Rα in atopic dermatitis.
Neurology: The FDA is expected to make a decision by Jan. 29 on Eton Pharmaceuticals and Azurity Pharmaceuticals' zonisamide oral suspension to treat partial seizures in epilepsy patients. Remember, the FDA rejected this drug last year, issuing a complete response letter, reportedly due to problems arranging the inspection of the manufacturing site. An inspection is scheduled next week, but the FDA decision could be delayed.
Oncology: The FDA is expected to make a decision by Jan. 30 on expanded approval for Regeneron Pharmaceuticals and Sanofi's Libtayo (cemiplimab), a PD-1 inhibitor, to treat advanced cervical cancer.
Ophthalmology: The FDA is expected to make a decision by Jan. 29 on Roche's faricimab (RG-7716), a VEGF-A/Ang2 bispecific antibody, to treat wet age-related macular degeneration (AMD) and diabetic macular edema (DME).
Radiology: The Society of Nuclear Medicine and Molecular Imaging (SNMMI) Mid-Winter meeting has been changed to all virtual and the dates adjusted to Jan. 25-27. There will be three tracks: a cardiovascular nuclear medicine track, an annual meeting track with cutting edge educational content and oral presentations, and a general nuclear medicine track with sessions on the latest clinical applications and best practices in precision medicine.
Regulatory
The FDA and the Duke-Margolis Center for Health Policy will jointly host a virtual public workshop on Jan. 24-25 on endpoint considerations to facilitate drug development to treat Neimann-Pick Type C.
On Jan. 25 the FDA will host a webinar on the science, studies, and resources relating to biosimilars.
On Jan. 27 the FDA will host a webcast on the FDA's regulatory approach to Identification of Medicinal Products (IDMP), with a focus on biologics.
Risk management: The DIA Global Pharmacovigilance and Risk Management Strategies Conference will take place virtually Jan. 24-26. This meeting focuses on approaches, processes, and tools to ensure the availability of effective labeling content that meets the needs of patients, consumers, and prescribers. It is a collaborative forum aimed at analyzing current challenges for safety in pharmacovigilance and examining effective strategies for addressing gaps and needs.
Thoracic surgery: The Society of Thoracic Surgeons (STS) meeting will take place virtually with a slight adjustment in the dates to just Jan. 29 and 30, but there will still be the latest ground-breaking research, thought-provoking plenaries, and industry symposia.
Disclosure:
by
John McKenna, Contributing Writer, Senior Writer for Trends-in-Medicine
Kaiser Health News
Kaiser Health News is a nonprofit news service covering health issues. It is an editorially independent program of the Kaiser Family Foundation, which is not affiliated with Kaiser Permanente.