See this week's virtual meeting line-up: ENDO, Dermatology, Diabetes, and more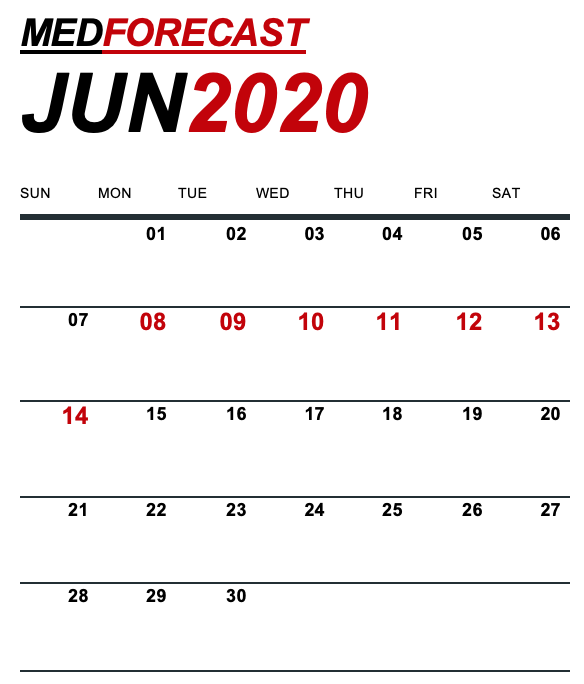 Lynne Peterson is the Senior Writer for Trends-in-Medicine.
Here is the medical news to watch for June 8-14, 2020. Be careful and be safe. Don't take chances.
Dermatology: The American Academy of Dermatology (AAD) virtual meeting will take place June 12-14. Among the data to be presented:
The results of Part B of a phase II trial of a BTK inhibitor (Principia Biopharma's rilzabrutinib, PRN-1008) in pemphigus.
The pivotal results of the phase III BE VIVID and BE READY trials of an IL-17A/17F inhibitor (UCB's bimekizumab) versus placebo and versus an anti-IL-12/23 (ustekinumab, Johnson & Johnson's Stelara) in moderate-to-severe plaque psoriasis.
Diabetes: The American Diabetes Association (ADA) Scientific Sessions will be virtual on June 12-16. Among the data to be presented:
Interim phase II data on an oral insulin (Oramed Pharmaceuticals' ORMD-0801) in non-alcoholic steatohepatitis (NASH).
Phase I/II data on a glucokinase activator (VTV Therapeutics' TTP-399) as an adjunctive therapy in type 1 diabetes.
Endocrinology: The annual meeting of the Endocrine Society has been turned into a virtual meeting, ENDO Online 2020, taking place over 15 days (June 8-22). There will be a mixture of on-demand and live programs that will present the latest information in endocrinology. Registration is free to everyone. The first day will include live sessions on Covid-19 in endocrinology as well as the results of a phase III trial of long-acting human growth hormone (OPKO Health's Somatrogon, hGH-CTP) for pediatric growth hormone deficiency.
Hematology: The European Hematology Association (EHA) is holding an 11-day virtual meeting June 11-21. Among the data to be presented:
The results of the Northstar-3 trial of a gene therapy (bluebird bio's LentiGlobin, betibeglogene autotemcel) in patients with transfusion-dependent β-thalassemia and a β0/β0 or IVS-I-110 mutation.
Additional results from a phase III trial of a C5 complement inhibitor (Akari Therapeutics' nomacopan, formerly Coversin) to treat paroxysmal nocturnal hemoglobinuria (PNH).
Data on a PDGFRA/KIT inhibitor (Blueprint Medicines' Ayvakit, avapritinib) in advanced systemic mastocytosis.
Updated data on an anti-CD19 (MorphoSys' tafasitamab, MOR-208) in relapsed/refractory diffuse large B-cell lymphoma (DLBCL) and in chronic lymphocytic leukemia (CLL).
Phase I/II results of a CRISPR gene-edited therapy (CRISPR Therapeutics and Vertex Pharmaceuticals' CTX-001) for sickle cell disease.
Details of the phase III results of an anti-CD38 (Sanofi's Sarclisa, isatuximab-irfc, SAR-650984) to treat refractory multiple myeloma.
The results of a phase II open-label extension study of a first-in-class CXCR4 inhibitor (X4 Pharmaceuticals' mavorixafor) in WHIM syndrome, a rare primary immunodeficiency disorder.
Nephrology: The European Renal Association/European Dialysis and Transplant Association (ERA-EDTA) virtual meeting is continuing through June 9.
Neurology: A virtual meeting of the American Headache Society (AHS) — a condensed version of the meeting — will launch on June 13. Presentations will be pre-recorded and can be accessed on demand.
Ophthalmology: The FDA is expected to make a decision by June 11 on an anti-CD19 — Viela Bio's inebilizumab — as a first-line monotherapy for neuromyelitis optica spectrum disorder (NMOSD).
Regulatory: The FDA is holding a webcast on June 11 on its One Health Initiative, which embraces a multisectoral and transdisciplinary approach to solving health problems by recognizing the interconnection between humans, animals, and their shared environment. The FDA wants to explain the mission and goals of this program, outline recent One Health Initiative activities, and why a One Heath approach is the new norm for pandemics.
Reproductive medicine: The European Society of Human Genetics (ESHG) virtual meeting is continuing through June 9.
Lynne Peterson, Contributing Writer, Senior Writer for Trends-in-Medicine
Cat ID: 150
Topic ID: 88,150,10,107,12,533,118,466,468,127,295,150,151,418,725,240