AHA meeting continues; Headache Symposium convenes; Watch for a regulatory palooza and more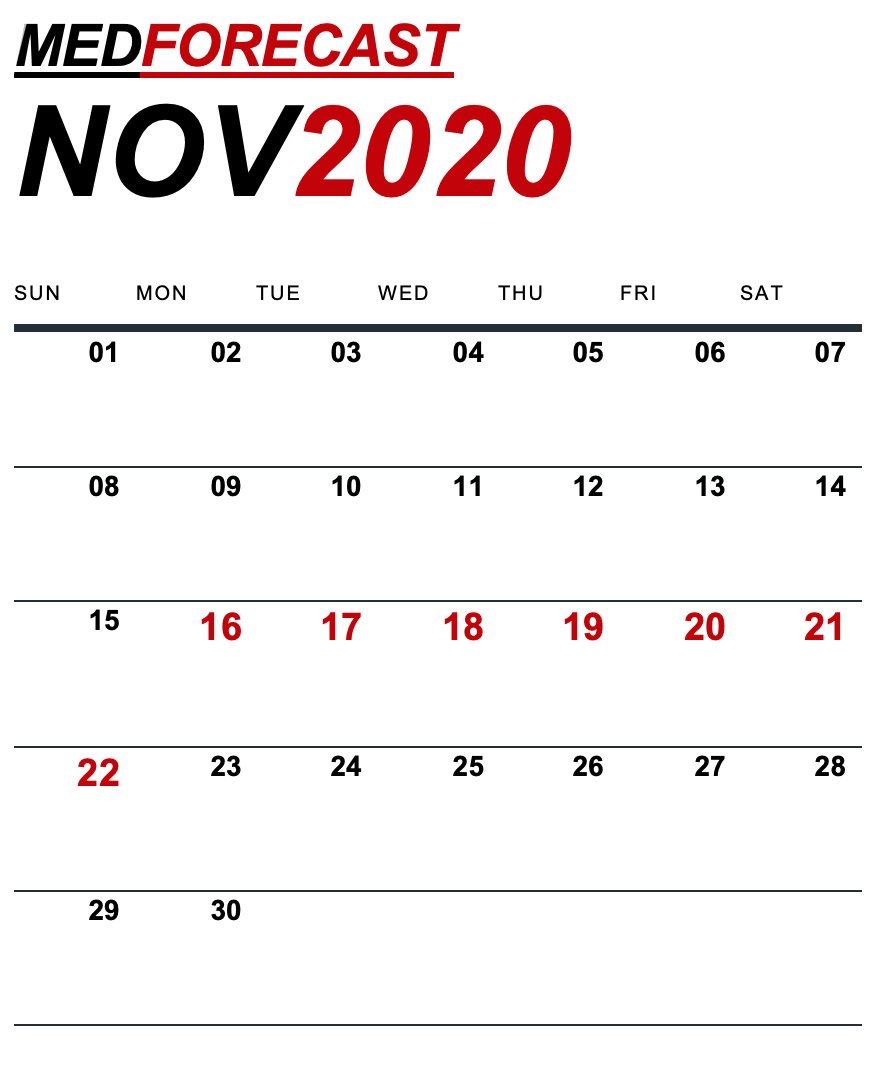 Lynne Peterson is the Senior Writer for Trends-in-Medicine.
Here is the medical news to watch for Nov. 16-22, 2020. A number of medical conferences are wrapping up at the beginning of the week, but FDA events will dominate all week.
Cardiology — The American Heart Association (AHA) virtual meeting is continuing through Nov. 17. Among the keynote topics on the last two days will be:
Several late-breaking studies in atrial fibrillation.
The FIDELIO cardiovascular outcomes trial of a mineralocorticoid receptor antagonist (MRA), Bayer's finerenone (BAY-94-8862).
The results of the Phase III RHAPSODY trial of an IL-1α/β inhibitor in pericarditis (Kiniksa Pharmaceuticals' rilonacept). And the results with another SGLT1/2 inhibitor (sotagliflozin, Lexicon Pharmaceuticals' Zynquista) in Type 2 diabetes patients with worsening heart failure (the SOLOIST-WHF trial) and with chronic kidney disease (the SCORED trial), studies on Covid-19 and cardiovascular patients, and much more.
Hepatology — The last day of the American Association for the Study of Liver Diseases (AASLD) virtual meeting (TLMdX) is Nov. 16, and the news that day will include live sessions (with no replay) on:
Research in acute and chronic liver failure.
Hepatobiliary cancer.
Basic and translational discoveries.
Non-alcoholic steatohepatitis (NASH) and non-alcoholic fatty liver disease (NAFLD).
Eliminating viral hepatitis in the U.S.
Late-breaking abstracts.
Neurology – The American Headache Society (AHS)'s Scottsdale Headache Symposium will take place Nov. 21. The meeting promises the practical, clinical, evidence-based information on the diagnosis, management, and treatment of headache patients.
Oncology
Rare diseases – The FDA is expected to make a decision by Nov. 20 on a treatment for progeria and progeroid laminopathies, Eiger BioPharmaceuticals' Zokinvy (lonafarnib), a farnesyltransferase inhibitor.
Regulatory
Lynne Peterson, Contributing Writer, Senior Writer for Trends-in-Medicine
Cat ID: 232
Topic ID: 74,232,730,232,914,111,935,130,295,192,725,925