Late-breakers to be presented at TCT; Fauci to address FMX; and more virtual meetings, regulatory decisions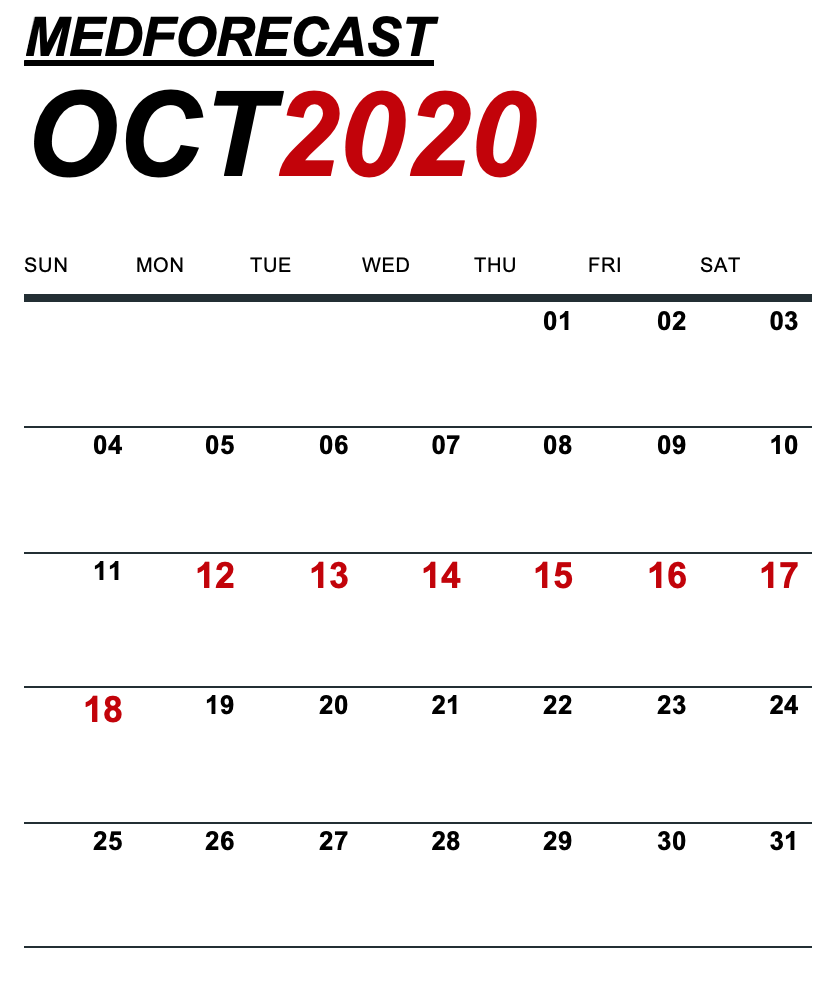 Lynne Peterson is the Senior Writer for Trends-in-Medicine.
Here is the medical news to watch for Oct. 12-18, 2020.
Cardiology: The Transcatheter Cardiovascular Therapeutics (TCT) meeting is taking place virtually Oct. 14-18. Among the many late-breaking trials will be:
PROSPECT ABSORB trial of interventional treatment of vulnerable plaque.
North American Covid-19 STEMI Registry results.
SCOPE-II, a head-to-head trial comparing two transcatheter aortic valve replacements (TAVRs) – Symetis' Acurate neo and Medtronic's CoreValve Evolut R.
SOLVE-TAVI, another head-to-head trial comparing 2 TAVRs – Medtronic's Evolut R and Edwards Lifesciences' Sapien 3.
MitraBridge – a study of Abbott's MitraClip as bridge therapy to heart transplantation.
Drug safety: The virtual World Drug Safety Congress Europe will take place Oct. 14-16. More than 100 speakers, including senior representatives from pharmaceutical companies and biotechs and payors from around the world, will share their insights and knowledge.
Family medicine: The Family Medicine Experience (FMX) will take place virtually Oct. 13-17. Among the topics will be talks on what to expect after the presidential election, debunking celebrity health myths, advancing health equity — and a guest lecture by Anthony Fauci, MD, director of the National Institute of Allergy and Infectious Diseases (NIAID).
Gastroenterology: The virtual United European Gastroenterology UEG Week is continually through Oct. 13. The latest findings in gastroenterology from across the globe will be presented. There will be a major emphasis on innovative, technical advances in the non-invasive management of gastrointestinal and hepatic disorders and translational/basic science.
Infectious diseases: The Asia-Pacific HIV Clinical Forum: Optimizing Treatment is taking place virtually Oct. 12-13, just prior to the virtual Asia-Pacific AIDS & Co-Infections Conference (APACC) 2020 on Oct. 15-17.
Oncology: The International Society of Paediatric Oncology (SIOP) virtual meeting will take place Oct. 14-17. Expect cutting-edge science, debates, and live interactions with experts about advances in pediatric oncology.
Plastic surgery: The American Society of Plastic Surgeons: Plastic Surgery The Meeting is taking place virtually Oct. 16-18. It is a great meeting for sharing expertise from around the world. There will also be special sessions on rhinoplasty and migraine surgery.
Psychiatry: The American Society of Clinical Psychopharmacology (ASCP) fall meeting will take place virtually Oct. 17-18. It is an opportunity to discover new developments in psychopharmacology, to improve the assessment of patients in need of psychopharmacologic intervention, and proper administration of state-of-the-art treatment.
Regulatory
Antibiotics: The FDA is hosting a two-day virtual public meeting on Oct. 13-14 to discuss the progress of the National Antimicrobial Resistance Monitoring System since 2017.
Cardiology: The FDA is hosting a two-day virtual public meeting on Oct. 15-16 on new regulatory approaches for an integrated non-clinical/clinical QT/proarrhythmic risk assessment in drug development.
Device safety: The FDA, in collaboration with Duke University, will hold a virtual public workshop on Oct. 14 to share recent developments with the Sentinel Initiative, provide system training, and promote use of the system.
Radiology: The FDA and the Nuclear Regulatory Commission (NRC) are holding a public workshop on Oct. 14 on enhancing development of novel technologies, focused on radiopharmaceutical and radiological devices.
Systemic sclerosis: The FDA is hosting a virtual public meeting on Oct. 13 on patient-focused drug development for systemic sclerosis. The Agency is looking for the patient perspective on the impact of the disorder on daily life and patient views on treatment approaches.
Lynne Peterson, Contributing Writer, Senior Writer for Trends-in-Medicine
Cat ID: 192
Topic ID: 86,192,223,188,935,190,192,146,150,418,725,925,96