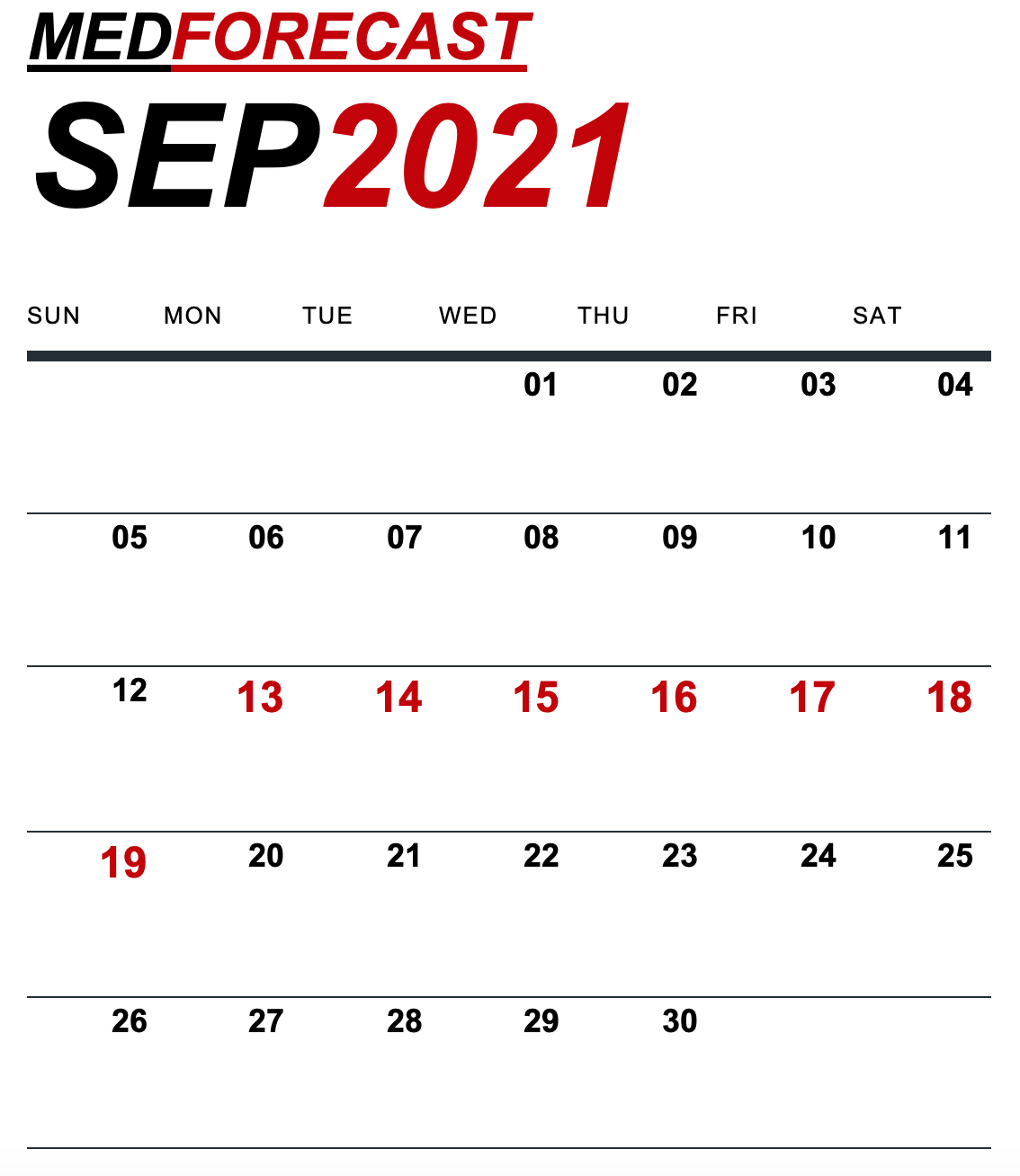 Lynne Peterson is the Senior Writer for Trends-in-Medicine
Here is the medical news to watch for Sept. 13-19, 2021.
Cardiology—The hybrid Heart Failure Society of America (HFSA) meeting will wind up on Sept. 13.
Covid-19—The FDA's Vaccines and Related Biological Products Advisory Committee will meet on Sept. 17 to discuss the need for booster shots (third doses) with Pfizer/BioNTech's Comirnaty (BNT-162b2), a Covid-19 vaccine. The panel is not scheduled to consider boosters for the other Covid-19 vaccines at this meeting. Even if the AdCom recommends boosters, the FDA still has to make a final decision, and then the Advisory Committee for Immunization Practices (ACIP) of the Centers for Disease Control and Prevention (CDC) will need to meet and consider the issue. However, it is possible all of this could be done before September 20, the date the Biden administration set for booster doses to begin.
Gene therapy—The Gene Therapy for Metabolic Disorders conference will take place virtually Sept. 14-16. Speakers from the FDA, academia, and companies involved in gene therapy research will discuss challenges, solutions, biomarkers, trial endpoints, animal models, clinical applications, and more.
Nephrology—The FDA is expected to make a decision by Sept. 15 on a treatment for IgA nephropathy, Calliditas Therapeutics' Nefecon, to help stabilize eGFR and reduce proteinuria.
Neurology—The International Parkinson and Movement Disorder Society meeting will take place virtually September 17-22. There will be the latest news in Parkinson's disease, atypical Parkinsonism, rare movement disorders, Huntington's disease, genetics, imaging, and much more.
Oncology
The European Society for Medical Oncology (ESMO) meeting will take place virtually Sept. 16-21. Among the data to be presented, to mention just a few, are:
CAPTURE trial looking at Covid-19 vaccination in cancer patients.
Overall survival in de novo metastatic castration-sensitive prostate cancer from the PEACE-1 trial of Johnson & Johnson/Janssen's Zytiga (abiraterone).
A number of phase III trials of immunotherapy, including:

CheckMate-649 trial of Bristol-Myers Squibb's Opdivo (nivolumab), a PD-1 inhibitor, in advanced gastric/GE junction/esophageal adenocarcinoma.
DESTINY-Breast03 trial of AstraZeneca and Daiichi Sankyo's Enhertu (trastuzumab deruxtecan), an antibody drug conjugate (ADC), in HER2+ metastatic breast cancer.
IMpower010 trial of Roche's Tecentriq (atezolizumab) vs. best supportive care after adjuvant chemotherapy in resected stage IB-IIIA non-small cell lung cancer (NSCLC). ESMO President Solange Peters, MD, PhD, said this may be the most practice-changing trial presented at the meeting.
JUPITER-06 trial of Coherus BioSciences' toripalimab, an anti-PD-1, in first-line esophageal squamous cell carcinoma.
Merck MSD's Keytruda (pembrolizumab), a PD-1 inhibitor, in the KEYNOTE-826 trial in metastatic cervical cancer and the KEYNOTE-716 trial in resected high-risk stage II melanoma.
KRYSTAL-1 trial of Mirati Therapeutics' adagrasib, a KRASG12C inhibitor, in KRASG12C-mutated colorectal cancer (CRC).
The phase II/III MAHOGANY trial of MacroGenics' Margenza (margetuximab-cmkb), a HER2/neu receptor antagonist, plus MacroGenics' retifanlimab (MGA-012), a PD-1 inhibitor, with/without chemotherapy in first-line unresectable metastatic/locally advanced gastroesophageal junction adenocarcinoma.
The International Association for the Study of Lung Cancer (IASLC) World Conference on Lung Cancer will continue virtually through Sept. 14.
The International Workshop on CLL biennial conference will take place virtually Sept. 17-20. This is everything related to chronic lymphocytic leukemia, from pathogenesis to treatment, supportive care, and the future. Among the data to watch are the results of a Phase I/II trial of TG Therapeutics' Ukoniq (umbralisib), a PI3Kδ/CK1ε inhibitor + Merck MSD's Keytruda (pembrolizumab) + TG Therapeutics' ublituximab (TG-1101), an anti-CD20.
Ophthalmology—The FDA is expected to make a decision by Sept. 17 on Biogen and Samsung Bioepis' SB-11 (ranibizumab)—a biosimilar of Roche's Lucentis, an anti-VEGF—to treat retinal disorders, including age-related macular degeneration (AMD), diabetic macular edema, and diabetic retinopathy.
Pediatric—The FDA's Pediatric Advisory Committee will meet virtually on Sept. 17 to review the humanitarian device exemption (HDE) granted in 2017 for Cook Medical's Flourish Pediatric Esophageal Atresia device, which allows babies born with a birth defect of the esophagus to eat normally.
Regulatory
The Medical Affairs Strategic Summit (MASS) will take place Sept. 13-15 in person in New Brunswick NJ. The meeting is a forum for medical affairs executives and professionals to share best practices, strategic insights, and collaborate to advance communication techniques, build-out medical affairs organizations, prepare for launches, and discover new technologies to track progress and keep patients engaged.
The FDA and PHUSE are hosting a 3-day virtual computational science symposium on Sept. 13-15 for physicians, biostatisticians, epidemiologists, pharmacologists, data/computer scientists on bioinformatics, tools, solutions, and best practices.
On Sept. 16 the FDA's Oncology Center of Excellence is hosting another in its series of webcast conversations, this time on "The Future of Childhood Cancer Drug Development."
The FDA will hold a virtual public workshop on Sept. 17 on the Agency's review of spinal devices. It's an educational session, not a policy-making session. Topics will include non-clinical performance testing, major types of clinical evidence, study populations, strategies to enhance diversity in spinal device clinical trials, patient assessments, and methods for evaluating spinal device safety and effectiveness.
Urology – The American Urological Association (AUA) virtual meeting will wind up on Sept. 13.
Lynne Peterson, Contributing Writer, Senior Writer for Trends-in-Medicine
Cat ID: 696
Topic ID: 98,696,497,730,914,120,22,697,190,926,127,130,138,590,725,240,696