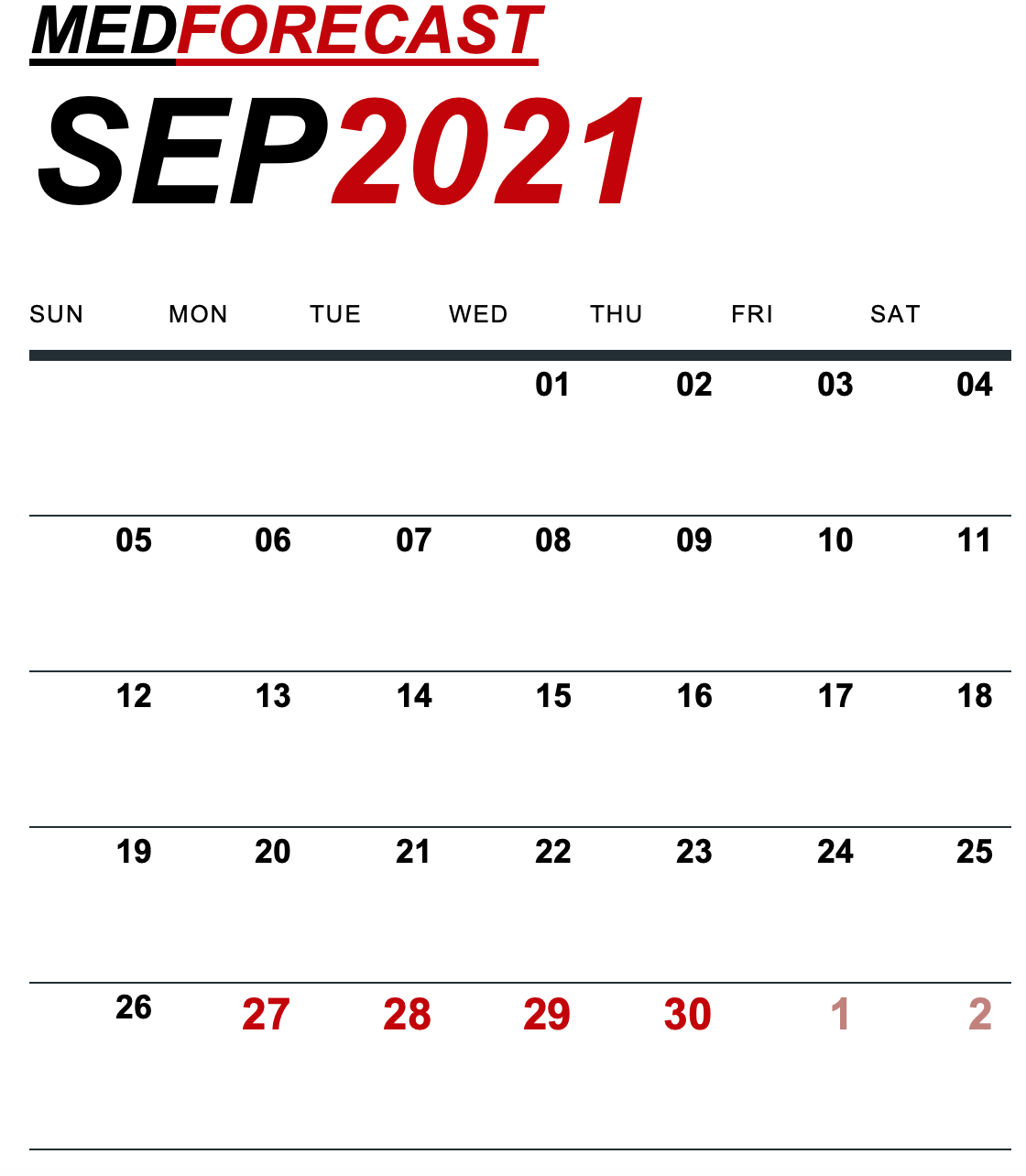 Lynne Peterson is the Senior Writer for Trends-in-Medicine.
Here is the medical news to watch for Sept. 27-Oct. 3, 2021.
Dermatology—The European Academy of Dermatology and Venereology (EADV) meeting will take place virtually Sept. 29-Oct. 2. Among the data to watch are:
Late-breaking data from a phase II study of AMG-451/KHK-4083, a potential first-in-class anti-OX40 monoclonal antibody jointly being developed by Amgen and Kyowa Kirin to treat moderate-to-severe atopic dermatitis.
New 32-week outcomes data from the phase III ADVANCE trial investigating the efficacy and safety of Amgen's Otezla (apremilast), a PDE4 inhibitor, to improve symptoms and involvement in special areas (scalp or nails) in adults with mild-to-moderate plaque psoriasis.
Two studies of Sanofi and Regeneron Pharmaceuticals' Dupixent (dupilumab), an anti-IL-4/13, in adults with moderate-to-severe atopic dermatitis – an open-label extension of the LIBERTY-AD OLE trial and Week 16 results of the LIBERTY-AD SOLO-CONTINUE trial.
Phase Ib safety and efficacy data for RAPT Therapeutics' RPT-193, an oral CCR4 inhibitor, in moderate-to-severe atopic dermatitis.
Endocrinology
The virtual European Association for the Study of Diabetes (EASD) meeting will take place Sept. 27-Oct. 1. This comprehensive diabetes meeting has something for everyone. Among the interesting sessions: the future of incretin-based treatments, cerebral small vessel disease, more on SGLT2 inhibitors, guidelines update, treatment of obesity, and much, much more.
The hybrid American Society for Bone and Mineral Research (ASBMR) meeting will take place in San Diego (for those vaccinated) and virtually Oct. 1-4.
Endovascular—The hybrid VEINS and VIVA meeting will start Oct. 3 in Las Vegas (but you have to have been fully vaccinated by Sept. 19 to attend). You'll find everything you need relating to chronic limb ischemia and much more, including 16 late-breaking data presentations.
ENT—The hybrid American Academy of Otolaryngology–Head and Neck Surgery (AAO-HNS) starts on Oct. 3 in Los Angeles (for those fully vaccinated) and virtually. Among the sessions of interest are: chronic cough in children, immunotherapy 101, cochlear implants in children age <12 months, prognostic indicators for hypoglossal nerve stimulation, and more.
Gastroenterology—The virtual United European Gastroenterology (UEG) Week starts on Oct. 3.
Infectious diseases
The FDA's Vaccines and Related Biological Products Advisory Committee will meet virtually on Sept. 30 to review a number of research programs and to discuss strains to be included in the influenza vaccine for the 2021/2022 southern hemisphere.
Infectious Diseases Week (IDWeek) will take place virtually Sept. 29-Oct. 3. Among the data to watch:
Microbiology—The virtual Confocal Raman Imaging Symposium will take place Sept. 27-Oct. 1. If you use – or are considering use of—a Raman spectroscope or microscope, this is the meeting for you. There will be practical tips on using the devices, the latest research, and three categories of posters – advanced materials analysis, environmental and geo science, and life sciences, biomedical, and pharma research. You will also be able to see Raman microscopes in action.
Neurology
The hybrid Child Neurology Society (CNS) will take place in Boston and virtually Sept. 29-Oct. 2. This means there are two hybrid meetings going on in Boston at the same time!
The virtual World Congress of Neurology starts Oct. 3.
Oncology
The FDA is expected to make a decision by October 1 on expanded approval for Gilead Sciences/Kite Pharma's Tecartus (brexucabtagene autoleucel), a CAR T cell therapy, to treat acute lymphoblastic leukemia (ALL).
The Society for Immunotherapy of Cancer (SITC) is sponsoring two virtual workshops:
Ophthalmology
The International Symposium on Retinal Degeneration (RD2021) on Sept. 28-Oct. 1 will be hybrid (in Nashville and virtually), but you will needed to be fully Covid-19 vaccinated no later than Sept. 12 to attend. Among the data to watch:

– The results of the BRILLIANCE trial of a gene-editing product, delivered subretinally—Allergan and Editas Medicine's AGN-151587 (EDIT-101)—in Leber congenital amaurosis type 10 (LCA10).
– Updated phase I/IIa data for a retinal pigment epithelium cell replacement therapy, Lineage Cell Therapeutics'
OpRegen, in dry age-related macular degeneration (AMD)
The Retina Society annual scientific meeting will take place live only (vaccination required) Sept. 29-Oct. 2 in Chicago. Look for initial data from the AAVIATE trial of REGENXBIO's RGX-314, a one-time subretinal gene therapy for wet AMD.
Orthopedics—The hybrid North American Spine Society (NASS) meeting will take place Sept. 29-Oct. 2 in Boston (if you are either vaccinated or have a negative Covid-19 test) and virtually. The hope is for a "return to normal" meeting – with live speakers, everything new in spine, updates in coding, more than 270 exhibitors, networking events, and more.
Primary care—The American Academy of Family Physicians (AAFP) annual meeting, FMX, will take place virtually Sept. 28-Oct. 2. It's an opportunity to earn continuing medical education, hear from thought leaders, share tips with colleagues. With just 2 exceptions (an author and a CBS News medical correspondent), the featured speakers are all AAFP members, and none are leaders from other medical fields sharing their expertise. No press coverage of this meeting is allowed.
Rare diseases—The FDA is expected to make a decision by Sept. 29 on an oral ASBT inhibitor (Mirum Pharmaceuticals' maralixibat) to treat Alagille syndrome (ALGS), a genetic disorder that can affect the liver, heart, and other parts of the body.
Regulatory
Lynn Peterson, Senior Writer for Trends-in-Medicine
Cat ID: 925
Topic ID: 915,925,730,192,925