New therapies extend survival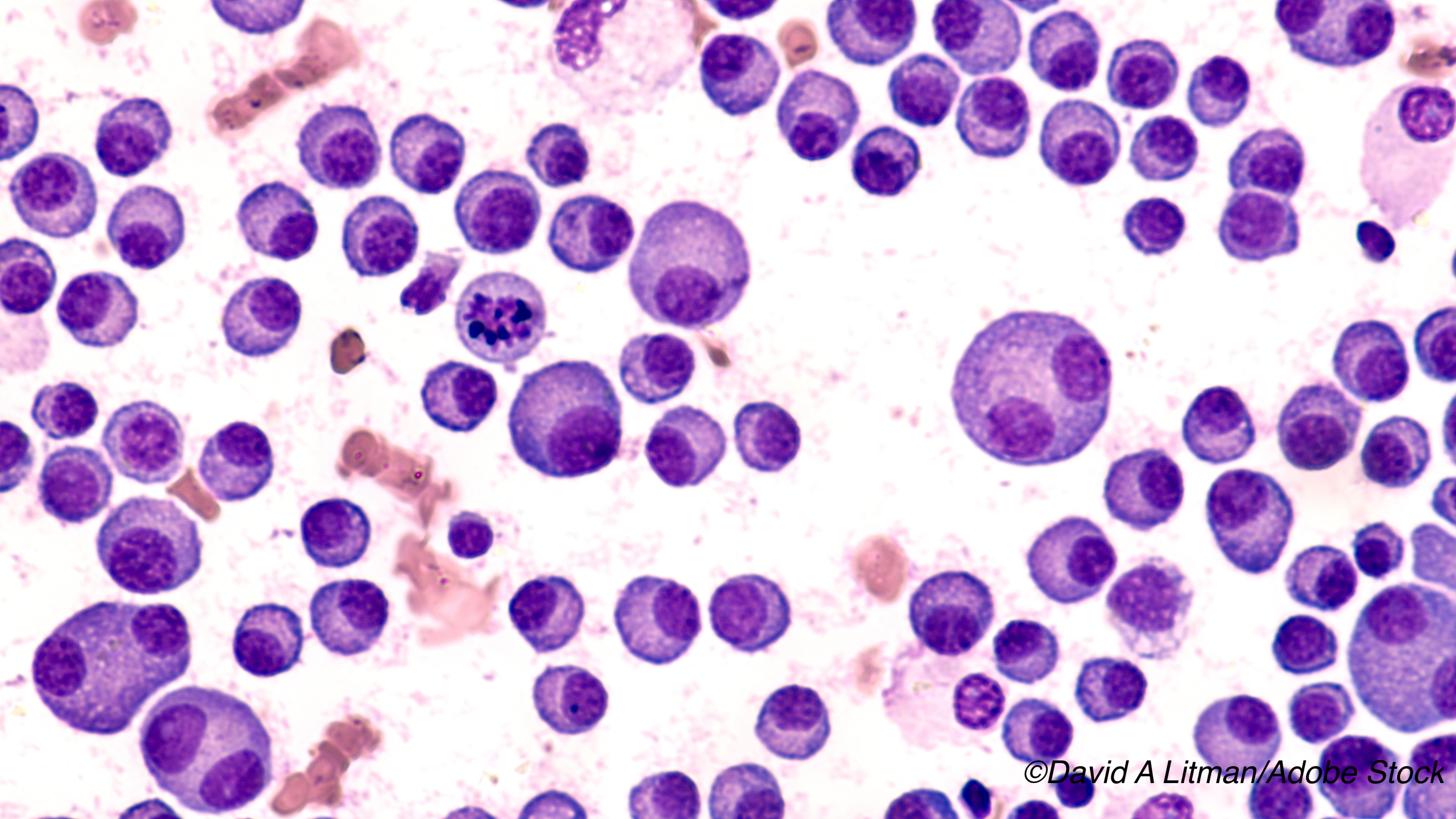 Multiple myeloma is not an easily defined disease, and it is a disease characterized by relapse. Fortunately, there has been a wealth of progress in developing new treatments, which makes it possible to tailor therapy to individual patients — and almost all of those patients will be on treatment for many years.
"There really is no standard of care for the first relapse," said Shaji Kumar, MD, professor of medicine (hematology) at Mayo Clinic Cancer Center, Rochester, Minnesota, and chair of the National Comprehensive Cancer Network (NCCN) Guidelines Panel for Multiple Myeloma. "We have a menu of choices in a mix and match of different drugs."
That choice is affected by what the patient was treated with initially, before the relapse, said Joseph Mikhael, MD, professor of applied cancer research and drug discovery at the City of Hope's Translational Genomics Research Institute, Phoenix, Arizona, and chief medical officer of the International Myeloma Foundation.
Not A Simple Diagnosis
"Multiple myeloma is not a simple diagnosis," Mikhael told BreakingMED. "This isn't a simple disease where there is a basic algorithm for treatment. We treat myeloma for the life of a patient. We have seen a doubling or tripling of the survival over the last decade, which has been a function of introducing all these new drugs. We have had 14 drugs approved in the last few years.
"We often treat patients with a triple combination – two novel drugs plus dexamethasone, which is just a steroid," he continued. "The novel drugs are from 3 classes: A proteosome inhibitor, an immunomodulatory drug, or a monoclonal antibody. You pick two of those three and add steroids.
"People are divided into two groups: Do you go to stem cell transplant — yes or no — but not a curative transplant but one that will keep patients in remission longer," Mikhael said. "People who are younger and more fit get a transplant and then they get placed on maintenance, usually with the drug [lenalidomide], which is in the immunomodulatory class. If someone is not going to transplant, they still start with a triple combination and they remain on one novel agent until first relapse."
Kumar said that if a patient undergoes a successful transplant, then the average time to a relapse can be 4 to 5 years, but if the patient was not deemed to be transplant eligible, then the time to relapse is shorter — about 4 years.
"In the first relapse setting," said Mikhael, "it depends on what you got the first time, but now basically you incorporate the class that you didn't use the last time, but you again use the triplet. So, if I used a proteosome inhibitor and an immunomodulatory drug the first time — which is the most common approach — then at first relapse I am going to choose a monoclonal antibody and partner it with either an immunomodulatory drug or a proteosome inhibitor drug, depending upon what is available."
The decision depends on whether the doctor and patient prefer oral medications, subcutaneous treatment, or intravenous therapy, all the time considering side effects of these drugs and comorbidities of the patient.
"Then, basically, you keep using whatever drugs you have in those three classes for second and third relapses until the patient becomes triple-class refractory," Mikhael said. That's when new drugs come into play.
New Drugs
The most recent of those drugs is the CD38 targeting monoclonal antibody isatuximab-irfc (Sarclisa). "Isatuximab is in the family of monoclonal antibodies and is very similar to the currently used monoclonal antibody daratumumab (Darzalex)," Mikhael said. "Daratumumab was initially used in the refractory space, but now [it] has been brought forward into earlier relapse phases and is even being used as a front-line medication.
"Isatuximab was approved in early 2020 for use after two failed therapies in combination with pomalidomide (Pomalyst), an immunomodulatory agent," he noted. "Because it is similar to daratumumab, and because we don't have evidence that isatuximab can overcome daratumumab resistance, isatuximab has not been a heavily used agent at this time.
"We all believe we will be using isatuximab earlier in the disease course, but right now we just don't have the evidence for that," he said. "There are ongoing clinical trials with the drug."
"Isatuximab is pretty much the same as daratumumab," said Kumar, "and the two drugs are interchangeable, but isatuximab has not been studied in as many settings as daratumumab. People are more familiar with daratumumab."
But the new treatment will eventually be used, the researchers said, because treatment goes on for the life of the patient, and with that long-term treatment comes side effects, said Wasif Saif, MD, deputy physician-in-chief and medical director of the Northwell Health Cancer Institute, Lake Success, New York.
"Historically," Saif said, "the dose of chemotherapeutic agents and their duration to treat multiple myeloma were generally determined by adverse events such as myelosuppression or peripheral neuropathy. However, the introduction of several novel and potent agents has revolutionized the treatment of this cancer. These drugs do come with new challenges in the form of new toxicities and hence add more complexity to the treatment decision process."
Shift from Short to Long-Term
"Moreover, the paradigm shift is change from short-term to long-term treatment in multiple myeloma — induction, maintenance, and stem cell transplant if the person is eligible. Recognition of early appearance of toxicities and consideration of other factors beyond disease must be performed, such as as age, general condition, comorbidities, and side effects of prior treatment.
"In a nutshell, careful balance between a highly effective treatment regimen and the individual patient's tolerance profile should be considered," Saif told BreakingMED.
"Most of the drugs for multiple myeloma are given continuously until relapse," Mikhael said. "Bortezomib (Velcade) typically is not given indefinitely, mainly because it is a drug that can cause neuropathy after several cycles.
"Basically, though, myeloma has become a disease in which we treat until progression, instead of saying, like, 'We are going to give you 4 cycles and then stop.' We are hoping with time we can find ways to reduce the need for treating patients their whole lives, but right now, continuous therapy is the name of the game," he said.
"Every class of drug and every drug within those classes have their own side effect profile," Mikhael said. "A lot of these drugs typically drop blood counts, which can put people at risk of infection or internal bleeding. Some of the drugs have gastrointestinal issues or nerve issues. Some have potential cardiac issues, but that is not normally a major concern."
Kumar said that people with multiple myeloma come to the attention of physicians when they are being treated for various complaints. "The disease affects bones, so people can get fractures," he said. "Anemia is another hallmark. Sometimes you can have high calcium levels, which may be associated with fractures. You have bone fractures in the setting of high calcium levels because the calcium is being leeched out of the bones and into the blood. There is also renal failure that doesn't get picked up right away."
There are numerous treatments for bone involvement in multiple myeloma, Saif said. He said that patients can be treated with bisphosphonates zoledronate and pamidronate and the RANKL inhibitor denosumab, and that radiation therapy can also be used against bone lesions.
Eventually, however, patients reach the back of the pharmaceutical cabinet. "The greatest unmet need in myeloma right now is what happens when people have progressed through all these great options," said Mikhael. "Supportive care is given to patients throughout the course of myeloma because part of the challenge of this disease is [it's] not just one that affects the blood. When we reach the point where we can no longer control the disease, we have to move to palliative care and, ultimately, sadly, hospice."
Kumar noted, "Once you run out of options, we reach a point when treatment just gives the patient more side effects without good benefit. At that point, we would send a patient to hospice care.
"We probably treat people with multiple myeloma longer than we should. It is a challenge determining when to stop treatments," he told BreakingMED. "Sometimes there are communication problems because the doctor thinks the patients wants to continue treatment and the patients think that it is the doctor who wants to keep trying."
The doctors said that patients and clinicians should realize the impact that research and new drugs have brought to the multiple myeloma scene. "If we look at the averages, when I went into this field the average survival with myeloma was 1 to 2 years," said Mikhael. "Now, the average survival is probably around 8 years and beyond.
"One of the important features that helps determine prognosis is that about 75% of patients are what we call 'standard risk myeloma' and 25% are at what we call 'high-risk myeloma,' which is determined by the genetics of their myeloma. The survival of patients in that high-risk range is lower — more like 3- to 4-year range," he said.
"Of course, those survival figures are based upon what we have learned up to now," Mikhael said. "We think we are getting better at it, so that if they have standard risk myeloma, I tell them 'Hey, I can't tell you the future, but I am hoping to treat you for a decade.' We have learned that treating people well at the start can put the disease into a deep remission and keeps them there for longer as opposed to saving the best for last where the disease becomes more aggressive with each relapse and becomes harder to control."
And, Kumar noted, "The average patient will have about 3 years on the treatment after the first relapse before the disease progresses. What we have seen is that with each subsequent treatment, you don't get as good a response. Having said that, most of the data is based on the experiences in which we have had to re-use some of the drugs. As new treatments come up, that status might change a bit."
On the Horizon
There is reason to be hopeful, Mikhael said, and Saif agreed, noting, "There are emerging data supporting cellular therapy consisting of autologous T-cells transduced with an anti-CD19 chimeric antigen receptor (so-called CAR T-cells) that has also been performed after myeloablative chemotherapy and stem cell transport."
"We not only have new versions of these three classes of drugs, but we are also developing totally new classes of drugs; CAR-T cell therapy is very exciting now in myeloma. We have other immune approaches such as so-called bispecific therapy, where you have a drug that hooks on to both the tumor and to a local T-cell to engage that T-cell to take care of the tumor." Mikhael added. "We have never seen a time in the history of myeloma — and I have been doing this for at least 20 years now – where we have had more ongoing research in myeloma that is very exciting."
Note that multiple myeloma is a complex disease without a basic algorithm for treatment, but therapeutic advances have resulted in significant increases in survival.

In multiple myeloma, patients are divided in two groups: those who have stem cell transplants and are then placed on maintenance, and those who are not candidates for transplant, though the latter "still start with a triple combination and they remain on one novel agent until first relapse."
Edward Susman, Contributing Writer, BreakingMED™
Mikhael disclosed relationships with Amgen, BMS, GSK, Karyopharm, Janssen, Sanofi, and Takeda.
Kumar disclosed relationships with Celgene, Takeda, Janssen, BMS, KITE, Merck, Abbvie, Medimmune, Novartis, Roche-Genentech, Amgen, Tenebio, Carsgen, Amgen, Molecular Partners, Oncopeptides, Genecentrix, and Cellectar.
Saif disclosed no relevant relationships with industry.
Cat ID: 118
Topic ID: 78,118,730,118,468,192,925